Sharper cuts, bigger holes and more terminal damage are what broadhead manufacturers work to improve with their blades each year, and what many are delivering in 2012. Check out these 10 new offerings to twist on, tune up and send downrange.
Gallery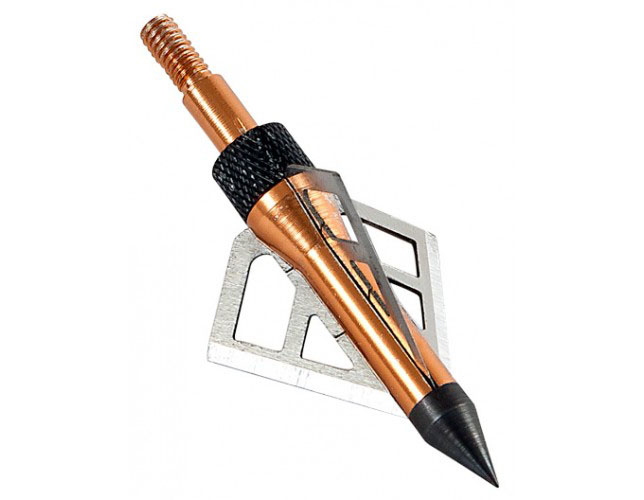 Allen Lightning XST
For hunters on a budget, but still wanting solid performance in the field, Allen Company introduced their Lightning XST broadhead, a swept-blade design engineered for accurate flight. The hardened round-steel nose leads the way of .0027-inch stainless-steel blades that deliver a 1 1/16-inch cutting diameter. The copper-colored ferrule rounds out this 100-grain broadhead. MSRP: $9/3-pack.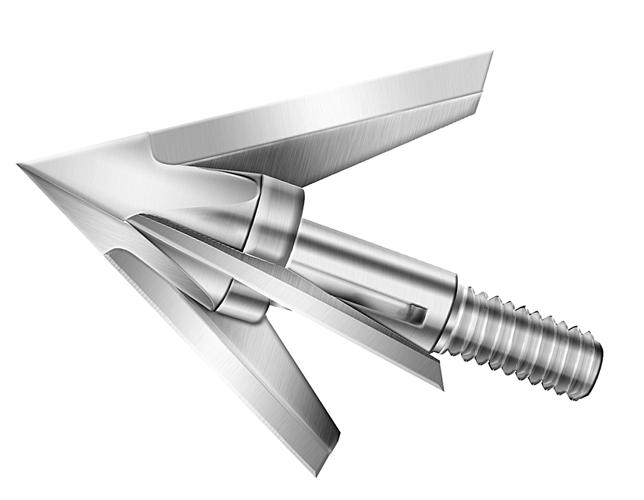 QAD Exodus
The QAD Exodus is a cool looking blade that, with it's innovative Blade Over Shaft Technology, is able to fly with the small diameter flight of a field tip, while delivering a wickedly wide and devastating cutting diameter of 1 ¼ inches. QAD achieves this with a set of swept-back blades that attach to a shorter point allowing them to extend over the shaft for a more compact fixed broadhead. The Exodus features .035-inch stainless-steel blades, and is available barbed or non-barbed and comes in 85- and 100-grain models. MSRP: $40/3-pack.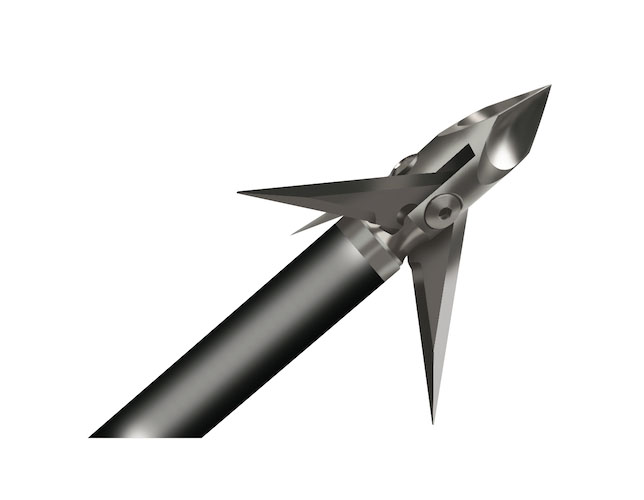 Ramcat
Ramcat mechanical broadheads employ a design that features deep lobes cut into the tip of the head to create an airfoil effect that limits planing by allowing wind to easily pass over the blades. This also reduces friction on the arrow allowing for deeper penetration. Ramcat broadheads consist of a one-piece, stainless-steel body with .032-inch thick blades that deliver a 1 3/8-inch cutting diameter. The heads are 100 grains. MSRP: $38/3-pack.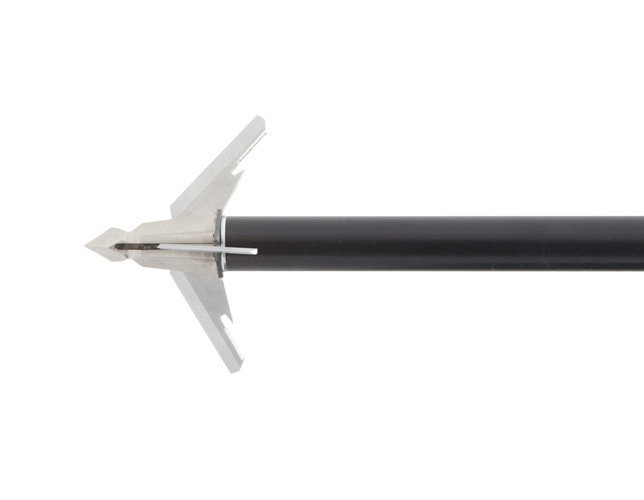 Wasp Z-Force
The Wasp Z-Force is a compact, 100-grain, solid-steel body, mechanical broadhead designed to fly true as field points but pack a reliable punch on big-game animals. Stainless-steel blades angle out from a sharp trocar tip upon impact and are deployed from the rear on ball bearings for smooth opening. The blades are capable of delivering a wide 1 5/8-in. cut. MSRP: $40/3-pack.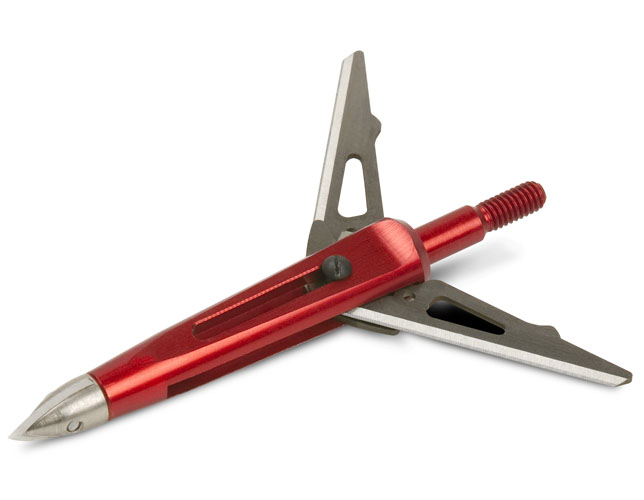 NAP Killzone
The Killzone is NAP's answer for those seeking a reliable, quality mechanical that delivers optimal flight and deep penetration. A special spring clip holds blades in place until deployment instead of the traditionally questionable O-rings or rubber bands. The rear-deploying blades are swept back for a tight, accurate spin in flight and then, upon striking the target, open and look like a small fighter jet. They deliver a like punch, too. The 100-grain broadhead creates a 2-inch-wide cut and is available in a Trophy Tip or Deep Six model. MSRP: $40/3-pack.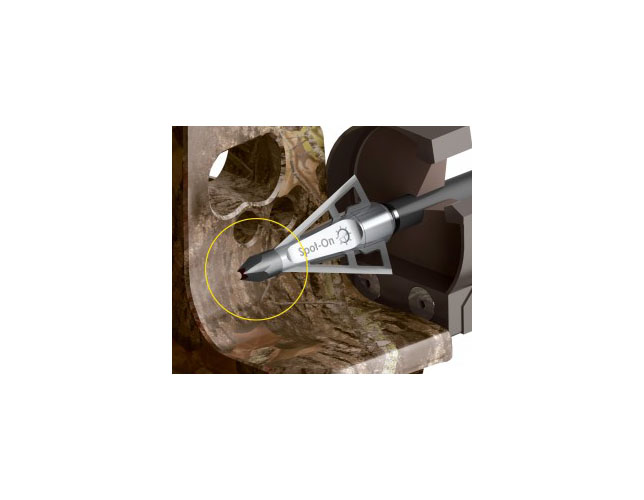 Clean-Shot Spot-On Hollow Point
The Clean-Shot Spot-On Hollow Point was introduced as a follow-up to the company's unique Laser broadheads and is billed as the first hollow-point broadhead ever. The head features a razor-sharp, hollow-point tip that cuts on contact removing a .25-caliber size hole as it passes through hide and tissue. Think of a corer removing cylindrical samples of soil and you get the picture of how it works. With the point actually hollowed out throughout the full length of the head, it reduces friction for better penetration and improves damage wreaked by the 1 ¼-inch three-bladed cutting diameter. Hollow Point broadheads are also adjustable from 100 grains up to 125 grains, and can be converted to Clean-Shot Laser broadheads, which utilize an internal laser for precise aiming in the field. MSRP: $45/3-pack.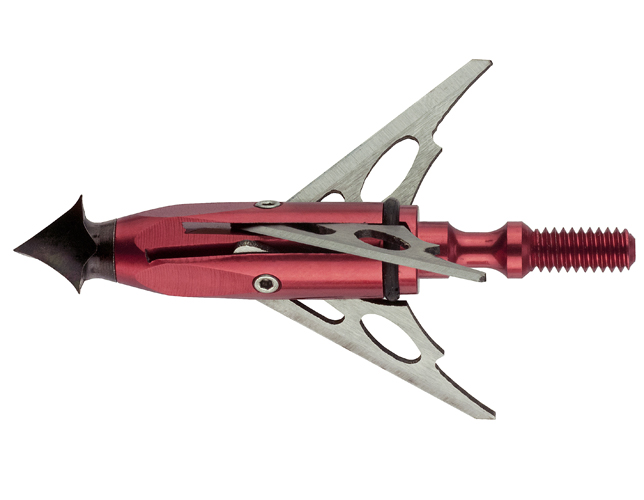 Rage Chisel Tip
Rage is still known as the company that revolutionized popularity in mechanical broadheads, and they continue to deliver with this year's Chisel Tip broadheads. For bowhunters that have been looking for a mechanical that possesses the bone-crushing power of a fixed blade, this new head boasts a black, anti-friction, nickel-coated and hardened stainless chisel point attached to a red anodized ferrule. After the chisel point blasts through hide, the rear-deploying dual steel blades open from Rage's SlipCam system to create a wicked 2-inch cut from either 100- or 125-grain models. A 100-grain three-bladed model with a 1 ½-inch cutting diameter is also available. MSRP: $45/3-pack.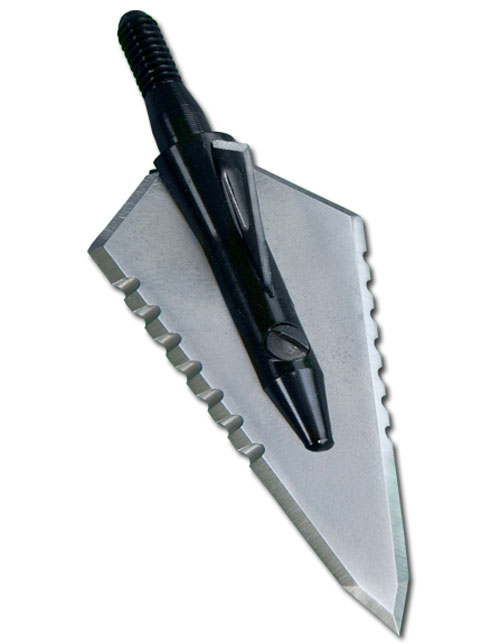 Magnus Stinger Killer Bee Buzzcut
Designed primarily for crossbow-use, but able to pull double duty on a standard vertical bow arrow, the Stinger Killer Bee Buzzcut is a recent addition to Magnus' popular Stinger line of broadheads. It is a cut-on-contact broadhead made from knife-grade stainless steel and married to an aircraft-grade aluminum ferrule. It is available in two-bladed and four-bladed models. Unlike the straight-edged Killer Bee model, also a recent introduction from Magnus, the Buzzcut features a serrated cutting edge designed to wreak additional damage as it slices through hide, meat and vitals. The blade is non-vented, but heads are still spin-tested for optimal flight. The Killer Bee Buzzcut is available in 100- and 125-grain models. MSRP: $30-$35/3-pack.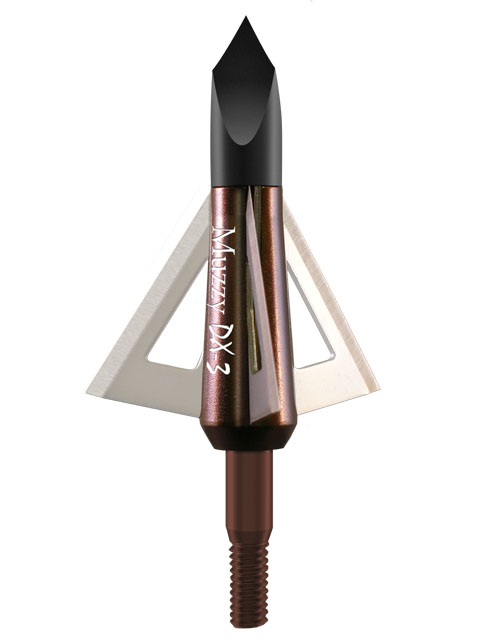 Muzzy DX-3
For those hunters gravitating to Easton's micro-diameter Deep Six insert arrows, Muzzy introduced the DX-3 broadhead this year. It is a 100-grain, three-blade broadhead with a tapered ferrule, modified shank and slim thread pattern designed to work with Deep Six inserts, which are designed to provide more thread engagement for a more secure hold in the insert. The DX-3, when screwed onto the Easton Deep Six carbon arrow, is designed to generate less wind drag for better accuracy and deeper penetration. The DX-3 boasts a cutting diameter of 1 ¼ inches and has a .025-inch blade thickness. MSRP: $30/3-pack.
Innerloc Falcon CLAW
Want to up your precision shooting game beyond the vital zone of a whitetail? Then take on the miniscule targets that rabbits and squirrels provide. For those hunters, Innerloc introduced the Falcon CLAW, which combines a chisel-point, fixed three-bladed broadhead with three forward-angled grabbers that transfer the shock and damage of a small-game broadhead. The CLAW delivers great energy transfer and reduces some of the pass-through not needed for little critters. The 100-grain fixed-blade is also great for turkeys, and the head delivers a 1-inch cut. MSRP: $41/3-pack.