by
posted on August 28, 2021
Support NRA American Hunter
DONATE
Never take a friend's or family's knowledge of food and cooking for granted. Tacos are a staple at our house and are quick and easy to prepare. The authentic street tacos made in Mexico are bold in flavor that the entire family enjoys.
A friend asked how to make the tacos, and I was surprised that every deer hunter doesn't have a go-to taco recipe. There is more to culinary life than a kit with spices and taco shells. Upon further investigation, many more of my friends were excited about getting a recipe. Taking things one step further, I am sharing a quick and authentic carne asada (sliced meat) street taco recipe for everyone to try at home. If you already feast on tacos, consider changing up some ingredients to brighten with color, add heat or new flavor.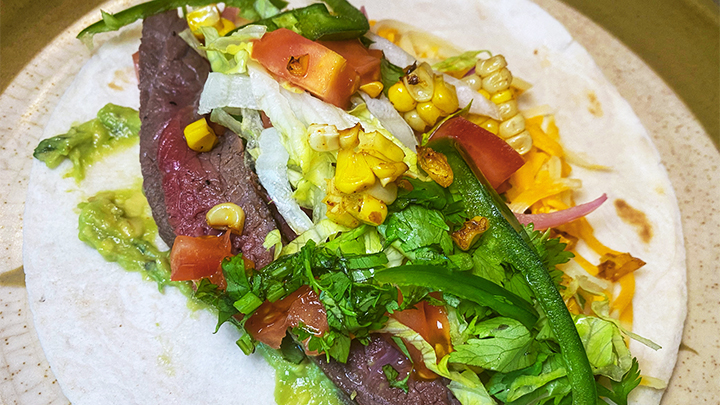 Mexican street tacos are traditionally made with skirt steak, but hunters can use round steak or roast cooked and sliced thin. Our clan likes pickled red onions on their tacos (recipe included below).
Ingredients
• 2 Tbsp soy sauce
• 2 Tbsp lime juice, freshly squeezed
• 2 Tbsp canola oil, divided
• 4 cloves garlic, minced
• 2 tsp chili powder
• 1 tsp cumin, ground
• 1 tsp dried oregano
• 1½-lbs. round steak
• 12 mini corn or flour tortillas, warmed
• ¾ cup diced red onion
• ½ cup chopped fresh cilantro leaves
• 1 lime, cut into wedges
• shredded cheddar, pepper jack or Monterey jack cheese (optional)
• shredded lettuce
Directions
1. In a medium bowl, combine soy sauce, lime juice, 1 tablespoon canola oil, garlic, chili powder, cumin and oregano.
2. In a gallon-sized zipper bag or sealable plastic container, combine soy sauce mixture and steak and let the meat marinate for 4 hours.
3. Heat 1 tablespoon of canola oil in a large skillet over medium-high heat. Add steak and marinade, and cook, stirring often. The marinade will reduce, and the meat will brown within 5 minutes. Do not overcook the meat to maintain tenderness. Steak should be medium-rare with an internal temperature of 135°F. Remove the steak from the grill and wrap in foil to rest for 5 minutes allowing the meat to maintain moisture. Cut the steak into thin, ¼-inch slices across the grain.
4. Serve several steak strips in tortillas, topped with pickled onion, cilantro, lettuce and lime. Cheese is optional. Sour cream, guacamole, or avocado are great additions.
Pickled Red Onion

Ingredients
• 1 medium red onion, thinly sliced
• 2 bay leaves
• 1 cinnamon stick
• 6 whole cloves
• 15 whole coriander seeds
• ½ cup apple cider vinegar
• ¼ cup freshly squeezed lime juice
• ⅓ cup sugar
• 1 Tbsp salt
Directions
1. Put sliced onions in a bowl and cover them with boiling water. Let stand for 15 seconds, then drain. Put the onions in a pint jar.
2. Toast the spices in a small saucepan over medium-high heat until fragrant, 2 to 4 minutes.
3. Add the vinegar, lime juice, sugar and salt and stir until it reaches the boiling point.
4. Pour the brine over the onions and let them cool to room temperature. The onions can be refrigerated for up to one month.
For more delicious wild-game recipes, click here.