by
posted on June 1, 2021
Support NRA American Hunter
DONATE
Every year it seems we start looking sooner than ever for standouts amid all the gear produced annually by the shooting, hunting and outdoor industry. The past 12 months stand as testament to that. Indeed, the list we tabulated includes products covered as far back as 11 American Hunter print issues—such are the lengths we go to be sure no stone is left unturned in our spirited search, review and debate of the best of the best firearms, ammo and gear produced for hunters.
Golden Bullseye winners are selected by a seven-member committee from NRA Publications that represents more than a century of collective experience in the shooting and hunting industry. To qualify for consideration, a product must have been: recently introduced and available to consumers prior to nomination; used/tested by an NRA staff member or trusted contributor; reliable in the field, meeting the consumer's expectations; innovative in design and function; readily perceived as a value to the consumer; styled in a manner befitting the shooting, hunting and outdoor industry and its enthusiasts.
The NRA Publications Golden Bullseye Awards will be presented during the 2021 NRA Annual Meetings and Exhibits scheduled for Sept. 3-5, 2021, in Houston.


2021 Muzzleloading Product of the Year: Traditions NitroFire Rifle and Federal Premium FireStick
Inline muzzleloaders haven't evolved much in the last 40 years, a fact noted by Traditions Performance Firearms and Federal Premium. Enter the duo's NitroFire/FireStick system.
The FireStick is a pre-measured polymer-encased propellant charge that loads from the breech of an inline rifle, thus replacing the need to measure powder or count pellets. Its encapsulated loads of Hodgdon Triple 8 are available in 100- and 120-grain charges and are impervious to moisture and ready to be primed with a No. 209 shotshell primer.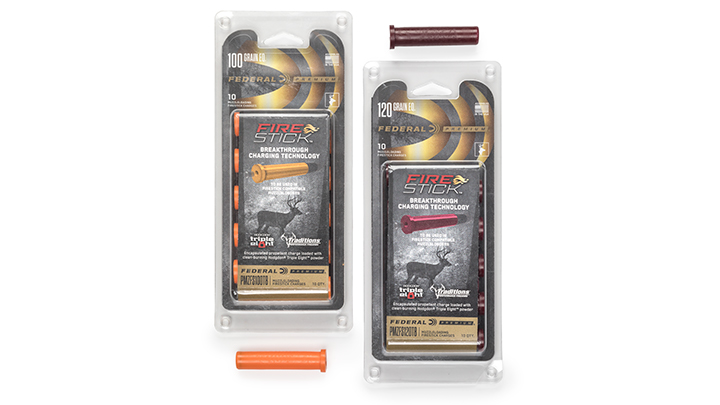 The FireStick is a new system, and the first rifle built to utilize it is the Traditions NitroFire, a modern inline flashing innovative design and safety features. Ram a bullet down the barrel till it's seated atop a shelf at the breech end, break open the breech, insert a FireStick, then insert a primer and snap shut the gun. Hunters may unload the NitroFire safely without firing a shot by cracking the breech and pulling out the FireStick.
The NitroFire's Dual Safety System includes a cross-block trigger safety and an internal hammer-block safety. Add to that the company's new Elite XT trigger system with a rebounding hammer and captive half-cock to allow the action to be opened or unloaded with the cross-bolt safety engaged. It's accurate, too. Our man's range sessions produced three-shot groups as small as .375 inch at a hundred yards.
Yep, this combo is cutting-edge, which means we couldn't very well award only one trophy. MSRP: $549-$1,220 (NitroFire Rifle), $31.99 per 10-count pack (FireStick); traditionsfirearms.com; federalpremium.com.