by
posted on October 25, 2021
Support NRA American Hunter
DONATE
Many people dream of what it was like to traverse the West when the West was still wild. The wide-open spaces offered awe-inspiring landscapes beyond the descriptions of words, untouched by the scarring of urban sprawl and man-made structures. But these wild lands also presented treacherous perils. For those taming the Western frontier, the lever-action rifle was king.


Taking its name from the inventor of the original lever-action Henry rifle, Benjamin Tyler Henry, the Henry Repeating Arms Company has been producing its own American-made lever-action rifles since 1996. Since then, many Henry models have been added to the family, including the Big Boy Color Case Hardened Side Gate. This is one of those guns that's so pretty you don't want to touch it, let alone shoot it. But at the same time, one glance at this American beauty elicits a strong need to shoulder it, look through its sights, work the action and loose lead.
And so, I conclude it a true shame to let this capable firearm not fulfill its purpose. It needs to feel the fire in its belly. The West is no longer wild in the traditional sense, but America has plenty of adventure left to offer, especially to the American hunter. Thanks to Henry Repeating Arms, a Henry rifle can still go with us.
Henry's centerfire reputation was built on the handgun-calibered Big Boy. Today, six lever-action rifles—three standard length and three carbine length—are included in that family chambered in .44 Mag./.44 Spl., .357 Mag./.38 Spl. and .45 Colt. I chose the standard length Big Boy in classic .44 Mag./.44 Spl. for my testing.
Drilling down, the standard-length Big Boy Color Case Hardened weighs 7.84 pounds, the shorter carbine length slightly less. While it's not an ultra-light by today's modern centerfire standards, the Big Boy is on the lighter-weight end of most lever-action rifles and is easy enough to pack over steep terrain or great distances. Slung over the shoulder or placed in your saddle scabbard, the Henry Big Boy is capable just about anywhere.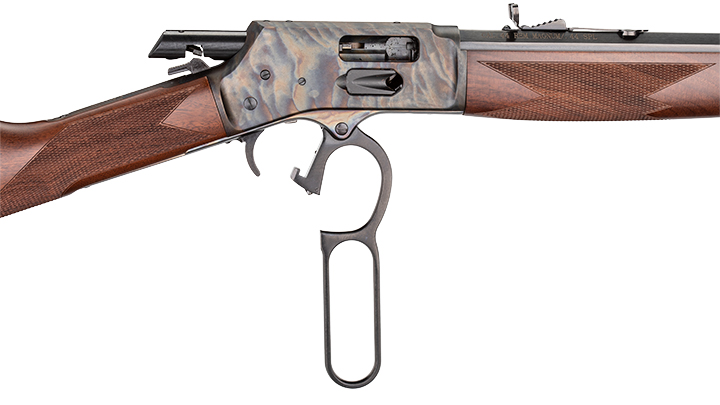 The gun has an overall length of 37.5 inches or 34.1 inches in carbine length, with a 20-inch or 16.5-inch barrel, respectively. Those who are more focused on short-range hunting and shooting inside 50 yards, or those who hunt and shoot in tight corridors, might prefer the 16.5-inch carbine option. Those who want to stretch it out a little (at least, as much as possible with a lever gun chambered in .44 Mag.) might go with the 20-inch barrel. Regardless, the heavy octagonal, blued-steel barrel provides an authentic look and feel.
New to the Henry Big Boy (and all Henry rifles), current production models sport a handy side-loading gate, unlike its predecessors that owned only the top-loading tubular magazine. This makes loading much easier on the fly, and I'd be lying if I didn't note the added visual appeal. That said, the Big Boy still has a removable, top-loading magazine plug, and it is still a handy method when loading the magazine to its 10-round capacity. A classic lever is found on the standard length Big Boy, while the carbine-length rifle comes fitted with a cowboy-style big-loop lever. If most of my hunting was done in big, often cold country, I might prefer to go with the carbine, as the larger lever is easier to operate with gloved hands. It looks pretty darn cool, too.
Looking to the rest of the gun, both long and short models feature engraved checkering on both the straight-wrist stock and fore-end. With a satin finish, the rich American walnut shows its grain without being flashy. To that end, the buttstock is also fitted with a plain, black, solid-rubber recoil pad.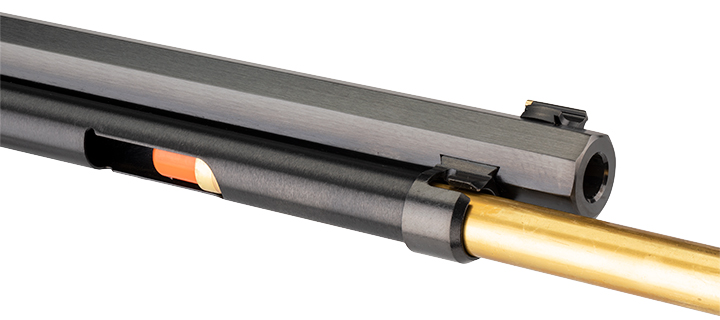 Aesthetics aside, this Henry Big Boy is a gun that shoots great, too. It's well-balanced in the hand, and with a 14-inch length of pull, it shoulders easily for most builds. How does the Big Boy operate in the heat of the action? Phenomenally. The trigger is crisp. It has a clean break and sets itself apart from many of the factory lever-gun triggers currently on the market. Furthermore, this gun has an automatic in-hammer transfer-bar safety.
It comes topped with an adjustable semi-buckhorn with diamond insert rear and brass bead front sight system. It's easy to line up the sights and settle on the target or vitals inside 100 yards. Of course, it's also drilled and tapped for BB-RSM scope mounts if that's your thing.
Overall, this is a smooth-cycling lever gun. The action on this rifle is a masterpiece. When properly maintained and oiled, the Henry Big Boy Color Case Hardened Side Gate rifle should offer reliable performance for years to come. You'll probably like this one, it's the best lever gun I've ever owned.


Technical Specifications
• Type: lever-action centerfire rifle
• Caliber: .44 Mag/.44 Spl. (tested), .357 Mag/.38 Spl, .45 Colt
• Magazine: tubular; 10 rounds (tested)
• Barrel: 20" (tested), 16.5" (carbine); 1:20 RH twist rate (.44 Mag/.44Spl), octagonal blued steel
• Trigger: 4 lb. pull weight
• Sights: fully adjustable semi-buckhorn with diamond insert rear sight, brass bead front sight; drilled and tapped for optics mounts
• Safety: transfer bar
• Stock: straight wrist; American walnut; satin finish; 14" LOP
• Metal Finish: color-case hardened receiver, blued barrel
• Overall Length: 37.5"
• Weight: 7.84 lbs.
• Accessories: none
• MSRP: $1,141; henryusa.com