by
posted on September 21, 2020
Support NRA American Hunter
DONATE
There aren't many certainties in this world, but one of them is that any and every conversation about mountain hunting rifles ends up boiling down to weight. Slightly abnormal and perhaps brain-damaged hunters, like myself, who take to the high country on a regular basis for a couple weeks at a time, living out of their packs, are very particular about what they put in those packs. You'll hear of toothbrushes being cut in half, meticulous packing and unpacking. Being one of them, I can tell you that sheep hunters are the worst. Our affinity for things that don't weigh that much is especially apparent in our choices of rifles.


Creating an ideal mountain rifle is a much more complicated challenge than it may seem. The ideal mountain rifle is as light as possible but maintains complete dependability in function; it's accurate and impervious to many of the perilous weather conditions and physical abuse it is bound to take. A production rifle that excels in these areas is even harder to come by, and you just don't see a lot of options aside from extremely expensive custom guns. We need a mountain rifle to be light because, naturally, we have to carry it everywhere with us in the mountains (along with everything else in our pack). It must be accurate and dependable because the effort put forth to be successful on many of these hunts is absolutely monumental, and no one wants to risk a once-in-a-lifetime shot opportunity with a shoddy rifle, even if it happens to be very light.
The Backcountry Ti is one of the newest additions to the Mark V line, and a welcome addition to a fairly limited field of production rifles in its class. It features a titanium action, carbon-fiber stock and a very thin profile, fluted barrel. Numbers are numbers, and we know that 4.9 pounds is light, but I'm amazed at just how light this rifle feels every time I pick it up. It comes with a brake attached, but also a thread protector if you prefer not to use one. Both are custom-fit to each rifle. It's a modern but elegant rifle, the barrel Cerakoted and perfectly suited to function in the worst weather between hell and Point Barrow. The ergonomics and operation of the rifle are wonderful. Although lightweight, corners aren't cut, and in the hands it feels like a rifle should. The only setback with the titanium action is that it is a little stickier than a steel action (if this is a deal breaker, get the steel Backcountry model at just a few ounces more). I find it to be an insignificant factor with all other things considered. In addition to the action, much weight is saved in the stock and recoil pad design. The stock, built by AG Composites, is the height of carbon-fiber engineering. It is extremely lightweight, impervious to moisture and pillar bedded. The 3DHEX recoil pad is 3D printed in a hollow, hexagonal-grid that is lighter than traditional recoil pads, and engineered to deaden impact. Dropping this rifle on its recoil pad from 8-12 inches or so clearly shows the dampening properties it provides compared to most standard pads. Leave the rifle standing on its pad, and the 3DHEX will compress, but will return to its original shape once picked up.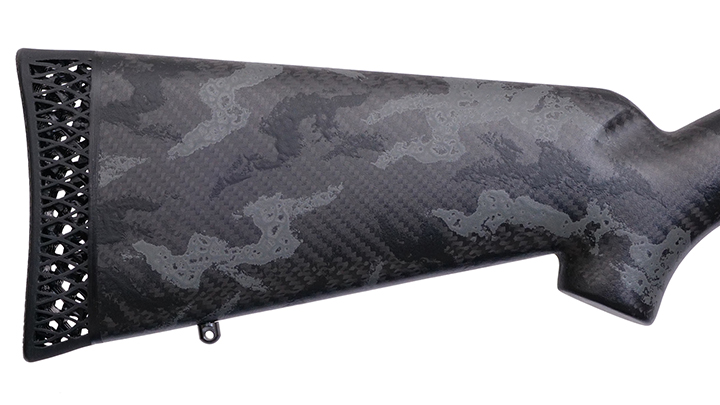 Accuracy is often the hold-up when it comes to mountain rifles. With pencil-thin barrels to begin with, heat will affect different rifles differently. Some rifles change point of impact so much, so quickly that they are less than ideal for such a serious application. We can't expect any of these rifles to hold groups that a heavy-barreled varminter might shoot, but we should be able to find an acceptable balance. This rifle is guaranteed by Weatherby to shoot MOA or better three-shot groups from a cold barrel, and mine will absolutely do it. It has a very clean-breaking TriggerTech trigger, which also features stainless steel components for weather protection. Light rifles are a challenge to shoot, but off sandbags, I had no trouble shooting sub-MOA groups, the tightest in my testing being .311 inch. They key is that these are groups from a totally cooled barrel. Keep sending them downrange, or don't let the barrel cool, and they will start to open up into the 2-inch range. This is part of the give and take of mountain hunting, and in my experience it's very unusual to have to take more than two or three shots in rapid succession on a mountain hunt.
The rifle I have is chambered for Weatherby's new 6.5 WBY RPM (Weatherby rebated precision magnum), the first Weatherby Magnum that doesn't use a rounded shoulder. It's a cartridge of modern design, and it and this rifle were made for each other. There are a good number of other popular chamberings for this rifle, but the 6.5 RPM really shines. It will push a high ballistic coefficient, 140-grain-class bullet at around 3100 fps, give or take. That gives it a pretty hot trajectory as well as lighter recoil than some of the traditional magnums (something that comes into play in a rifle this light). It's impossible to say that any cartridge is the best sheep, goat or high-country mule deer cartridge, but the 6.5 WBY RPM's performance is a stellar choice.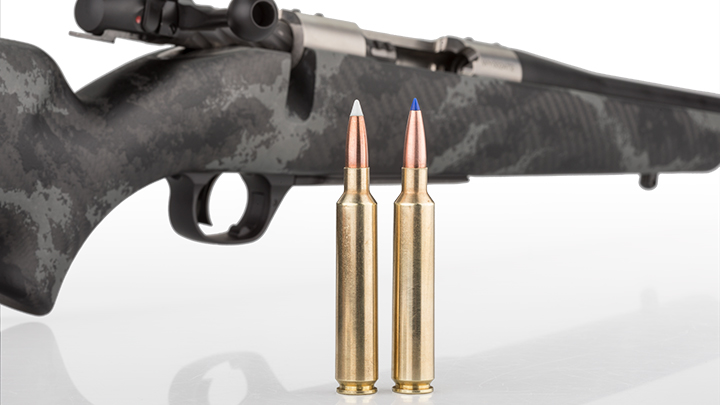 This is a rifle that Weatherby needed to have, and it is a time when the company needed to have it. In the weight game, the Mark V rifles always seemed a bit too heavy. Quality and strength were absolutely there, but they just couldn't compare to other production ultralight rifles. It's a different ballgame now. The Backcountry Ti in this chambering weighs 4.9 pounds bare. Set up with Talley rings, a Leupold VX-3i 2.5X-10x-40mm CDS-ZL scope, and four rounds of ammunition in the magazine, it weighed 6.25 pounds on my scale. That's still lighter than the vast majority of standard "lightweight" factory rifles buck naked. I think a rifle like this, paired with an ultralight bipod system like the Spartan Precision Equipment Javelin Lite, would be a tough combo to beat in the mountains. 


Technical Specifications
• Type: bolt-action centerfire rifle
• Caliber: 6.5 WBY RPM (tested); multiple calibers available
• Receiver: Titanium Mark V
• Barrel: 24", fluted, No. 1 MOD contour, 1:8" RH twist; ½x28 threaded muzzle w/ Accubrake ST muzzle brake
• Magazine: internal, hinged floorplate; 4+1 capacity
• Trigger: TriggerTech; adjustable pull weight 2.5-5 lbs.
• Sights: none; receiver drilled and tapped for bases
• Safety: two-position toggle
• Stock: AG Composites, carbon fiber; .625" drop @ comb; 13.5" LOP
• Metal Finish: Cerakote
• Overall Length: 46.125"
• Weight: 4.9 lbs.
• MSRP: $3,349–$3,449; weatherby.com