by
posted on February 15, 2023
Support NRA American Hunter
DONATE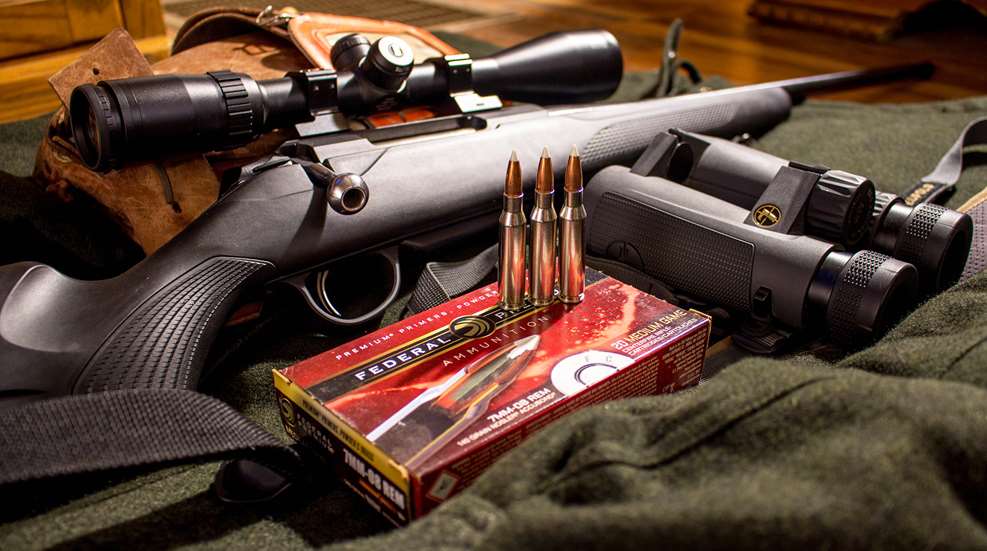 The weight of a hunting rifle can be a point of contention, as some hunters are not fazed by a heavier gun, and others greedily count ounces. Those who venture into the backcountry, and especially those who hunt the mountains with all their gear on their back, appreciate a light rifle. Those who make a relatively easy trek from truck to stand might not be as particular, as a rifle with a bit more weight will help mitigate recoil, as well as being easier to steady for the shot.
Still hunters surely appreciate a well-balanced rifle which comes quickly to shoulder, and most tend to prefer rifles on the lighter side of the spectrum. Now, "light" can be a subjective term, as a 9-pound double rifle is light, but a 9-pound bolt rifle is not. Here's a look at seven of my favorite choices for a lightweight hunting rifle.

1. Savage 110 Ultralite
What do you get when you mate the time-tested Savage 110 action with a lightweight carbon fiber Proof Research barrel? The 110 Ultralite, of course. A skeletonized receiver sits in the polymer AccuFit stock—which can be adjusted for comb height and length of pull—to deliver a rifle weighing less than 6 pounds. All the favorite features of the 110 are present, including the floating bolt head, user-adjustable AccuTrigger and detachable box magazine. The muzzle has been threaded and capped, should the use prefer to install a brake or suppressor. The 110 Ultralite is offered in .308 Winchester, .270 Winchester and .30-06 Springfield, as well as .280 Ackley Improved, 6.5 Creedmoor, 6.5 PRC and the new 7mm PRC. MSRP: $1,649; savagearms.com.

2. Browning X-Bolt Mountain Pro Tungsten
It's no secret that the Browning X-Bolt makes a great hunting platform, what with the convenient tang safety and quick 60-degree bolt throw. The Mountain Pro Tungsten shaves the ounces, using a carbon fiber stock, spiral fluted bolt and barrel, and a beefy Recoil Hawg muzzle brake and Inflex recoil pad to take the sting out of a light rifle. The muzzle is threaded, the sporter contour barrel is lapped, and Browning has shaved a ¼ pound from the weight of other similar models. The barrel and action metal is coated in Titanium Cerakote, and the bottom metal is a lightweight alloy. Available in popular short- and long-action cartridges, including the classic 7mm Remington Magnum and .300 Winchester Magnum, as well as newcomers like the 28 Nosler, 6.8 Western and 6.5 PRC, even the heaviest in this line weighs in at 6 pounds, 6 ounces. MSRP: $2,629.99-$2,679.99; browning.com.

3. Kimber Hunter Pro Desolve Blak
Famous for its lightweight rifles, Kimber has a winner with the Hunter Pro Desolve Blak. Using a satin-finish stainless steel barreled action nestled in a fiber reinforced polymer stock, and finished in Desolve Blak camo pattern, the Hunter Pro weighs in at 5 pounds, 9 ounces. The Model 84 action will hold four down in the magazine in short action, three in long action, offers controlled-round feed performance and a three-position safety. The Hunter Pro is offered in 6.5 Creedmoor, .308 Winchester and .280 Ackley Improved (add three ounces for the long action), with sporter contour barrels at 22 inches for the short-action cartridges and 24 inches for the .280 AI. Kimber equips the Hunter Pro with a 1-inch recoil pad, and pillar beds the action into the receiver. MSRP: $1,006; kimberamerica.com.

4. Nosler Model 48 Mountain Carbon
Nosler's rifle line has been quite successful, and in the time I've spent with one in my hands has been a positive experience. The Model 48 is the flagship of the fleet, and the Mountain Carbon variant is a sound choice for those in search of a lightweight rifle capable of handling the rigors of the toughest hunts. Using a carbon fiber stock with a textured surface at the forend and pistol grip in conjunction with a carbon fiber wrapped cut-rifled barrel, the Mountain Carbon tips the scales at an even 6 pounds. The rifle features a Timney trigger and a two-position safety, the barrel is threaded to accept a muzzle brake or suppressor, and all the metalwork—including the aluminum bottom metal—is covered in the weatherproof Cerakote finish. The Model 48 will accept any scope bases which fit the popular Remington Model 700 rifles, and with a free-floated barrel and glass and aluminum pillar bedding, the Model 48 Mountain Carbon meets the sub-MOA guarantee. It is available in the proprietary 26, 27, 28, 30 and 33 Nosler cartridges, as well as 6mm Creedmoor, 6.5 Creedmoor, .300 Win. Mag. and the uber-cool .280 Ackley Improved. The stock is available in either Mountain Green or Tungsten Gray. MSRP: $3,235; nosler.com.

5. Tikka T3x Lite
Among the lighter rifles, the Tikka T3x Lite has become one of my favorites. It is a simple yet wonderfully accurate design and my personal choice for hunting the steeper areas of the Catskill and Adirondack Mountains of my native New York. Using an ergonomic polymer stock with interchangeable pistol grip inserts (I like the larger palm swell), and a smooth push-feed action, the T3x Lite comes with blued metalwork. Features like a detachable polymer magazine, a pliable recoil pad, and a two-position safety round out this sensible rifle. I love the trigger, straight from the factory, and the unique grip pattern offer good purchase on the stock in any weather. Mine is chambered in 7mm-08 Remington, and topped with a slim Leupold VX-3i 3.5-10x40mm in Talley Lightweight mounts, and gives me a flexible rig perfectly suited to deer and black bear. The unloaded rifle weighs in at just about 6.5 pounds, varying slightly by caliber. MSRP: $799; tikka.fi.

6. New Ultra Light Arms Model 20
No list of lightweight rifles would be complete without Melvin Forbes' New Ultra Light Arms, and its Model 20 is light even for that company's products. With a 20-ounce receiver and a total rifle weight of five pounds, the Model 20 is touted as "The Ultimate Mountain Rifle." Chambered in the .308 Winchester and its offspring the .243 Winchester and 7mm-08 Remington, as well as the 6.5 Creedmoor and .284 Winchester, the Model 20 might be the priciest of the rifles on this list, but Forbes does one thing: he makes what many feel are the best lightweight rifles on the market. Kevlar stocks hold steel barreled actions which are manufactured to very tight tolerances, resulting in serious accuracy. NULA rifles feature Timney triggers and Wilson Combat barrels. MSRP: $4,200; newultralightarms.com.
7. Weatherby Mark V Backcountry Ti
In a valiant effort to make the lightest rifle in the Mark V series, Weatherby's Backcountry Ti comes in at less than five pounds, in no small part due to a carbon fiber stock, a titanium receiver and a six-lug variant of the Mark V action. The 54-degree bolt throw makes for fast follow-up shots, and a TriggerTech trigger allows the shooter to accurately place the first shot. Metalwork is coated in the weatherproof Cerakote finish, and the fluted barrel will help dissipate heat. The Accubrake ST and 3DHEX recoil reduction system help mitigate felt recoil, and the rifle is offered in Weatherby's 6.5 RPM (Rebated Precision Magnum), which is an elongated version of the rebated rimmed 6.5-284 Norma, as well as offered in a good number of Weatherby's cartridges from .240 Weatherby Magnum to .300 Weatherby Magnum. Altogether, you can assemble a package which will come in at under 6.5 pounds with optic in mounts, and that is impressive. MSRP: $3,349-$3,449; weatherby.com.