by
posted on July 25, 2020
Support NRA American Hunter
DONATE
It's hard to figure out how to describe a croquette. The breaded treats look like a dumpling but have a crisp breading surrounding a meat mixture that is soft and creamy in texture. The croquette is a traditional snack made by the Dutch and is easy to make when an unexpected hungry crowd stops by.
Historically, croquettes were made with leftover meat, such as roast or steak, that could be minced fine or pulled apart, though modern versions use ground meat. This recipe will work with leftovers from a bigger piece of meat or with your favorite ground meat from any wild game.
In this recipe, we use a traditional thick roux as the binder to hold the meat mixture together. Croquettes can also be made with a béchamel sauce or potatoes to bind the meat together.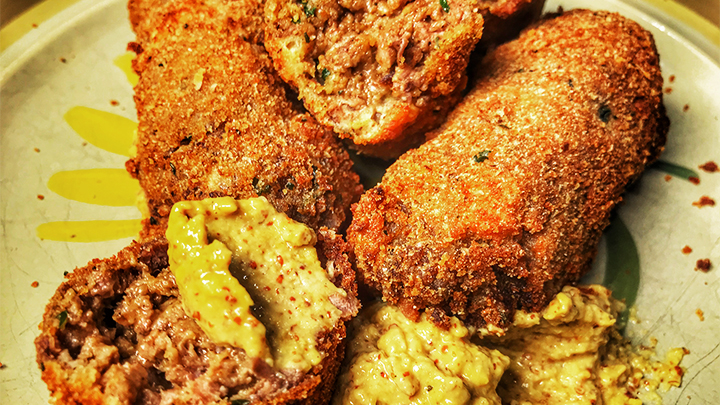 A tough old bull pulls apart quickly after 45 minutes in an Instant Pot. Burger can be thawed and incorporated in the time it takes to get the rest of the ingredients together. If you want to get daring, try putting a piece of creamy cheese in the center of the meat mixture to take your croquettes to the next level. Smoked gouda is always a good choice, and would be approved by the residents of the Netherlands, where the recipe originated.
Ingredients
• 1½ lbs. ground venison
• 2 Tbsp oil
• 3 Tbsp butter
• 4 Tbsp all-purpose flour
• ½ cup milk
• ½ cup chicken broth
• 1 Tbsp Worcestershire sauce
• ½ tsp paprika
• ½ tsp chili powder
• 1 tsp curry powder
• ½ tsp salt
• ½ tsp pepper
• 1 Tbsp fresh parsley, chopped
• 2 eggs
• 2 Tbsp water
• ½ cup all-purpose flour
• 2 cups seasoned breadcrumbs, ½ cup reserved
• 2 cups oil for frying
Directions
1. Heat 2 tablespoons of oil in a Camp Chef cast iron frying pan over medium heat. Add the ground venison and stir to crumble while the meat cooks and browns, about 8-10 minutes. When done, set aside.
2. Melt the butter in a medium saucepan over low heat. Stir in the flour until smooth, and let it cook for two minutes. Gradually stir in the milk, followed by the chicken broth to make a smooth thick sauce. Add the cooked ground venison, Worcestershire sauce, paprika, chili powder, curry powder, salt, pepper and parsley. Add the reserved bread crumbs. Stir to blend then remove from the heat to cool to room temperature.
3. The meat mixture firms as it cools, allowing it to be formed into cylinders 3 to 4 inches long and 1½ inches wide.
4. In a small bowl, whisk together the eggs and water. Place flour on one plate and the breadcrumbs on another. Coat the formed croquettes with flour, then dip in the egg mixture and roll the croquettes in the crumbs to coat.
5. Heat frying oil in a large Camp Chef cast iron frying pan over medium-high heat (350°F). When the oil is hot, fry the croquettes until golden brown on all sides. The croquettes will cook in four to five minutes.
*If croquettes are loose and do not want to hold form as cylinders, roll them in the flour and let them sit for 10 minutes before dipping in egg and adding breadcrumbs.
For more delicious wild-game recipes, click here.