by
posted on July 14, 2020
Support NRA American Hunter
DONATE
The original Thompson/Center (T/C) Venture arrived in 2009 and was part of a new generation of budget bolt guns designed to offer custom-level accuracy at an affordable price point. T/C's original Venture was very much a product of its time when cylindrical actions, minimized ejection ports and full-diameter bolts were becoming popular features on hunting rifles. The original Venture had all three of those design elements and came with a composite stock that kept weight and cost to a minimum.


Good as the original Venture was, a heavy factory trigger limited accuracy potential. Last year, T/C set out to polish the last rough edge off their flagship bolt gun by offering the Venture II with a much-improved trigger. The Venture II, which broke cover at SHOT Show 2020, is similar in most other ways to the gun it replaces. Both guns feature the same cylindrical action design and the same two-position rocker-type safety. The action is pillar bedded and the barrel is free-floated, the recoil lug is sandwiched between the 5R rifled barrel and the tubular action, and all the exterior metal is Weather Shield coated. The new Venture II also utilizes a drop-out single-stack polymer magazine just like the outgoing gun, and Weaver-style bases are included. The barreled action is mated to a black injection-molded stock with gray Hogue traction panels in the forearm and pistol grip. A slightly tacky exterior surface makes the Traction Panels easy to grasp with wet hands. 
The big news, of course, is the new adjustable trigger that comes set between 3 and 5 pounds. T/C elected to use a bladed trigger design similar in concept to Savage's AccuTrigger and Mossberg's LBA. The blade blocks the sear from disengaging should the rifle be dropped or jarred, but it remains light and crisp. I found that the trigger on the test rifle had virtually zero take-up and broke cleanly right at 3 pounds. It's a vast improvement over the previous model and it positions the Venture II to stake its claim as one of the best budget hunting rifles on the market.
I tested the Venture II in 6.5 Creedmoor. Without a scope the rifle weighed in at 7.3 pounds with its 22-inch barrel. Other caliber options include .223/5.56, .243 Win., .270 Win., 7mm Rem. Mag., .308 Win., .30-06, .300 Win. Mag. and 350 Legend. Thompson/Center promises sub-MOA accuracy from these guns and backs them with a lifetime warranty. That's pretty impressive considering that Venture II rifles carry an MSRP of just $525.
Performance
I topped the Venture II with a Trijicon AccuPower 3X-9x-40mm scope, and that brought the gun's total weight to 8 pounds, 14 ounces. Needless to say, a rifle weighing that much chambered in 6.5 Creedmoor isn't going to generate a lot of recoil, but any pushback was absorbed by the generous recoil pad. A 5/8x24 threaded muzzle with a black screw-off thread protector makes mounting a suppressor or other muzzle device fast and painless.
The T/C's action cycles smoothly thanks to the black nitride finish on the full-diameter bolt, and there were no issues whatsoever with feeding, extraction and ejection. The Venture II's polymer magazine is nothing fancy, but it's easy to load and works well, though I did have trouble removing it from my test rifle. The rocker-style safety can be disengaged silently.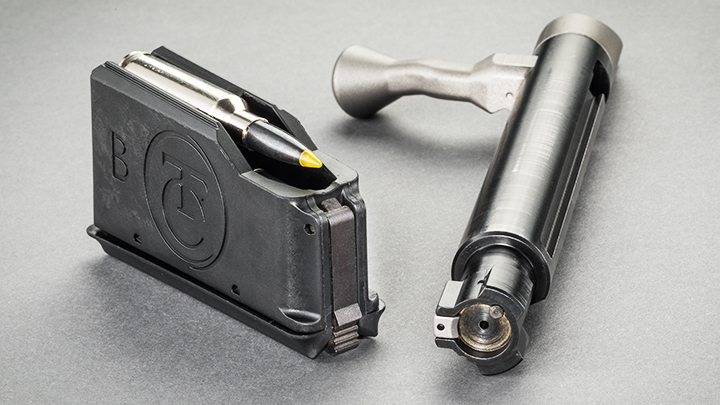 Now to the best part—accuracy. As stated, T/C promises that the Venture II will produce sub-MOA groups with premium factory ammunition, but the test rifle exceeded that figure considerably. The best group of the day measured just .38 inch and came courtesy of Hornady's 143-grain ELD-X Precision Hunter load, and Winchester's 142-grain Expedition AccuBond LR ammo, which produced a .45-inch three-shot cluster, wasn't far behind. All three loads managed at least one group under an inch, and clusters in the half-inch range are possible all day long with a load the Venture II favors. That's very impressive for a hunting rifle and even more amazing considering that these guns will likely hit store shelves priced at or under $500.
The Venture's styling is modern without being audacious. The controls are easy to master, and the enclosed rear bolt shroud has a cocking indictor that offers a visual and tactile indicator regarding the condition of the gun. And while the Venture II isn't light, these guns aren't a burden to tote through the woods like some of the popular new target/hunting hybrid rifles. The Weather Shield coating stood up well during the test, and if it performs as well as T/C says it does (the company claims Weather Shield-coated metal has survived 350 hours of exposure to the elements) then it'll last for years of hard hunting without corrosion. What's more, the Venture II is available in 350 Legend for those who hunt in straight-wall-only states.
There's nothing particularly fancy about the Venture II, and it won't appeal to the crowd who wants a hunting rifle that looks like a cross between a PRS gun and a sporter. However, the new trigger goes a long way toward improving overall performance, and if every Venture II performs the way the test gun did, I think we may be crowning a new king in the budget bolt-gun market.


Technical Specifications
• Type: bolt-action centerfire rifle
• Caliber: 6.5 Creedmoor
• Barrel: 22", 5R rifling, 1:8" twist, threaded ⅝x24 with cap
• Magazine: polymer box; 3-rnd. capacity
• Trigger: single-stage; 3-5-lb. pull weight
• Sights: none, Weaver bases included
• Safety: two-position rocker-type
• Stock: black composite with Hogue traction panels
• Metal Finish: Weather Shield coating
• Overall Length: 42"
• Weight: 7.3 lbs.
• MSRP: $525; tcarms.com