by
posted on May 19, 2020
Support NRA American Hunter
DONATE
In my view, Nosler's new M48 Mountain Carbon is perhaps the ultimate hunting rifle, and here's why: It's a near-custom rifle that should weigh more than 7 pounds, but thanks to its carbon-fiber wrapped barrel and high-end carbon-fiber stock, tips the scale at only 6 pounds. The carbon wrapping lends the barrel rigidity so it's not as susceptible to heat-induced flyers typical of pencil-barreled ultralight rifles, yet it cuts weight drastically compared to a steel barrel of the same stiffness; it also allows it to cool faster. Meanwhile the meticulously made stock does the same thing. The result is a sub-.75-inch rifle that handles like an ultralight yet shoots like a mid-weight—for around $3,000. While that might sound like a goodly amount of cheese—and it is—this is a do-all rifle perfect for hunting scenarios from treestands in timber to mountain goats at 600 yards.

Indeed, when the Bend, Ore., firm Nosler set out to build rifles, it set out to make the best rifle it could, then worry about cost. The bullet-making juggernaut didn't choose to buy an action from someone else, barrel it and remarket it; rather, it built its own by taking a piece of bar stock and CNC machining it exactly the way it wanted with all the features riflemen desire. The resulting M48 action that's been around for 15 years now consists of a two-lug bolt featuring a Remington 700-like plunger ejector and a AR-style spring-loaded ejector. It's a one-piece design, meaning its bolt handle and even the handle's knob are made from one, monolithic piece of steel. The bolt itself features two holes on its underside, presumably so the firing pin spring can be inspected and lubed without removing it. Six shallow flutes along the bolt accept grit so the action remains smooth on opening and closing. All metal parts are finished in tungsten gray Cerakote that looks good and is great at reducing glare. 
The bolt slides out of the rifle's polygonal-shaped action via a spring-loaded lever on its left side. Atop it are M700-pattern screw holes for mounting a scope. When you remove the action from the barrel via two torx screws, you'll notice just how heavy and robust the action is. The underside is flat to accept the thin metal magazine box and the Timney trigger assembly behind it. The Timney trigger is a simplistic thing of beauty, set to break right around 3 pounds; my test rifle broke at 3.3. It is one of the cleanest, best-feeling, creep-free triggers I can recall pulling on any hunting rifle.   
With the stock removed, you'll notice the hand-laid glass epoxy in its bed and a single recoil lug slot that prevents the barreled action from teetering when it's snugged down on aluminum pillars by the screws. No doubt this contributes to the rifle's unwavering accuracy. You'll also notice the very wide channel in the forearm that allows the large-diameter carbon-fiber-wrapped barrel to free-float along its length. On the belly of the stock is the rifle's one-piece (connected by screws) bottom metal that features the trigger guard and a hinged floorplate to allow the easy removal of four shells.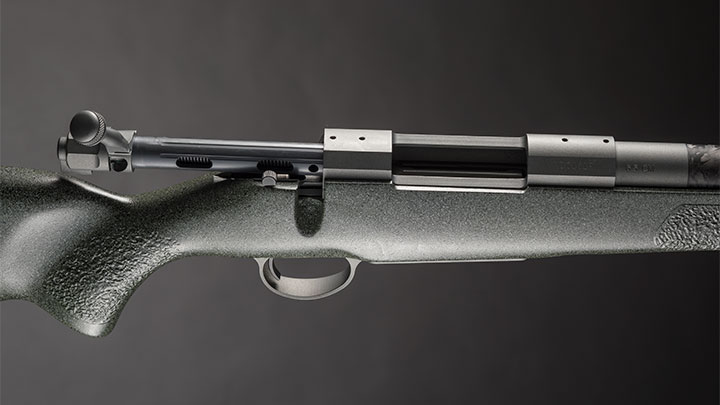 The Granite Green Ultra-Light Mountain Hunter stock itself is worthy of a few words. This is not a run-of-the-mill synthetic stock, or even one with a few carbon fibers in it just so the company can say it's carbon fiber. Rather, this one's made of carbon fiber aramid (aramid is another type of synthetic woven fiber that's uber-strong, as well as heat resistant) that will not warp or flex, yet is incredibly light. This stock features extra stippling at the grip areas and a rather pronounced palm swell. Its buttstock is capped by a relatively thin yet surprisingly effective buttpad. The only aspect I really don't like about this stock is the rather old and boring Granite Green color. If I were to buy it, I'd have it painted.
Then there's the rifle's most prominent feature: the barrel. It features a very thin steel barrel wrapped by carbon-fiber sheeting to give it rigidity. The 24-inch barrel features a light Sendero contour that is much like a "bull" or target barrel with very little taper from nut to muzzle. If it were all steel, it might weigh 8-plus pounds, but because it's carbon-fiber wrapped, it remains light yet stiff for maximum accuracy, even as it heats up. The barrel terminates in 5/8x24 threads for a suppressor that are covered by a matching thread protector.
In the field, the M48 Mountain Carbon proved an amazing workhorse rifle that I think is worthy of its price tag. It really represents the highest technology available to riflemen right now. It shot sub-.75-inch groups regardless of what ammo I fed it, with its best group measuring less than .5 inch! This M48 handles and shoots like a heavier rifle, but at 6 pounds, it handles like a mountain rifle—and that's its allure. I found that with its carbon-fiber barrel and stock, it's also extremely quiet and pleasurable to carry in the field.
What's more, it's available in cutting-edge calibers such as 6mm and 6.5 Creedmoor, the venerable .300 Win. Mag. and the company's proprietary magnums—the 26, 28, 30 and 33 Nosler. I bet it'll be available soon in the brand-new 27 Nosler, as well.  In all, the M48 Mountain Carbon is perhaps the ultimate do-all rifle, and likely one of the most accurate ultralights I've ever shot.

Technical Specifications
• Type: bolt-action centerfire rifle
• Caliber: 6mm Creedmoor, 6.5 Creedmoor (tested), 26 Nosler, 28 Nosler, 30 Nosler, 33 Nosler, .300 Win. Mag.
• Barrel: 24", light Sendero contour, carbon-fiber wrapped, cut rifled, 5 grooves, 1:8" RH twist, ⅝x24 threaded muzzle
• Magazine: internal box w/hinged floorplate, 4-rnd. capacity
• Trigger: Timney, single-stage, 3.3-lb. pull weight (tested)
• Sights: none, drilled and tapped for M700-style bases
• Safety: two-position cross bolt
• Stock: ultra-light reinforced carbon-fiber aramid Mountain Hunter w/raised comb, semi-beavertail fore-end ; LOP 13.5"; Granite Green, sling-swivel studs
• Metal Finish: tungsten gray Cerakote
• Accessories: none
• Overall Length: 44.5"
• Weight: 6 lbs.
• MSRP: $3,140; nosler.com