by
posted on January 26, 2020
Support NRA American Hunter
DONATE
The XPR is the first centerfire bolt-action rifle Winchester launched since the Model 70, and as such, it had some really large shoes to fill. But the XPR, with its modern design, superb accuracy potential and affordable price-point has become a standard in the highly-competitive budget hunting rifle market. This year, the new XPR Stealth Suppressor Ready (SR) version hits store shelves and it offers a lot of features that hunters will appreciate.

The trend at SHOT Show 2020 has been hybrid tactical hunting rifles, many of which come with added weight and long barrels (Winchester's other new XPR rifle this year, the Renegade Long Range SR, is an example). But as appealing as those rifles can be for long-range shooting, they aren't always ideally suited for hunting. In a treestand or blind, a long-barreled, heavy gun can be unwieldy.
The XPR Stealth SR, by contrast, comes with a 16½-inch heavy sporter profile barrel with a ⅝x24 threaded muzzle (11/16x24 on the .350 Legend model), which gives it an overall length of 36½ inches. Weight is also kept to a minimum at 6 pounds, 8 ounces. This compact design makes the XPR Stealth SR a great gun for a wide variety of hunting applications, but especially well-suited for the cramped quarters of a blind or stand, or as a truck rifle. What's more, if you do add a can to the XPR Stealth, it's still much shorter than many long-barreled hunter/target hybrid guns.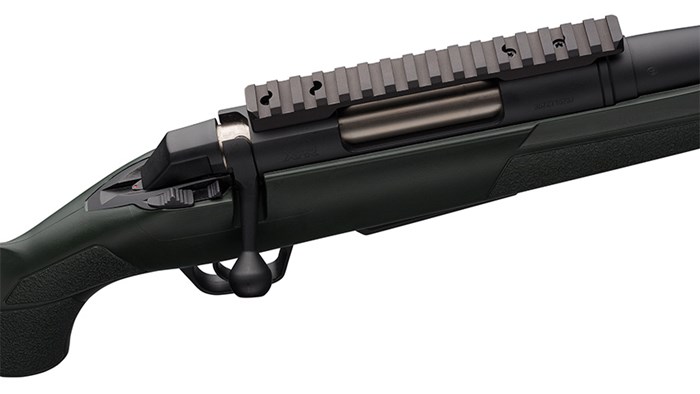 Its button-rifled, free-floated barrel comes with a durable Permacote finish and a blued steel receiver. It utilizes an oversized bolt with three lugs up front for a short bolt lift, and there's also a bolt unlock button that allows the action to be cycled with the safety engaged. The XPR Stealth also features a Picatinny rail for easy optics mounting, a detachable box magazine, a green composite stock with an Inflex recoil pad and Winchester's M.O.A trigger system.
With an MSRP of $619 the Stealth is competitively priced. It's an even better value when you consider that these rifles offer great accuracy potential and robust build quality. Even with its short barrel, the XPR Stealth SR can be used to shoot long ranges, especially when chambered in 6.5 PRC or either of the available WSM offerings, but it's also great in thick cover where long barrels become a nuisance.

Winchester currently offers the XPR Stealth SR in nine calibers, including .223 Rem., .243 Win., 6.5 Creedmoor, 6.5 PRC, .270 WSM, 7mm-08 Rem., .308 Win. and .300 WSM. It's also chambered in 350 Legend, which makes it ideally-suited for eastern whitetail hunters in straight-wall states.
For more information on the new XPR Stealth SR, visit winchesterguns.com.