by
posted on February 4, 2019
Support NRA American Hunter
DONATE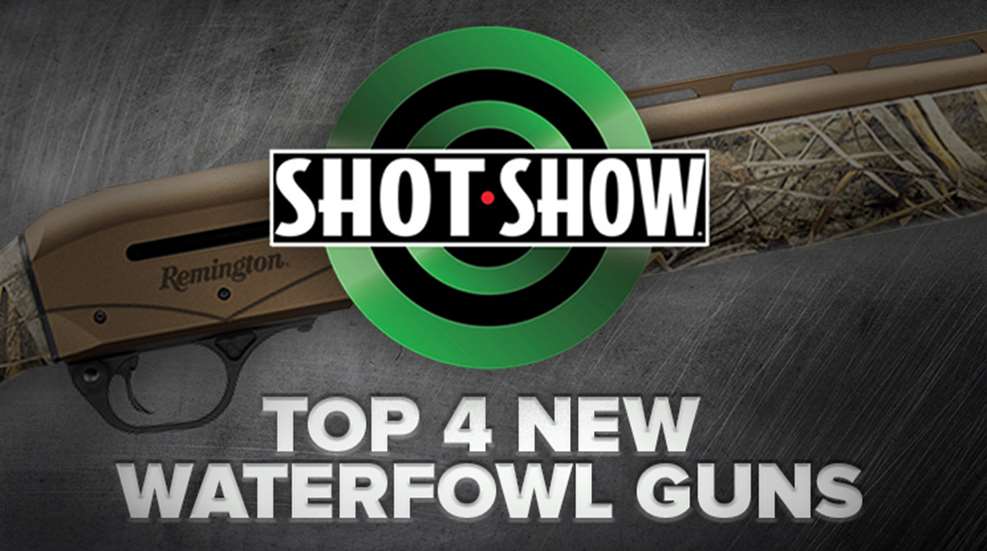 Waking up to the sound of geese flying over every morning puts dreams of waterfowl hunting in my head. Visions of my friends and I sitting in a quiet blind with our eyes to the sky, a finger on the safety, prepared to jump up at the call. These visions are what waterfowler hunters live and breathe for. Whether it's geese, puddle ducks or sea ducks, every day in the blind is a new adventure and we wouldn't have it any other way. If you're in the market for a new waterfowl gun, check out these four new options from the 2019 SHOT Show.

1. TriStar Viper Max Bronze 3.5″
This addition to the TriStar Viper line is sure to rock the duck blind next time you head out with your friends. With overmolded rubber grips, you don't have to worry about losing your grip when it's perfect waterfowl weather. This affordable semi-auto has a bronze Cerakote receiver and 28-inch barrel, while the stock and fore-end are outfitted in Mossy Oak Blades. It comes right out of the box with four Beretta Mobil choke tubes (skeet, improved cylinder, modified and full), and weighs in at just 7.3 pounds. MSRP: $765; tristararms.com.

2. Remington V3 Waterfowl Pro
When the V3 was originally released, it instantly rose to the top of many waterfowler hunter's wish lists after shooting one. For 2019, Remington has released the new V3 Waterfowl Pro, adding an oversized bolt handle, a larger safety button and a completely redesigned loading port. The V3 Waterfowl Pro is easy to use and operate with gloves or heavier gear—even the bolt release was swapped out from a small button to a larger paddle. It features a two-tone look with burnt bronze Cerakote receivers and 28-inch barrels, and your choice of Mossy Oak Shadow Grass Blades or Realtree Max 5 camo. You will be the envy of the blind with the new V3 Waterfowl Pro. MSRP: $1,195; remington.com.

3. Browning A5 Wicked Wing Mossy Oak Bottomland/Realtree Timber
While the A5 is obviously not a new shotgun for Browning, it is now being produced in Mossy Oak Bottomland and Realtree Timber camo. Over the years, the A5 has made its presence known when it's in the blind, and while these two camouflage patterns seem to be dominating the industry right now, there isn't a better shotgun to be sporting it. Featuring an oversized bolt handle and a chromed bore, this shotgun is letting its history and performance do the talking. MSRP: $1,999.99; browning.com.
4. Mossberg 835 Ulti-Mag Waterfowl
Let's be honest, Mossberg is known for its affordable, reliable shotguns. This 12-gauge pump-action accepts 2.75-inch, 3-inch and 3.5-inch loads, and features an over-bored 28-inch barrel, which provides less pellet deformation and tighter patterns. With interchangeable chokes, the 835 Ulti-Mag sets the standard for 3.5-inch pump-action shotguns. The 835 Ulti-Mag Waterfowl features Mossberg's standard dual extractors, top-mounted ambidextrous safety, twin action bars and an anti-jam elevator. MSRP: $518; mossberg.com.