by
posted on January 29, 2020
Support NRA American Hunter
DONATE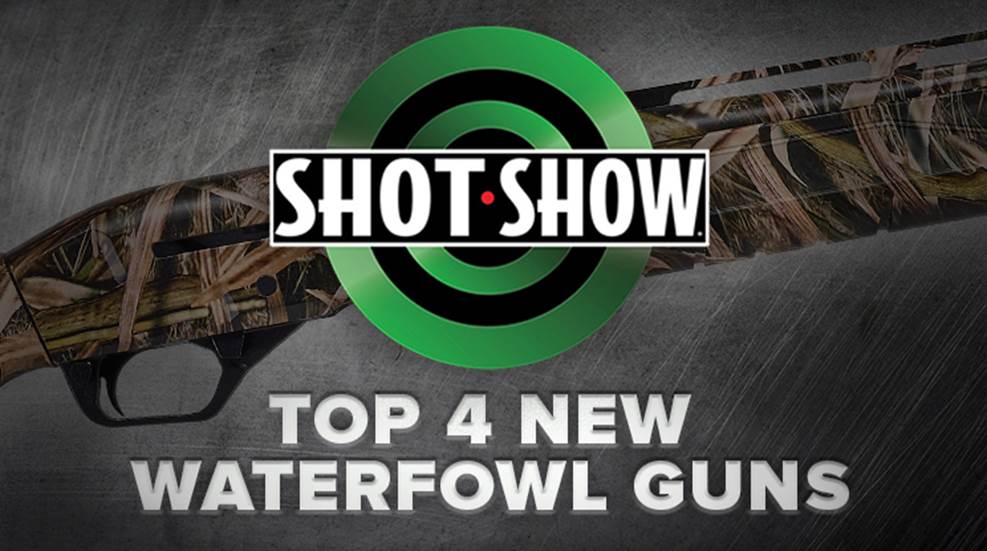 Hardcore waterfowlers are hard to please. They all have their own opinions about how a shotgun should feel, what it should be chambered in and what camo pattern works best. All the shotguns on this list come in either black, Realtree Max 5, or Mossy Oak Shadow Grass Blades camo, but we can all agree that functionality is the most important part of picking a new shotgun. If you're in the market for a waterfowl gun, check out these four new options from the 2020 SHOT Show.

1. Remington 870 Express Super Magnum Waterfowl
Remington Arms Company. Everyone knows that name and logo, and the company's Model 870 is arguably the most iconic shotgun in the world. However, Remington is still coming out with new additions to the line and new technology to make a perfect firearm even better. The new 870 Express Super Magnum Waterfowl handles up to 3½-inch magnum shells and is fully outfitted in Realtree Max 5 camo. You can't ever go wrong with a Remington 870, and this one certainly delivers. MSRP: $629; remington.com.

2. Winchester SX4 Compact
The Winchester SX4 is one of the most popular shotguns on the market. Winning both the American Hunter 2018 Golden Bullseye Shotgun of the Year and the 2017 Guns & Ammo Shotgun of the Year awards, this gun has obviously proven its worth. New for this year is the SX4 Compact in synthetic black and Mossy Oak Shadow Grass Blades. The 13-inch length of pull is perfect for youth or small statured shooters. It comes in 12- and 20-gauge, so it's a great gun for any shooter. The Invector-Plus choke tube system gives you consistent patterns. Full, Modified and Improved Cylinder chokes are all included. The bolt handle and bolt release are oversized to make them easier to use. Winchester's self-adjusting active valve gas system will cycle a large variety of loads while reducing recoil. MSRP: $799.99; winchesterguns.com.

3. Savage Renegauge Waterfowl
The new Renegauge is Savage's first semi-automatic gas-operated shotgun. Their unique D.R.I.V. gas system uses dual valves to cycle the bolt carrier while also releasing the excess gas and cutting down on recoil. Each Renegauge comes with three recoil pads and comb heights to adjust the stock to each shooter. The one-piece bolt carrier has over-sized controls, and an easy loading magazine port making it easy to operate with gloves on. The rib features a fiber optic front sight, allowing you to quickly move from target to target with easy. The Renegauge Waterfowl comes in either a 28" or 26" barrel and is decked out in Mossy Oak Shadow Grass Blades camouflage. Packaged with flush Full, Modified and Improved Cylinder choke tubes, this shotgun is right at the top of my list for next waterfowl season. MSRP: $1,549; savagearms.com.

4. Weatherby 18i Waterfowler
For 2020, Weatherby has introduced its new 18i series of shotguns. The inertia-driven system is proven to deliver in even the harshest conditions. The receiver is machined from billet aluminum for strength. Decorated in either Mossy Oak Shadow Grass Blades or Realtree Max-5, the 18i Waterfowler stands above the rest of the crowd. The elastomer stock is designed to reduce the amount of recoil felt by the shooter. Chambered in 3.5-inch with a 4+1 capacity (2+1 capacity with magazine plug), this shotgun will function in rain, shine or snow. MSRP: $1,199; weatherby.com.