Support NRA American Hunter
DONATE
While SHOT Show may be the first place dealers, industry insiders and vetted media types get their hands on the year's new guns, "regular" hunters and shooters who are not part of those groups miss out. Fortunately the Great American Outdoor Show, which follows on the heels of SHOT, gives consumers their chance to see new firearms (and optics, ammo and other gear) from dozens of the same manufacturers who made big introductions just weeks before.
With more than 1,100 exhibitors filling 650,000 square feet of floor space at the Pennsylvania Farm Show Complex in Harrisburg during Feb. 3-11, it can be difficult to know where to start. So let us help you plan your visit. Here are 10 new guns on display at Great American that you'll want to check out. We've even put them in order by booth location, starting near the entrance to the Shooting Sports Hall in the Cameron Street lobby and working across the aisles from right to left.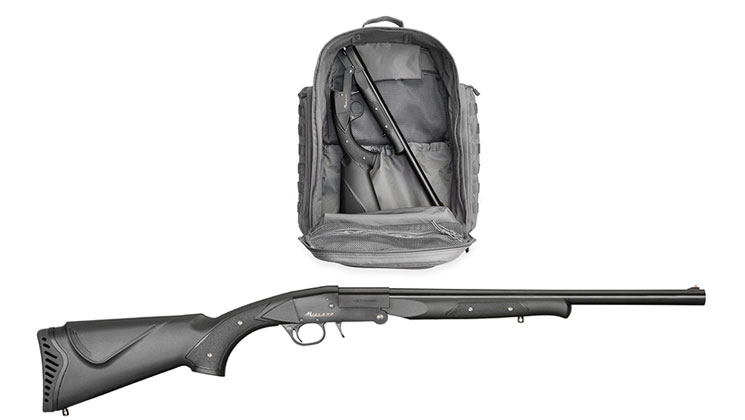 1. Midland Backpack—Booth 281 (Navy Arms)
Here's something you don't see every day: A single-shot shotgun that folds in half for easy transport, weighs less than 5 pounds and retails for less than $150. The Midland Backpack is available in 12-gauge, 20-gauge and .410-bore with an 18.5-, 24- or 26-inch barrel. Its synthetic buttstock accepts spacers for length-of-pull adjustments, as well as holds a survival kit (sold separately). Barrels are interchangeable, and Midland expects to offer rimfire and centerfire rifle versions soon.

2. Shaw Custom Rifles Mk. X—Booth 217
Shaw builds rifles based on the customer's choice of barrel, chambering and stock, and this year the company offers a new action as an option as well. The Mk. X centerfire action features a hybrid push-feed/controlled-round-feed bolt, detachable box magazine, integral recoil lug and scope bases, and a honed Savage AccuTrigger. Customers get their pick of right-hand or left-hand actions in blued chrome-moly or stainless steel, two barrel contours in several lengths and more than 80 chamberings. A Timney trigger is also available as an upgrade. Shaw currently offers the Mk. X with a grade 5 walnut stock, but more options are planned for the future.
3. Hi-Point 1095TS Carbine—Booth 301
The 10mm Auto cartridge is a favorite among hunters who use a semi-automatic pistol for deer and hogs, and it provides even more velocity and performance when fired from a carbine. The semi-auto 1095TS carbine has a 17.5-inch barrel, weighs 7 pounds and feeds from a 10-round detachable box magazine. It features fully adjustable rear peep and post front sights, Weaver accessory rails and a polymer stock. Like all Hi-Point carbines, the 1095TS represents a value; it retails for less than $390.

4. Marlin Model 1895 Trapper—Booth 363 (Remington Outdoor Company)
Long-range precision shooting may be all the rage, but we're willing to bet more deer are killed each year at 60 yards in the brush than at 600 yards in the wide open. For the thick stuff, Marlin gives us the Trapper. This new variation of the classic Marlin 1895 has a fast-handling 16.5-inch barrel chambered in .45-70, a big-loop lever and a Skinner peep sight. The extended magazine tube holds five rounds, yet the rifle's overall length is just 35 inches.

5. DPMS GII Compact Hunter—Booth 363 (Remington Outdoor Company)
Looking for one AR to hunt predators and deer, but don't trust the .223 Rem. for big game? Check out the GII Compact Hunter, which is now chambered in .243 Win. The GII is a scaled-down version of the typical large-receiver (think .308 Win.) AR. Its minimal dimensions, 16-inch barrel and carbon-fiber fore-end cut weight to just 7 pounds. Other factors that contribute to comfort in the field include a B5 Systems SOPMOD buttstock and a Hogue OverMolded rubber grip.

6. Taurus Raging Hunter—Booth 473
Despite its "Raging" name, we think the new six-shot .44 Mag. revolver from Taurus will make a lot of hunters happy. Its 8 3/8-inch barrel is surrounded by an aluminum shroud that helps reduce weight and provides a Picatinny rail for mounting optics. Ports in the barrel, along with a grip that has a cushioned insert, help reduce recoil and muzzle flip. The Raging Hunter has a fully adjustable rear sight and a fixed front sight.

7. Smith & Wesson Performance Center Model S&W500—Booth 481
OK, so the Smith & Wesson X-frame revolver in .500 S&W Mag. isn't new. However, this version—which has a tuned Performance Center action, an unfluted cylinder and a 3.5-inch barrel with a Hi Viz fiber-optic front sight—is, and do you really need an excuse to heft one of the world's most powerful revolvers? This may be the ultimate big-bear defense gun.

8. SIG Sauer ASP20—Booth 589
Just last spring Pennsylvania approved .177- and .22-caliber air rifles for hunting small game and furbearers, making SIG Sauer's introduction of the ASP20 particularly well timed. Noteworthy features of the break-barrel, gas-piston ASP20 include a two-stage, user-adjustable MatchLite trigger; GlideLite cocking mechanism that requires just 33 pounds of force to cock; wedge-type breech-locking system that eliminates barrel droop; and integral sound dampener. The .177-caliber ASP20 produces a muzzle velocity of 1021 fps with an 8.64-grain pellet for 20 ft.-lbs. of energy, while the .22-caliber rifle drives a 14.65-grain pellet to 841 fps at the muzzle for 23 ft.-lbs. of energy. Both versions are available with a full-size wood or synthetic stock.

9. Mossberg Patriot Synthetic Cerakote—Booth 663
At less than $450, the new Patriot Synthetic Cerakote could be the best value in all-weather rifles we've seen. Mossberg treats its flagship Patriot barreled action with Cerakote—a corrosion- and wear-resistant ceramic coating—and then secures it in a durable polymer stock. Other features include a four-round detachable box magazine, user-adjustable LBA trigger and 22-inch fluted barrel. Mossberg offers the rifle in .243 Win., 6.5 Creedmoor, 7mm-08 Rem., .308 Win., .270 Win. and .30-06 Sprg.

10. Henry Big Boy Color Case Hardened Rifles and Carbines—Booth 647
Really nice lever guns are timeless, which is why Henry adds six color-case-hardened rifles and carbines to its Big Boy family this year. Chamberings include .38 Spl./.357 Mag., .44 Spl./.44 Mag. and .45 Colt. Rifles have a 20-inch octagonal barrel, 10-round capacity and standard-loop lever, while carbines have a 16.5-inch octagonal barrel, seven-round capacity and large-loop lever. All wear American walnut stocks that beautifully complement the striking case colors on the steel receivers and fore-end caps.