by
posted on February 9, 2014
Support NRA American Hunter
DONATE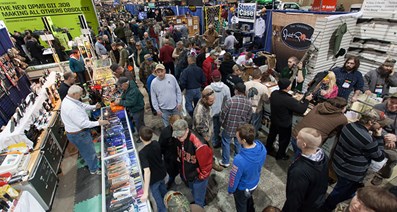 Hunters and fishermen often seek solitude. We take to the woods and waters to get away from people and the constraints of society. We look for hidden hollows to hang stands and abandoned farm ponds to cast lines. We avoid crowds and become sick with disappointment when others discover our "secret" spots.
But, as the saying goes, there is strength in numbers. If the crowd filling the halls of the Pennsylvania Farm Show Complex on the final weekend of the Great American Outdoor Show is any indication, we are stronger than ever. The tens of thousands of excited attendees flooding the aisles yesterday and today prove that, as much as we may shun other hunters and fishermen while in pursuit of longbeards and largemouths, we relish the chance to get together every now and then to celebrate our passions. And when the things we live for become threatened, we stand united to ensure our beloved traditions are not lost. As a group we boycotted the "Harrisburg show" last year in response to Reed Expositions' anti-gun policies, prompting the former show manager to cancel the event, and as a group we have returned now that NRA and show sponsor Outdoor Channel have brought it back.
Despite the cold, icy weather, we drive for hours and then huddle together in line, awaiting our turn through the doors leading to 650,000 square feet of hunting, shooting, fishing and camping exhibits. In a way, the experience is like deer hunting in December or ice-fishing. Any inconveniences are minor, embraced as part of the deal, because simply being here is worth the effort.
Once inside, we go our separate ways. We have important things to see and do. Maybe we're here as a family, like Keith and Kelly Heasley, who brought their 9-year-old son Sam from their home in West Virginia. Sam shot his first deer last year—a four-point buck—but "the stock of his rifle is just a little too long for him" says Keith. They've come to look at youth rifles and maybe even find a replacement stock with a shorter length of pull for Sam's Remington Model 700.
Or perhaps we've made the trip with a couple buddies—like Tom Neiderer, Luke Puterbaugh and Justin Slusser—not looking for anything specific but knowing a good deal when we see one. "I bought a light for my bow sight," says Puterbaugh, a resident of nearby Gettysburg, Pa. "I couldn't pass it up. That and a stick of bologna. I'm a sucker for it every time." As Puterbaugh bites off another chunk of his meat snack, Neiderer points toward the Fishing Hall, and the group is off to find some lures.
We may even be on a date, like Jordan Reitz and his fiancé Andrea Klemm, both from Smithsburg, Md. The 26-year-old Reitz is already a longtime show attendee, coming here the first time when he was about 10. Klemm is newer to the scene but, dressed in a camo fleece jacket, feels right at home. She likes to hunt turkeys, "because it's warm," but she admits she's here to see Brantley Gilbert at the NRA Country Concert as much as the slate calls and shotguns. Reitz is happy to oblige, noting "there's more guns and shooting-type stuff here this year" for him to see before the music starts.
These are just a few of the many reasons why so many of us come to the Great American Outdoor Show. But the biggest one of all may just be to immerse ourselves in our favorite pursuits, surrounded by our kind of people. In the dead of winter, there's no better cure for cabin fever.