by
posted on December 24, 2018
Support NRA American Hunter
DONATE
The 2016 report of "Fishing, Hunting and Wildlife-Associated Recreation," a survey conducted every five years by the U.S. Fish and Wildlife Service, showed that today only about 11.5 million Americans aged 16 or older hunt. That's only 4.9 percent of adults among a population of 320 million.
Many Americans who may become hunters lack a proper introduction to our pastime; they have no mentors to guide them; they have no access to the knowledge needed to pursue hunting, or they lack knowledge of those outlets that may inform them; and they either lack knowledge of or have little access to hunting lands. Too many Americans have left the field; they no longer hunt. Too many current American hunters continue to consider leaving the field.
In fact the number of American hunters today is about half what it was 50 years ago, and the decline is expected to continue to accelerate.
Demographers don't see any uptick on the horizon. Nearly a third of American hunters are baby boomers. We hunted like no other generation, but the youngest boomers are 54, and trends suggest most hunters stop buying licenses by about 65. So what happens in 11 years when the last of the baby boomers stops hunting?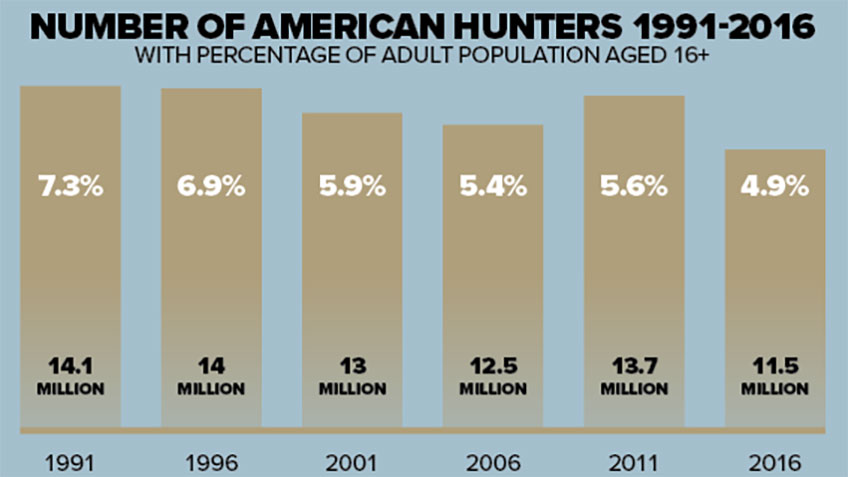 Indeed wildlife and wildlands are heavily dependent on hunters and fishers to survive and thrive. State agencies, which manage most of the wildlife in America, derive about 59 percent of their collective funding from hunting- and fishing-related activities. A primary source of that funding—hunters—is shrinking. Note that funding doesn't come from birdwatching or hiking or kayaking, to name a few non-consumptive activities that contribute no funds.
Our user-pay system of conservation, the North American Model of Wildlife Conservation, is recognized worldwide. But non-consumptive users (heck, many hunters) don't know about it. We need to broaden the base of understanding if only by raising the level of awareness of hunting. Better yet, let's increase the number of hunters while we're at it.
Enter the three r's: recruitment, retention and reactivation. As a concept it's known as R3, and it pays dividends. It's not new. Wildlife agencies and private groups like the NRA, Safari Club International, the Rocky Mountain Elk Foundation and others have pushed it for years. But it is our new mission.
Who better than NRA members to tackle this job? We're already part of the greatest gun club in the world. Our membership grants access to resources at our fingertips.
Start with this magazine. American Hunter, founded in 1973 and published 12 months a year, is the largest-circulating pure hunting magazine in the world. Every month we inform and entertain a million readers who are passionate about the hunting lifestyle. AmericanHunter.org is our digital component, chockful of all the content found in this magazine and more, and available 24/7 to all hunters regardless whether they are members.
We're all gun owners, right? The NRA was founded in 1871 on the premise of instructing a civilian populace in the use of small arms so that our homeland would always be protected. Today, 111,934 NRA-certified rifle, shotgun and pistol instructors stand ready to help new gun owners and even experienced gun owners who need expert training.
You should know the NRA was the first organization to develop a hunter-education course, in 1949 in New York. It became the model, and today, in the digital age, you should be heartened to know your NRA has once again developed the nationwide model for hunter ed: NRA Hunter Education Online.
At NRAHE.org you'll find a fresh, comprehensive approach to hunter safety available anywhere Internet access is found. The 15-chapter sequence features attention-grabbing videos, photos and graphics, audio recordings and interactive modules presented in appealing, easy-to-access components prospective hunters may access whenever and wherever they are able to complete it. It provides the best method for teaching future hunters lessons they will remember the rest of their lives—the same lessons we all learned. And it's absolutely free. It's our gift to hunting. Today, your NRA is urging every state to accept our gift, but so far only seven have done so. Until NRAHE.org is available and accepted for use everywhere free we will not rest, because future hunters deserve the best possible instruction possible.
Let's not forget our youngest hunters. Since 1985, the NRA's Youth Hunter Education Challenge (YHEC) has introduced more than 1.2 million participants to a lifetime of safe, ethical hunting. It's a competition in which youth from across the country gather to display their prowess in scenarios designed to simulate various activities that may or may not occur afield while on a hunt. YHEC is also a competition intended to educate participants and encourage them to build personal outdoor skills through the use of eight different scored events, first at the local/state level then at the national level. If you know a youth who may be interested in YHEC, direct him or her to yhec.nra.org.
Remember the NRA sponsors two outstanding outdoor shows. The NRA Annual Meetings & Exhibits assembles almost 100,000 members in a different city every year, where we celebrate our Second Amendment freedom and see new guns and gear, gather for hands-on instruction and more. Remember the Great American Outdoor Show (GAOS). Folks up and down the East Coast recognize it as a humdinger that lasts nine days every winter. You owe it to yourself and a prospective pupil to join the tremendous gathering of fellow hunters at the GAOS in Harrisburg, Pa., from February 2–10.
Finally, I would be remiss if I did not speak to our legislative advocacy on behalf of gun owners and hunters.
The Institute for Legislative Action is the lobbying arm of the NRA, founded in 1975 to preserve the right of all law-abiding individuals to purchase, possess and use firearms for legitimate purposes as guaranteed by the Second Amendment to the U.S. Constitution. When restrictive "gun-control" legislation is proposed at any government level, NRA members and supporters are alerted and respond with individual letters, faxes, e-mails and calls to their elected representatives to make their views known. Visit NRA-ILA.org to sign up for these alerts.
Our newest initiative on behalf of hunters, the NRA Hunters' Leadership Forum, was founded in 2014 to address the cultural, political, demographic and technological challenges to hunting's future in the 21st century. The NRA-HLF links dedicated hunters who have distinguished themselves as leaders in their fields with companies and organizations in the firearm and hunting communities as we go on the offense and work together to save hunting's future.
Wow—that's a mouthful. Let no NRA member-hunter holding this magazine claim ignorance any longer.
Hunting is a lifestyle that attracted us years ago for any number of reasons. We all know it has the power to attract and captivate others like us. We need only to find those people and inspire them. We can do this. We must. It starts with an introduction