Support NRA American Hunter
DONATE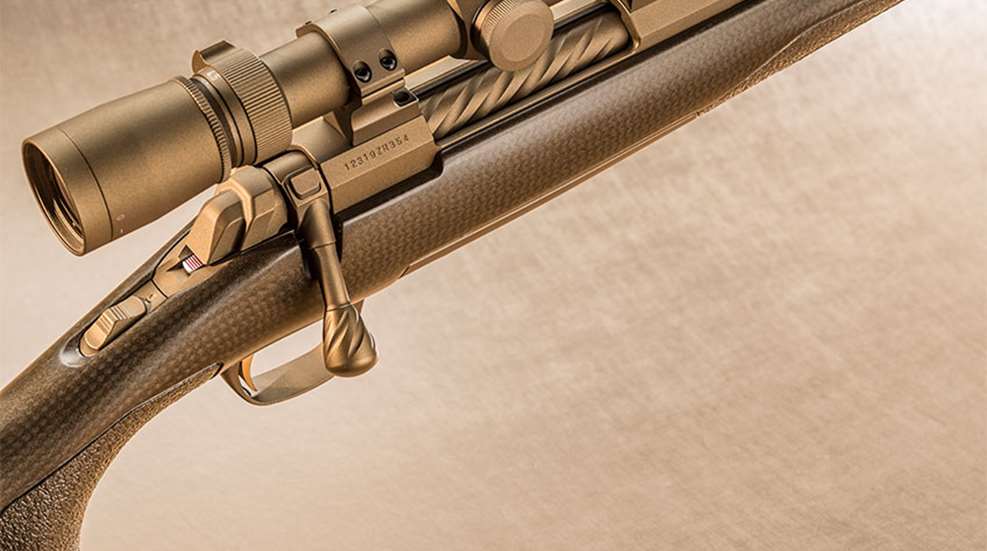 Editor's Note: Contributor Shawn Skipper put the following gear to use on a recent Colorado elk hunt. You can catch up on that story here.
Browning X-Bolt Pro
Browning's X-Bolt hunting rifle line remains one of the finest on the market, and the new X-Bolt Pro I slung over my shoulder in Colorado last fall is just the latest shining example. And shine, it does. The gorgeous, burnt bronze-colored Cerakote finish is impossible to miss, and gives the rifle an extra touch of beauty that perfectly accentuates its other gifts.
Browning calls its X-Bolt Pro a "semi-custom rifle" because of its various specialized touches and higher-end construction above the existing X-Bolt family, and it's hard to disagree. Beyond the aforementioned Cerakote, the rifle is packed with next-level features. You'll find a sporter-weight fluted barrel that features a proprietary lapping process to provide consistent accuracy and easier cleaning, an enlarged bolt handle, a threaded muzzle and more. The rigid, lightweight carbon-fiber stock comes with textured grip panels and a palm-swell, and is filled with noise-dampening foam. The whole package weighs less than 7 pounds, which made it perfect for a hiking-heavy elk hunt. Ten chamberings are currently available. MSRP: $2,099.99-$2,189.99; browning.com.
Browning BXC Ammo
It didn't take long for Browning's ammunition lines to make an impact—heck, the company's shotgun shells won American Hunter's 2018 Golden Bullseye for Ammunition Product of the Year, and the entire kit and caboodle claimed the same honors from American Rifleman in 2017. Suffice it to say the stuff works. In this case, I used the 185-grain .300 Win. Mag. offering from the Browning BXC line. The BXC Controlled Expansion Terminal Tip bullet is designed specifically for use on big game like elk, moose and mule deer. The anodized tip and bonded construction in a heavy bullet are meant to create deep penetration through thick, tough hides and bone. The end result? One good poke in the vitals put a hurting on my bull, which was only able to stumble a few yards before the retreat ended. You should be able to find most of the BXC big-game loads on the shelf for less than $40 a box. MSRP: $35-$37; browningammo.com.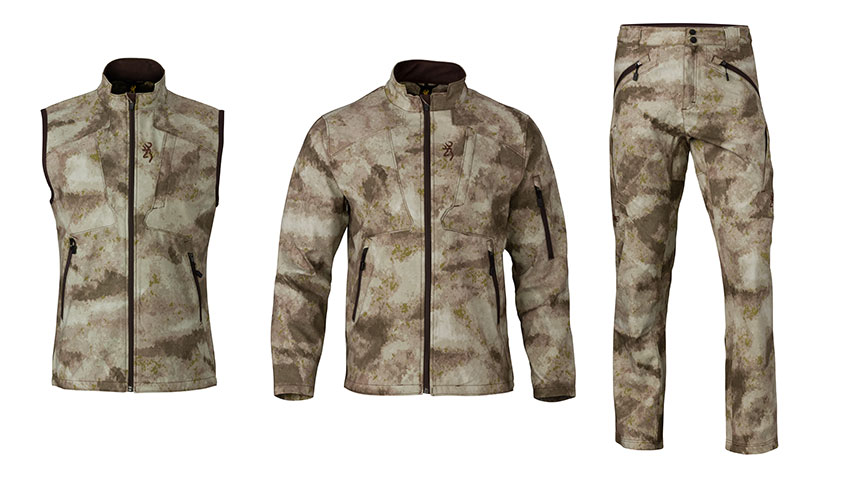 Browning Hell's Canyon Speed Clothing
If you're going to try to sneak around the Colorado timber, it's best to look the part. With that in mind, I donned a few items from the Browning Hell's Canyon Speed line of hunting gear—most notably, the Backcountry vest, jacket and pant. All three bear the stylish A-TACS camo pattern that's become synonymous with much of Browning's clothing. Their soft-shell design is meant to keep them lightweight, fast and quiet.
Browning's entire Speed line features its HeroFit design, which is meant to eliminate bulk, and keep hunters warm and dry without sacrificing mobility and stealth. Pockets and other little features are plentiful, and, simply put, the gear holds up. I've worn it on numerous hunts since returning from Colorado, and I still haven't been able to kill it. Coming from a person who's tough on clothing, that's high praise. A word to the wise, however: If you're the kind of fella who brings his own bulk, as I do, you might want to order one size larger than usual. Just saying. MSRP: $199.99 jacket, $189.99 pant, $169.99 vest; browning.com.