Support NRA American Hunter
DONATE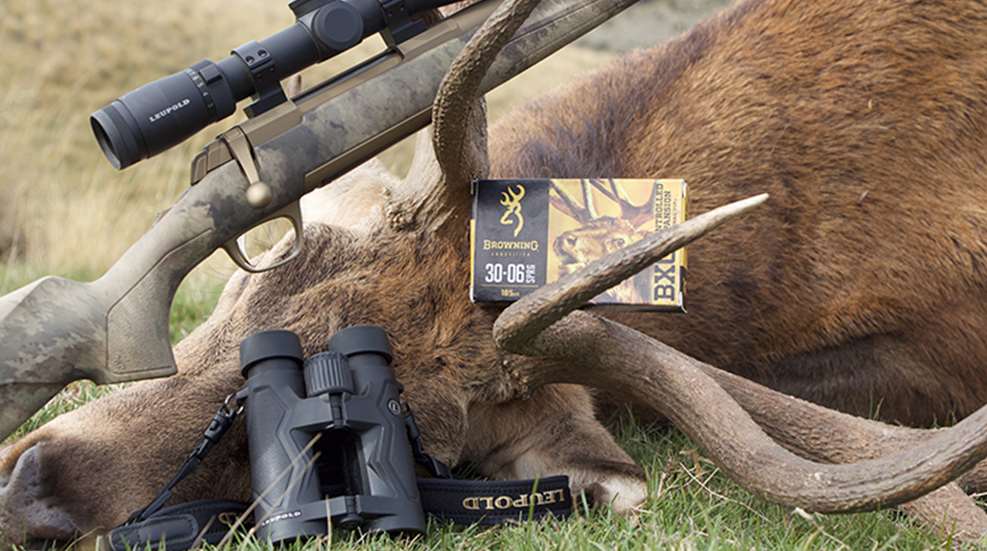 Editor's Note: Editorial Director John Zent put all of the following gear to use on a trip to New Zealand. You can read that story here.
Rifles
Browning X-Bolt Hell's Canyon Speed (above) is like a custom-accurized version of the flagship bolt-action.
• Features: Glass-bedded action mated to a fluted, free-floated barrel equipped with muzzle brake; adjustable Feather Trigger; 60-degree bolt lift; detachable magazine; A-TACS AU camo stock; Inflex recoil pad.
• Comments: Hits a sweet spot—surprising field accuracy from such a light, packable gun. The durable Cerakote Burnt Bronze metal finish, paired with the sand/flat earth stock is the hottest contemporary look of any production bolt rifle.
Winchester M70 Extreme Weather SS (left) combines controlled-round-feed/claw-extractor action with tools that make it one of the most robust M70s ever.
• Features: stainless barreled-action; aluminum bedding-block; target-crown, free-floated barrel; Bell and Carlson composite stock; Pachmayr Decelerator buttpad.
• Comments: Superb balance makes this rugged M70 capable of top field accuracy. At 7 pounds with a 24-inch barrel (.300 WSM) it's ideal for high-country game—long-range shots, running shots.
Ammunition
Browning big-game ammo features a pair of proprietary tipped bullets: the BXR for deer and thin-skinned game, and the BXC for larger, tougher animals.
• Features: BXR uses an oversized copper-polymer Matrix Tip; thin jacketing at the nose, widens toward the base; high ballistic coefficient. BXC uses anodized-aluminum Terminal Tip; bonded construction; heavy, tapered jacketing.
• Comments: The BXR's Matrix Tip jump-starts expansion up front where the jacketing is thin but slows as the taper thickens near the base, ensuring the bullet holds together and keeps penetrating. Fast knockdown on deer-sized game. The BXC's metallic Terminal Tip limits setback on impact in order to maximize penetration and delay expansion.
Winchester Expedition Big Game is a new full-service line bearing the AccuBond CT and AccuBond LR bullets designed by Nosler.
• Features: Tipped projectiles with aerodynamic profiles; bonded construction; extruded jackets; nickel-plated cases; Lubalox coating on CTs.
• Comments: Stout, versatile bullets deliver deep penetration and controlled expansion. Close-tolerance extruded jackets contribute to reliable long-range accuracy.
Field Performance
Clearly our gear was ready for what we encountered in New Zealand. Browning rifles and ammo accounted for four giant red deer stags and a great fallow deer, while Winchester Model 70s firing Expedition loads dropped four Himalayan tahr. Necessarily, those outcomes hinged on the accuracy we observed in range trials. In all but one case, the hunter's first shot either stopped the quarry in its tracks or caused it to go down in close proximity. Ranges of our shots extended from about 70 to 250 yards.
Along with first-shot accuracy, reliable penetration and expansion must occur regardless of the distance, the size of the animal and the striking angle, and both the Browning and Winchester loads did exactly what is expected in order to cause quick, humane kills under fluid real-world hunting scenarios.
Two bullets recovered, both 185-grain BXCs in .30-06, met all the performance criteria. One struck a red deer stag from a quartering-away angle, smashed diagonally through to the off-shoulder and ended under the hide, retaining 67.3 percent (124.5 grains) of its original weight while expanding from .308 to .661 inch in diameter. The other, after traversing nearly the entire length of a fallow buck, retained 76.6 percent (139.8 grains) of weight despite opening up to .744 inch diameter. At least one-third of the shank was left intact on both recovered BXCs and both had extensive fold-back.