by
posted on June 13, 2014
Support NRA American Hunter
DONATE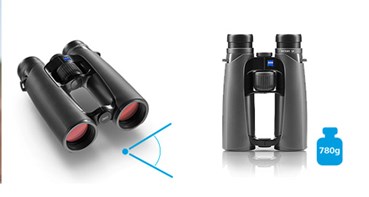 My husband, Phil, and I just returned from Colorado so I can't resist plugging the beauty of the wide-open Western scene—and stressing how quality hunting optics make all the difference in spotting wildlife. Back East, I'm lucky to see 100 yards from my stand, but there I was picking up crisp images of elk, sheep, deer, a bear and even a bald eagle a half mile from the truck, thanks to the Zeiss binoculars Phil keeps on hand. As I flash back to one particular bull already sprouting solid velvety headgear close to where I'm hunting this season, it's fitting Zeiss is making headlines with the launch of another great binocular: the Victory SF. Though this one caters to the birdwatching/nature-observation market, we bowhunters are all nature lovers who enjoy viewing wildlife year round—not just in hunting season—and appreciate having lightweight, quality, sharp-to-the-edge glass around our necks.
When Phil and I checked out the new Victory SF at the NRA Annual Meetings, we knew Zeiss had struck gold. Here's why: Its balance point is behind the focus wheel. With most other binoculars the heaviest glass is farther forward near the objective lens, challenging your arms to keep the binocular hoisted comfortably against your eyes, particularly for long periods. Instead, the ErgoBalance design actually pushes the weight against your face, making it easier to keep your arms steady. This is a big deal. Online reviews already herald its wide field of view and claim that this binocular in a 10X42 is as stable in one hand as an 8X32 in a more traditional design. Translation: You can view wildlife more quickly and easily. The faster we can hone in, the more we'll capture. The strong but lightweight Victory SF has a wide field of view for sidestepping eye strain and fatigue and, thanks to quality glass, bright makes light.
"It's quite enjoyable having the best products in the world and the new Zeiss Victory SF binocular clearly makes that statement," said Michael Jensen, president of Carl Zeiss Sports Optics. Excited about both the Victory SF and the fact Zeiss now offers product lines at varying price points, he added, "We are moving Zeiss into the mainstream markets and have recaptured the lead by offering three tiers of products: Terra, Conquest and Victory. The Victory SF further secures our position as being able to make a product no other manufacture can compete with. It's truly a remarkable binocular."
I'm sure Mike will be the first to say that while any binocular helps hunters to look at the horizon, a good binocular helps us to see it—and the animals moving along it, literally just under our noses, as we make out the subtlest changes in shape and color regardless of heavy brush, rain or low light. Come bow season, as I try to differentiate amongst different bulls on a hillside or keep tabs on the muley buck I'm stalking, it just may be quality glass that seals the deal.