by
posted on August 3, 2016
Support NRA American Hunter
DONATE
That trail cameras are invaluable tools for hunting goes without saying. The always-ready devices provide the hunter with unparalleled reconnaissance; this enables him or her to strategically plan a hunt, not leave it to chance. As with most sporting equipment, trail cam prices can run the gamut. In fact, some models chock full of the latest (and mostly unnecessary) frills can exceed $500. Personally, I don't have that kind of dispensable income to strap to trees for thieves to snatch or bears to use as chew toys. Neither do I need museum-quality images of game animals sent to my cellphone nor full weather reports and solar-charging capability. Foremost, I need to know that the quarry is present, its size, and the date(s) and time(s) that it passed the camera—nothing else.
As such, I located and field-tested three readily available trail cams costing less than $80—most being significantly less. Despite my initial trepidations about putting down hard-earned cash on "value-priced" trail cams, in the end I was glad that I did. Here's what I discovered.
Tasco 3 Megapixel
Purchased at a local Wal-Mart for $35, the Tasco 3 Megapixel trail cam was the least costly model in this roundup.
Its photo-only mode, low megapixel images, and lack of a display and controls, among other things, contribute to its minimal cost. Concerning the latter, the date and time must be set using "Timetool" software on a PC or Mac computer. If only a survey into the animals utilizing the area is desired (sans time and date), simply insert the batteries, hang the unit, and then turn it on—that's it. The Tasco's other features include: 3 5/8"x1¾"x4 13/16" size; upward of 9-month battery life with eight AA batteries (not included); day and night auto sensor; 1-second trigger speed; 12 low-glow LEDS; flash distance of 30'; SD card slot (card not included); 15° F to 120° F temperature range; and an adjustable web belt.
Sporting a 3-megapixel camera, which is similar to what cellphones had around 2006, image quality is okay but not spectacular. Depending on the animal's distance from the camera, background, and whether it's a daytime or nighttime image, counting kickers and stickers on bypassing buck could prove difficult. But, you'll know that a buck is there and, if set, the time and date it was in the area. Employed in temperatures less than the suggested 15° F lower temperature limit, the Tasco captured all quarry that passed it—including an oversize fox squirrel—indicating that the auto sensor worked well and trigger time was sufficient. It easily captured full body deer, turkeys and a coyote.
With a price tag of $35, I consider the Tasco 3 Megapixel to be to be a good purchase for those hunters on an especially tight budget, need multiple cameras, or there exists high potential for damage from bear (it's cheaper than most trail cam protective cases) or being lifted by thieves.
Primos Bullet Proof
Selling for $60 on the shelves at Wal-Mart, Primos' Bullet Proof trail cam is a virtual clone of the Tasco 3 Megapixel aesthetically, dimensionally, and feature-wise—remember, both companies are under the Vista Outdoors umbrella—but there are some improvements. Like the Tasco, the photo-only Bullet Proof has no display or controls on the unit itself, and it "Timetool" application to imprint the time, date, and moon phase. The unit also has a trigger time of 1 second or less, is powered by four or eight AA batteries (user provided) with upward of a 9-month life span, and 30' night range. The Bullet Proof, however, has a 6-megapixel camera and 14 low-glare LEDS for better images. Lastly, the compact unit has auto white balance, an automatic IR filter, and comes with a mounting strap.
Given its 6-megapixel camera, the Primos Bullet Proof had better image quality than the Tasco 3 Megapixel model—but not by much. However, this could be attributed to the Tasco being employed primarily during sunny weather and the Primos during an unrelenting foggy and rainy period. As for trigger speed and the auto sensor, during testing the Bullet Proof easily captured images of deer, a coyote and a red fox—again, no half-deer shots. As you'll note, the nighttime images of the close-in predators are somewhat grainy. Still, the user can easily discern the animals bypassing the camera-covered area.
The Primos Bullet Proof trail camera provides some enhancements over the Tasco 3 Megapixel; however, approaching twice the cost of the latter, one has to question if it's worth the price. Only you can determine that. For me, I'd go with two Tascos providing similar performance and twice the coverage. But that's just me.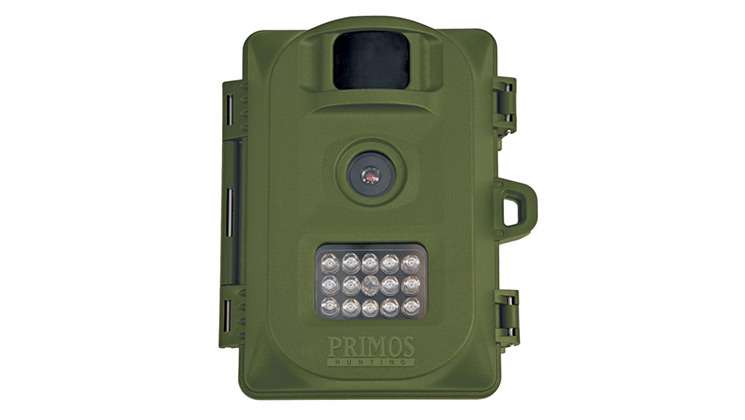 Wildgame Innovations Micro W513D
Purchased online from Dick's Sporting Goods on sale for $50 (original price $80), the Micro W513D was the odd duck of the bunch—in a good way. Unlike the aforementioned models, the W513D has a bottom-opening door that exposes the display and controls to set the time, date, and choose between 5-megapixel still images and 30 seconds of video, as well as to access the SD card slot. The ability to perform these actions without a computer is convenient. Additionally, the W513D has a 1-second trigger speed; 18 IR emitters for nighttime visibility out to 40'; a detection range of 60'; is powered by 8 AA batteries (not included); and comes with two bungee cords for fastening it to a tree. The unit measure 3¼"x2"x6 3/16"—slightly larger than the models mentioned above.
Of the three models tested, the 5-megapixel Wildgame Innovations W513D provided the best image quality both day and night, and the sensor and trigger speed ensured that full animals were captured—not just rear ends. The ability to change information in the field is nice, and the bungee cords—as opposed to a web strap—turned out to be a handy feature, too. It's quick to set up, attach to a tree, and determine the number of images you have.
As with the Primos Bullet Proof, the Wildgame Innovations Micro W513D trail cam showed enhance performance over the Tasco, but its cost is greater, too—especially at full price. Even when it's not on sale, though, I consider the Micro W513 to be a good value; however, for $50, it's a steal.
As you can see from even this small sampling, you don't have to "break the bank" to purchase trail cameras that'll show the game utilizing your property. In addition to the three models tested, Simmons, Moultrie and Stealth Cam offer similarly priced models. Wildgame Innovations alone has at least five models meeting the price criteria. You can easily spend more, but, more often than not, the extras you're paying for are unnecessary—especially when you can have additional cameras and piece of mind that a significant investment isn't being left in the wilds.The value-priced trail cameras are now that good. As such, you have to ask yourself, "Why not?"