Support NRA American Hunter
DONATE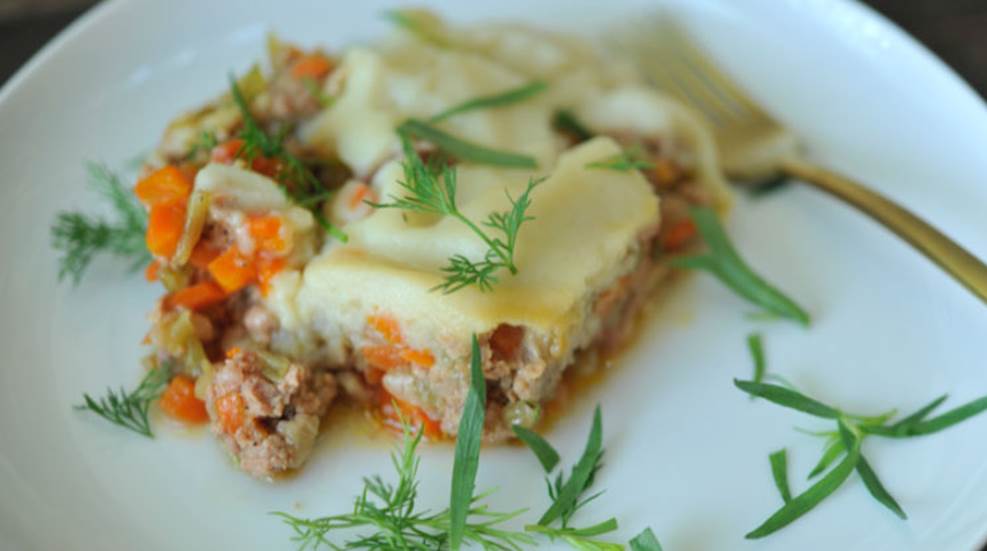 Turkey season is a thrilling time—it's so uncertain and adrenaline pumping. And when you put all of that work into bagging your dinner, you really want to make the most of the ingredients. The leg meat in particular often poses a question for people, and here is my solution—grind it and make this delicious Ground Turkey Shepherd's Pie. This recipe is extremely versatile, so also try it with wild boar, antlered game, upland game birds, rabbit, squirrel and duck. If it's not ground you can even dice it finely and it will still brown nicely.
The use of cauliflower instead of mashed potatoes for the topping is unique, but also healthy. Feel free to substitute mashed potatoes instead if you like your dishes to be more traditional. You're going to love this dish.
Turkey Shepherd's Pie
Ingredients:
• 2 tablespoons butter
• 1 pound ground turkey leg meat
• ½ cup shallot or onion, finely diced (you can use a food processor for this)
• ½ cup carrot, finely diced
• 4 cloves garlic, minced (you can use a food processor for this) 
• 1 teaspoon smoked paprika
• ½ teaspoon sea salt
• ½ teaspoon freshly ground pepper
• ¼ cup sherry
• 1 tablespoon Worcestershire sauce
• ½ cup fresh parsley
• 3 cups chicken or turkey stock
• 2 whole Large Heads Cauliflower, trimmed, chopped and steamed until very soft
• Fresh herbs for garnish (optional)
Directions:
1. Heat 2 tablespoons butter in a very large frying pan. Saute shallot or onion for 15 minutes until soft.
2. Add carrots and garlic to pan and sauté for 10 minutes until soft.
3. Add ground turkey to pan and sauté until brown, just a few minutes. Season with salt, pepper and smoked paprika.
4. Deglaze pan with sherry and Worcestershire sauce.
5. Add chicken broth and cook down until 60% evaporated.
6. Place cauliflower in food processor and puree until smooth.
7. Pour ground turkey mixture into a 9×13 inch baking dish and pour mashed cauliflower puree over the top.
8. Bake at 350°F for 30 minutes.