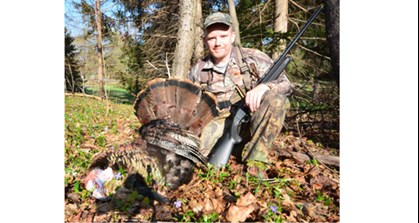 Field Editor Frank Miniter put the "Public-Land Turkey Playbook" he wrote about in "Know-How" in the March print edition to use this morning in New York. His report:
On the day after opening day, I headed to a big public area. When I pulled into the parking lot there were three other cars there, but I knew all those hunters would stop after the first half-mile, as the terrain gets steep after that. Besides, I doubted any of them know there is good turkey habitat over a ridge and along a swamp. I greeted two hunters who were getting ready and wished them luck, and started hiking.
I knew the terrain and had a plan, but I almost figured too well. I set up on a roosted gobbler, but as it got light I saw that another gobbler was roosted just 70 yards away. The trees haven't leafed out yet here, so I watched him gobble 30-40 times. All I made were a few soft yelps. He started strutting in the tree and kept craning his neck to spot the hen. When he flew down he landed uphill and then slowly circled me. As he did the terrain forced him to come into range. I killed him as he strutted at 40 yards.
For more commentary on hunting and guns, check out Frank Miniter's website.