by
posted on May 20, 2015
Support NRA American Hunter
DONATE
Varmint and predator hunting has never been as popular as it is today. From gophers to coyotes, high volume shooting to long range sniping, no one cartridge is best for all. Here are my top five cartridges.
.17 Winchester Super Magnum
Most varmint hunting is high volume shooting at moderate ranges. The .17 HMR, .22 Long Rifle and .17 WSM all have a claim on greatness, but the best of the lot is the .17 WSM. The long rifle is popular, but given the skyrocketing cost of ammo and its limitations on coyotes and bobcats, it isn't the best choice. The .17 HMR is much better than the long rifle, but can't hold a candle to the .17 WSM. On a recent hunt in Wyoming I connected on prairie dogs past 300 yards—something other rimfires would be hard pressed to match, especially if there is any wind. At 200 yards, the WSM drifts half as much as the .17HMR—a significant difference.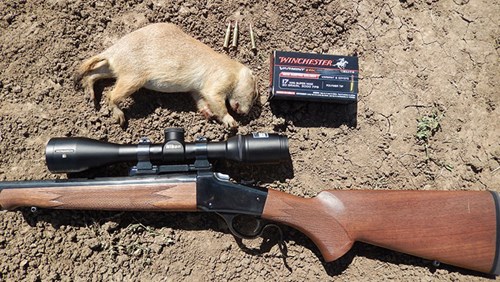 .204 Ruger
This zippy little cartridge has made quite a splash. It shoots flatter than the gold standard, the .223 Remington and is quite accurate. Best of all is the cost: components are less expensive than the .223 Remington. My favorite .204 Ruger load is a 40 grain Hornady VMax over 30 grains of BL-C(2). My gorgeously stocked Ruger No.1 shoots this load well under an inch. The fly in the ointment? While the bullets start out fast, their poor ballistic coefficient makes it tough to connect at long range on windy days.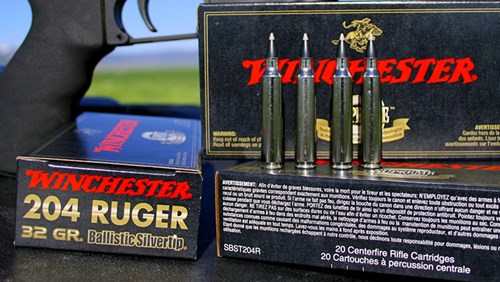 .223 Remington
This one is a shoe-in. We all know Remington brought out the .223 Remington after the US Army selected the 5.56x45 as the standard service rifle round, virtually guaranteeing its popularity. The .223 Remington is to varmint hunters what the .30-06 is to big game hunters: a cartridge that can do it all, even if it isn't the best for specific tasks. My favorite .223 Rem. load is 27.0 grains of Hodgdon CFE under a plain vanilla 55 grain Hornady Spire Point. My favorite rifle is a Remington 700, stock in every way but bedded by yours truly. The .223 Remington is easy to load for, has lots of very inexpensive factory ammunition, and is chambered in a wide variety of rifles to include AR platforms. My only complaint? A lack of bolt guns with fast twist barrels to shoot heavy bullets for those windy days.
.220 Swift
If you want to shoot small critters at long range, nothing beats a .220 Swift shooting 80 grain bullets. Trajectory is secondary to wind drift for long range shooting. Sure, you will need a custom barrel with a fast twist, but good luck finding a factory fast twist .22-250, the Swift's only competition. My favorite rifle is an H-S Precision stocked Remington 700 Varmint with a fast twist (1-8) Shilen No. 5 contour barrel. Shooting 80 grain Hornady AMAX bullets over 32 grains of Hornady VARGET, this is my most accurate varmint/predator rifle. At 400 yards, this load drifts 2.4 MOA in a 10 mph wind; a 55 grain VMAX at 3800 fps drifts 3.9 MOA at that range, which incidentally, is 1/10 MOA more than the 80 grain AMAX drifts at 600!
.243 Winchester
Since it arrived on the scene in 1955, the .243 Winchester has been thumping deer, predators and varmints. Its recoil is a bit stout for prairie dogs, but 58 grain bullets are not too bad. While any of my favorite five will kill coyotes and bobcats, the .243 leaves no doubt. My .243 Win. of choice is a Ruger M77 RSI International. Its short 18.5 inch barrel and 38.5 inch overall length make it perfect for hauling in and out of the pickup when I am running and gunning for coyotes. Best of all, it shoots 58 grain Hornady VMAX bullets just under 1 MOA.