Support NRA American Hunter
DONATE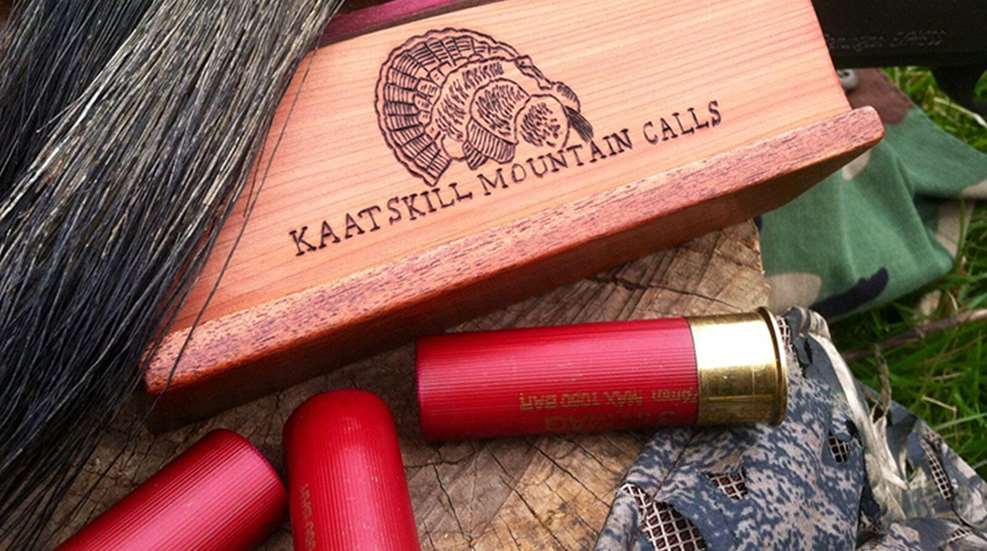 Spring has sprung, the snow has melted and green foliage has finally shown its face. You haven't hunted anything in at least a couple of months, and buddy, you're jonesing. Then, you hear it: the unmistakable sound that you equally hear and feel; the gobble of a tom turkey. Meleagris gallopavo has the ability to drive a hunter insane; the same tom that can be found in your yard three weeks before season—merrily eating grubs and tender shoots—is now as elusive as Sasquatch. So, we plan our strategies as if we were invading the Forest Moon of Endor to dismantle the Death Star's force shield—we use the best camouflage, a quiet approach to the roosting area, and we do our best to disappear. We call to the toms like a lovesick teenager, and we use a trusted shotgun. But, it is only our ammunition that comes into contact with the bird, and that ammunition makes or breaks the deal. You'll want something that can take care of business at the longer ranges—when that tom hangs up just across the stream—yet will effectively kill at ten yards, when the wily bird sneaks up on you. Let's take a look at what I consider to be the five best turkey loads on the market.
Federal's 3rd Degree
Unequivocally, I like Federal's new 3rd Degree load as my favorite turkey load. Blended shot sizes are nothing new—I was using Remington's Duplex loads fifteen years ago—but this new 3rd Degree stuff takes things a bit further. Blending three shot sizes, 3rd Degree can handle shots from those measured in feet, right on out to 50 yards. The shot column is comprised of 20 percent by weight of No. 6 FLITESTOPPER shot, then 40 percent No. 5 lead shot, and finally 40 percent No. 7 HEAVYWEIGHT shot, to carry the pattern out to the long distances. The FLITECONTROL wad keeps things together. Those FLITESTOPPER pellets have a Saturn-like ring around them, for a purposely erratic flight, to handle the close–in shots, while the rest of the shot column performs like a traditional load. I've see this ammo, in 3.5" 12-gauge 2-ounce load, take turkeys at distances further than I'd put in print. Bottom line: 3rd Degree works.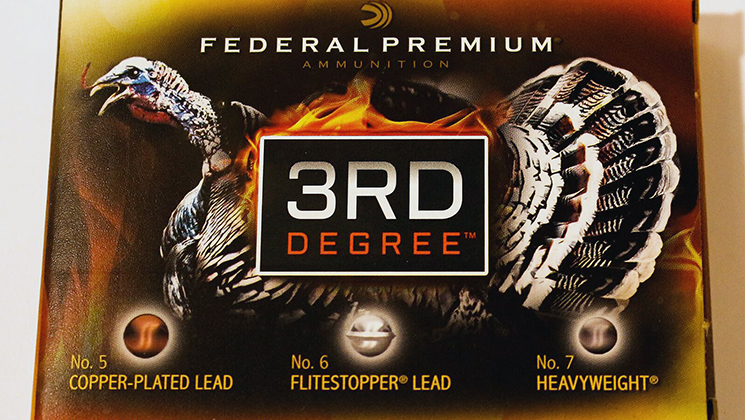 Remington Premier High Velocity Magnum Turkey Loads
There was a time, as a younger me, when turkey hunting was so new in New York that my Dad didn't even know what to do. The only turkey gun I could afford was a Remington 870 Express, and I fed it with Remington's copper-plated loads. They worked well; most of the errors and missed shots were due to pilot error, certainly not the gear. I still use that shotgun from time to time, and Remington's Premier load is a great choice for the first stage of turkey dinner. The copper-plated pellets, buffered in the shot column, keep things tidy. Plating the pellets help to resist deformation; the closer to round the pellets stay, the more true they fly, and the more pellets that will stay in the vital portion of your pattern. While it's available in 10, 12 and 20-gauge, my favorite is the 12-gauge 3" load, with 2 ounces of No. 5 shot.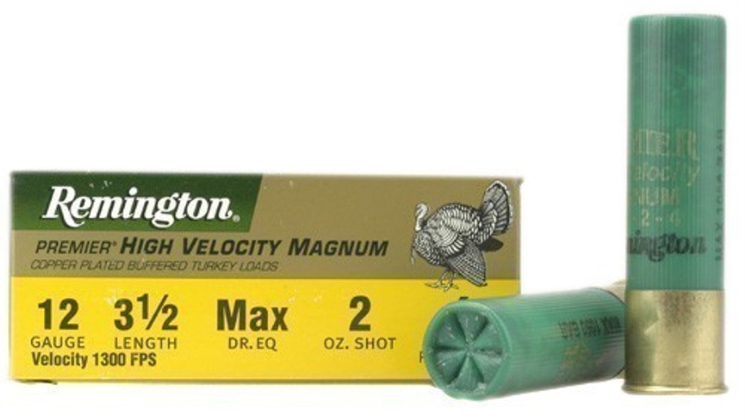 Hevi-Shot Magnum Blend Turkey
Lead is a fantastic metal for projectiles, but lead isn't the only metal. Hevi-Shot is a non-toxic alternative, which patterns as well as lead, yet cooperates much better with the environment. Magnum Blend Turkey offers an even blend of 5, 6 and 7 shot (4, 6 and 7 is available in 12-gauge), and all loads share a muzzle velocity of 1,200 fps. Pellet count is kept up by varying the shot sizes, and the higher density of Hevi-Shot pellets helps to retain energy further downrange.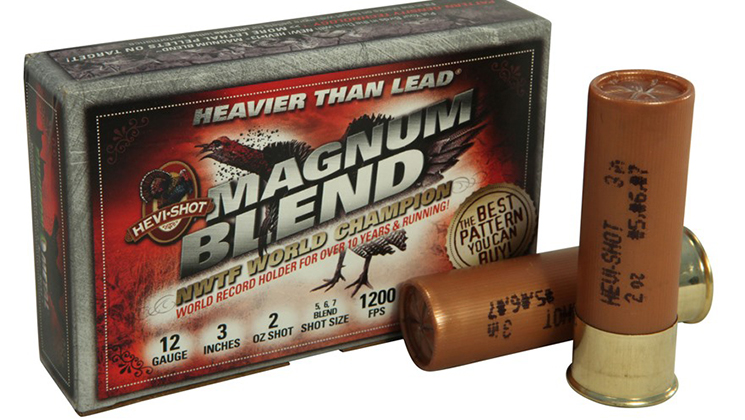 Winchester Long Beard XR
The recent line of Winchester shotshells uses a resin to hold the shot column together, increasing the distance that clean kills can be made. The Shot-Lok technology extends through the varmint and upland bird shotshells, but makes the most sense to me in the Long Beard XR load. Available in 3" 12-gauge 1¾ and 1 7/8 ounce loads of 4, 5 and 6 shot and 3.5" 12-gauge 2 ounce and 2 1/8 ounce loads of 4, 5 and 6 shot.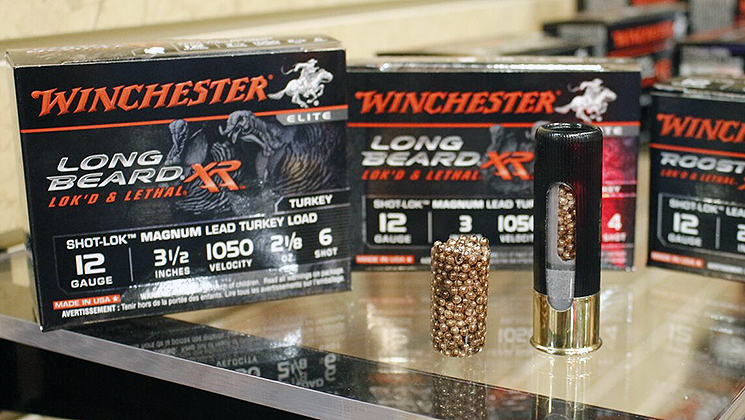 Federal Premium Mag-Shok Heavyweight Turkey
For those who want to hunt turkeys, without getting the living snot beat of them from the hard-recoiling loads, Federals's Mag-Shok may be the answer. Delivering a load of 5, 6 or 7 shot at 1,300 fps, the Mag-Shok line lightens the payload to 1 5/8 in the 12-gauge 3" shells and 1 7/8 in the 3.5"; the 20-gauge 3" uses 1 ½ ounces and the 10 gauge uses 2 ounces. As with other Federal Premium products, the Mag-Shok line has been utterly reliable on my hunts. If you want to train a new hunter, try the Mag-Shok turkey shotshells.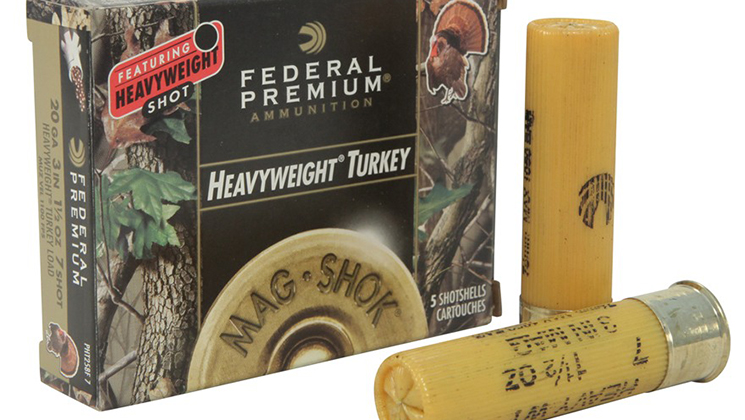 Want to read more from Philip Massaro? Check out the stories below:
• 5 Rifle Cartridges That Need to Make a Comeback
• Top 5 Safari Calibers
• 5 New Year's Resolutions for Hunters
• What Your Favorite Rifle Cartridge Says About You
• America's Most Wanted Cartridges
• America's Strangest Game Laws
• What Your Favorite Rifle Cartridge Says About You, Part II
• Top 5 Overrated Rifle Cartridges
• Top 5 Underrated Rifle Cartridges
• 5 Cartridges You Might Not Know About
• Top 5 Wildcat Cartridges
• An Ode to the Ruger Mini-14
• Top 5 Hog Loads
• Top 5 Deer Bullets
• Why .30-30 Winchester Will Never Die