by
posted on February 27, 2015
Support NRA American Hunter
DONATE
As we sit on what amounts to the doorstep of the 2015 spring turkey season, large portions of the country either covered in snow, in the path of an oncoming storm, or both. Among a great many other things, harsh winter weather doesn't make it easy for a hunter to pattern their turkey load of choice.
One company is trying to provide a digital solution to such a problem.
Winchester announced the launch of its new "Pattern Board" tool earlier this week. Hailed as the first-ever turkey load patterning application, Pattern Board uses data collected over the course of over 2,700 trigger pulls and actual target shots to provide a digital patterning representation. Users are asked to build the scenario—range, gauge, choke, etc.—and are rewarded with a research-proven turkey pattern. You never have to leave the comfort and warmth of your (presumably) camouflage reclining sofa.
The application allows you to choose gauge, pellet size, shell length, choke construction and one of three Winchester turkey loads. You can adjust the distance to pattern your shotgun loads from 10 out to 70 yards. After clicking "Shoot," you're presented with results akin to what you see below.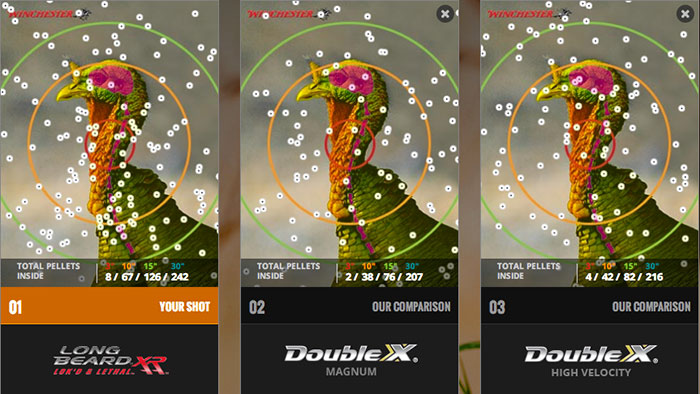 From there, you're able to continue to tweak your shot, without losing your existing data. As you can see, the program automatically delivers the results for every load that matches your specifications across its brand platform.
The program obviously has its limitations, but doesn't claim to be perfect, either—its homepage even reads: "The Single Best Way to See Shotshell Patterns (Other Than Shooting Them Yourself." And, again, the data displayed was collected using thousands of real-life patterns. This isn't just a computer making a haphazard guess.
The end result is an addicting little tool that should, at the very least, let you settle on which Winchester load you'd like to pattern for real when the ice finally melts in coming weeks.
For more information, go to WinchesterPatternBoard.com.