by
posted on March 30, 2020
Support NRA American Hunter
DONATE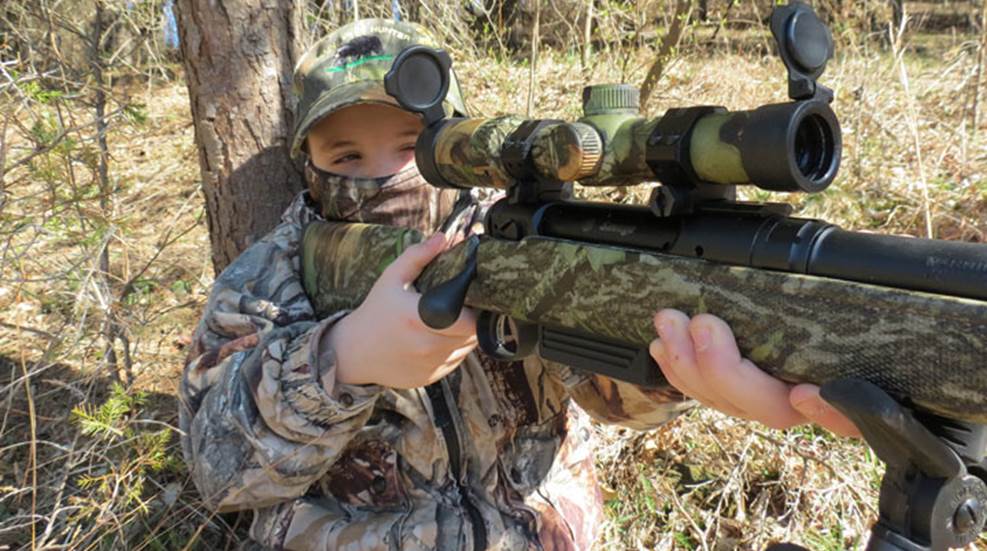 Technological advances in ammunition have hastened in recent years, and those changes have enabled us to re-evaluate beliefs regarding firearm suitability for a given task. Nowhere is this more evident than with turkey hunting. High-performance turkey loads, such as Winchester Long Beard XR; Federal Premium Heavyweight TSS; Apex Ammunition Turkey TSS; and Browning TSS Tungsten Turkey, among many others, have redefined the effective range and lethality of all gauges—especially sub-gauges. Frankly, the omnipresent 12 gauge is no longer necessary for dropping toms at practical distances; the sub-gauges, housed in lighter, more maneuverable shotguns, generate less recoil and are well-suited for the boisterous springtime birds.
That said, gauge is but one consideration; there are important features that endear shotguns to youth hunters and their diminutive, but rapidly changing, bodies. If available, select a model with a buttstock that's adjustable for length of pull. Such a feature enables it to "grow with the child," and eliminates multiple purchases or an ill-fitting shotgun. At the very least, choose a shotgun with a shorter, more appropriate length of pull.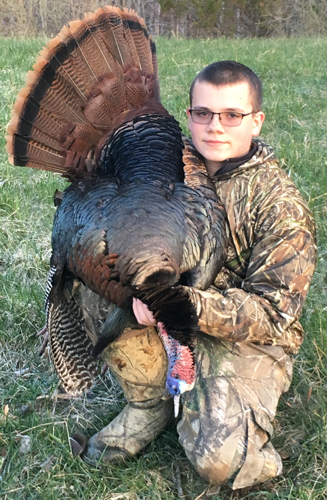 Moreover, opt for a lightweight model. While perceived recoil will increase somewhat, it'll be easier for a youth hunter to carry. This is no small consideration; in Virginia, for instance, during the designated "Youth and Apprentice Spring Turkey Hunting Weekend," the accompanying adult hunter "shall not carry … a weapon," so the adolescent alone must transport the shotgun. The youth must also be able to support the shotgun, though I use shooting sticks to assist with this. Shotguns weighing six pounds or less are optimal. Next, a long barrel is entirely unnecessary—shorter barrels provide ample external ballistics while improving maneuverability. This is more critical in the tight confines of a smallish ground blind, if such is utilized. Lastly, if possible, choose high-visibility sights over a brass or silver bead, but an optic trumps both, as it enables more accurate placement of the pattern's core.
Action type is a matter of preference and purse strings, however each type has its advantages and drawbacks. A single-shot is oftentimes preferred for a youth's first shotgun, though I tend to disagree with this choice, as a mistake is easy to make when de-cocking the gun. They are generally lightweight, handy and inexpensive, though. Personally, I prefer a repeating arm for turkey hunting, as the birds can be notoriously tough to ground and reloading a single-shot gives the bird extra time to escape. The same can be said of a bolt-action shotgun.
Through guiding several adolescents to their first (and subsequent) gobblers, I've found pump-actions and semi-automatic shotguns—especially in 20 gauge—are tough to beat. Between modest weight, portability, safety and rapid access to subsequent shells, said shotguns have led to the demise of more than a handful of Virginia long beards while in adolescent hands. Additionally, semi-automatics use gas or "inertia" to operate the action, thus changing the recoil impulse. For youth hunters, this is desirable.
In the subsequent section, I selected several shotguns across a range of price points that would be outstanding for youth pursuing gobblers this spring. This list is by no means all-inclusive.


Stevens Model 301 Turkey
No firearm garnered more attention last spring than did the unassuming, 3-inch-chambered, .410-bore Model 301 Turkey; in fact, unless you were among the first to place an order, there was little hope of locating one before the season ended. Such was the case for me. Debuting in unison with, and optimized for, Federal's then-new HEAVYWEIGHT TSS 3-inch .410 load, the gun has been an unabashed success, and proven turkey hunting is now within the realm of the .410 bore. As for specifics, the break-open, single-shot shotgun has a 26-inch carbon-steel barrel with a metal bead for sighting; however, there's also a one-piece rail for the addition of an optic. It comes with an Extended-Turkey choke, too. The barreled action is affixed to a synthetic stock and fore-end, with a Mossy Oak Bottomland or Obsession finish. Due to its five-pound weight and .410 chambering, perceived recoil is negligible—perfect for the smallest or newest of turkey hunters. savagearms.com;  MSRP: $204



Mossberg 500 Youth Super Bantam – Turkey
The Youth Super Bantam – Turkey exemplifies the adage "grow with the shooter." Based on Mossberg's field-proven, American-made Model 500 pump-action, accompanying this youth-specific model is a spacer that allows the user to quickly and easily increase length of pull from 12- to 13-inches; this allows the shotgun to serve throughout adolescence. The synthetic stock is cloaked in Mossy Oak Obsession camouflage, and there's a tang-mounted safety. Chambered in 3-inch 20 gauge, the shotgun has a 22-inch, ventilated-rib barrel fitted with a fiber-optic front sight, and an extended, Extra-Full choke tube. The gun weighs 5.25 pounds. mossberg.com; MSRP: $501



Stoeger M3020 Compact
Having extensively fielded one for years while pursuing waterfowl on Virginia's Eastern Shore, as well as in NSCA-registered tournaments, my teenage son and I can attest to the durability and dependability of the Turkish-made M3020. Frankly, it's a gun that belies its cost. At its heart is the Benelli-designed Inertia Driven system, which facilitates fast, reliable operation without the residue common to gas-operated semi-automatics. The M3020 Compact has a 13 1/8-inch length of pull, and the 3-inch, 20-gauge-chambered barrel has a red-bar front sight. Accompanying the gun are three choke tubes in the following constrictions: Improved Cylinder; Modified; and Extra Full (Extended Turkey). The synthetic furniture is black. All told, the M3020 Compact is 47-inches in length and weighs 5.5 lbs. stoegerindustires.com; MSRP: $559



Winchester SXP Youth Field
Introduced in 2019, the SXP Youth Field has many of the same features as the Field and Field Compact models, but its 12-inch length of pull is the shortest offered in the line. The SXP Youth Field is available with a three-inch chamber, in both 12-gauge and 20-gauge, though the latter is the best bet for the budding turkey hunter. Twenty-gauge variants have barrels ranging from 18- to 24-inches in length, with weights from 5 pounds, 14 ounces, to 6 pounds, 4 ounces. The barrel is topped with a ventilated rib ending in a brass bead, and is threaded for choke tubes. As it's a utilitarian "field" model, flush-fitting Full, Modified and Improved-Cylinder chokes escort the gun; a turkey-specific choke will need to be purchased separately. The SXP Youth Field wears a Grade-1 walnut buttsock and fore-end, with checkering to enhance aesthetics and purchase. Capping the buttstock is an Inflex 1 recoil pad. winchesterguns.com; MSRP: $430



Weatherby SA-459 Turkey Xtra Green
Like the Stoeger, my son and I have much experience with the SA-459 Turkey. In fact, prior to purchasing the M3020, this was his go-to shotgun, and it downed everything from Canada geese and ducks to squirrels and longbeards. The gas-operated semi-automatic is available in both 12 and 20 gauge but, as stated above, the smaller gauge is a safer bet for young hunters. Due to its gas operation, the SA-459 is accompanied by two pistons—which one you select is determined by the type of ammunition you'll be using. The maneuverable 22-inch barrel is equipped with a green, fiber-optic front sight and a ventilated rib. A rail tops the receiver for the addition of an optic. An extended, Extra-Full choke tube is included. The SA-459's metalwork is clad in the same Realtree Xtra Green camo as the stock. Unique to this model (in this listing), the shotgun's buttstock has a rubberized pistol grip for one-hand control and enhanced purchase. Other features include an oversized charging handle, chrome-lined bore and cross-bolt safety. The gun's weight is 6.25 pounds, while the length is 42 inches. Length of pull is 13½ inches. weatherby.com; MSRP: $649.


Enjoyment of a turkey hunt and success are oftentimes tied to using the proper shotgun. The abovementioned shotguns are all solid options for your up-and-coming gobbler getter.