by
posted on June 5, 2019
Support NRA American Hunter
DONATE
In 2002, Hornady rocked the rimfire world with its newest creation—the .17 HMR. The new magnum rimfire round boasted speeds beyond 2600 fps, resulting in a flat-shooting little lightning bolt that's been wreaking havoc on prairie dog towns across the nation. The .17 HMR did see a bit of a slump during the great rimfire shortage of 2015, when it became so tough to find that many shooters abandoned it for the small centerfire cartridges that were more readily available. However, now that the thirst of the .22 LR hoarders has been quenched, the rimfire lines are free once again to pump out this zippy little round.
With five different .17 HMR loads and a brand new Rossi RB17, I slapped on a JTS 4-16 optic and waited for the optimal day to put them to the test. Now when I say optimal day most folks are going to picture a calm sunny day with just a hint of a breeze to keep you from perspiring—these folks haven't been prairie dog hunting. As their name implies, prairie dogs live in prairies—wide open areas with blistering sun and relentless wind. Therefore, my testing grounds brought me to the south shore of Long Island, N.Y., which is famous for unpredictable winds.
On my day of testing, the range had a 15 to 20 mph wind that was alternating between zero and half value. This type of wind is difficult to compensate for, as it can change while you're squeezing the trigger. The goal was to shoot ten 5-shot groups at a distance of 100 yards and calculate an average with each of the five rounds I was testing. I had the right conditions to test each round's wind busting capabilities, so I pulled up a stool and went to work.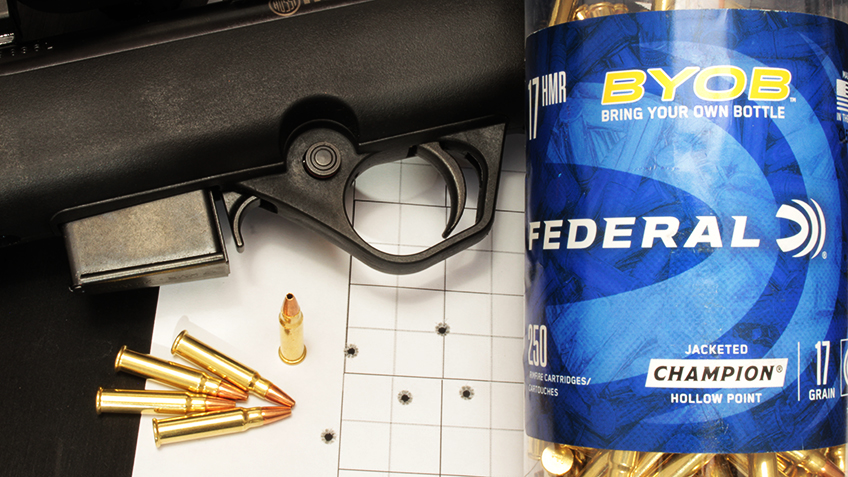 1. Federal BYOB 17-grain Speer TNT
The first round that I tested was Federal's newest expansion to their BYOB line. This line offers high-quality bulk ammo in a resealable plastic container that is perfect for keeping rain or sand out. These containers also do a great job of eliminating ammo spills in your range bag. This round is topped with a Speer TNT bullet which was designed to deliver explosive results at a reasonable price which is essential for feeding your favorite rifle throughout long casual shooting sessions.
• Best Group: 1.62″
• Worst Group: 2.31″
• Average of 10 Groups: 1.81″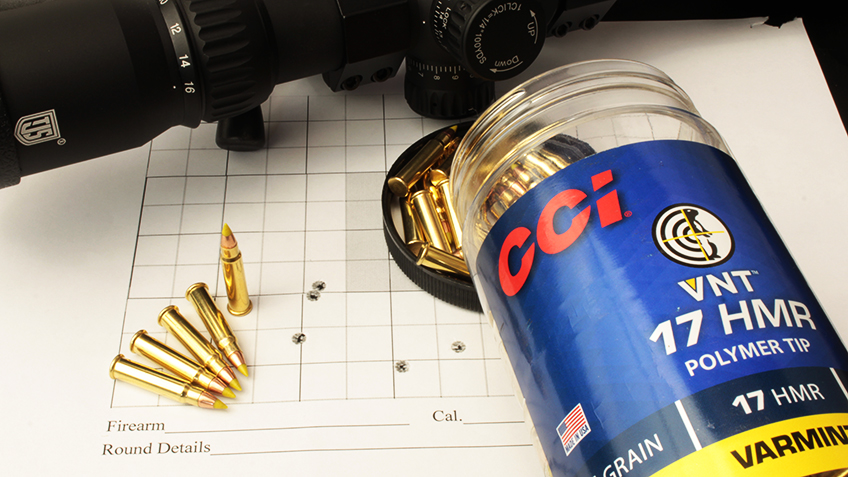 2. CCI 17-grain VNT
When I asked the guide on my first prairie dog hunt how many rounds to bring, he replied with "about 600 a day"… and boy, he wasn't joking! CCI has addressed this need with the use of the same bottles as Federal's BYOB line, and has packaged up their deadly polymer tipped VNT round into them for the high volume critter popper. We saw some great groups with just a few flyers in the package.
• Best Group: 1.75″
• Worst Group: 3.37″
• Average of 10 Groups: 2.56″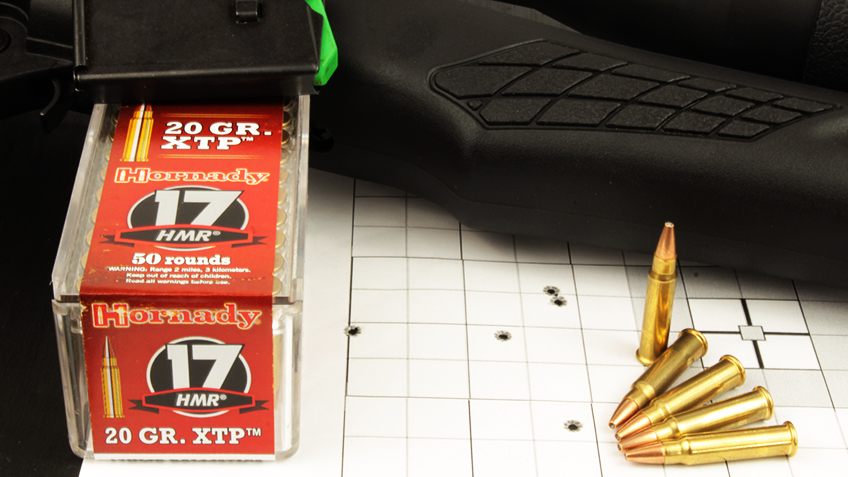 3. Hornady 20-grain XTP
The inventors of the .17 HMR pushed it a step further with a heavy-for-caliber load. Hornady's 20-grain XTP is heavier and larger than the typical 17-grain pill, which helps it reach further distances with less wind interference. The extra weight helps it retain its velocity, so it still produces the desired effect when it gets to target.
• Best Group: 1.88″
• Worst Group: 2.12″
• Average of 10 Groups: 1.94″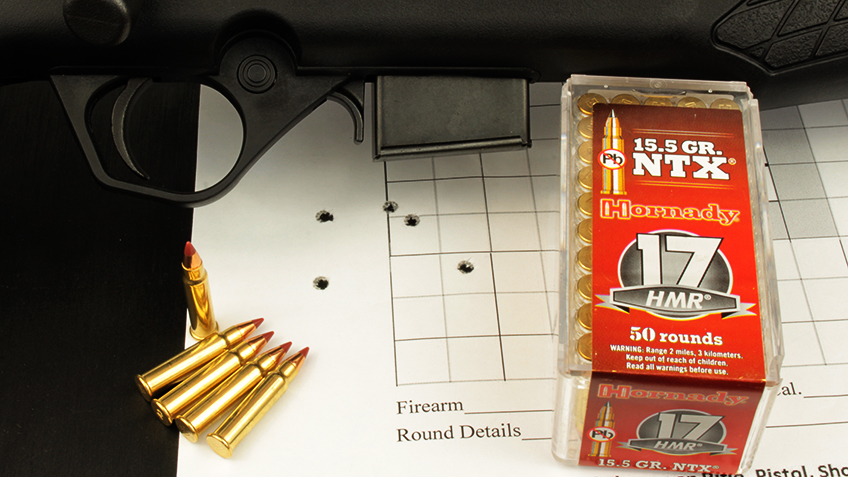 4. Hornady 15.5-grain NTX
If you're hunting in a lead-restricted area, or are simply trying to minimize your exposure, Hornady has your round. The NTX  is made without the use of any lead and is tipped with the company's signature polymer tip that works like a charm on small game. When it comes to bullets made out of anything other than lead, I'm always skeptical, but these little buggers were surprisingly accurate.
• Best Group: 1.56″
• Worst Group: 1.93″
• Average of 10 Groups: 1.87″
5. Browning 17-grain BPR
While relatively new in the ammo market, Browning has been putting out some amazing new rounds. Their .17 HMR round is part of their BPR (Browning Performance Rimfire) line, which is known for its performance regarding not only accuracy, but terminal ballistics, as well. This polymer tipped tack driver gave me my best group of the day, although I did have a few hard extractions.
• Best Group: 1.50″
• Worst Group: 1.87″
• Average of 10 Groups: 1.68″
As I packed my bags, I thought back to the words of my good friend and fellow instructor Sean Krecko. A few years ago, when I gave him the news that we were going to shoot .17 HMR for the first time, his reaction was, "I hear it's like shooting .22, but better." He was absolutely right, as I personally doubt I would have seen 100-yard groups inside of 2 MOA with the winds that I had if we were shooting the rimfires of yesteryear. If you're looking for an inexpensive round to hunt critters inside of 300 yards without breaking the bank, give a few of these rounds a try.