Support NRA American Hunter
DONATE
I came wide-awake with a jolt, the grey light of dawn hanging above a fantastically shaped skyline. A thunderous gobble rolled sonorously down the canyon, echoing between towering walls. I looked at my hunting buddy, still snoring under his frost-covered sleeping bag. Morning was here, and the canyon-country turkeys were ready to do battle.
Shooting light had arrived by the time we pulled our boots on, shivering in the cold. The best turkey symphony I'd ever heard was reverberating up and down the canyon, our pounding hearts keeping time. Tony lifted my vintage Winchester Model 12 and I took up my movie camera and box call. Leaving our beds to defrost where they lay we sallied forth in pursuit of big Rio Grande gobblers.
Turkey hunting—depending upon subspecies and local—can range from rather easy to extremely tough. Big, suspicious, cliff-dwelling Rio gobblers tip the scales far toward the latter—a hunter can hike red-rock canyons for days without seeing or hearing a single bird. And when you finally do find turkeys, they're more adept at staying alive than a Navy SEAL.
You'll need to adapt, adjust your tactics and be aggressive when hunting these denizens of the desert. But when you finally do put your tag on a big canyon-country gobbler, it'll be one of the most rewarding—and hard-earned—turkeys of your hunting career. Here are some tips and tactics, along with a success story or two that will help you turn the tables on the most unusual turkey you'll ever hunt.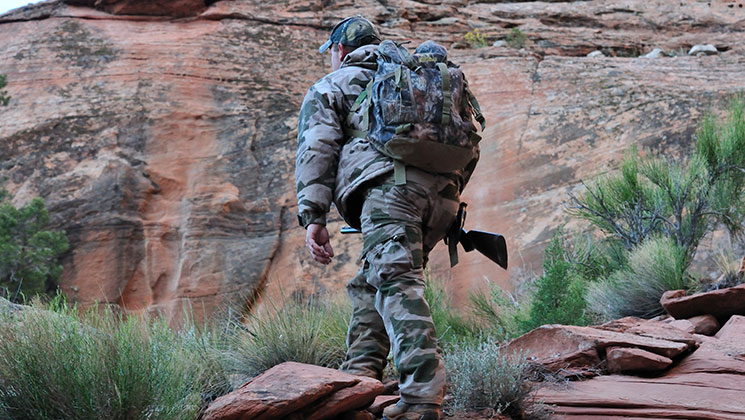 Stretch Your Legs
Canyon-country Rios live in big, public-land, red-rock canyons across southern Utah. Find a canyon with a bit of water—either a creek or intermittent seeps—in the area you want to hunt. Then put some miles on your boots looking for sign. These birds have a large home range, including several miles of the main canyon, as well as small tributary canyons. Check out hanging benches, dry sandy washes and flats for strutting sign. Look for groves of mature cottonwood roosting trees. Search out tracks, dusting beds and droppings along sandy trails—the fresher the better, as desert turkeys move a lot and may be several miles away if tracks and sign are a few days old.
Note: Turkey tags in southern Utah used to be available only by lottery. Now, they are available for early April hunts by lottery, and over-the-counter for May hunts.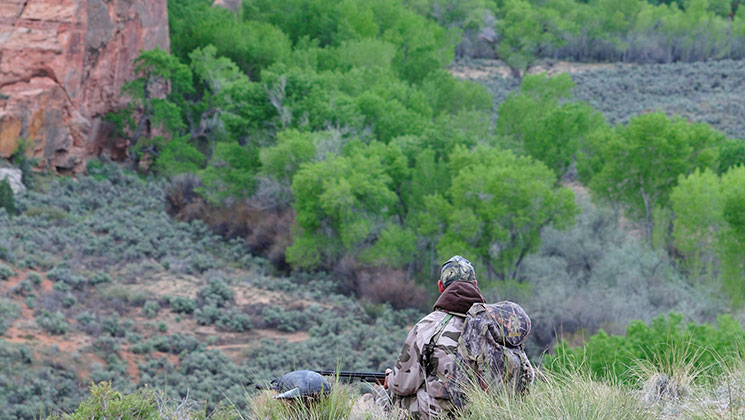 Listen Long
Once you've located fresh sign, find a good vantage point—preferably a high spot where you can hear far up and down the canyon—and set up an hour before dawn to listen. If you hear gobbling, aggressively move closer before shooting light arrives.
I remember one memorable morning my friend Shawn and I did just that. Back then, you had to draw a turkey tag in Utah, and Shawn was the lucky guy. We were several days into our hunt without even a good sighting of a bird. This particular morning, we heard three birds gobbling in the mouth of a small tributary canyon. Hustling toward the sound, we spotted the toms roosted on a big limb high in a cottonwood. Stalking closer, we set up and tried to call them. But, big-tom-turkey-like, they eventually pitched down in the opposite direction and made their escape (or so they thought) into the side canyon. We followed them to the head of the box canyon, and when they realized their mortal mistake and came past us like three fighter jets, my friend made an awesome passing wing shot. It was his first canyon-country turkey.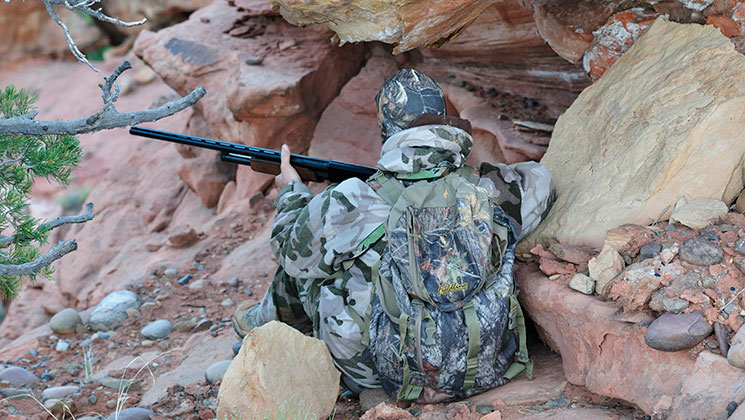 Spot-and-Stalk
Yes, I know it's not standard turkey hunting technique, but in the broken red-rock canyons, spot-and-stalk hunting can turn your dinner menu from tag soup to roast turkey. The early morning hunt described earlier ended this way after a morning of near-miss calling setups. It was the most eventful morning of canyon turkey hunting I've ever experienced, and we still couldn't manufacture a shot at a tom.
Finally, sitting atop a bench on one side of the canyon, we watched as two big toms climbed a tall talus pyramid against the opposite canyon wall. Turkeys often fly to tiny high-up ledges and cracks for a midday roost, but these toms stopped among some big boulders at the top of the pyramid. Tony stealthily climbed the slope below, clucking on a box call every now and then to cover the sounds he made. My video camera died just as he stalked within 25 yards of the toms. A gobbler periscoped his head over a rock for a look around, the old Winchester Model 12 spoke, and there was one less gobbler in the canyon.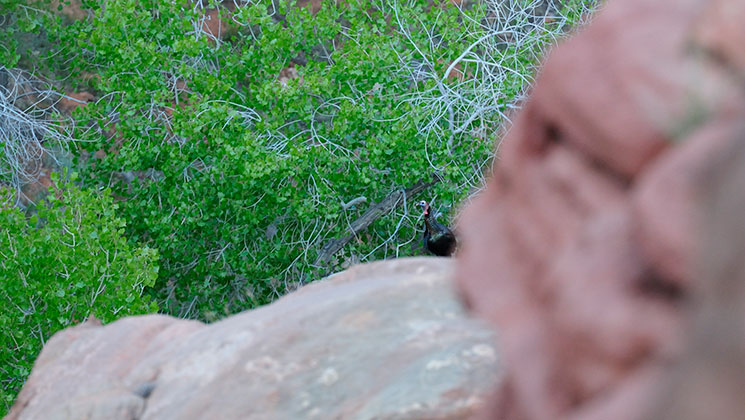 Ambush
When hunting canyon-country gobblers, I rose at 3:30 a.m. every morning, loaded a good horse into my trailer and drove 30 minutes to my chosen canyon. There, I loaded a Primos Double Bull blind, three decoys and my bow on the horse, climbed atop the pile, and rode four and a half miles up the canyon in the dark. I'd tie my horse, hike another half-mile and set up the blind before daylight. I waited hours on end, set up on the best turkey sign I could find, but never saw a turkey. Point is, ambush doesn't work as well for canyon-country Rios as it does in ordinary turkey hunting territory, but with a little ingenuity it can still work, as the following story illustrates.
One year I found a tiny, grassy bend in a small side canyon that was covered in gobbler sign. I surprised three toms there one afternoon at 3:30 p.m., loafing in the cool riparian area. Their reflexes proved better than mine, and they made their escape. That night, lying in bed, I came up with a plan. The following afternoon at 3:30 p.m., I peeked over a tiny creek-bend ridge just 24 yards from the little grassy spot. Sure enough, the three big gobblers were there, doing what gobblers do when they feel lazy. My old Model 12 belched smoke and fire, and only two gobblers flew away. It was my first ever turkey, earned the hard way.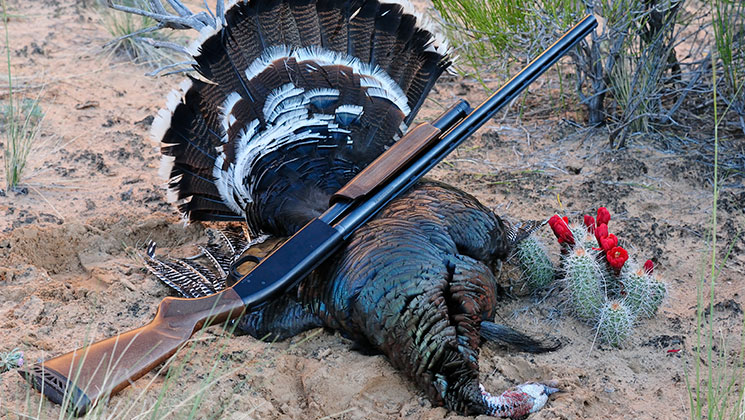 Give it a Go
Most of us love an action-packed hunt. Pursuing canyon-country turkeys is not likely to be that adventure, but towering red-rock canyon walls, beautiful weather and the sound of a big Rio Grande gobbler echoing through the canyon will make it one of your most memorable adventures ever. Give it a try—you just might get lucky.