Support NRA American Hunter
DONATE
Are you searching for a way to add some predictability into your next spring turkey season? Keep turkeys in the neighborhood with a food plot. A designer food plot with a touch of turkey fare offers more than just a way to pad your tom into Butterball status. A spring turkey food plot attracts turkeys, allows you to strategically set ambush traps and even prods turkeys into a reliable schedule so you will know the time of their dining reservations.
A turkey food plot could be a new project requiring clearing and planting. For many, ongoing land-management practices focused on whitetails also double as turkey enticements with some slight modifications. Regardless of the farming status on your hunting property, a bit of tailoring to the turkeys could bring a spring bonus.
Turkey Temptations
One thing you'll soon discover with turkeys is that they are not fussy eaters. In fact, they eat almost anything. Like you and omnivorous animals such as bears, turkeys devour a wide variety of foods. This includes vegetation, insects and even small animals that can't escape the quick peck of a turkey beak.
Your food-plot efforts will include vegetative nutrition, and, if successful, will attract a multitude of additional forage in the form of legged critters. Still, like whitetail food plots, you can't just plant any crop and expect fanning results.
For starters, in many climates you will need to plant your crops the spring or summer before. Most turkey seasons kick off just as spring is awakening. That means if you plant a crop this spring, cold temperatures, muddy conditions and even a spring snow could hamper any crop success.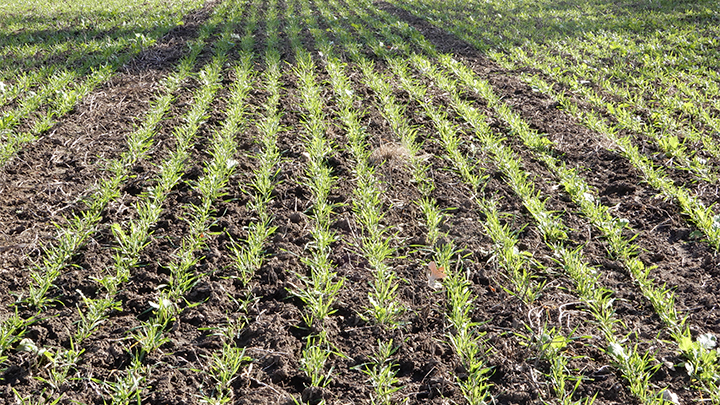 Secondly, you need to consider crops that won't become a hindrance to hunting. Plants that grow too tall the season prior could hinder visibility and ultimately shooting opportunities. This is especially true of seed mixtures that include a variety of mixed crops. Research accordingly so that your efforts won't impede your hunt the following spring.
At the top of the turkey fave list is chufa. This turkey magnet grows about anywhere with adequate moisture. Usually planted in the spring and early summer, once chufa matures it provides nutrition into the following spring with its nut-sized tubers located just below the surface of the soil. Chufa can grow tall, but dormancy and winter weather help keep it at a height that allows you to hunt a field the following spring. Once turkeys discover the delight, they will be hooked on the buried treat.
Cereal grains, such as wheat, oats and rye, also can be a turkey attractant. Residual regrowth in spring can make the plot attractive before another spring planting. An even better option is to plant winter wheat in the fall. The early green-up before winter and the following spring benefit a variety of species on a property, including turkeys and deer. Plus, the short height of the crop, if mowed the previous year, allows excellent visibility for hunting. As you ponder what's next for your plot, its spring carpet of green will be the red-carpet invitation until the next planting is ready after turkey season.
Although a chufa plot can last a couple years, if you want a true perennial plot, consider alfalfa. Fertilized and mowed, alfalfa is drought tolerant and lures turkeys and big game. And like chufa or grain crops, alfalfa also ensures turkeys have a pecking field for insects when the warmth of spring launches bugs to life.
Turkey Traps
Nutrition, in the form of greens or insects, is the No. 1 attraction luring turkeys to your food plot. Another vying reason is openness. Biologists speculate that toms prefer to strut in open areas where they have good visibility to spot approaching hens or scan for danger. A food plot fits the bill. It serves as a manicured strut zone, and the leafless environment allows sound to carry to and from the location to announce their presence. Turkeys also enjoy a bath of warm sunshine after daybreak to ward off chills and dry any dew that may have collected on their feathers during morning travel.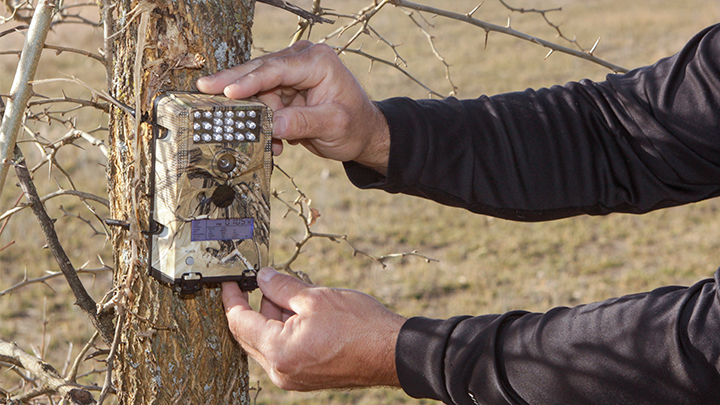 These and other reasons make a food plot the No. 1 place to set your turkey trap during the spring turkey-hunting window. Preseason scouting becomes critical to determine where turkeys arrive, loiter and depart while focusing on a particular plot. Locating a consistent roost tree nearby and the likely travel route to the plot will offer clues on where to wait in ambush. Use a hunting app to help decipher topography hidden under the canopy if you don't want to invade a turkey homeland while scouting.
You may prefer to leave the plot as a sanctuary and not hunt it. This gives turkeys confidence to continue using the area with regularity. Ambushes can be considered along woodland routes leading to the plot. Calls and decoys can help direct traffic to your in-between location.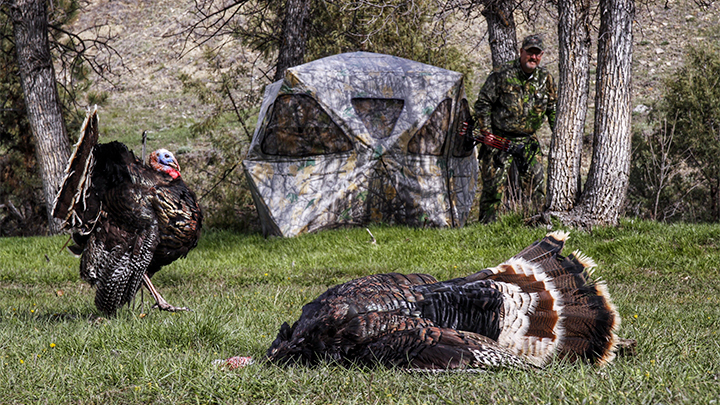 You may wish to formalize a plan to meet turkeys at the plot. Pre-set pop-up blinds are ideal for this type of ambush and provide you comfort while waiting in a concealed environment. Regardless if you wait along the route or at a plot location, consider entrance and exit strategies.
If turkeys spend hours at the site and you need to return to work, map out ways to depart without spooking birds. This may mean hunting turkeys along a shrouded, woodland route or simply staking a blind next to a deep coulee where you can duck into the back of the blind for a veiled departure.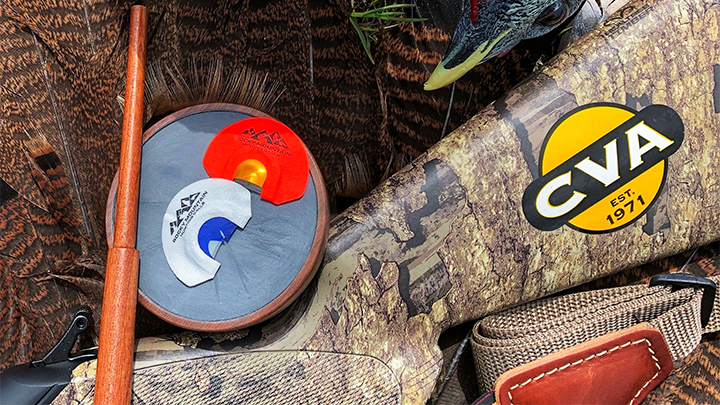 As you can imagine, understanding the turkey time zone at a food plot is equally imperative for success and hunting productivity. This is where scouting partners, in the form of trail cameras, shine. They can monitor travel routes and midfield strut zones while you're away. With time-stamped data in hand, you will soon see a pattern emerging on your turkey plot for guaranteed success.
Food plots have significance for all your autumn hunting but with a turkey tweak, they could become a sure bet during spring, too.