by
posted on January 21, 2021
Support NRA American Hunter
DONATE
Sure, it looked promising on the online maps; however, it quickly became evident we needed to move. Singles, pairs and small flocks of divers and sea ducks all bypassed our "textbook" spread in route to greener pastures. Pulling the plug on that initial setup, we quickly motored to where the ducks were amassing, unsystematically pitched decoys, and proceeded to enjoy some of the finest Eastern Shore waterfowling my son and I have had to-date.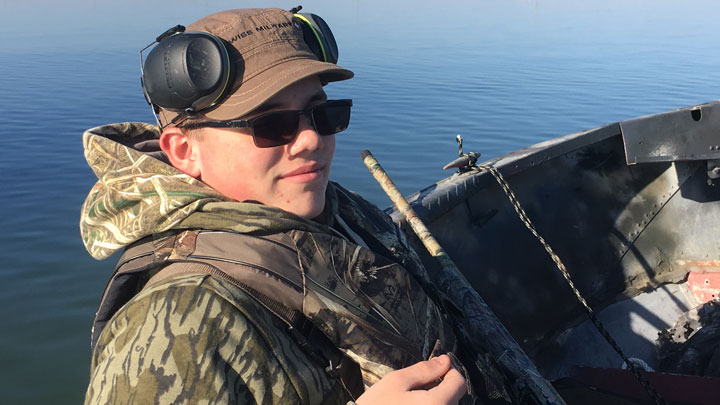 What I learned from the aforementioned hunt, as well as numerous others like it, is that hunting big water—wide rivers, large lakes and bays—poses many unique challenges. To be safe and successful requires planning with attention to detail and, quite often, a willingness to change "on the fly." Likewise, grit is essential; few things come easy or happen as expected when hunting vast waters. To me that's its allure, and it's something that I await eagerly during the long offseason.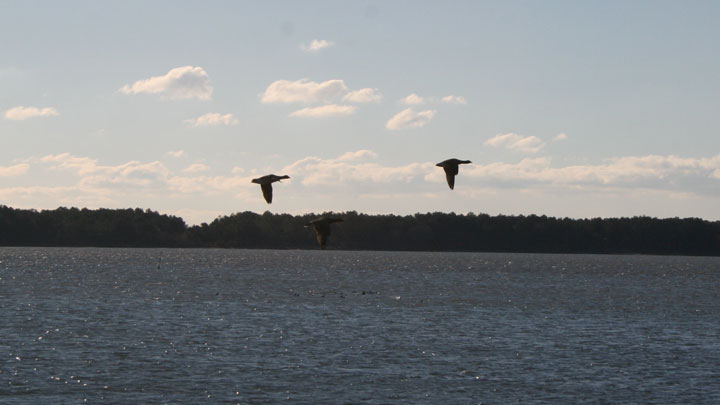 In the subsequent section, I detail some of what I've learned through first-hand experiences—both successes and failures—as well as through exchanges with guides more experienced than myself.

Boats, Safety and More
A prudent first step is to examine boats and safety. It goes without saying that, in order to hunt big water, you'll need a boat—and it must be navigable. It also needs to be of the appropriate size (length, width and capacity) and design for the waters that'll be hunted. As an example, whereas a flat-bottom jon boat would be asset on a wave-free river, its use on a large, choppy bay could result in loss of life. Err on the side of caution.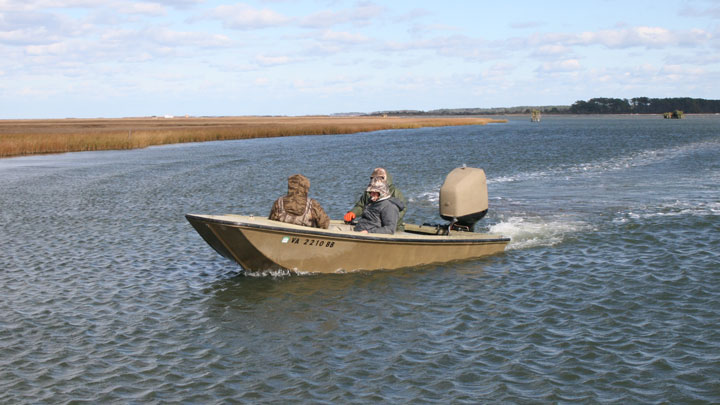 Some craft designs are more utilitarian than others. My 11-foot-long, Barnegat Bay-style boat is an example. I've used it on the large bays off Virginia's Eastern Shore, as well as the Old Dominion's largest rivers and even shallow marshes. It's never let me down. That's not to say it's perfect or universal—it's not. In fact, I've had to navigate white caps that had me questioning if I'd survive the journey or not. Thanks to a durable boat and reliable motor I did, however I'll never put myself in that same quandary again, no matter how good the hunt. Lesson learned.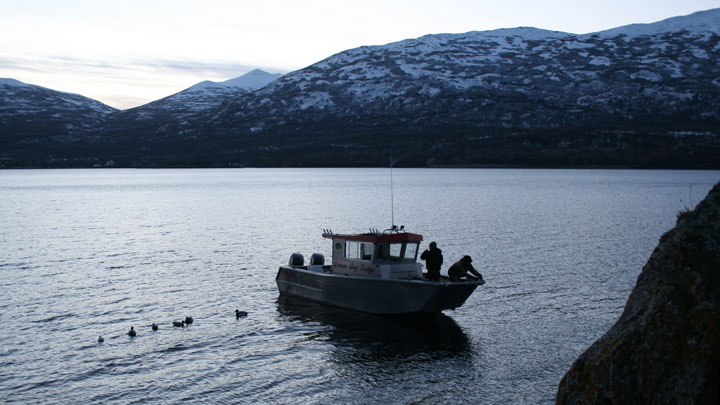 The boat must also hold a motor of sufficient horsepower; you definitely don't want to be underpowered on big water, as it could cost you everything. Motor size depends on the boat and the type of water to be navigated. Even for a smaller craft, I consider a 9.9-horsepower outboard to be the minimum. Obviously, bigger boats and larger waters require a significant increase in propulsion. As a rule of thumb, when purchasing an outboard, select at least one size larger than you think you'll need. You'll thank yourself when your fighting currents, building seas, etc. Brand isn't as important as it being regularly serviced and water-ready. That being said, I'm partial to Yamaha, though I've used Johnson (discontinued) and Mercury, too.
Before heading out, double-check the marine forecast and heed warnings, such as a small craft advisory. Always have the required lights (working, of course) and safety gear with you, as well as multiple forms of communication in case something goes awry. It's also sensible to hunt with a partner, or at least leave a hunt plan with a trusted individual before departing. Keep extra fuel, clothing and common tools on board.

When traveling, stay as close to the shore as is possible (and safe). Should a problem emerge, this allows you to reach safety faster. Watch your speed and look for debris in the water—especially that which is submerged or partially so—that can damage your hull or outboard. You'll also need a heavier-than-normal anchor, particularly near channels and with tide changes in bays.

Scouting, Decoys and Setup
As you read in the opening paragraph, not all water is equally attractive to waterfowl, therefore scouting is mandatory. Narrowing down big water can seem daunting. It's not. As with deer hunting, look for points, travel corridors, natural funnels, preferred feed, seclusion and protection. Apps, such as onX Hunt and HuntWise, can help with most of these, as well as wind direction, optimal movement, etc. They'll help you navigate, too.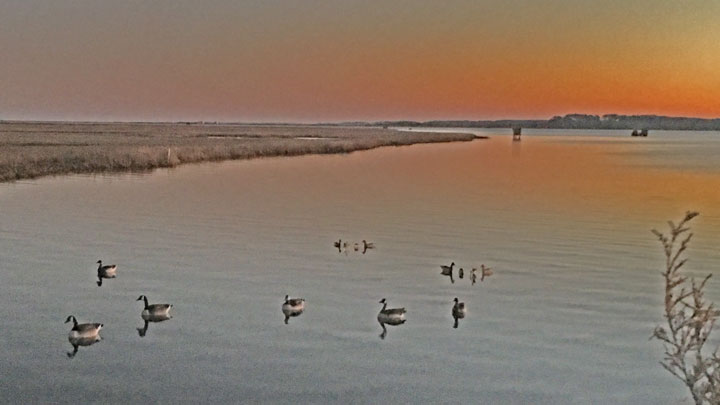 While the shot-in-the-dark setup—in distant, unfamiliar waters—can prove to be successful, it's a poor long-term strategy; ultimately, you must identify the habits of the species you're pursuing, and these can change with the weather, tides, feed, etc. For instance, Atlantic brant, which I particularly enjoy hunting, prefer to fly closer to the shoreline at lower elevations and near fancy eel grass. Locate the latter and you'll assuredly find brant. But changing tides affects what food is available, so they'll move throughout the day. For these reasons, nothing trumps real-time observation of bird movement. A quality binocular is an essential waterfowling tool that's often overlooked.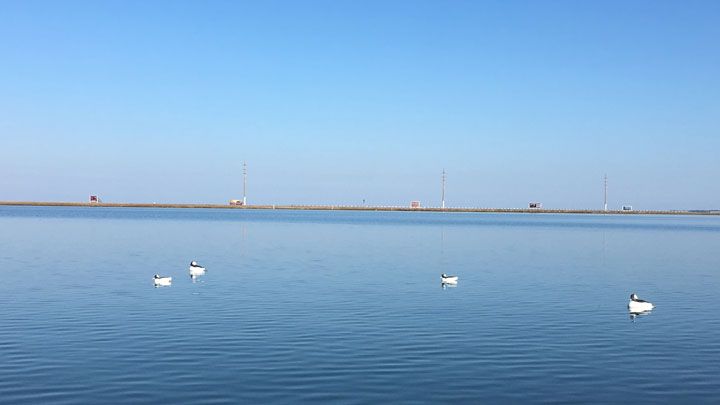 Concerning decoys, the traditional thinking—harking back to the market-hunting era—is large spreads for big water. Given the immense success of yesteryear's market hunters and current sea duck guides, that's difficult logic to refute. That said, as long as you're on the "X," I've found that you can often reach your limit with a smaller spread. Location is key. Limited on space in my Barnegat Bay boat, I seldom employ more than a dozen and a half dekes, and yet I'm never left wanting. Here's my advice: use what fits in your boat, you can handle and you can afford.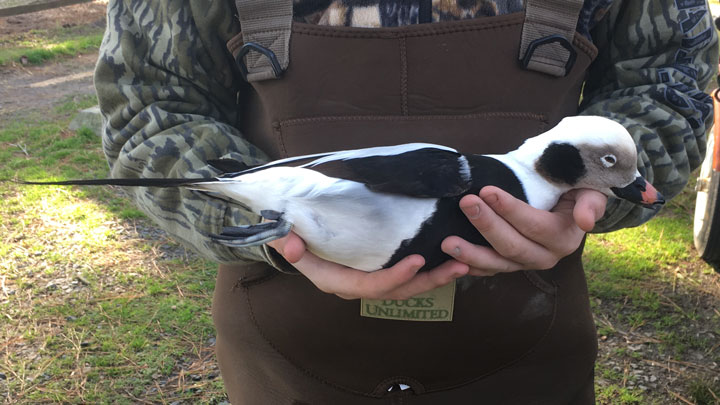 When hunting divers, I opt for a spread containing some combination of bluebills, goldeneyes and buffleheads, depending on what's prevalent at the time; match what's in the area. The aforementioned species also have broad appeal. When scoters and long-tailed ducks arrive in sizeable quantities—usually a month or so apart on my hunting grounds—I swap to those species, with a few buffleheads to the side to assure frequent gunning. Extras of additional species are kept in my vehicle, just in case I need to exchange them. I always have a couple coots on-hand; not only are they beneficial for attracting puddle ducks, but in a pinch, scoters will decoy to them, too. Regardless of the species used, have a blend of colors. Too much black can be lost, whereas too much white resembles—and attracts—gulls and terns. Using males and females of a species such as goldeneyes, will avoid this problem.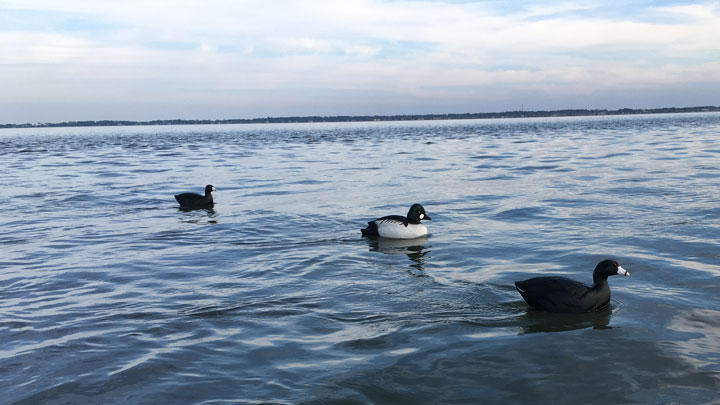 Lastly, make sure your dekes are outfitted with durable line of the appropriate length ending with a heavy weight to keep it steadfast. Retrieving drifting decoys wastes time, fuel (money), and opportunity. I use weights that are at least eight ounces; heavier is better when hunting where there is the tide and strong currents to contend with.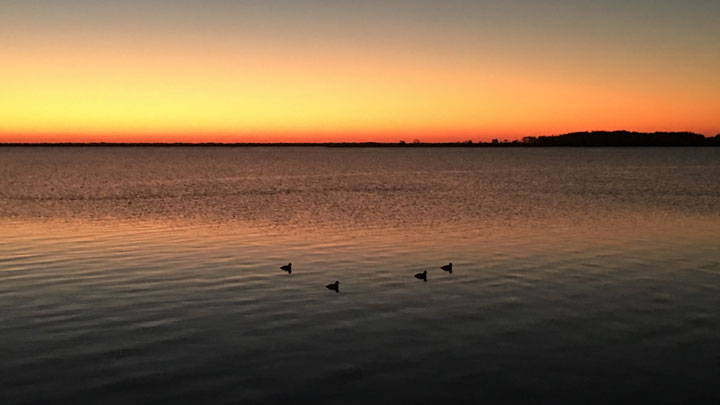 Big-water outfitters and those with large craft often employ longlines, or gang sets, which have the decoys consistently spaced along a length of line with heavy weights at both ends. While this type of setup saves time during setup and retrieval and prevents tangling, their use is impractical from smaller boats. I've tried this unsuccessfully. I much prefer individual lines for the style of hunting that I do. Unless I'm hunting from land on a point, I put the spread to one side of the boat or surround it with a couple paths in and out to retrieve fallen fowl.

Guns and Ammunition
When it comes to hunting big water, I hold nothing back; I demand a reliable, durable shotgun and premium ammunition. While my son and I have taken many divers and sea ducks with 20- and 28-gauge shotguns, I much favor the 12-gauge for its larger payload. Divers are no tougher than their puddler counterparts, but sea ducks are. And few things are worse than following up a wounded sea duck, especially in big seas. I lean toward 3-inch shells but will occasionally use 3½-inch steel or 2¾-inch shells when loaded with dense, leadless non-steel alternatives.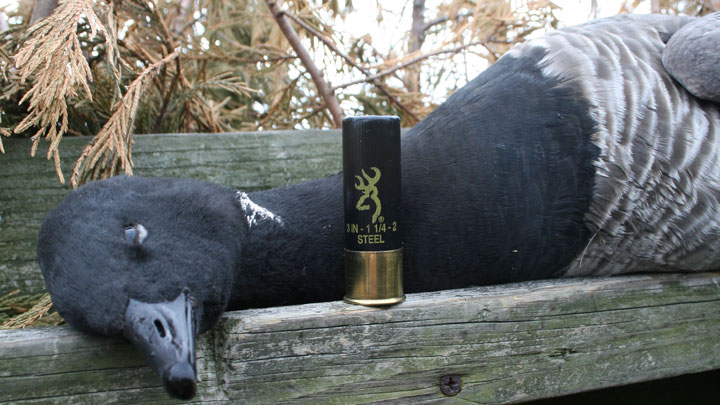 Concerning shot, there are two viewpoints: first, since it's common to shoot (and miss) a lot, you're better off using inexpensive steel. The other choice is premium steel or leadfree, non-steel alternatives, such as bismuth, TSS, Kent Tungsten Matrix, HEVI-Shot, ITX Original-10 or ITX-13, SpheroTungsten, etc. I select the latter. The extra density (and thus weight) enables said shot to hit harder, further, penetrate deeper, and less velocity is necessary, so the felt recoil is reduced. Due to their spherical shot and other high-quality components, premium steel usually burns cleaner, patterns better and is more reliable.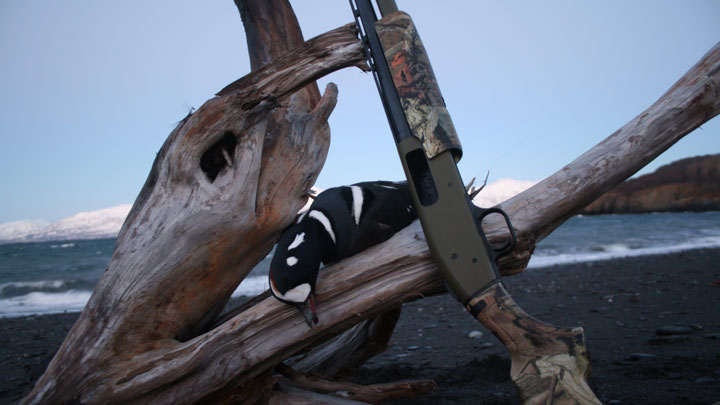 Of course, they cost more per shot, but if you're shooting less, then you're likely saving money. You'll also have fewer wounded fowl to follow up. Isn't that the goal? To save more money, you can consider reloading.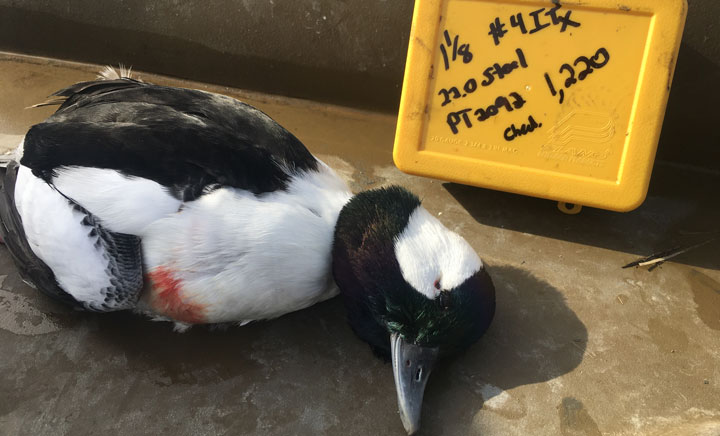 I have utilized TSS for waterfowling, but it's really cost prohibitive. Federal Premium and others try to reduce the price by pairing it with inexpensive steel in duo-shot loads, but they're still quite expensive. If you can afford TSS, there's no equal. From a cost/performance standpoint, I prefer bismuth. Said loads can be had from Winchester, Federal Premium, Kent, Rio, HEVI-Shot and Boss Shotshells, and it's economical to handload, too. Number 4s, 5s, and 6s are good choices in bismuth, Tungsten Matrix and HEVI-Shot, while No. 7s are perfect in SpheroTungsten Original-15. Number 7s and even 8s get the nod in TSS and SpheroTungsten Super Max-18.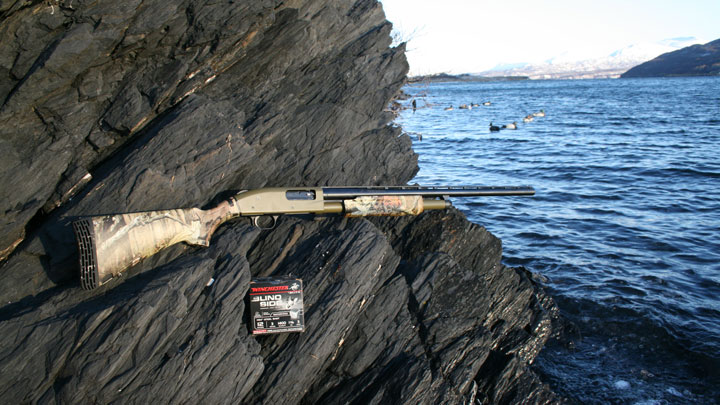 Hunting big water is an adventure not soon forgotten. I find it addictive, but it requires forethought to be safe and successful.