by
posted on January 7, 2020
Support NRA American Hunter
DONATE
For many waterfowlers, the words "duck hunting" conjures images of chasing puddle ducks in flooded timber, as well as on waterfowl impoundments and small farm ponds. Not me. Although I'll readily hunt dabblers, I much prefer to dog divers and sea ducks in large, open waters—especially those surrounding Virginia's Eastern Shore.
For me, few things top the all-around excitement that accompanies a diver hunt; from the boat ride and deploying large quantities of dekes, to drawing down on the swift ducks, nigh everything is more extreme—especially on big waters. That being said, divers are typically less wary than dabblers, and calling is optional. What's not to love?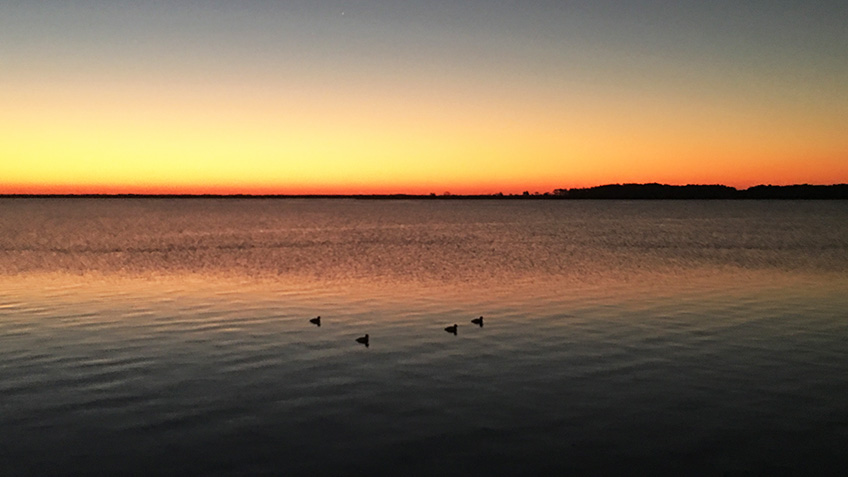 While it's not meant to be an end-all source for all things diver hunting, this article will paint a picture of what's involved and how to get started. Much can be gleaned from reading articles like this one, but they cannot replace actual scouting and on-the-water experience—both successes and failures. As Colin Powell once said, "Success is the result of perfection, hard work, learning from failure, loyalty and persistence." I agree.
Location
Less-cautious divers, such as the omnipresent bufflehead, will respond to handful of like dekes nearly anywhere; however, for consistent action with most species—canvasback, redhead, bluebill, ring neck, etc.—you need less of a crapshoot. Ideally, you'd scout the water(s) the day(s) preceding the hunt. No technology can top actually observing bird movement, which can quickly fluctuate. This isn't an ideal world, though, and many people—myself included—cannot afford an additional non-hunting day dedicated for reconnaissance. Here's what I do.
When planning to hunt a large, unfamiliar body of water, I spend considerable time poring over satellite imagery of the area using the onX Hunt app or website. Besides seeing important land and water features, the technology also allows me to determine property ownership and, at times, locate permanent blinds. The latter is important because blind laws can be onerous, and breaking them is a crime. If you are subject to burdensome blind laws, wait until after first light before deploying decoys to ensure that you're the proper distance from a licensed blind (floating or permanent). A quality rangefinder is an invaluable tool in such situations.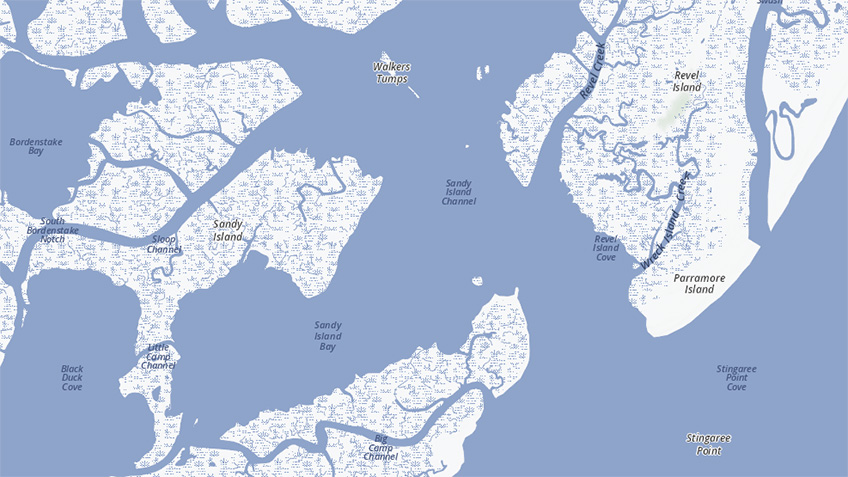 As I'm focusing on divers, I especially look for funnels—both natural and manmade. Why? Like deer hunting, you can elect to watch a large, random section of mountainside or where multiple well-worn trails converge. Where will you be more successful? The latter, of course. The same movement pattern applies to divers. When following the waterway, the birds will funneled through a smaller area, thereby increasing the chances of seeing your spread. Do know, however, that you might have to deal with increased boat traffic, so set up on one side or the other of the channel—not in the middle. And, currents in these pinch points can be unusually strong, too, so compensate by using heavy decoy weights (I prefer 8 to 12 ounces) and a hearty anchor.
Additionally, locate all points that extend outward considerably into the water, as these are decoying and pass-shooting hotspots. Divers will often follow the natural curvature of the land and swing tightly around these projections, presenting you with a shot opportunity. Islands are also good places to setup. Also try to locate promising coves and large ponds among nearby marshes, if such exists, as you might be able to diversify your bag with a few dabblers, such as black ducks, mallards, pintails and gadwall.
Regardless of how excited you are about your first location, if the birds are going elsewhere, you need to do so, too. A binocular is particularly useful in observing distant bird movements. As I mentioned before, you must be where the divers want to go, especially if hunting cans, redheads and bluebills. For consistent action, you must be where they're feeding, and vegetation and other food sources cannot be seen on a computer screen; you must be on the water scouting to find them. In short, find where they want to be and your take will increase.
Decoys
Price and quantity fluctuate wildly for decoying divers. As mentioned above, a bufflehead will readily investigate a couple dekes of its kind or others possessing much white, such as goldeneyes. As such, it's inexpensive and easy to attract them. Likewise, the curious ruddy duck will swim over to examine the odd group of bluebill or bufflehead blocks, as they don't typically respond to decoys as other ducks do. Cans, on the other hand, are known to raft in large numbers, and therefore are often hunted using in excess of 100 mixed canvasback, redhead and bluebill decoys—if the means are there. It's often said that you should use all the decoys that you can carry. To this, add all that you can afford. After-season clearances from retailers are perfect times to stock up.
For divers, it's about visibility; passing birds must see your dekes, and species accustomed to congregations of kin need to see numbers to respond. To aid this, use a higher percentage of male species—especially those containing a lot of white and light-to-dark contrast, such as bluebill, bufflehead, goldeneye and canvasback. But, as I've learned from other hunters, too much white can appear to passing divers as a colony of gulls; therefore, you also need the contrasting colors of the less-flashy females and species. In short, balance the blocks.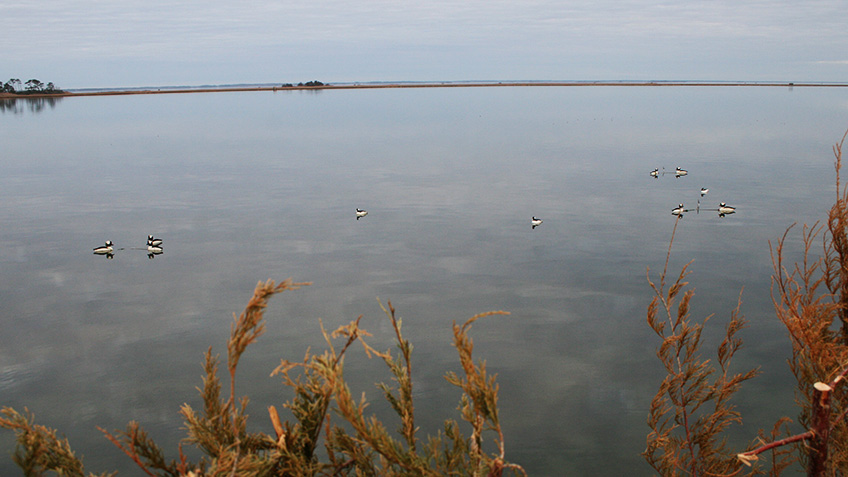 As for spread, a nondescript cluster of bufflehead decoys will easily the draw in the diminutive birds, and the same applies to goldeneye decoys. But, for bluebills, canvasbacks and others, the mixed-species long-line or gang rigs are preferable. Responding divers will follow the line of dekes right into the guns. Best of all, it'll work with all of the previously mentioned species. To mix things up, you can add in a few random diver decoys off to the sides of the line(s) for added variety. Other hunters opt for the popular J-Hook, C-pattern, etc. It's really up to you.
As mentioned previously, be sure that your decoys have sufficient line for the depths that you'll be hunting, as well as weights that'll ensure they're not dragged away by waves or the changing tide. For me, the minimum weight for hunting bays and large, deep lakes is eight ounces with 12 to 15 feet of line, though I'm not averse to increasing both. Match the conditions, otherwise you'll handicap yourself with fewer usable blocks or will be chasing errant decoys.
Lastly, add in some movement via a spinner decoy. The divers will see it from afar, and it will help guide them in. Whereas they're often employed too much for dabblers, they're likely underutilized for divers.
Calling
Unlike puddle ducks, hunting divers doesn't require calling. As long as the decoy spread is sufficient in size and diversity and are well-placed, calling is usually unnecessary. Still, some hunters choose to use a call to get their attention, especially if they're shunning the spread. In the past, it was typical for hunters to pull double-duty with their mallard call for divers, but companies like Haydel's Game Calls, Mick Lacy and Faulk's, among others, now make diver-specific calls.
Guns and Ammo
By in large most hunters use 12-gauge shotguns to hunt divers; however, when teamed with a quality choke and waterfowl load, other gauges are equally effective. For instance, my son and I have used everything from 28- to 10-gauge with phenomenal results. The key is optimizing your shotgun/choke/shell combination, which can only be determined through time at the patterning board.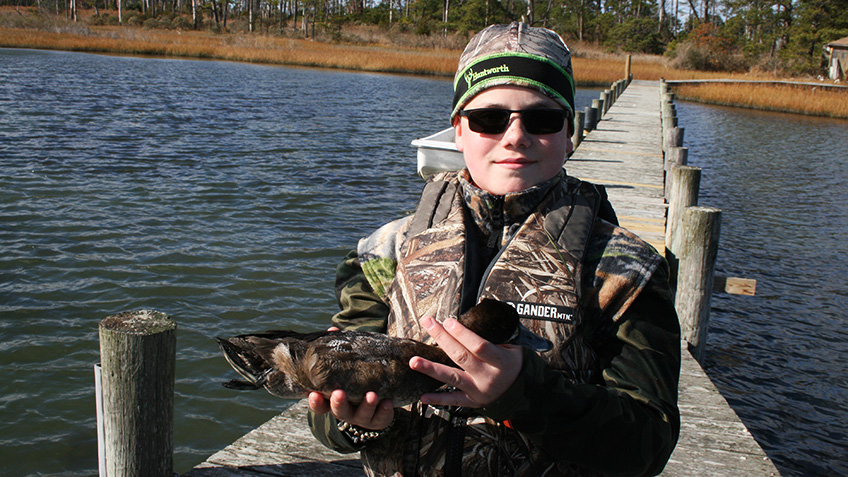 For an economical, all-around diver load, it's difficult to top No. 3 or 2 steel in either 12-gauge, 3-inch, 1⅛- or 1¼-ounce offerings. If using smaller gauges, opt for No. 3 shot, while No. 2 is preferable in the mighty 10. Better than standard—and even "premium"—steel is Hevi-Shot's dual-payload Hevi-Metal, which is comparable in price to top-shelf steel but offers extended reach, thanks to the tungsten-based pellets.
Personally, when focusing on divers other than buffleheads, I opt for No. 3 steel, as its additional pellets over No. 2s nicely fills in the pattern, making it more difficult for smaller species to escape. Yet, it still has sufficient energy to down tougher divers, such as cans, beyond 40 yards. It's a good compromise.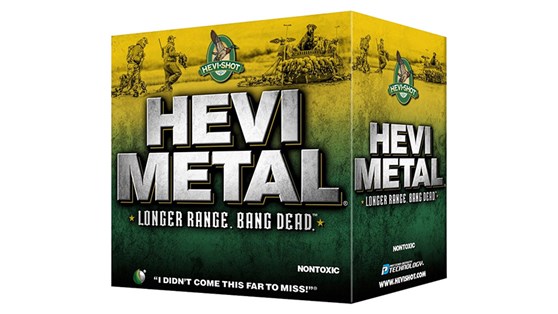 Concerning buffleheads, if you're out for the morning with a youth or apprentice hunter and are solely targeting the diminutive birds for assured action, don't be afraid to use No. 4 or No. 5 steel, though you'll have to keep your shots closer as the pellets quickly shed their downrange energy. Just this season, my son and I have taken numerous buffleheads with No. 4s and No. 5s in both 12- and 20-gauge, as well as a beautiful drake long-tailed duck (oldsquaw) with Hevi-Metal No. 6s. Within its effective range, the latter produces devastating patterns.
Besides Hevi-Metal and inexpensive steel for swatting aloft buffleheads, I prefer to use truly "premium" shot that has enhanced terminal performance downrange. Most of these shot types can be found in factory ammunition, though I prefer to handload them for economics sake and tailored patterns.
Shot types and sizes that I choose for divers include: No. 4 or No. 5 bismuth; No. 4 ITX Original-10; No. 4 or No. 6 ITX Extreme-13; No. 3 or No. 5; No. 7 SpheroTungsten Original-15 (i.e. HEAVYWEIGHT); and No. 8, 8½ or 9 SpheroTungsten Super Max-18/Tungsten Super Shot (TSS). Don't be fooled by the small size of the latter, as the pellets carry tremendous duck-stopping energy downrange and penetrate like no other. As an example, in one impromptu test I pitted a small payload of No. 9 TSS from a 12-gauge, 2¾-inch shell against a soup can placed at 40 yards, and the shot penetrated both sides. A 3-inch factory turkey load with larger, plated lead shot failed to duplicate its performance. SpheroTungsten Super Max-18 in No. 9 shot can be purchased as a component from Ballistic Products, Inc., while factory loaded ammunition featuring TSS (with steel pellets) is available from Federal Premium and Apex Ammunition. All of these shot types will give you the extra downrange performance that you need to down any divers at any sane distance.
To save money, you might consider reloading your premium waterfowl loads. Ballistic Products, Inc., has everything needed for you to produce the best diver hunting shells available.
As you can see, hunting diving ducks isn't difficult, but it does require a shift in mindset and gear from chasing dabblers. Now start making a plan. Be forewarned, though, it's a highly addicting pursuit.
Looking for more waterfowl hunting tips and tactics? Check out the following articles:
• How to Become a Waterfowl Scout Master
• 21st Century Duck Hunting Tips
• Duck Commander Q&A
• 7 Ways to Prep for Waterfowl Season
• How to Hide Your Layout Blind
• Tips and Tactics for Hunting Wary Waterfowl
• How to Build a Portable A-Frame Blind for Under $100
• Duck Hunting Tactics for Unusual Weather
• How to Outsmart Late-Season Geese
• Know-How: A Duck Spread with Serious Drawing Power
• How to Hunt Ducks on Small Water
• How to Build the Perfect Snow Goose Shotgun
• 6 Tips for Identifying Waterfowl
• How to Fight Decoy Frost
• Know-How: Ducks in Crowded Places
• How to Hit More Ducks
• A Beginner's Guide to Waterfowl Hunting
• Know-How: Stop Geese Cold
• Tips for Early-Season Waterfowl Hunting
• How to Breast a Duck in Under 90 Seconds
• The Evolution of Waterfowl Camo
• How to Avoid Waterfowl Calling's Biggest Mistake
• 10 Ways to Improve Your Decoy Spread
• How to Build a Better Wood Duck Box
• Waterfowling on the Cheap: Decoys