by
posted on May 17, 2016
Support NRA American Hunter
DONATE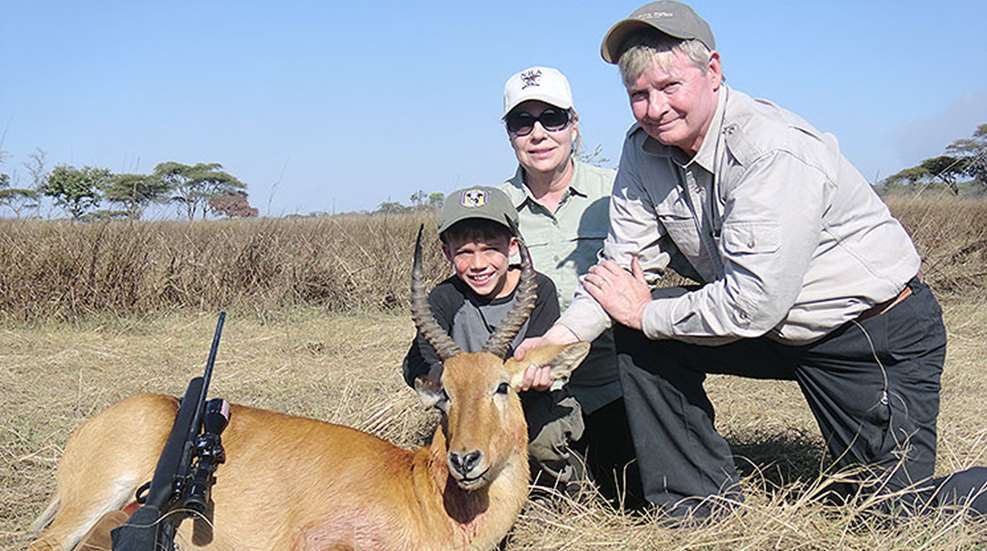 Photo: Melanie and John Pepper with grandson, Tristan, in Africa.
What happens when a petroleum engineer and lifelong hunter meets a special lady, teaches her how to shoot, then takes her on a Southeast Texas whitetail hunt for the very first time? It's rather simple: He marries her—on safari in Africa. When John Pepper met his match, Melanie, he awoke the consummate huntress lurking barely under the surface.
John Pepper is a registered professional petroleum engineer in Texas, who specializes in mergers and acquisitions and property valuation. He received his bachelor's degree in petroleum engineering from the University of Missouri, a master's in Petroleum Engineering from the University of Houston, and an MBA from the University of Houston. John is the principal of John Pepper, P.E., Petroleum Engineering, an oil and gas consulting firm; the President and chief operating officer of Langham, Pepper & Associates, Inc., an independent oil and gas producer; and a partner with Russel T. Rudy Energy, LLC, an oil and gas mineral acquisition firm. 
That first hunt for whitetail would create a bond and an activity that would bring John and Melanie even closer, an activity that Melanie is eager to share. Their four grandchildren have traveled the world hunting, courtesy of grandma and grandpa, who instilled in them a passion for hunting and the importance of family while exposing them to new and exotic cultures—an invaluable education. A true ambassador for hunting, Melanie also dedicates her time to helping those less fortunate, enlisting young women from foster homes for first-time hunting trips. She and John have hunted on six continents together, the most memorable hunt to date being a safari in Africa in 1997—Melanie's first—where she and John got married. This safari would set the tone for the rest of their lives, and further set the hook John baited years earlier. Melanie received her first hunting award, the prestigious Houston Safari Club Huntress of the Year, in 2008. She has taken nearly 150 SCI trophies, including four that rank in the SCI Top Ten and four Grand Slams, to name but a few.
If ever the term "power couple" applied to anyone we know, John and Melanie Pepper are the manifestation. John and Melanie's list of involvement is laudable. Both are Life members of the NRA, Alexander Hamilton-level members of the NRA Ring of Freedom and members of the NRA Hunters' Leadership Forum President's Founders Club. In addition, they are Life members of SCI and the Houston Safari Club (HSC) where they have both served as president. Melanie is heavily involved in NRA's Women's Leadership Forum as a charter member, demonstrating that more and more women are taking an active leadership role not only in the NRA but in safeguarding our Second Amendment freedoms. Melanie is also an SCI Diana award recipient. The Peppers' involvement is complete to say the very least.
Giving back is a recurring theme with the Peppers, who work to protect hunters and hunting's future in America.
When asked why the NRA and its Hunters' Leadership Forum was important to them, Melanie emphatically states: "John and I want to support a proven leader to fight the global anti-hunting battle being waged by animal rights groups. We want a leader that fights tirelessly against new laws, regulations, ballot initiatives and propaganda efforts that are designed to erase our hunting traditions. We want a leader that is a proven winner in these battles and one that is already uniting hunters, gun owners and conservation organizations to speak with one voice and provide a uniform message. And we want a leader that has the strength, influence and connections that create advocates in our fight that includes its 5 million members and 14 million hunters. John and I know that leader is the NRA through the Hunters' Leadership Forum. The NRA has successfully defended the Second Amendment for over one hundred years and it is fully capable, willing and ready to do the same for the hunting community. NRA's HLF gives its members and the entire hunting community the opportunity to have a strong voice of influence on critical issues in protecting our hunting heritage and hunting's role in wildlife management. As hunters we believe our voice will finally be heard and the tide of anti-hunting public opinion will be turned"
We couldn't agree more!