by
posted on February 11, 2016
Support NRA American Hunter
DONATE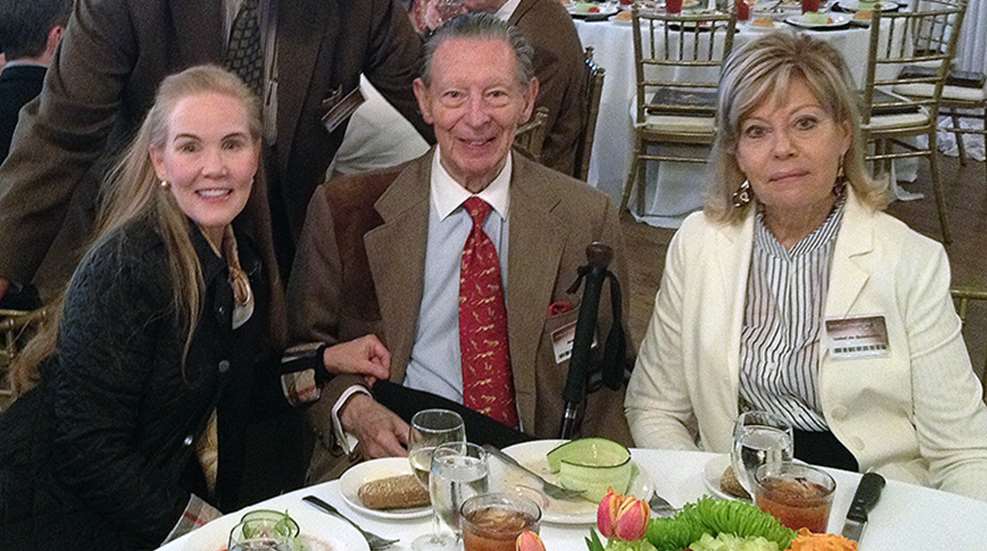 The multifaceted world of firearms, the shooting sports and wildlife and habitat conservation lost a mighty champion with the passing of Robert M. Lee on Jan. 28, 2016. Bob was 88 years of age, and had devoted his entire life to a deep love of hunting, top-quality antique and modern guns, rare automobiles and fine art, and the vital role of sport-shooting in the conservation of wildlife. Among his keenest passions were the National Rifle Association of America and its noble principles and goals.
Upon learning of Lee's passing, NRA Executive Vice President Wayne LaPierre said, "Bob was an iconic figure in the gun, hunting and outdoor world. He was someone I looked up to all my life, and he was my friend."
A generous NRA Life member, Bob was one of the pioneer Americans to establish hunting concessions in Africa with his initial safari in Tanganyika in 1955. While on that maiden expedition, Bob visited Italy, and was introduced to yet another lifelong passion: the collecting of Ferraris—meeting Enzo Ferrari and designer Sergio Pinanfarina through yet another legend, U.S. racing driver Masten Gregory.
The Spring 2010 issue of Ring of Freedom magazine presented a 10-page feature, "From the Collection of Robert M. Lee." This portrait captured highlights of the amazing life of Bob, well known as a Renaissance man who led the kind of life that has inspired novels and motion pictures.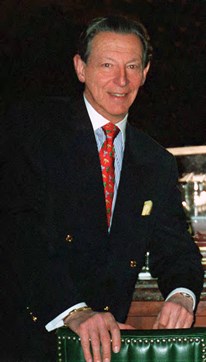 Country Life in New York's Long Island
An inveterate traveler and individual of intense energy—and a multi-talented genius with the touch of King Midas—Bob's many enthusiasms grew out of a patrician upbringing in Woodmere, Long Island. He and his parents had vast real estate holdings that would be the basis for a fortune Bob was destined to further develop as a builder, designer and contractor.
A childhood curiosity and passion about firearms, the shooting sports and conservation was inspired by magazines like the American Rifleman, to which he was introduced by a family employee on their estate, a 30-minute drive east of New York City.
At the age of 12, Bob acquired his first .22 rifle (a Winchester Model 69a) by selling magazine subscriptions to the sporting publication Outdoor Life. When this first firearm arrived, his parents arranged for their son's education as a responsible sportsman and shooter through lessons from an NRA instructor—with his supportive mother taking the course with her precocious son. 
Early Love of the Outdoors and Firearms
The young New Yorker so thoroughly studied the world of firearms that he became a correspondent with renowned writer Elmer Keith, and a few years later with Jack O'Connor. When hearing from Keith that he was coming to New York, Bob and the legendary hunter and scribe agreed to meet at one of the Lee's favorite restaurants—similar to the family favorite, the "21" Club. When Keith was approached by this well-groomed teenager, he asked "where's your father?" – thinking that the person with whom he had carried on this intelligent correspondence was much older. Bob typed his letters, and Keith surmised from the level of their communications that Bob was an adult.
These stories and many more were told in a 1988 Bob Lee classic, "China Safari," which documented one of Bob's many triumphs: three expeditions into the Chinese Pamirs, through which adventures he proved that the near-legendary Marco Polo sheep was also in China, and not restricted to what was long thought to be their primary habitat in Mongolia. All of Bob's innumerable hunts harked back to the training he received from his friend, NRA shooting instructor, Capt. Steiner as a 12-year-old in Woodmere.
A keen assist to the youthful outdoorsman was that his father, Dr. William F. Lee, was a dentist for elite New Yorkers, and among the senior Lee's connections were top-flight outdoorsmen at Abercrombie & Fitch on Madison Avenue. Though the family had plans for Bob to develop their real estate holdings in rural Long Island, Bob's love for firearms, hunting and the great outdoors led him on a far different path. His dedication to horses and adventure was further inspired by watching one of his father's distinguished patients, Tommy Hitchcock, the Babe Ruth of Polo, in matches on Long Island. Bob also mastered rodeo and trick riding, and led parades at Woodmere on the 4th of July, carrying the American flag. 
Magic of New York Opportunities
Bob's parents were lovers of opera and gardening and were enthusiastic participants in New York's unique culture. With their support and through Bob's rapidly evolving reading, correspondence and immersion in the many opportunities in New York City for learning about the outdoor world, their son joined the extraordinary ranks of New Yorkers passionate about wildlife and conservation. Among his predecessors were Theodore Roosevelt, and his eldest sons T.R. Jr. and Kermit. And when Bob was awarded a medal in 1952 by the Boone and Crockett Club for the then top-record Inland Caribou, it was Archibald Roosevelt, the third son of TR, who made the presentation. 
A patient of Bob's father was prominent in the A & F Fishing Department and, learning that Bob was gifted at tying flies, took on Bob's line for that store. That was but one of the youngster's passions that he later would develop into a position as one of America's foremost retailers of sporting apparel, arms and fishing equipment through his exclusive brand, Hunting World, Inc. 
From New York to East Africa
Besides his lifetime dedication to the NRA, Bob became a member of the Boone and Crockett Club and a Fellow of Exploration in the Explorer's Club of New York, and developed a friendship with prominent American Museum of Natural History Curator, taxidermist, explorer and sportsman James L. Clark. Clark was among the many scientist-adventurers who preceded Bob in expeditions attempting to find the Marco Polo sheep in China—and proud he was of Bob Lee's achievements in researching that species. Jimmy and Sally Clark had dinner weekly with Bob, and regaled him with stories of African safaris and of meeting Roosevelt while on his 11-month safari in East Africa, 1909-1910. Admiring of their protégé, the Clarks left to Bob a collection of exquisite bronze wildlife sculptures—and the original molds that each had created. 
Between 1955 and 1965, Bob Lee's expeditions to Africa also led to creating his own outfitting business, Lee Expeditions, based in New York. Organizing some 120 safaris, Bob had numerous prominent clients, including conservationist Russell Train. His networking and intense perfectionism led to his first book, "Safari Today" (1960, Stackpole Press). The first volume of its kind, the amount of historical and technical information presented was astounding even by today's standards. 
Bob had a working relationship with Donald Ker and Syd Downey, and after taking a bongo on safari in Kenya, Bob arranged through Kenya hotelier Jack Block to have a celebratory dinner in Nairobi. Block knew that famed writer and sportsman Robert Ruark was in town and suggested he be invited to participate. The wine Ruark recommended for that dinner remained a staple whenever Bob visited the '21' Club thereafter—the label was Chambolle Musigny. And from time to time, Ruark admiringly wrote about Bob Lee in his syndicated newspaper column.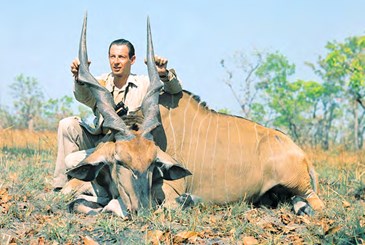 Besides being a prominent outfitter, not only in Africa but in exotic places like Nepal and India, Bob was a professional guide licensed in East Africa. His main operations were in Angola—being the first to open there, though he hunted in a total of 17 African countries. Working with the Portuguese Provincial Government, he was the first professional hunter to open Angola to foreign hunters. Bob Lee was a conservationist, long before it became fashionable. Living in Angola, in the early in the 1960s, he was instrumental in arranging government protection for lion, cheetah, black rhino and their habitats. Bob was also fluent in Portuguese and in Swahili. Furthermore, he designed the first ecologically-sound wildlife management program in Africa, with the then Portuguese Provincial government, counteracting the decimation of big game populations by over-hunting and poaching. The result: more game there when he left in 1965, than when he arrived. This was a cause that Bob Lee championed, vociferously and on an international premier level, and thus he was presented the coveted C.J. McElroy Award from Safari Club International in 1999.
Bob's extraordinary collection of trophies included numerous species cited in various record books, and was prominently on view in his private museum in Sparks, Nev.
Design and Manufacture of Fine Sporting Arms
While developing an astounding array of contacts within the safari community, Bob began yet another passion: the design, manufacture and collecting of best-quality firearms. As a teenager Bob had invented (and patented) his own quick-detachable scope mount—"the Lee Mount"—manufactured for him by Griffin & Howe. Bob also developed his own cartridges, principally the .358 Lee Magnum and the .424 Lee Magnum, both listed in P.O. Ackley's classic cartridge book, Handbook for Shooters and Reloaders, Volume I. With his vast hunting experience and encyclopedic knowledge of firearms, he could discuss design technicalities and cartridge performance with virtually anyone in the business. 
Furthermore, serving in the U.S. Army prior to the Korean War, Bob had completed part of his studies in business management and engineering at Lehigh University and was posted to Alaska. What a place to find himself—a sportsman in an outdoor paradise. Another of Bob's many talents—photography—received a boost of inspiration, as evident by rare pictures he took while in Alaska and on innumerable other trips in the years that followed. At the NRA Annual Meetings, Bob always stood with pride as the request was made for all veterans to rise to their feet and be recognized by a grateful audience.
The Ultimate Collector
Bob Lee's love of craftsmanship inspired commissioning a set of double rifles: a Purdey double rifle in .465, and a Holland & Holland double in .375 H&H (completed 1959-1961). Unique in those days, these masterpiece sporting rifles were both sent to America to be embellished by Joseph Fugger of Abercrombie & Fitch/Griffin & Howe. The set was termed by Harry Lawrence, Managing Director of J. Purdey & Sons, Ltd., as the finest sporting guns "of our time." These elegant rifles inspired Bob to create the world's finest collection of fine antique and modern deluxe firearms by major U.S., British and Continental makers, including both rifles and shotguns and, on occasion, handguns, including several revolvers by Tiffany & Co.
Establishing Hunting World
The love of fine guns, the hunt and wildlife conservation inspired Bob Lee to create Hunting World, Inc. Based in New York, the comprehensive and innovative firm quickly expanded into an international operation with over 150 points of sale, primarily in the United States, Europe and the Far East. Founded in 1965, Hunting World set the highest standards in luggage, sporting accessories and apparel, and the flagship store on East 53rd Street between Fifth and Madison Avenues, New York, was a fashion destination for sportsmen and women from around the world. 
Not only did Hunting World present an array of outdoor products on the highest level in the world capital of commerce, finance and culture, but Bob made sure that a library of hunting and firearms books was part of the company's offerings. Anyone lucky enough to find Bob at Hunting World would be treated to extensive knowledge by one of the planet's most expert and experienced hunters, sportsmen and travelers. 
Hunting World also presented Bob Lee's exclusive designs of fly-fishing equipment through his Angler's World. At the peak of his operations, Bob would circle the world at least six times a year in his Gulfstream G-3 with a paneled interior done in his exclusive "London grain" leather. His elegant catalogues pictured Bob in sites around the world fly-fishing and hunting, field-testing everything that he offered to his clientele, and modeling sporting clothing and ties of his own design. 
Bob soon discovered that top fashion models were keen on his luggage, scarves and accessory designs and was pleasantly surprised to see his creations from New York to Paris, and quickly thereafter in the hands of fashion icons in the Far East.
Connections in a Vast Network
Being based in New York City, Bob developed connections throughout the media, and his company was often recognized in fashion magazines, sporting publications and even The New York Times in which Hunting World regularly advertised on the inside front page. When a new book by the writer was completed, Bob would turn Hunting World's store into a venue for a book-launch party. The array of attendees was a cross-section of art, business, firearms, and hunting and conservation enthusiasts—all made possible by Bob's generosity and spirited support of his wildlife passions and of the NRA. "Steel Canvas—The Art of American Arms"(Random House 1994) featured Bob's vast arms collection and was dedicated to the NRA Foundation, and to Robert M. Lee.
Bob's keen eye as an artist and designer, and as one who recognized beauty in all its forms, meant that he could speak the same language as the artists and creators who flock to New York as a center of art, culture and creativity. That energy was one of the driving inspirations to Bob, whose father-in-law, Charleston Admiralty and libel attorney David A. Brockington, Jr. ("Brocky"), took great pride in his son-in-law's multi-faceted achievements, and in that special Bob Lee-King Midas Touch.
A parade of visitors who shared Bob's wildlife, hunting and firearms passions found Hunting World a destination where their own interests would be welcomed and prominently represented. Big game trophies, beautiful decoys, wildlife art and photographs from Bob's many expeditions were displayed in the store. Nearby was a legion of exceptional restaurants, and what better place for visitors to New York who loved guns and hunting and conservation to visit than Hunting World, Inc. 
Philanthropic Inspirations
Bob was also an active supporter of The Metropolitan Museum of Art where the Arms and Armor Department is ranked the best in the museum world.  Prominent therein is the Robert M. Lee Gallery of American Arms, endowed in 1991 by Bob in memory of his parents, and featured in the landmark book "Magnificent Colts."It was at a lunch with A.O. "Punch" Sulzberger, at the museum's curatorial dining room, that Bob was introduced to the concept of endowing that gallery. Among the guests were Museum Curator Stuart W. Pyhrr and Sulzberger. Three of the party had New York pistol carry permits: Bob, Punch and me. It was refreshing to hear Punch react with dismay when he learned that our friend Bill Ruger was being unfairly treated in the press, The New York Times included, with lawsuits against gunmakers.
Of his many other philanthropies, an endowment for the University of Montana's graduate studies in wildlife management (1988) led to three scientific expeditions to China's Qinghai Province. Additional funding was granted by the Robert M. Lee Foundation to various conservation organizations and, of course, to the NRA.
Skillful and Intelligent Advocacy of Hunting, Shooting Sports and Conservation
Despite the fact that Bob's flagship store in New York advocated hunting and the shooting sports, there was never an instant when Hunting World was picketed. Clients ranged in a broad spectrum from Henry Kissinger to Gen. H. Norman Schwarzkopf to John Wayne to high fashion models to bus loads of visitors from the Far East flocked to Bob's stores. Many of the leather goods were manufactured exclusively for Hunting World in elephant hide. And it was Bob Lee who first created a line of the coveted elephant hair bracelets by adapting and redesigning the traditional form into jewelry with gold and silver refinements. East Africa provided elephant hides and hair (from tails) to Hunting World, and the resulting luggage and accessories demonstrated the responsible use of animal products—income that supported the conservation of wildlife in Africa. 
Bob was also a generous sponsor of the wildlife and conservation film, "In the Blood," released in 1987 and directed by George Butler. Co-produced by former U.S. Treasury Secretary William E. Simon, the theatrical release movie starred East African hunting guide Robin Hurt and safari client Theodore Roosevelt, IV. 
An Elite Cadre of Friends and Associates
Iranian Prince Abdorreza became a good friend of Bob, and they often hunted together. Among Bob's many hunts were several as a guest of the Royal Family. Further, Bob had met H.M. Queen Elizabeth II while in Nepal, their highnesses having successfully completed a tiger hunt. Decades later Bob would meet Her Majesty again at a private function at the Royal Armouries, H.M. Tower of London. They reminisced of those early days, and Bob commissioned of Asprey & Co., Ltd., a deluxe album of photographs he had taken at that first meeting, and of images of two matched pairs from the British Royal Family fleet of Rolls Royce limousines—displayed in the Lee Collection. Her Majesty and Prince Philip were delighted. 
The legion of connections Bob developed through his multi-faceted career offered innumerable opportunities to advocate wildlife and habitat conservation. During an annual driven shoot in Scotland—with participants the likes of Luca di Montezemolo, chairman of Ferrari; Donal O'Brien, chief attorney for the Rockefeller family and longtime chairman of the National Audubon Society; and Jack Parker, vice chairman of General Electric—the subjects of hunting, guns and conservation were often discussed. Bob would close the evening's festivities by regularly toasting, "Long live the NRA."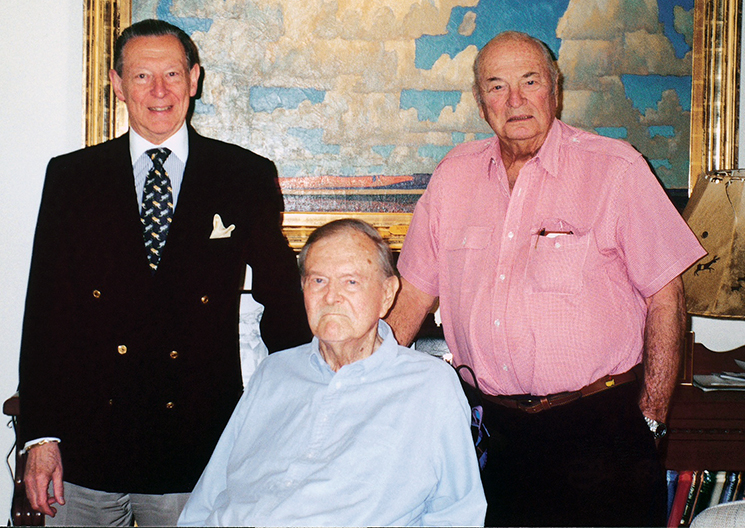 Old Friends in the World of Firearms and Conservation
Bob's first meeting with another keen supporter of the NRA, William B. Ruger, Sr., was with Jack O'Connor as related in the book, "Ruger & His Guns." Early in the 1950s, they drove up from New York in Bob's Bentley Continental to Ruger's home and factory in Southport, Conn. Bill Ruger always respected Bob as someone whose own knowledge and experience was available at any time, and the spirited discussions they had, which initially included Jack O'Connor, forged a lifelong friendship. Bob Lee and Jack Parker were two of the last of Bill's friends to visit him in Prescott, Ariz., just two weeks before his passing on July 6, 2002. 
Another close friend of Bob Lee, Bill Ruger and Jack Parker was Col. Thomas E. Bass, a World War II hero with 37 missions as a B-25 pilot in the Pacific Theater. Tom was also the former top aide to Gen. Curtis LeMay and a leading Colt Industries executive from 1965 to the 1990s. It was Tom Bass who introduced the writer to Bob Lee in 1970, leading to an unforgettable afternoon at Hunting World, New York, and a close friendship and collaboration in the years that followed. All of these men were key supporters of the NRA.
The Exotic World of Automobile Collecting
An advantage that Bob Lee had in his promotion of the NRA, hunting and conservation was his prominence as one of the world's foremost automobile collectors. Twice having won Best of Show at the most renowned of all competitions, Pebble Beach Concourse d'Elegance, Bob also won Best of Show at Quail Lodge (twice) and Florida's Amelia Island (once). Bob recognized that many leading collectors of the automobile were keen hunters and sportsmen. Among them were Bill Ruger, Bob Petersen, Formula 1 World Champion Phil Hill, racer and automaker Carroll Shelby and Otis Chandler, publisher of the Los Angeles Times. When attending these major auto events, Bob had the opportunity to further advocate the pleasures of fine guns and the shooting sports. Special tours at the Robert M. Lee Automobile Collection in Reno were highlights of events such as the 131st NRA Annual Meeting and Exhibits held in that city in 2002.
Yellowstone Press Publications
Yet another facet of Bob Lee's dedication to guns and hunting was in his series of publications under the umbrella title "The Art of the Gun." First was the five book miniature set, devoted to Antique Sporting Arms, Modern Sporting Arms, Colt and Winchester, with an introductory volume setting the tone for the series. The library of mega-books to follow was launched in 2011 with "Magnificent Colts—Selections from the Robert M. Lee Collection."Future titles will include "Antique Sporting Arms," "Modern Sporting Arms," and "Winchester and Its Rivals"—plus a biography of Bob Lee inspired by a comprehensive exhibition, "A Celebration of Robert M. Lee." Comprised of highlights from his many collections, and lavishly and lovingly presented by Sotheby's in New York in June and July 2013, the show was spectacular and inspirational.
A key goal of Bob as an arms collector was to cover the entire history of firearms. Therefore, he did not concentrate on particular periods or makes as is the customary practice in favor of seeking the finest and most artistic and technically superior examples of the gun from as early as the 1500s to the most recent in the 21st century. In doing so, Bob became among the most successful and dedicated patrons of the contemporary array of gifted gunmakers, engravers and stockmakers, as well as a highly competitive seeker of fine guns at auction sales and from private dealers and collectors. The antique firearms he collected—and the arms that were custom built to his exacting standards—represent the finest artisans in firearms of all time. 
The Robert M. Lee Collection thus was uniquely qualified as the basis for his ambitious plans in the Yellowstone Press series, "The Art of the Gun."Such a high standard set by Bob and by his beloved wife Anne Brockinton Lee has given to the world of publishing the highest conceivable level of the printed book—a work that challenges the standards of excellence in the world of art, craftsmanship and fashion in every respect.
Bob and Anne Brockinton Lee and the Lee Legacy
With the multi-talented Anne Brockinton Lee, herself a keen hunter-conservationist, the couple attended numerous NRA annual meetings, and Bob was a Charter member of the Hunters' Leadership Forum. Anne serves on the Board of The NRA Foundation and of the NRA Women's Leadership Forum, and carries on the unique and special legacy of her late husband. 
Through his dedication to the worlds that he loved—most prominently that of firearms, hunting, the shooting sports and the conservation of wildlife and habitats—Robert M. Lee set a standard of excellence and dedication serving as an inspiration for all who are fascinated with those extraordinary worlds.
The feature article in the NRA Ring of Freedom magazine summed it up superbly when it said Bob Lee's love of freedom and commitment to ensuring the future of that freedom will always be front and center. "The Right to Keep and Bear Arms is one of our most precious rights,' Lee said, in that article. "We all have to work hard and do our part to ensure the future of the Second Amendment is a bright future."
That precocious young New Yorker, who early discovered the magical world of firearms, hunting and conservation, lived a life the envy and dream of every man. Robert M. Lee left a colossal legacy that is an inspiration to all who know that without hunting, wildlife is doomed—and without firearms, there is no freedom.