by
posted on January 6, 2016
Support NRA American Hunter
DONATE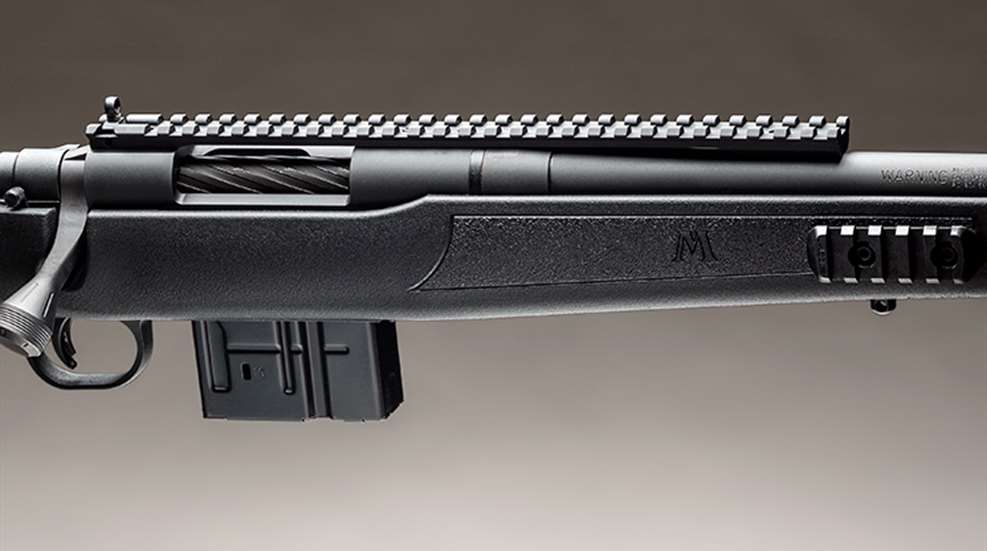 There are essentially three definitions of the scout rifle. First, there's Col. Jeff Cooper's definition, which is largely credited for setting the parameters of such a firearm. The popular definition, meanwhile, is any bolt-action rifle with an extended-eye-relief scope. And finally, there's the definition(s) conjured by everyone else. The Mossberg MVP Scout clearly meets the last two. It allows for a forward-mounted optic and is exactly what Mossberg thought a scout rifle should be. Cooper would have likely called it a "pseudo scout."
Regardless, like all commercial scout rifles designed in the 21st century, the MVP Scout is an interpretation of Cooper's conceptualized general-purpose rifle. While not adhering to every element of his specifications, the MVP Scout exemplifies the essence of the concept. It is a powerful, fast-handling, highly portable rifle, well suited to hunting, protection and survival.
To build a scout rifle, Mossberg took its MVP design and made two important alterations. First, the company installed a synthetic stock, which weighs only 29 ounces. This injection-molded stock, with formed stippling at the wrist and fore-end, is much sleeker than the lumberyard-looking wood stocks found on other MVP versions. It comes with 2.5-inch Picatinny rails mounted to the left and right sides of the fore-end. These allow for the attachment of a light and laser, and while these devices are most applicable to the protection role of the scout rifle, where legal they are proving useful to hog hunters operating under the cover of darkness. The rails are easy to remove if you don't need them.
The second addition was an 11.5-inch Picatinny rail, running from the rear of the action to 5.5 inches forward of the receiver. This rail has 27 slots and allows for the mounting of a traditional scope, a scout scope or a red-dot sight. Integral to the rear of the rail is a fully adjustable, ghost-ring aperture sight with a .18-inch opening. The rail is attached with four screws: one in the rear, two at the front receiver ring and one on the barrel.
Other features of note include an oversized bolt handle, Mossberg's adjustable Lightning Bolt Action trigger and a threaded muzzle capped off with a flash suppressor. There's also a red, fiber-optic front sight that stands out like a lighthouse beacon in dark timber. Even with its heavy-contour, 16.5-inch barrel, the Mossberg MVP weighs less than 7 pounds (without magazine and scope).
One of the most appealing features of the MVP platform is its acceptance of either AR-10 or M14 magazines. A recessed button just forward of the magazine well operates the single-release, dual-locking system. Depressing this button simultaneously moves the front and side magazine catches. Such compatibility has immense appeal due to the aftermarket availability of both magazine types. The rifle ships with a 10-round metal magazine, but I did almost all shooting with Magpul's excellent 10-round PMag.
I spent a lot of time with the MVP Scout Mossberg sent for testing. This was partly because I've been conducting an in-depth study of the scout rifle concept and partly because I genuinely liked the rifle. I used the MVP Scout while taking the Advanced Scout Rifle Course at Gunsite Academy, and I also carried it to South Africa on safari. My logbook says I've fired the MVP Scout 686 times as of this writing without a single feeding or extraction issue.
The only problem involved the optics rail; the front barrel screw worked loose after about 150 shots. I judiciously applied blue Loctite, which held the rail in place for about 300 more rounds. As bad as this might sound, it's a problem endemic to all barrel-mounted, scout-like rail systems, particularly when exposed to lots of rounds fired in a very short period. I suggested to Mossberg that the rail use a more robust, two-screw barrel attachment, and I think the folks there were listening.
The rifle was a bit finicky when it came to ammunition. Fortunately, it liked Nosler's 165-grain AccuBond Trophy Grade load well enough that I was confident to take it to Africa. Cooper specified a scout rifle should be capable of 2 MOA or better accuracy, and the MVP Scout, while not a tack driver, met this requirement. Surprisingly, the MVP Scout's lightness did not make the rifle uncomfortable to shoot. The reasonably straight stock and soft recoil pad helped with this for sure.
I mounted a Leupold VX-2 IER 1.5X-4X-28mm Scout Scope and used it during the Gunsite course and while in Africa. Though the scope's eye relief did not permit me to position the ocular bell forward of the ejection port, the full-length rail sort of made that point moot. For snap-shooting, the combination worked very well. From port arms, I was able to repeatedly put three shots into a 5-inch circle at 25 yards in less than seven seconds.
Several warthogs, a steenbok and a kudu fell to the MVP Scout. For the warthogs and steenbok, I'm not sure I could have been better armed. I took them with quick shots at close to moderate ranges and in good light. The kudu was a different story. The rifle was more than up to the task, but the optic's configuration left a lot to be desired. The range was long, and the end-of-day light was dim. I'd have been better off with a more traditional scope, which would have easily fit on the lengthy rail.
While the Mossberg MVP Scout may not be an exact representation of Cooper's concept, it's still a versatile, utilitarian rifle. It's very compact and light enough for all-day carry. It has enough precision and reach for most hunting or protection chores. And, it's handy and operates reliably. It's also one of the least expensive commercial scout rifles on the market. Mossberg offers the rifle alone and as a package that includes a UTG extended-eye-relief scope. I'd pass on the version with the gawky scope and buy my own optic, along with a tube of Loctite Red 271.

Technical Specifications:
• Type: bolt-action centerfire rifle
• Caliber: .308 Win.
• Barrel: 16.5"; button-rifled, 6 grooves, 1:10" RH twist; medium-bull contour; threaded muzzle w/flash hider
• Trigger: single-stage, adjustable Lightning Bolt Action
• Magazine: detachable box; 10-rnd. capacity
• Sights: fully adjustable rear aperture, ramped red fiber-optic front pipe; 11.5" Picatinny rail for mounting optics
• Safety: two-position toggle
• Stock: straight-comb synthetic; LOP 13.75"
• Metal Finish: matte blue
• Overall Length: 37.5"
• Weight: 6.75 lbs.
• Accessories: 2 fore-end Picatinny rails
• MSRP: $777