Support NRA American Hunter
DONATE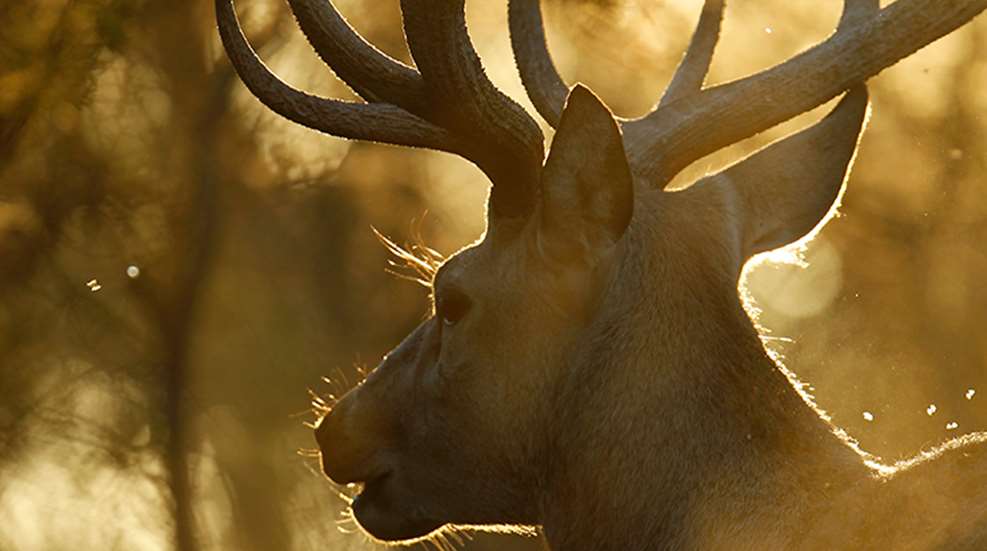 The invitation from Joel Harris, head of global public relations at Zeiss, was an adventure-seeker's dream: to attend an international media event in Germany and experience a traditional driven hunt, test the soon-to-launch-in-America Zeiss Victory V8 illuminated riflescope, tour the Zeiss factory and experience centuries-old hunting traditions alongside a hunt master, his hunting horn and the German hunt terriers of grand storybook fame. And in December, throw in Old World Christmas traditions like holiday street bazaars and tannenbaums and I'd have it all. Not being a beer drinker, who needed Ocktoberfest?  
■■■
A direct flight from Washington, D.C., to Frankfurt and a 30-minute car ride later transported me to the medieval town of Laubach—a land of fairy tales and forests, huntsmen and hounds, castles and cuckoo clocks. I hopped the charter bus to the Schießstand Garbenteich shooting range for training on the new Victory V8, enjoying the quintessential German half-timbered houses along the way, while chatting with the American contingent. I realized it was unique for an American to hunt a country with such strict gun control laws and no Second Amendment freedom. Not only is it tough for Germans to get hunting licenses—a process entailing months of hunter safety and shooting courses with a licensed mentor and passing an hours-long exam—but most hunting occurs on leased private ground available to the more elite.
We were loaned Blaser R8 rifles topped with the Victory V8 1X-8x-30mm scope for testing and then issued our licenses for the next day's hunt. As a lefty, I appreciated shooting a left-hand model, but even more, I appreciated that it was a Blaser. Considering shots at moving game are the norm here, a straight-pull rifle could be the ticket since working a bolt back and then forward is faster than moving it up, back, forward and down.
Zeiss' Tim Castagne, vice president of sales, explained that red stag, wild boar and roe deer were our quarry as he described the role of the "beaters" and hunt terriers. The hunt master would brief us tomorrow. For now we were told to wear orange vests, shoot spikes and report every shot. "If you see more than one stag, shoot the calf first, do not shoot stags with three or more top points or roe bucks." In fact that would require utmost discretion as roe deer already had lost their antlers. Amid centuries-old tradition, our orange vests were clearly an all-American invention.
First light revealed agricultural fields, rolling hills and tracts of forest as we gathered at the clubhouse. I awaited the sound of the tuba-shaped jagdhorn, or hunting horn, to call us to attention. It could have been a hundred years ago as I listened to the jagdhorn blowers, decked out in their uniquely German hunting hats, as they played a song to kick off the event.
Before the guides took us to our "high seats" (stands), the hunt master instructed us to remain in them for the duration. This was partly for safety during all the commotion as the beaters sounded horns, beat the brush and shouted, and the German westfalenterriers, jagdterriers—and one considerably smaller Jack Russell—rousted game. Every shot would be followed up on by the master's Weimaraner, the "Gray Ghost" also native to Germany, even if the hunter felt certain he'd missed.
My high seat was a 12-foot-high wooden platform on wooden legs attached to a wooden ladder. The forest reminded me of where I grew up in southern Maryland as I scanned the thick, likely unstalkable cover trying to predict where game might emerge. But with dogs on their heels, who could know that? I wondered. I considered which magnification level to use, and noted where hunters closest to me were positioned. A shot broke the silence. I sat, listened and watched.
Leaves rustled to my right. I turned and saw a roe deer cross a 15-foot opening in the brush and vanish. This is not going to be easy with precious few seconds between sighting game and firing. But Zeiss guarantees the V8's illuminated red dot ensures fast target acquisition and an extra-large field of view of my surroundings—a godsend on a driven hunt.
The beaters and dogs sounded in the distance. Six black boars ran from the right at 80 yards through the brush and trees along the creek. No forest was too dense or dark for the V8 as I picked one out in the scope and fired. One vild boar, I thought, recalling the hunt master's accent. Later the dogs sounded 150 yards behind me. I turned as one stopped abruptly, separating from the pack. With nose in air, it sped past me—right to my boar—sniffed it, then rejoined the others. I marveled at its scent-tracking ability. While human noses have 5 million olfactory receptors, science shows dogs have 250-300 million—and moist noses to catch all those scent molecules.
More baying behind me. I spun and spotted three roe deer running at 100 yards. I targeted the last one, firing just before it disappeared. Then a shot echoed from the neighboring stand. Was it a finishing shot on my deer, or did the hunter drop one of the other two? I would need the Weimaraner.
The jadghorn signaled hunt's end. I reported my shot at the roe deer to my guide, certain I'd placed the .308 bullet behind its left shoulder, as hunters were taken to the clubhouse for lunch and game was retrieved for the evening ceremony. Every hunter got something—some got two or three animals. As the hunt terriers were loaded into the two trucks housing their kennels, I had a tough time parting with the one I was holding, appreciative of these little hunters' tenacity, intelligence and good nature.
The hunt master said he was confident the other hunter had indeed put down my roe deer, but he and the guides would check. I wanted the full German experience and asked to join the tracking mission. The Weimaraner quickly picked up my deer's trail. The large dog headed straight to where the other hunter had shot it, so it had already been collected. Mystery solved. But we did find and grab that little Jack Russell, so intent on sniffing up the woods he was still there.
■■■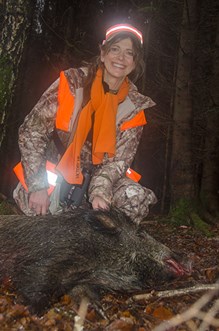 I made the tail end of lunch. Entering the room full of upbeat chatter, it was clear we hunters are all the same. We appreciate the beauty of life and the harsh inevitably of death among wildlife. We honor our responsibilities to the game and to other hunters, landowners, the public and ourselves. And we know hunting is the best tool for controlling game populations. With few predators in Germany to keep ungulate populations in check, hunting remains a critical game management tool. Yet as in the United States, German hunters, too, are attacked by anti-hunting extremists and "animal welfare" groups that refuse to acknowledge that hunting is conservation. (Visit NRAHLF.org for news on the issues impacting the future of hunters, hunting and wildlife conservation worldwide.)
The evening's traditional hunting ceremony was at the castle, Schloss Laubach, at 6 p.m. This was not a gathering to toast the hunting party's success. Rather, the observance of formalities was to honor the game that had been lined up, in order by species, outside the castle. Once again, the heart of the hunter was accompanied by the horn of the hunter as the jagdhorn blowers played a song celebrating each species. The hunt master called each hunter by name, speaking English with a strong German accent: "W's" sounded like "V's," "V's" were "F's," "D's" were T's" and "R's" were super soft.
"Karen Mehall Phillips: Vun vild boar, one ha-roe teer, he said, as he shook my hand and handed me the customary branch from a pine tree. German tradition calls for one to put it in one's hunting hat to commemorate the hunt. Then Joel welcomed us inside the castle for dinner. Surprisingly, Tim sat at my table despite likely wanting a break from my hunt terrier conversation.
■■■
Next up was a Zeiss factory tour in the city of Wetzlar. Here Old World charm met urbanization and technology as Zeiss engineer Klaus Felgenhauer walked us through the process of creating premium glass. This is the birthplace of optoelectronics, the combination of electronics and light. I noted the big glass blocks set to be morphed into cutting-edge products, thinking the Victory V8 riflescope line must top the list.
"The Victory V8 is our finest hour, our flagship, a precise instrument," Klaus said, specifically giving special attention to the V8 1X-8X-30mm model that was to be unveiled for the U.S. market in 2016. "The challenge," he explained, "was not to make a super zoom; it was to make one with a bigger field of view." It was hard to believe that 50 years ago hunters had only fixed scopes.
For anyone who wondered whether light rays encountering a surface would bounce off or bend through it, Klaus knew the answer. Highlights included talk of how Zeiss invented the 72-layer lens coating a decade earlier and the 20X60 image stabilization binocular. Whether it's Zeiss' role in the semiconductor and engineering industries or biomedical research, he said, "The Zeiss Foundation owns all of these companies so all funding comes back for R&D. Grindings, coatings and polishings are the Holy Grail." It once took 16 weeks to build a scope because speeding up the machine warped the glass. Now a lot size of five scopes takes five weeks.
While much goes into building a Zeiss product, Klaus said it all comes down to using different recipes for reducing reflected light, adding that all optics companies learned lens coating from Zeiss. "And those claiming their product offers 98 percent light transmission are only working with one lens." Good food for thought. And for a quick tip, as we peered through the glass into the premium HT binocular assembly room, he said the last person in line drops his card into the Zeiss box. "From here, every binocular is tracked. Register your Zeiss product so we can track it if it's ever lost or stolen."
■■■
During an afternoon tour of the city, Joel and I and the rest of our American writer buddies visited Wetzlar Cathedral, a landmark dating back to 1230, and browsed the Christmas bazaar in the city square. Perhaps more noteworthy was my getting them all to step into an upscale ladies' hat shop as they helped me choose a new hat. In return I had to go with them to Frankonia—Germany's version of Cabela's and Bass Pro Shops—a win-win for me since I wanted to go there anyway. Certain I heard a familiar voice as I stood in line, I turned to see the hunt master. And later, I admit I did sip a Bavarian brew that wasn't bad.  
Packing for home, I knew it didn't matter from which country we hunters hailed. Our hearts are the same. We're determined, reliable, adaptable, courageous, intelligent and, of course, social as we give thanks together at hunt's end. And on a German driven hunt, the hunter's heart beats just as strongly within our four-legged companions—those fearless little hunters that chase, retrieve and trail alongside us, then receive well-deserved kudos at hunt's end.