by
posted on February 9, 2018
Support NRA American Hunter
DONATE
U.S. Secretary of The Interior Ryan Zinke doubled down on his commitment to America's wildlife resources and their habitats today, taking center stage at the Western Hunting and Conservation Expo (WHCE) in Salt Lake City, Utah, by signing Secretarial Order No. 3362 enhancing Western big game habitat, winter ranges and migration corridors. As WHCE attendees gathered around Zinke at the Mule Deer Foundation's booth to witness the signing, he explained the order is a critical step in ensuring collaboration between the federal agencies under the Department of the Interior (Bureau of Land Management, National Park Service and U.S. Fish and Wildlife Service), state fish and wildlife agencies and volunteer private landowners to identify and improve these critical habitats across the Western United States.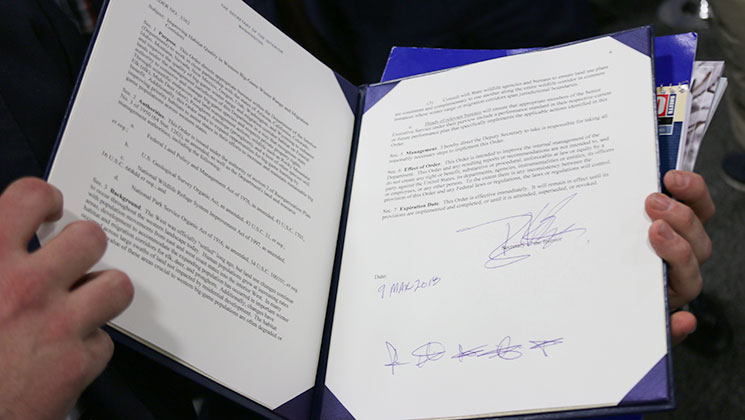 NRA Institute for Legislative Action (NRA-ILA) Executive Director Chris Cox touted Secretary Zinke's Order, saying, "The NRA applauds Secretary Zinke's decision to prioritize big game corridors and improve wildlife habitat on Federal lands.  With this action today, the Secretary is taking steps to protect healthy wildlife populations and recognize that sportsmen are an integral part of modern natural resource management." (Click here to read the NRA-ILA story on nraila.org.)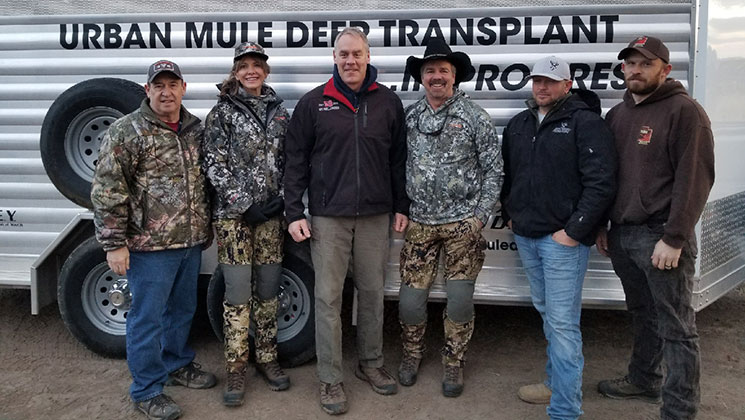 Order Aids 11 Western States
Clearly, Zinke's action will go far to ensure future generations can enjoy abundant, healthy game populations across the West. Priority states covered in the Order include Arizona, California, Colorado, Idaho, Montana, Nevada, New Mexico, Oregon, Utah, Washington and Wyoming​.
While Zinke has never advocated for the sale of public lands, he is quick to say he advocates for their management. "The West has changed and wildlife corridors have not," he said in an interview prior to signing the Order. "We must look at system management and make sure our herds are maintained. We [federal government] need to be partners, which is why communities need to have a voice and should be heard." As he looks far into the future in the spirit of U.S. President Teddy Roosevelt and works to reshape the Department of the Interior for the next 100 years, he emphasizes how we must maintain wildlife for our children as well as for our children's children.
As noted in the DOI's official news release, "​We all know that animals go where animals want to go, and more often than not that's dependent​ ​upon natural features like whether land is owned by the BLM, State or private landowners," explained Zinke. "We need to manage appropriately. ​My goal is healthy herds for American hunters and wildlife watchers, and this order will he​​lp establish better migration corridors for some of North America's most iconic big game species like elk, mule deer and antelope.
Demonstrating his commitment to American sportsmen, he emphasized, "American hunters are the backbone of big game conservation efforts, and now working with state and private landowners, the Department will leverage its land management and scientific expertise to both study the migration habits of wildlife as well as identify ways to improve habitat. For example, this can be done by working with ranchers to modify their fences, working with states to collaborate on sage brush restoration, or working with scientists to better understand migration routes."
Witnessing the Order's signing was Mike Styler, Executive Director of the Utah Department of Natural Resources, who said, "We appreciate Secretary Zinke's recognition of the importance of wildlife migration corridors​." He explained how this significantly bolsters the Utah Migration Initiative to identify the critical corridors and better focus his department's successful Watershed Restoration practices designed to enhance big game.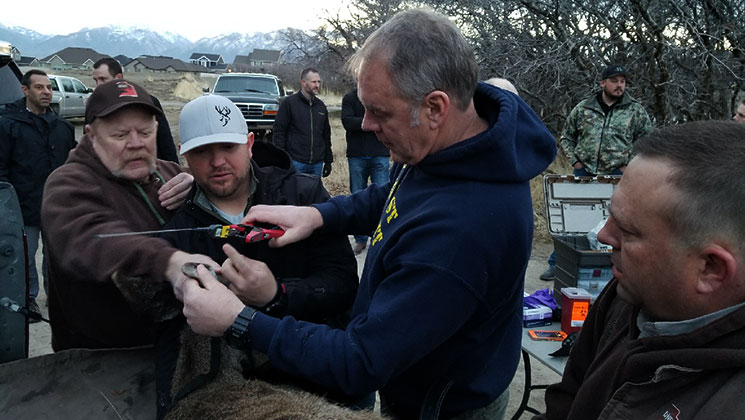 Zinke Works 24/7 for Wildlife  
Former U.S Navy SEAL and U.S. Congressman from Montana Ryan Zinke is no stranger to putting in the hours to promote and protect wildlife. This morning Zinke was joined by Mule Deer Foundation CEO Miles Moretti; biologists from the Utah Department of Wildlife Resources; Jake Olsen, MDF's Urban Deer Relocation Coordinator; and volunteers, including me and my husband, to participate in Project Mule Deer, the MDF's trap-and-transfer program to move deer from urban areas to the wilderness. Deer were tagged, collared and tested for CWD before being loaded for transport. The tracking device works for 90 days so a deer can be tracked and removed from the herd if it tests positive for CWD. In addition to how such research aids scientists in gathering data and shedding light on the species'  migration habits, the Salt Lake City area benefits by a dramatic decrease in deer-vehicle collisions. The number of collisions at one particular stop light here two years ago, for example, numbered more than 120. Last year there were 11. Now that's progress on multiple fronts.
As Secretary Zinke works to follow in the conservation footsteps of U.S. President Teddy Roosevelt, it's only fitting to recall Roosevelt's sage advice: "Do what you can, with what you have, where you are." A century later, these remain words to live by.
Zinke's Stellar Accomplishments in His First 11 Months
As reported regularly by NRA-ILA and the NRA Hunters Leadership Forum website, NRAHLF.org, Zinke has a history of prioritizing sportsmen's access and healthy wildlife herds since being sworn into office in March 2017. Following are just a few examples:
Reversed an order that would have banned affordable lead ammo and tackle on National Wildlife Refuge lands;
Expanded hunting and fishing opportunities at 10 national wildlife refuges;
Signed a wide-ranging order to expand sportsmen access on public and private land, improve collaboration between the federal, state and Tribal wildlife management authorities, and create a "one-stop" website for all hunting and fishing opportunities on public lands;
Directed bureaus to open hunting and fishing on all national monument lands where legally allowed;
Finalized a land acquisition to make the Sabinoso Wilderness Area accessible to hunters for the first time ever; and
Established advisory councils on hunting and shooting sports to help identify policy opportunities.