by
posted on March 26, 2014
Support NRA American Hunter
DONATE
At the Professional Outdoor Media Association Conference in Knoxville, Tenn., last weekend, I got to see for myself why the new Ram EcoDiesel 1500 has kicked up quite a fuss of late in dealers' showrooms and throughout the automotive press. Ram's ace PR man, Dave Elshoff, was on hand with a test-drive unit of the market's first half-ton turbocharged diesel, and I jumped at the chance to get behind the wheel.
Apparently there had been some doubt about how well the fuel-efficient V-6 EcoDiesel would appeal to full-size pickup buyers, but that was instantly rebuffed as the first run of 8,000 trucks sold out in less than a week. Though the EcoDiesel isn't in the same hauling and towing league as Ram's flagship Cummins 6.7-liter diesel, obviously there is demand for a light-duty hauler rated for 9,200 pounds while delivering 28 mpg on the highway, according to Elshoff.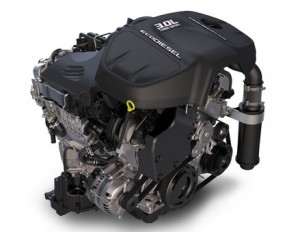 My test drive took place along a windy, hilly circuit on the rural outskirts of town, where driving conditions were much like those in my typical hunting haunts in Virginia and neighboring states. The EcoDiesel accelerated plenty strong for the narrow tar-and-chip byways and the engine's low-end torque was evident, even though we were running an empty cargo bed. This new engine is the brainchild of Italy's VM Motori, a maker of marine diesels affiliated with Chrysler partner Fiat. The 3.0-liter powerplant teams an iron block with an aluminum cylinder head, and runs it with twin overhead cams and 24 valves. The result is lighter-than-normal diesel, and that allows balanced weight distribution that should make these some of Ram's most nimble trucks ever. Indeed, I found the handling very smooth and easy. In fact it seemed the truck almost skated through the sharper bends, though there was absolutely no rear-wheel hopping, and so I could see it might take some getting used to.
For my personal driving and hauling regimen—weekend DIY or whenever I take off on a hunting or camping trip—a truck this size would make a lot of sense, and while I've always been a gas-engine fan, the diesel's reputed reliability, fuel economy and grunt for the buck, is intriguing. It will be interesting to see how this leaner work rig fares among western hunters and outdoor types. They love their diesels—big, strong ones for the most part—but I bet the Ram EcoDiesel will find a niche there as well. Sort of the quarterhorse for the 21st century, wherever you're driving.