by
posted on July 30, 2014
Support NRA American Hunter
DONATE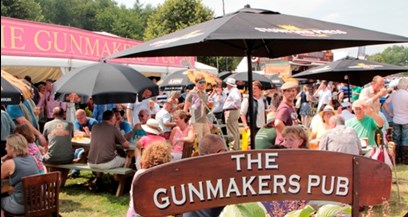 Recently I had the good fortune to attend the CLA Game Fair near Oxford, England, and it was clear that contrary to what many Americans think—me included—shooting and hunting are going strong in Britain. To be sure the country has onerous restrictions on firearm ownership, particularly on handguns, but in spite of that, commerce in rifles and shotguns is booming. Hunting, while under constant attack by big media and urban politicians, is a growing pastime in the U.K., involving seven species of free-ranging deer, upland birds, waterfowl and varmints. In fact I learned that it's possible to hunt at least one of the deer species every day of the year.
The annual open-air Game Fair hosted by the Country Land and Business Association, is a giant congregation, this year attracting more than 150,000 attendees over a three-day span. The fair site on the grounds of Blenheim Palace spanned some 200 acres where more than 1,000 exhibitors offered their goods, services and information. Beside guns and related shooting and hunting gear, there were major displays devoted to wildlife management, fishing, camping, sporting art and gundogs. Now, all of this is common fare for our own outdoors shows, especially big ones like the NRA Annual Meetings, Great American Outdoor Show (Harrisburg), and SCI hunter's convention. But the Game Fair takes it up another notch or two, no doubt explaining the event's grand scale.
Attendees can also delve into farming, forestry, falconry and ferreting. Gardening has a big presence. Game and fish cookery demos from Mike Robinson and other Michelin-starred chefs. A tweedy Country Catwalk fashion show featuring gaunt-faced models.  Non-stop equestrian events. Antiques. The Supercar Paddock.  Rural crafts and much more.  It's the only show I've ever been, where, within an hour's time, I witnessed guys buying camo face masks, fancy cutlery and a brand new Bentley (stickered at £165,000!).
Folks don't just go to look, either. There's an all-comers sporting-clays tourney with great prizes, along with multiple airgun ranges. Chances for kids to ride ponies and pet fox hounds. Long lines for driving simulators from the hit BBC-TV show, "Top Gear."   And the food stands … don't get me started!
It's so big because this single event manages to incorporate all the diverse elements that fall under the banner of "country life." It seems that rural vs. urban represents a major fault line in present-day British culture. Residents of the countryside, along with others who appreciate rural lifestyles, are keen to protect values they hold dear—including two most at risk, shooting and hunting—from very real political and economic threats. While there are differences, it's not difficult to draw parallels with circumstances that threaten American rights and values, and so on top of being wowed by the sheer spectacle, the Game Fair may well offer useful lessons in unity and muscle flexing.