by
posted on May 12, 2016
Support NRA American Hunter
DONATE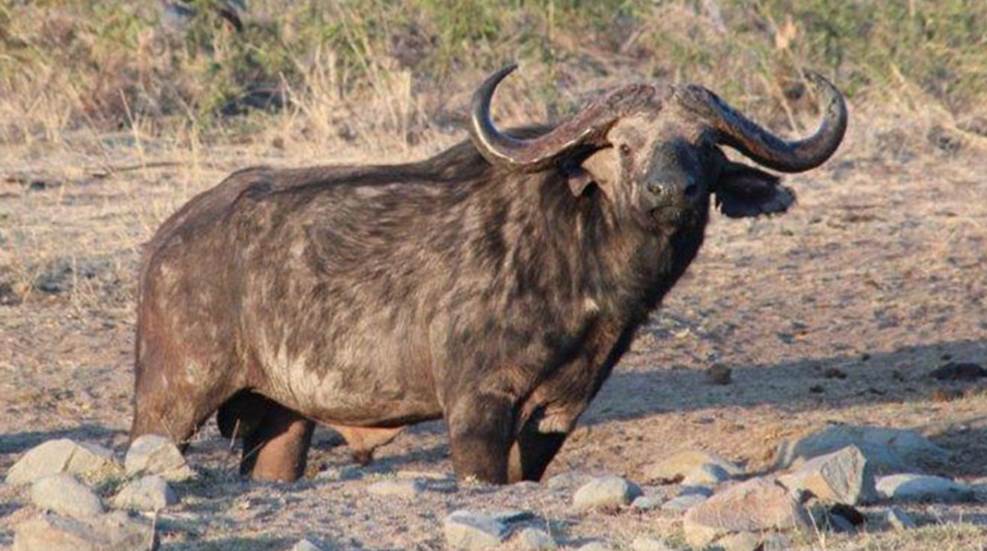 Last hunting season, professional hunter Paul Olivier came around a corner in Tanzania's Maswa Game Reserve and stumbled on three black rhino. The rhino had apparently moved into the area from the nearby Serengeti, found Maswa to their liking and decided to stay—in a hunting area, mind you. That just doesn't happen much in Tanzania—and probably not anywhere.
The magic behind the Maswa rhino, not surprisingly, is no magic at all but a long history of hard work and substantial investment. The Houston-based Friedkin Family Companies, a group of prominent hunting and photographic safari outfitters that includes Legendary Adventures, Tanzania Game Trackers Safaris and numerous other well-known companies that have long been associated with some of the best hunting areas in Tanzania. Since 1987 the Friedkins have invested nearly $300 million into habitat protection, community development, infrastructure, camps and facilities. Perhaps, most importantly, much of that investment has funded, through the Friedkin Conservation Fund, an extensive anti-poaching program that has become a model for others in Tanzania and elsewhere.
But with success has come enormous risk, both economic and personal. East African politics are rough and tumble, putting even well-managed concessions at risk of being reallocated to others or converted to non-hunting uses, and the rise of organized poaching has put concession managers on the front lines of a dangerous and frustrating bush war. While profitability was never the Friedkin's goal—they make their money through other businesses and their safari companies are managed primarily as philanthropic endeavors—the risks were rapidly becoming unmanageable. If the company was to continue its investment in Tanzanian conservation, it needed longer-term stability.
So in early 2015 the Friedkins approached the Tanzanian government with a proposal. In return for their commitment to continue their conservation and community development initiatives in their safari areas, and specifically to invest an additional $100 million in those areas over the next 10 years, they asked to be granted Strategic Investor Status under Tanzanian law, which would assure them a 30-year renewable franchise in each area. The proposal included detailed plans for boosting tourism and broadening resource utilization in a manner consistent with sound conservation, constructing new camps in certain areas and creating new infrastructure and employment opportunities for local communities. After extensive discussions, the Tanzanian government agreed to the plan.
The Friedkins emphasize that while the long-term security their companies' new Strategic Investor Status provides is critical to their ability to offer first-quality safaris, the more important news is how inextricably hunting has become linked to conservation policies and to non-hunting uses of hunting areas. As the company's public statement notes, "Conservation practices were relatively easy 28 years ago. Today they are complex. We must balance the demands for land and water between a burgeoning rural population and wildlife."
And while securing long-term concessions dramatically reduces the political risk of investing in conservation, the personal risks posed by organized poaching remain very large and very real. As reported by AmericanHunter.org/HLF in January 2016, Friedkin Conservation Fund helicopter pilot Roger Gower was shot and killed during a coordinated operation with Tanzanian wildlife authorities against a network of elephant poachers. The company's response was characteristic: "We are profoundly saddened by the loss of our dear friend. This tragic event again highlights the appalling risk and cost of protecting Tanzania's wildlife. We believe that Roger can best be honored by redoubling our commitment to protect elephants and our priceless wildlife heritage." 
As everyone who hunts in wild places can attest, good things take time, courage and unswerving commitment. The fact that American hunting companies are as much at the forefront of conservation leadership in Tanzania as in America is not surprising, but to see Tanzania recognize and reward that leadership is truly gratifying. And while the Friedkin family companies are perhaps better able than most to fund the work that is needed to protect Tanzania's iconic wildlife and habitat, there is much that individual American hunters can do to help.
For more information about the Friedkin Conservation Fund and its work to protect hunting areas, visit FriedkinFund.org.