by
posted on November 18, 2015
Support NRA American Hunter
DONATE
The Backstory
Dale Archer is a physician's assistant to a dermatologist, and an avid bowhunter from Ada, Oklahoma. He cuts on living flesh every day, and so I believe him when he says that broadheads are most effective when they are scalpel-sharp. He says ultra-sharp broadheads cut skin easier, and therefore do less trauma—thereby causing the body to release fewer clotting elements into the blood. This in turn, makes the wound bleed more. In essence, the sharper a broadhead is, the better it'll work.
Occasionally I pull a new broadhead from the package and notice that, while sharp, it's not razor sharp. A razor should neatly shave the hair from your arm with little effort. Interestingly, I found that if I shot these almost-razor-sharp broadheads into a layered foam target, one or two shots would actually sharpen them slightly. My theory is that one or two passes through the foam target hones the broadhead, similar to how a barber's leather strop finalizes a razor's edge. But when I explained this theory to other bowhunters, they cried BullShooters on me.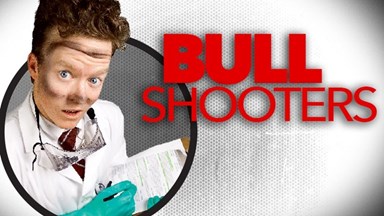 The Question
I want to know: Can shooting a new broadhead through a foam block-style target one or two times actually make it sharper?
The Expert Opinion
Steve Johnson of Adventure Blades said: "When sharpening knives, or any other edge tool, the grinding process will produce a wire edge [or burr] that needs to be removed to achieve a true razor's edge. While I believe it would be more consistent to remove this burr with a buffing wheel or strop, it is entirely possible that it could be removed when the arrow glides through a foam target. Foam doesn't tend to dull edges nearly as fast as materials like cardboard. So based on my experience, I'd classify this theory as plausible."
Another Expert Opinion
Brady Arview has worked for the broadhead giant NAP for years. He has tested and experimented with many, many broadheads. When I asked him if he'd ever witnessed a broadhead actually getting sharper after being shot into a target he offered a prompt "No."
The Test
I bought several packages of broadheads and tried to shave my arm hair with them. I settled onthree factory-new broadheads that were varying degrees of sharp.
A. NAP Thunderhead Deep Six
Out of the box, this head was razor-sharp. It shaved each hair on my arm with one light pass of the blade. A definitive 10/10 my subjective sharpness scale.
B. Wasp Sharpshooter
This head shaved hair, but not quite with the ease of a true straight edge. A 9/10 on the sharpness scale. For the record I'm a huge fan of Wasp, and several other Wasp heads I tested, like the Drone and Jack Hammer, were 10 of 10 sharp.
C. Allen Grizzly
This economical broadhead was knife-like sharp, but it would not shave hair. 7/10 on the sharpness scale.
Using the same bow, a 60-pound Mathews Creed XS, I shot each broadhead one time, from a distance of 10 yards, into a layered foam Delta ShotBlocker target.
The Results:
A. NAP Thunderhead Deep Six
Slightly duller. It still shaved hair but not quite with the same ease. 9.5/10 sharpness.
B. Wasp Sharpshooter
Slightly sharper. It shaved hair with slightly less effort. 9.5/10 sharpness.
C. Allen Grizzly
No perceived change. 7/10 sharpness.
The Conclusion
A blade that's already as sharp-as-possible has already had its edge's burr removed, so shooting it into any medium can only dull it. So, don't shoot heads that are already razor-sharp. However, blades that are properly ground from the factory, but whose burr edges have not been removed, may benefit from a pass or two through a leather strop. Or, you could shoot it into a foam target. Just take care to only shoot your new broadheads once or twice and check them for sharpness each time. If the edge feels duller, either sharpen it with a whetstone and hone, or buy new broadheads.
Finally, blades that are less than razor's edge to begin with are not magically going to become razor-sharp using this method. Only sharpening your broadhead, then honing the burr from the edge, can leave it razor sharp.
The Takeaway
Always test your broadheads for sharpness before using them. If you pull a brand-new broadhead from a pack and notice that it's sharp—it will shave a few hairs with careful effort—but not wicked-razor sharp like you think it should be, try shooting it once in a layered foam target. Often times the factory-ground blade just needs its edge's burr removed by honing to reveal its razor edge. So shoot in a foam target and then test for sharpness. If it feels duller, sharpen it manually or buy new blades. If it's sharper and shaves hair more easily, place it in your quiver. 
Epilogue: What About Mechanicals?
I've found that this trick works with expandable (mechanical) broadheads too, but because expandables are generally more delicate than fixed blades due to their moving parts, there is a greater risk the blades will bend or break upon shooting them into the foam target, thereby ruining them. But if you're a serious bowhunter, however, it's well worth sacrificing a pack of your favorite broadheads—and about $30—to test them for accuracy, sharpness and durability before going hunting. The animal deserves the quickest death possible.