by
posted on October 23, 2012
Support NRA American Hunter
DONATE
Field Editor Brian McCombie visited the Spike Box Ranch in West Texas to put some tactical gear to the test in a hog hunt with NRA Outdoors. Check out the gallery he brought back to get a look at how things went.
Gallery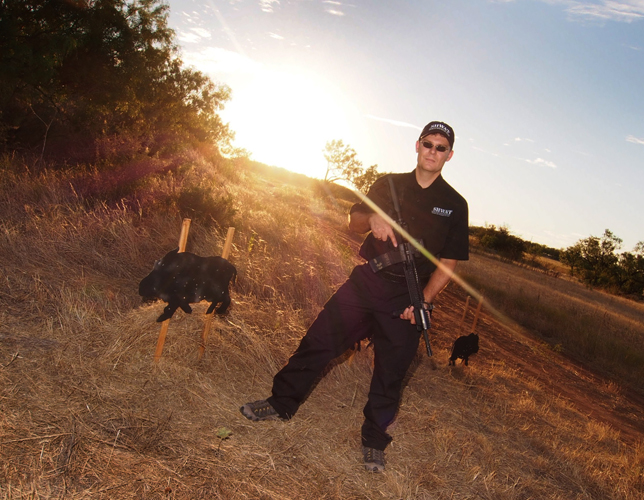 SHWAT
In January 2012, Jonathan Owen launched Special Hog Weapons and Tactics or SHWAT to bring together tactical shooting with the many, many hunting opportunities growing hog populations represent.
"It's the X Games of hunting," he says of tactical hog hunting. "You take the excitement of tactical training, plus high tech gear, and apply them to a truly dynamic live environment. You've got the suspense of an effective stalk, or the skill of a long range shooter, or the intense engagement of numerous targets simultaneously. There's something for everyone, and it's for a good cause: the reduction in numbers of an invasive and very destructive species."
To help tactical hog hunters, SHWAT's website provides firearm and gear reviews, presents tactical and hunting information, and tells some exciting and intense tactical hog hunt stories.
"There's a common assumption that shooters aren't hunters and hunters aren't shooters, but tactical hog hunting is a game changer for both groups," Jonathan says. "You're a squared away shooter, but not sure about hunting? Start here. Maybe you're a hunter who wonders where all the fun is supposed to come from with your AR-15? Start here. Tactical hog hunting combines the best of both the shooting and the hunting worlds."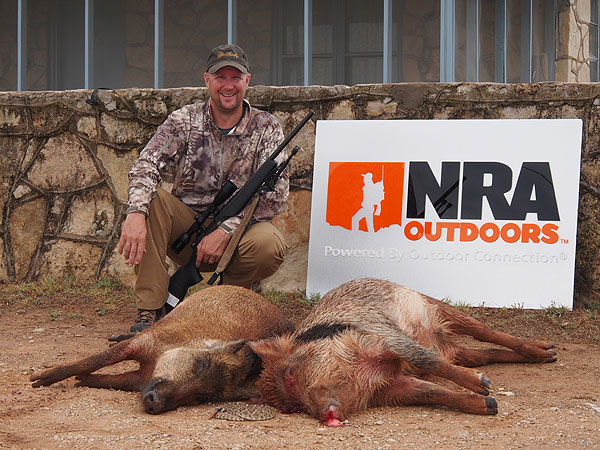 A Growing Population
Greg notes that more and more of his NRA Outdoors outfitters are offering hog hunts. Much of the credit for this goes to the hogs themselves, which keep expanding their ranges and populations throughout the United States. No one really knows how many wild hogs we have, but estimates go from 3.5 to 5 million hogs. Texas alone has well over two million hogs populating the landscape.
"Hogs provide a great hunting opportunity for a lot of reasons, and we're getting more and more calls from NRA members about these hunts," says Greg.
In most states, you can hunt hogs year-round, so there's no off season. Most outfitters can put you on a good number of hogs. And, they're fine eating, too, a much leaner, more flavorful meat than their domestic cousins.
"AR-platform rifles are a perfect fit for hogs, too," Greg adds. "Unless it's a lone boar, hogs usually travel in groups, so you can get multiple shooting opportunities, which makes an AR a great choice. A lot of places, like the Spike Box, have so many hogs on their lands, there's no bag limit, either."
Last but not least: compared to many big game hunts, hog hunts are usually much less expensive.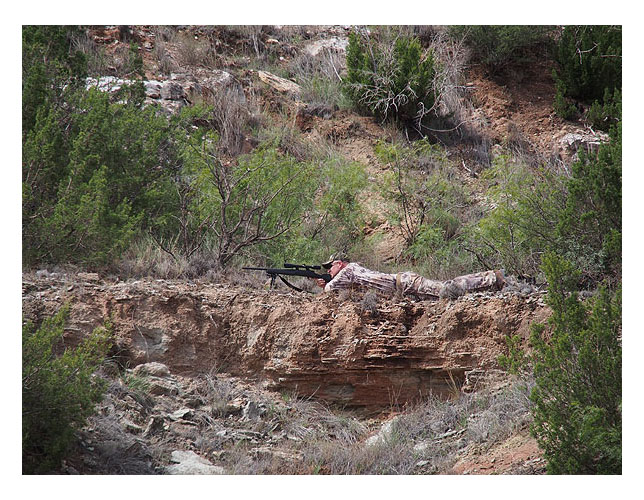 Highlander Camo
For this hunt Greg got his first chance to wear the new Highlander camouflage pattern made by the Krypteck Outdoor group, a company founded by two combat veterans who bring their special operations knowledge and background to the world of hunting camo.
"In that terrain and that vegetation, the camo was an unbelievable match," says Greg.
Greg had a series of photographs taken with him practicing shooting in the field while outfitted in the Kryptek camo.
"A lot of people, when they first see those photos, they think I'm just showing them a photo of the landscape," Greg says, chuckling. "If it wasn't for the rifle [in the photos], a lot of people who never spot me."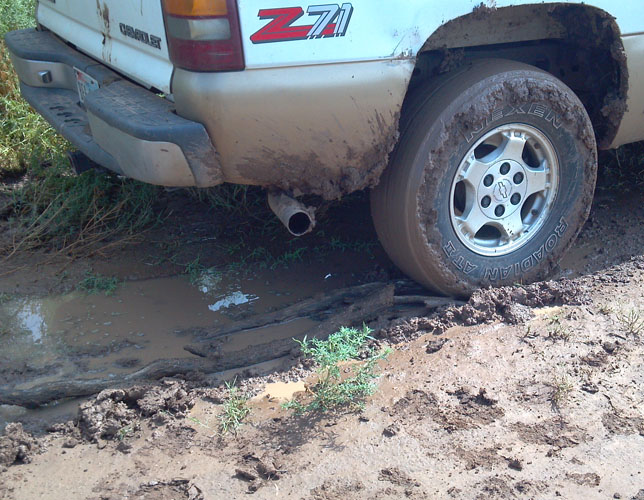 Getting Muddy
Another good reason why I was glad I brought along my LaCrosse boots: mud.
West Texas had been in a severe drought this summer, but darned if it didn't rain every day we were there. It doesn't take much rain and the dirt roads on the Spike Box became mud slicks. And that mud, let me tell you, extends well back into the trees and brush!
Fortunately the LaCrosse snake boots also have deep and very functional cleats for fine traction.
On my last hunt of the trip, our truck found a particularly slippery patch of mud, and our rear wheels quickly got stuck. To get out of that mess, we scavenged around for dead branches and larger tree limbs, and pushed a whole lot of them under the rear tires for traction. Luckily, it worked.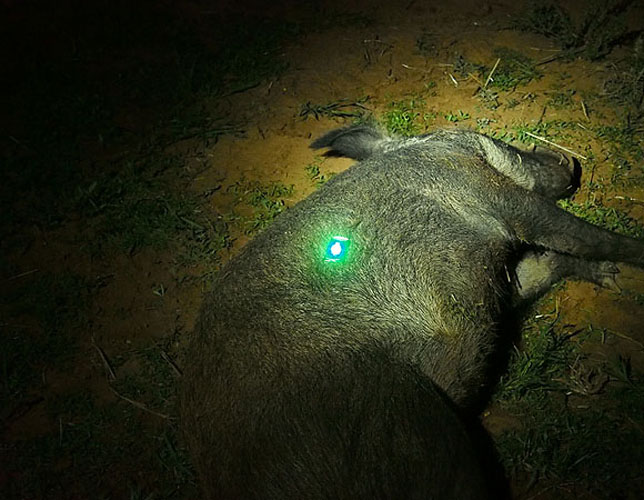 Light 'Em Up
One neat little piece of night hunting gear we took along to the Spike Box were the APALS by Brite Strike. APALS, All Purpose Adhesive Light Strips, were designed for the military as a way to give soldiers a handy identifier light and avoid friendly fire situations at night.
Turns out, they're great for tactical hog hunting, too.
For example, on the first night hunt, Greg and Jonathan got notification from our guide that two huge storms were moving in on us and our guide was coming to get them out. Jonathan and Greg had one hog down for sure, and a couple "maybe's," so they climbed out of their stand and searched for the hogs in the pitch black night.
They found Greg's hog fairly soon. First thing they did? Activated an APALS and laid it on the dead hog.
"The vegetation was really thick and there were a maze of hog trails, too," Greg remembers.  "But with that APAL on my hog, we had a reference point as we looked for the other pigs. We also put one on the ladder of the stand. That was like a mini-beacon for us."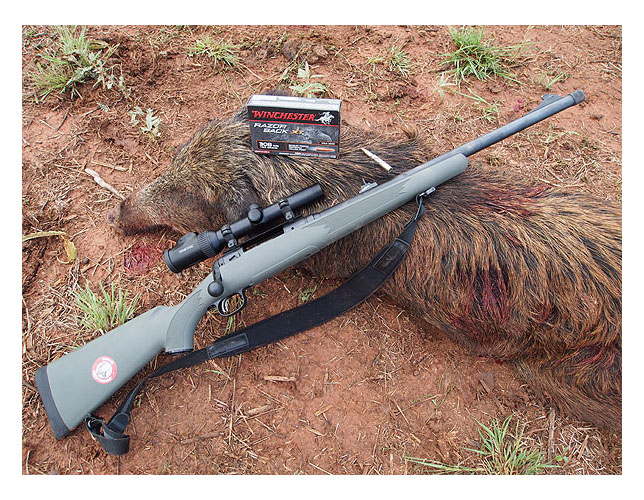 Tools of the Trade
The Savage was topped with a Swarovski Z6i a 1-6x24mm scope. The Z6 is a compact scope designed by Swarovski for short to medium range shooting on tactical style rifles. The BRT reticle has marker bars below the center of the crosshairs to help a shooter estimate distances and to compensate for wind. The scope has illumination capabilities, too, with an ON/DAY/NIGHT switch that allows you to illuminate the reticle and to adjust the brightness setting.
When we spotted the hogs, I had the scope set at the highest magnification, 6 power. But when that lone boar started running towards us, I quick spun the magnification down to 2. The morning air was heavy with humidity, and the low clouds didn't let in much light. Yet the Z6i pulled in that hog clearly, the edges of his body so crisp, he looked like he was about to jump into my lap.
My ammunition was Winchester's Razorback XT, which fires one-piece non-lead bullets. The bullets have a beveled profile and a deep hollow point for controlled expansion. Full expansion occurs shortly after impact, after the bullet's punched through that thick hide, shield, knotted muscles, and hard bone of a hog.
As the Razorback name implies, Winchester made the XT rounds (currently offered in .223 and .308) specifically to take on these tough hogs.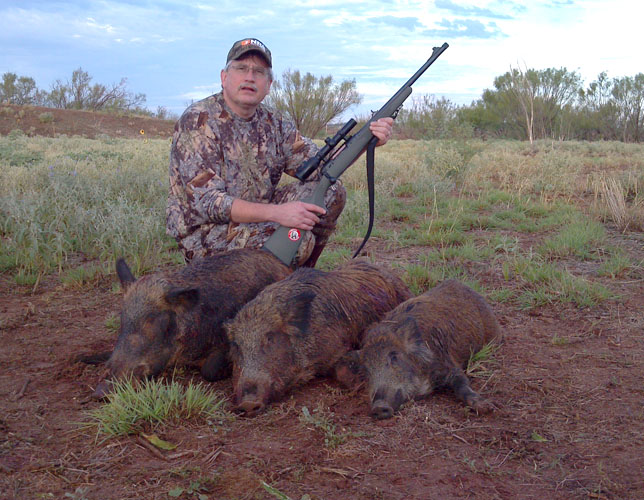 Savage Model 11/111 Hog Rifle
On the morning ambush at the Flagpole, I was using Savage's new bolt action Model 11/111 Hog Rifle, chambered in .308 Winchester (it's also available in .223 Remington and .338). The Hog Rifle sports a 20 inch, free floating barrel that is threaded at the end for a suppressor. The rifle has a synthetic stock textured for a solid grip even in wet conditions.
At the range, it was very accurate, punching out three-shot groups from three-quarters of an inch to 1.5 inches at 100 meters. It held up very well in the field, too. While Greg and Jonathan were taking on their hogs, a single young boar ran pretty much on our direction, angled past Greg and Jonathan and presented me with a shot. I took it, hit him too far back, but drilled him again, the second shot in the left shoulder area as he made it into the tree line.
The bolt action worked smoothly, and the shorter barrel was a real plus, shooting as I was in a tighter spot, essentially surrounded by tree branches. The hog didn't immediately go down, either, and I took off after him at a run (with the safety on—the tang safety is positioned nicely, and goes one and off very easily). I had to weave around low mesquite trees and brush, and the rifle's compact size was a real plus here, too, never catching or hanging up on anything.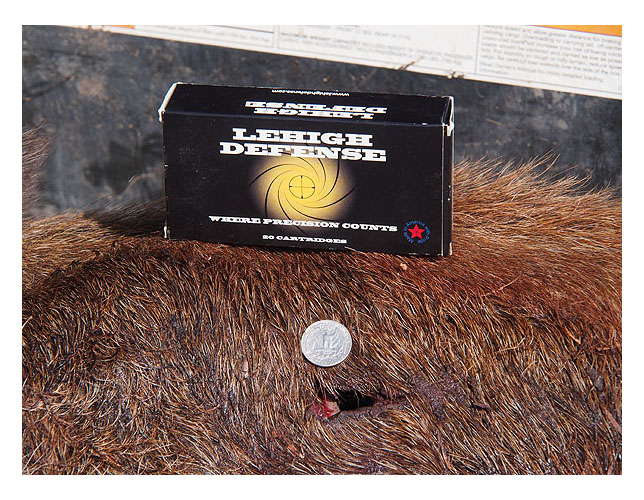 The Ammo
I was also using a new ammunition, Lehigh Defense's Controlled Fracturing ammo in 300 Blackout, with a 140 grain bullet. These controlled fracturing bullets are designed to penetrate through hide and muscle, and once it's in softer tissue the bullet's petals begin to expand, fracture, and radiate outward. The base remains at bore diameter, and gives it the force to blast on through.

It definitely blasted. That first hog wasn't a giant, maybe 75 pounds. But the Lehigh bullet traversed the hog from his right shoulder and out through the left side of his ribs, in the process cutting through a good seven inches of solid hog, and exited him with a hole bigger than a quarter. 

300 AAC Blackout is an increasingly popular round for hog and other hunting, and this was my first time using it afield.  It's not designed as a long range round. But at 200 yards and under, and with the right ammunition, like Lehigh Defense, it more than gets the job done.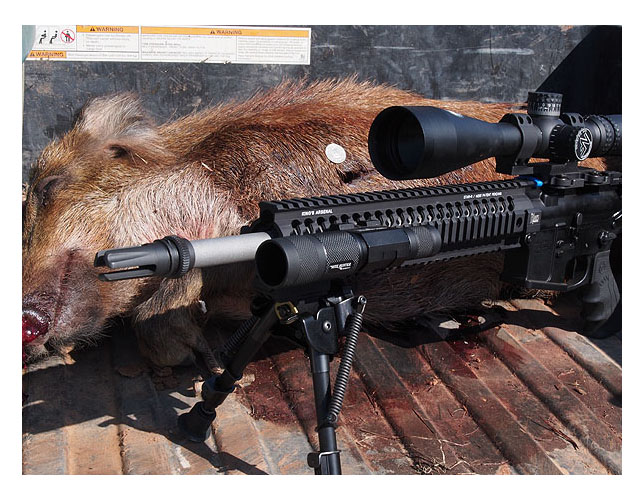 Night Time Success
That night, I got my first Spike Box hog, too. I was in my stand at dusk, got all set up. It wasn't 20 minutes after dark, when I heard the tell-tale grunting and snuffling. Hogs!
I flicked on my Nite Hunter light, a 300 lumen L.E.D. green light that shows up hogs out to 125 yards or better. A sounder of 20 hogs immediately started running to my left, into trees and brush. I tired, but had no time to line up my crosshairs on a hog.
I was still cursing my luck, and moving my scope over the feeder area, when I noticed a brown lump in the greenish light. The lump moved. Hog!
I don't know if he got there before the original sounder or if he was part of it but he wasn't bothered by the green light. Either way, I lined up the crosshairs of my Night Force 3.5x15x50mm scope on his right shoulder area and squeezed off a round. He hit the ground immediately.
I shot him with a King's Arsenal Crown15, a custom made AR chambered in 300 AAC Blackout. It's a fine rifle and a great hog killer, made by Jordan King of King's Arsenal, Abilene, Texas. The Crown 15 has a 16-inch Noveske barrel (considered by many the top AR barrel maker in the country), and super-smooth Geissele trigger. A Magpul ACS adjustable stock, a quad rail system, and a Hogue/King's Arsenal grip round out this fine shooting rifle.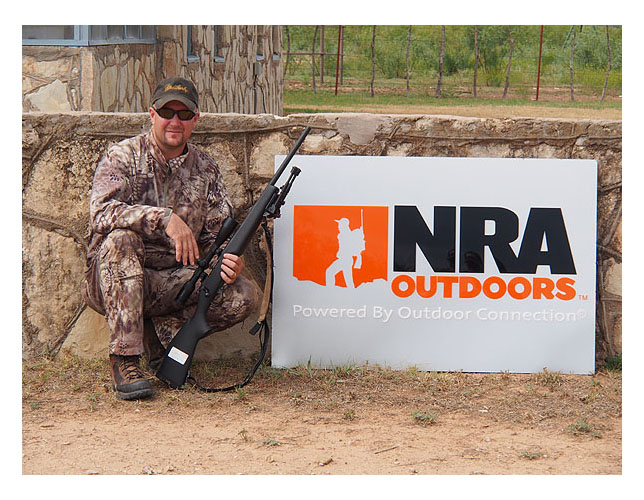 NRA Outdoors
NRA Outdoors, a relatively new service available to NRA members, is a hunting and fishing trip booking agency that matches up NRA members with nearly 300 guides and outfitters around the world. Greg or one of his consultants has personally hunted (or fished) with every one of the service's outfitters. NRA Outdoors can set up everything from that once-in-a-lifetime Africa safari to a quality white-tailed hunt in Illinois.
NRA Outdoors doesn't simply book a hunt. Greg and his staff match you up with the exact hunt you are looking for, your particular trophy requirements, and the part of the country you want to hunt. They also provide a detailed gear list, with purchase suggestions and an NRA member discount, and help with your travel plans.
Greg and I had been talking about possible off-season hunts for NRA members. My idea was a night tactical hog hunting, using AR-style rifles, night vision equipment, hi-tech ammunition, and a range of tactics designed to put hogs on the ground. A night hunt as it was summer; a hot, dry summer over much of the United States, and the hogs would be most active after dark.
"Let's do it!" was Greg's response.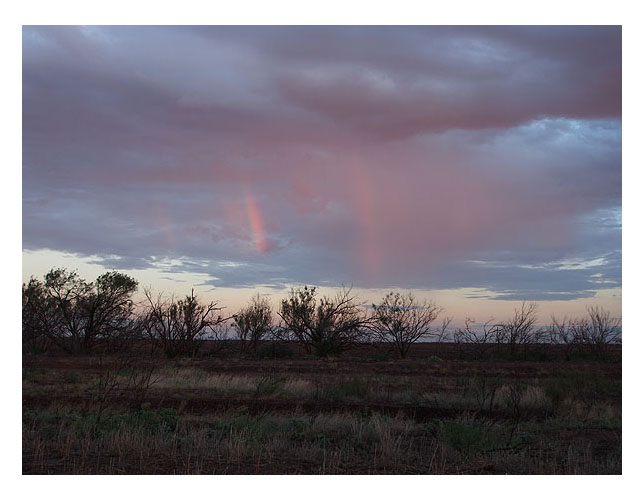 The Spike Box Ranch
We left the Spike Box Ranch before dawn, the three of us still groggy from hunting hogs well past midnight and not even seeing our bunks until after 2 a.m. The sky was cloudy, the air thick and humid from last night's heavy rains.
We drove east. The sky before us became lighter, with a series of small rainbows sketched across the clouds. We took the rainbows as a good sign for this morning's hog hunt. Hog hunt "ambush," to be exact.
The three of us were in West Texas near the end of August, at the 100,000-acre Spike Box Ranch, on a hog hunt sponsored by NRA Outdoors. On the hunt were Greg Ray, president of NRA Outdoors; Jonathan Owen, co-founder of Special Hog Weapons and Tactics (SHWAT); and myself.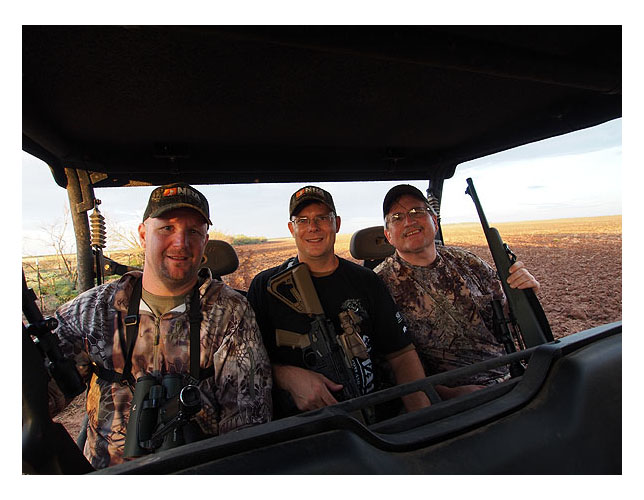 Happy Hunters
Hunting's about a lot of things, but at the end of it all, hunting really is about the camaraderie. Here we are after out ambush by The Flagpole, heading back to the ranch. Three happy hog hunters!
For booking information on an NRA Outdoors hunt, contact Greg Ray at (888) 712-NRAO; [email protected] or NRAOutdoors.com.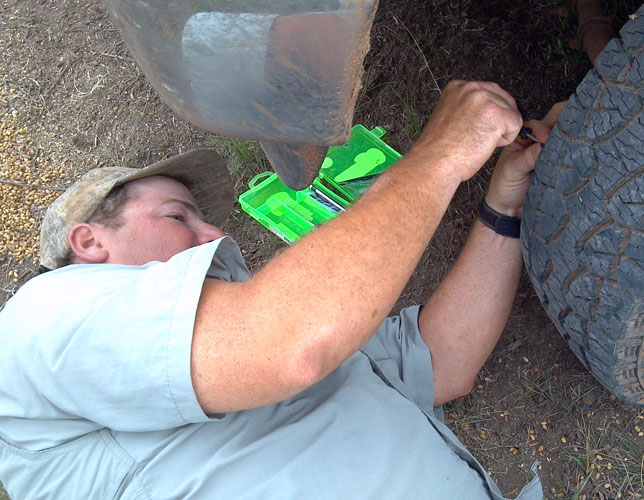 Rough Going
Some sort of sharp object did cut the front tire of our pickup truck one afternoon while I was out with guides Cash and Royce checking feeders and game cameras. We were miles from the ranch, so Cash did an in-the-field patch job. Of course, the truck was loaded with all the necessary tools, a patching kit, and even a small air compressor to fill the tire, the compressor running off the truck's battery.
If you're going to live and work in West Texas, you have to come prepared!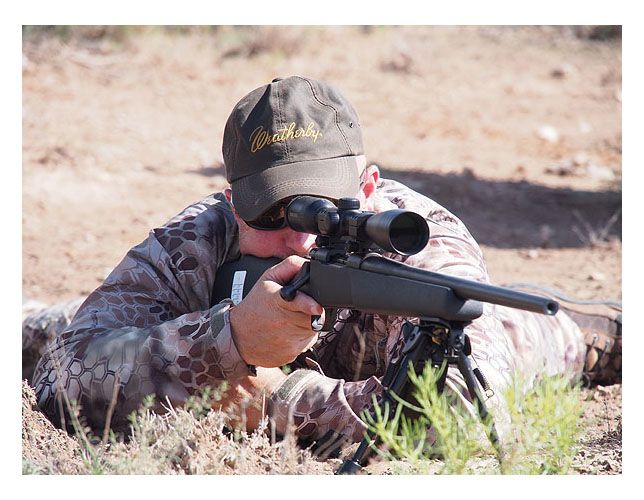 Vanguard Series 2
Speaking of gear, Greg's Weatherby-Swarovski rifle and scope combination proved itself a top-notch hog killer. The Weatherby Vanguard Series 2 Greg used is the gun maker's "Range Certified" model, meaning Weatherby guarantees it to shoot a 3-shot group of .99" or less at 100 yards (SUB-MOA), when used with specified Weatherby factory or premium ammunition. Greg describes it as a "tack driver," as two West Texas hogs discovered.
"The bolt action on the rifle is very smooth," Greg notes. "And the trigger on the rifle is really awesome. No creep at all and very crisp."
The Swarovski Z5 scope lets a shooter dial up to maximum 18 power magnification for long range shots or down to 3.5 magnification when targets are up close and/or moving fast. Greg used the Z5 in low-light conditions and found the images clear and well-lit.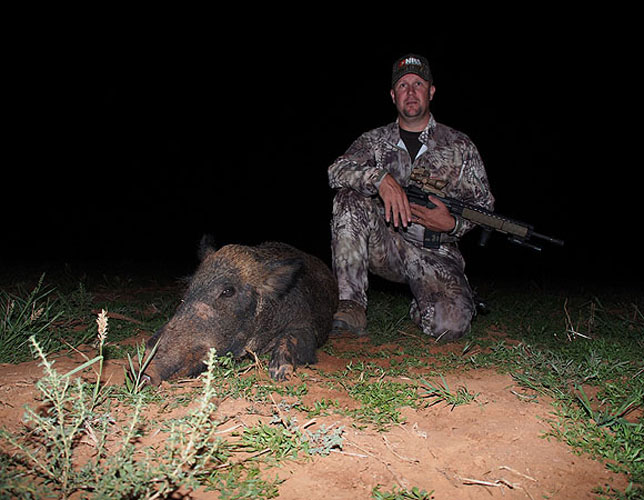 Movement
There's no one way to tactical hog hunt, but generally speaking tac hog hunters like movement. Ambushes, like the one we did at the Flagpole. Spotting and stalking along trails and backroads.  Scanning fields at night with thermal imaging optics and then sneaking in close.
At the Spike Box, we kind of combined the tactical and the traditional. The plan was to start off out at night hunting from a stand set up 100 yards from a feeder. Then, as the night went on and the hogs started really moving around, we'd walk some dirt roads and use a thermal imaging monocular I brought along to spot hogs and then stalk them.
Greg and Jonathan teamed up in a stand the first night. At one point they had a good 50 hogs milling around in front of the feeder. Greg shouldered his AR rifle, flicked on the green L.E.D. light attached to its rails—and the hogs started to run.
"I picked out one hog, running from the feeder, put the crosshair right on his nose and squeezed one off," Greg says. "He did a somersault and it was all over. The .223 bullet went right behind his shoulder and just laid him out."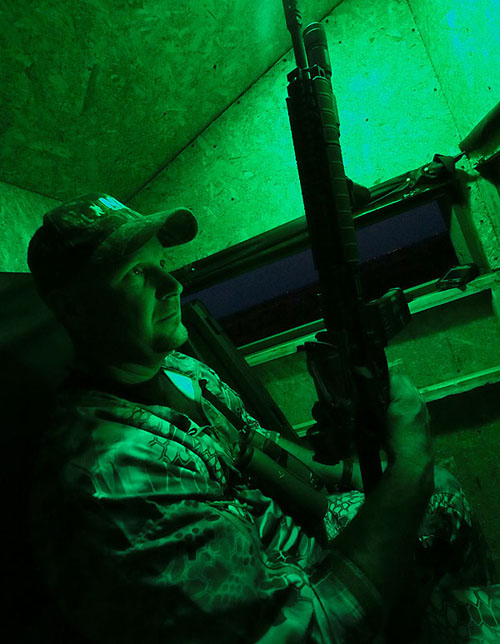 APALS
APALS click on and off, and can also be set for fast and slow strobe. We had green APALS for our hunt, but they also come in amber, blue, pink, red and white. APALS are rated to last at least 35 hours each.
They're great to light the inside of a backpack, too, can be used to mark blood trails and provide a fast, non-blinding illumination inside your hunting stand.
"I'll be taking along some APALS on every hunt I go on," Greg says.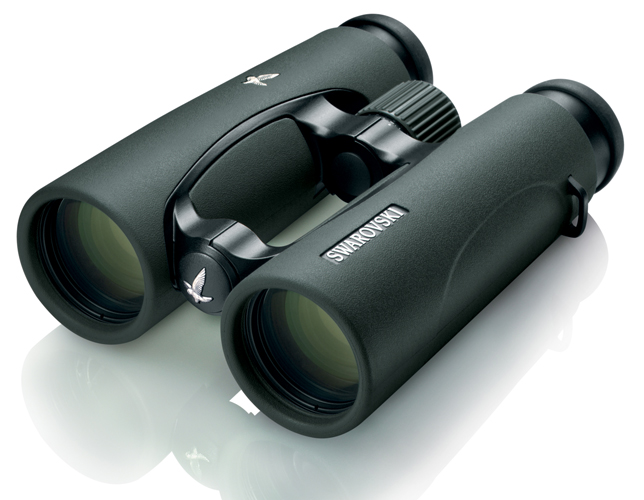 Swarovski EL 10x40 Binoculars
Greg also used Swarovski's EL 10x40 Binoculars, and they were especially useful on our night hunts.
"The first night, we had a half moon, and I could see darn near everything before me like it was daylight through those binoculars," Greg said. "I spotted a big old hog in a wheat field 120 yards away, plain as day. It was almost like hunting with night vision equipment."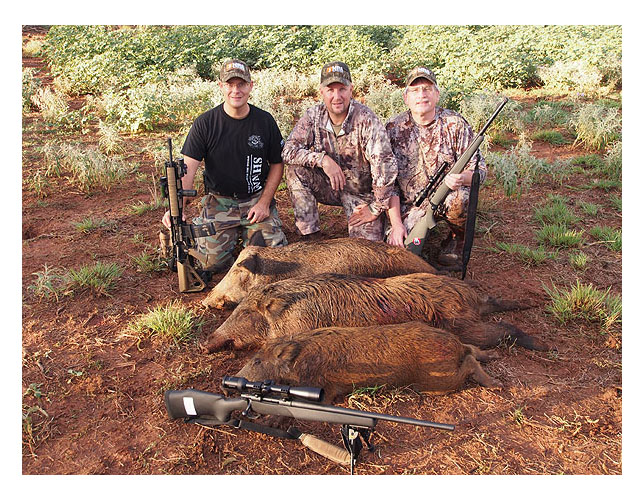 Lots of Action
Hundreds of yards later, the three of us stood along a treeline, surveying a group of maybe 60 hogs. Greg and Jonathan slid under the fence and set up on a small berm, while I took a position using a tree limb to rest my rifle. All of us were a bit shaky, I think, at the sight of all those hogs. We looked at each other, grinned and nodded, and then put our crosshairs on a hog.
"One, two, three, shoot!"
Greg was using a Weatherby Vanguard II chambered in .308 Winchester, and topped with a Swarovski Z5 scope. 
"At that point, the hogs were about 225 yards away," Greg says. "I dialed up to max power on the Swarovski, 18 power, sighted in on my pig and let it fly. He pretty much dropped right there!"
Pigs began scattering and squealing. Jonathan and I were shooting. One hog broke off from the main group and made a bee-line right for us, completely unaware of our position.
"A lot of people don't realize how exciting hog hunting can be," Greg says. "You start dropping the hammer on them, they're running in all directions, you're shooting and shooting. That's one really great thing about hog hunting—you're not just one and done!'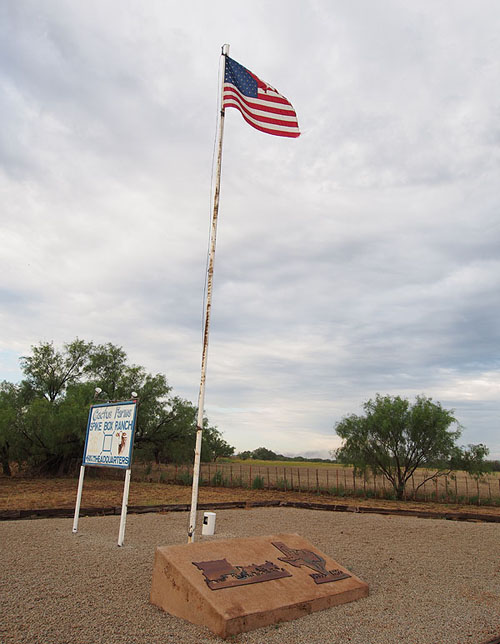 The Flagpole
The hogs were pretty much nocturnal from the summer heat. But our guide Cash Parrish told us that, at dawn, sounders of hogs could be found in various fields, rooting around for a last meal before heading to their daytime bedding areas. One particular field the hogs liked was called "The Flagpole," as it was located across from the American flag and sign marking the Spike Box Headquarters.
Cash was right. We spotted two sounders of hogs in the large field near The Flagpole, several hundred yards from the road and drifting to the rear. We parked our vehicles, loaded up our rifles and gear, and, using the low mesquite trees and brush for cover, made our way alongside the field.