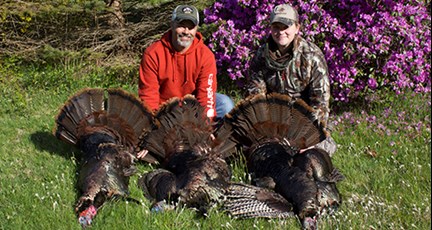 Last week I went turkey hunting for the second time in New England with my buddy Gerry Bethge, Fishing Editor at Outdoor Life magazine and his friend James Hall, editor of Bassmaster magazine. I have yet to hunt with a group of women--or any women for that matter--but I have to say that getting to be "one of the guys" for a few days is always fun. Granted, they probably don't look at me as one of the guys but I like to pretend that I am.
I set my alarm for 4 a.m. yet somehow awoke Monday morning at 2:15 because I was so excited. I started the habit of wearing most of my hunting clothes to bed so I have less to do in the morning when I'm in zombie mode, so I had nothing to do but lay there until my alarm went off. I spent those two hours thinking of every possible scenario… What could go wrong, what could go right; until my duck alarm quacked at me and said it was time to make moves.
After downing a cup of coffee, we headed out. From 5:00 to 9:30 we had a mix of hearing and seeing no birds, to hearing birds and setting up to no avail. At 9:30 Gerry dropped me off at a field, handed me a hen and gobbler decoy, a Quaker Boy push-button call and said, "Take these. Go set up in the corner of that field and we'll see you at noon. Good luck, kid."
It was a chilly, frost-ridden morning that peaked at 40 degrees, so I was very happy to be wearing my Cabela's Women's OutfitHER Soft-Shell jacket(1) and pants(3). I sat under a pine, quite comfortably, I might add, thanks to the Cabela's Tactical Tat' 2 Turkey Vest(2) I was wearing, and got ready for what I assumed would be an uneventful two hours. The cold weather kept me wide awake, and I spent the first hour-and-a-half scanning the field and calling every so often. I had listened to Gerry's calling enough to know the cadence that I was after, and that it was best when the call hurt my ears.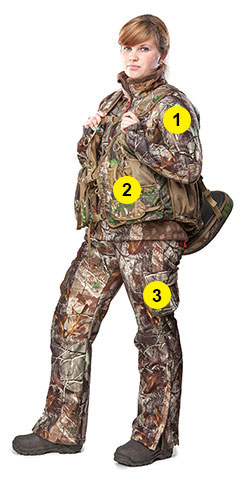 After a few calls I finally heard a response in the distance. I called again and it sounded closer, so I sat and waited. Across the field, what I guesstimate is about 200 yards away from where I was set up, a bird entered the field in a break in the stone wall. From that distance I thought it was a hen, but as it pecked closer I saw a beard and decided it must be a jake. The next 30 minutes was a game of cat-and-mouse. The gobbler was clearly intimidated by my tom decoy and would only do a half-hearted strut, never fully spreading his fan. Many times he walked away, and I had to call him back in with some quiet clucks (because I was told not to do a full call when they're that close; that's just being a loose hen).
The turkey eventually got close enough to my hen so I prepared to shoot, only moving when he was eating with his head down. I thought he was a bit far out of range still, so I waited until he went behind the gobbler decoy to move my gun, and made my shot when he was closer and past the decoy. With legs trembling and my heart in my chest I made my shot, and shot again after he started tossing around because I'd heard stories of them getting up and running away. I wasn't about to let that happen.
As I approached the bird, tears were running down my face (Even though I was alone but told myself, "Gosh the wind out here really whips tears out of your eyes!) and feeling something utterly unexplainable. I walked up to my bird thinking it was dead. It wasn't.
He opened his little beady, black eyes and stared at me. Startled, I pulled the Remington 870 back up to my shoulder, and from about 15 yards and shot what I thought was his head. Again I was taken aback when this still didn't do the job. My fool mistake was shooting without thinking, shooting without taking my time and lining up the shot because I thought I was close enough that the shot would do the job. I was wrong. He was still breathing. I was out of shells, and sadly, the bird had to wait until reinforcements arrived so I could end his suffering.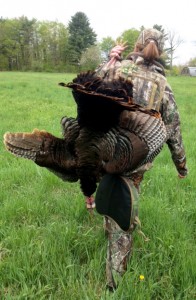 During the 15 minutes it took for Gerry and James to arrive, my initial happiness had deflated because of the circumstances in which I found myself. In the end, however, I decided that I would take this negative and make it a positive. Rather than crying over spilt milk, I would take the lessons learned from this hunt to do a better job next time and focus on the things I did well. Heck, I called in my own bird!
For one, next time I'll make sure to have the right choke for the gun. My shot, which had been perfectly patterned on the range at 25 yards with the gun's modified choke, was not acceptable for the shot I took. I clearly need a full choke, but I'm going to keep the Remington 870 because it was flawless and I've never felt more comfortable with a gun.
My turkey was not a jake, he was a 20 lb. gobbler. I don't know how long his beard was because it was shot off… Whoops! His spur length let us know that he was about 3 years old. With some guidance from James and Gerry, I cleaned him myself. I brought the fan home and have begun the process of making my own mount, because I am far too poor too afford a professional job (more on that to come).
Like any hunt, there were highs and lows; I learned some very valuable lessons and made memories that I'll never forget. So in the end it was worth every second.