Support NRA American Hunter
DONATE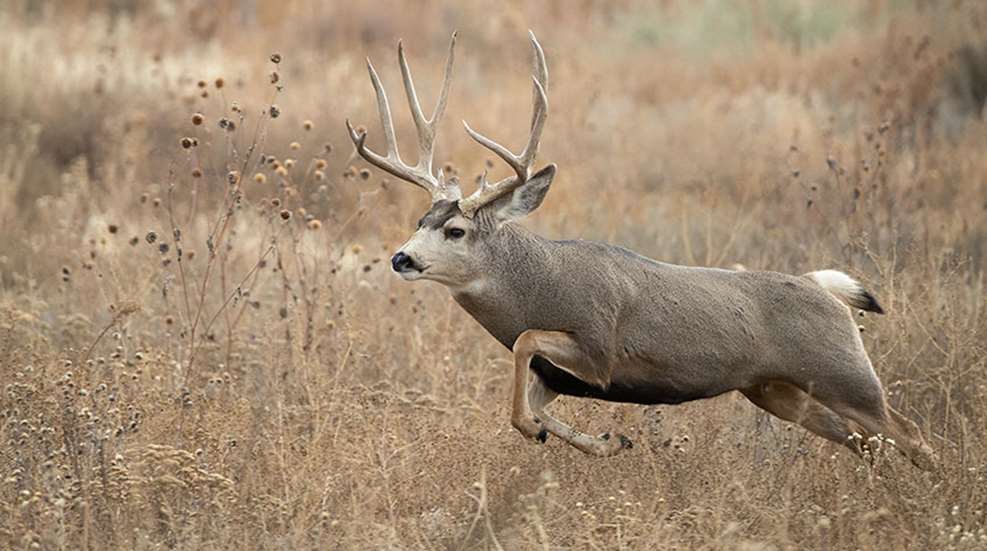 I hope my hunting coat has enough insulation, I thought, as I stepped into the wind outside the airport to meet outdoor industry friends and head for Nebraska deer camp. There were six of us; six women, all eager to stalk a muley or a whitetail on the Great Plains of the Midwest. The fact we had varying levels of hunting experience was not important. Hunting is the great equalizer and unites us all.
The Utah duo—Shaundi and Ashley—were prime examples. Shaundi, marketing assistant at Browning, had hunted mule deer all her life but never had a crack at a whitetail while Ashley, who works in marketing at SPG Outdoors, was a first-time deer hunter. The other four hunters included me, with many years of experience; Kali and Natalie, representing other publications, with some hunting experience under their belts; and Laci, then Browning Ammo's PR rep, who had gone afield only a few times.
Nebraska Game and Parks (NGP) predicted a bright outlook for 2016's rifle season opener. Deer herds were finally recovering from the drought and disease losses of 2012. Mule deer populations in five southern units were at record highs while whitetails were increasing in several units—welcome news in a state where a deer tag is good for either species. In truth, we were particularly excited to reach this deer camp in Elsmere, where we were greeted by Scott and LaCaylla Fink of Goose Creek Outfitters. They and their guides had come recommended by Browning's communications manager, Rafe Nielsen, who had scored big on mature bucks here two years in a row.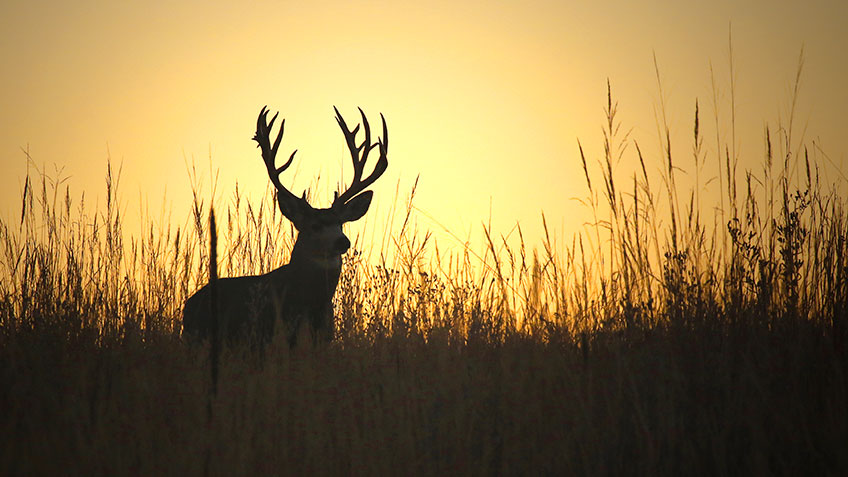 While most of us were hunting muleys, Shaundi was pursuing her first-ever whitetail. The whitetail was all I knew as I grew up back East; to me, its prominence as game was unquestioned. "But mule deer are the most beautiful deer species," she announced. What? I'd hunted whitetails and muleys in 25-plus states, and in my opinion not much bests the graceful whitetail—the gray ghost that suddenly appears in the morning mist, sometimes with a "rocking chair" on its head, as William Faulkner described more than 75 years ago, "and then sometimes vanishes leaving you wondering if you'd seen it at all." I thought: Just wait, Shaundi.
Our strong female representation in camp was in step with the fact that the number of hunters who happen to be women is on the rise. In 2011, a U.S. Fish and Wildlife Service survey revealed women comprised 11 percent of the hunting population. By 2013, the National Sporting Goods Association reported that number had risen to 19 percent, or 3.34 million. No doubt, women who are embracing hunting realize what I learned when I first started hunting years ago, and what men have known all along: You're bringing the freshest, healthiest protein to your dinner table, while creating memories marking some of life's most challenging and exhilarating moments.
On day one, guide Eric Wegener and I saw only young bucks but NGP's prediction played out for Kali, who dropped an impressive, symmetrical 4x4. Over dinner she said she'd team up with Ashley and take the newest hunter under her wing. The initial goodwill proved fleeting as Shaundi suggested it was time for a "friendly" game of "Slap," a card game in which the goal is to "collect" everyone else's cards but ultimately involves a lot of hand-slapping that occasionally results in fingers getting smashed and nails getting broken as players compete to win the game.
Hiking the Sandhills the next morning, Eric and I spotted a dozen mule deer in a crop circle from a vantage point at 600-plus yards. One buck was mature—a nice typical 4x4—but in the wide open, and all we could do was wait for the herd to make a move.
What is more frustrating? I wondered: Being back East waiting for a whitetail to show in areas so thick you're lucky to see a hundred yards, or being able to see muleys with no way to close the distance? As the deer headed for the hills to bed down, we never could catch them but we did sweat out the calories from the previous night's dinner. Multiple miles later that afternoon, we'd also burned off our dessert.
We learned that evening five of us were still buck-less, but Shaundi had gotten close. She burst through the door excited and water-logged after landing in a swamp, telling the tale of the one that got away. "The most beautiful, 160-class buck ever …"—a whitetail buck tending a doe. That wasn't lost on me as I smiled over her excitement, thinking how fortunate Browning was to have the "real deal" as a new staff member. Ashley had gotten closer yet. She'd missed a 4x4 she nicknamed "Sand Burr" after getting covered by the nasty stickers while crawling to get closer for a shot.
After dinner, Shaundi, still on an adrenaline rush, dealt the cards again. This time I suffered only mild finger pain as we called it a night. I figured I must be getting better at Slap … .
The morning hunt was uneventful—except for Shaundi, who walked in the door, boots sloshing. She and her guide clearly knew where to find the "beautiful" swamp buck, but closing the deal was another matter. "Suddenly he was there, but I didn't have a shot, and then he was gone … ." Shaundi was realizing what this experienced whitetail hunter learned long ago: A key to prime whitetail habitat is thick, secure cover, and the swamp was packed with it.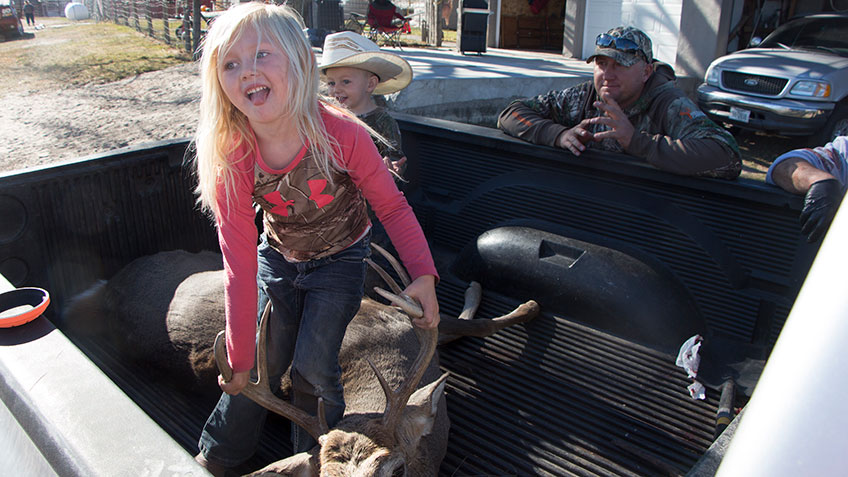 That night, Ashley and Kali were late getting back to camp. It had to be a good sign. When the duo and their guide rolled in with a buck, the rest of us rushed to the truck to see it—a nice 3x5—and to hear the story.
We don't always recognize the most significant moments of our lives while they are happening, but for Ashley this was one of them. I noted her joy mixed with maybe a little bit of surprise. I felt blessed to witness the emotion as she called her dad on the phone. I thought of my own dad and hunting mentor, gone nearly 10 years, as my eyes glassed with unshed tears. I thought of how every hunter feels about his or her mentor, the person responsible for opening up a world we would not otherwise experience. As many of us have grown into mentors ourselves, we know our apples won't fall far, and that is a good thing—unless you're one of Shaundi's "apples" in that fun but somewhat sadistic card game.
As for other deer action, by the way, I knew it: Shaundi was officially obsessed with that whitetail buck, talking about him while dealing the cards. She'd again returned to camp covered in swamp water as she described her beautiful whitetail—still dodging her, still only offering glimpses in the thicket. As we listened to her talk up his beauty and cunning, I thought of that Faulkner passage again: "Then the buck was there. He did not come into sight, he was just there, looking not like a ghost but as if all light were condensed in him … already running, seen first as you always see the deer … in that split second after he has already seen you … ." Yep, Shaundi had the whitetail bug.
The hunters in my camp certainly got it as our "slapping," shouting and laughing resumed, signaling to anyone in earshot that the cards had been dealt. We had to remind ourselves we actually were there not just for the food and evening fun but for Rafe's promise that Scott would deliver the chance at a buck. Today's female hunter is fortunate to be able to access women's programs like those offered by the NRA, and to take advantage of the array of women-specific hunting clothing and gear—hence our Browning gathering. Though tomorrow would be our last day, I had my story regardless if anyone else got a deer. I remembered my dad saying to me and my brother, "It doesn't matter if I get a deer. I'm happy if you kids get one." And I knew what he meant. As hunters we know the kill is a small part of the overall hunting experience.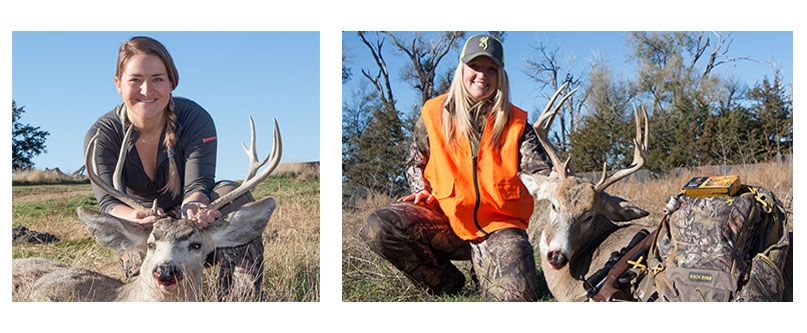 The hunt is about much more, I thought, as I watched Shaundi suit up for the swamp in anticipation that final morning. Hunting's future was in good hands here in Nebraska as we all headed out, leaving Kali and Ashley behind to process their deer.
Scott dropped me off at a ground blind 45 minutes before sunrise. Activity began just before first light as I watched two not-quite-mature bucks step out of the woods and into the field, following a hot doe. The 4x4 would be nice in another year, but the 3x4 was borderline mature. Naturally he stayed within 50 yards for the next 15 minutes. I at least got him on camera along with the flock of turkeys that yelped and clucked its way into the field, iridescent feathers shining in the sun.
When Scott picked me up to head in for lunch, he said he was surprised four of us were still awaiting a chance at a buck. One truth about hunting is that despite how much we prepare or how seasoned our outfitter is, filling a tag still comes down to a bit of luck: right place, right time.
Fortunately, whoever said, "It only takes a minute," was right. We pulled in to see that Natalie and Laci each had a buck. In fact, Natalie's buck—king of a particular crop circle—looked a lot like the one I'd had my eye on earlier that week. As for Shaundi, her elusive whitetail still had not reappeared, but there's an old saying about how nothing would get done if not for the last minute. We still had the evening hunt.
One of the guides said a tall-racked whitetail was spotted along a tree line 2 miles from camp. Scott left it to Shaundi: Did she want to stick with her swamp buck or go for the potential bird in hand? I knew her answer before she replied and, while I still had a tag to fill, I was going, too.
Scott rolled to a stop at the designated spot. We were 25 yards to the right of a barbed-wire fence line on the truck's left side. The outfitter spotted the buck tending a doe on the edge of the brush at 100 yards. He crept out, crawled to the fence and motioned for Shaundi to follow. Somehow she never tipped off the deer as she climbed from the front seat over the console and behind the steering wheel, opened the driver's door, hit the ground and crawled to Scott. She was a ninja as she maneuvered toward the one thing she wanted above all else: a beautiful whitetail buck. Watching, I knew all over again that this Browning employee, wife, new mother, hunter and college student had it all. She worked at it all and had her priorities straight—as Browning did in hiring her.
Browning's clothing lived up to its reputation as Shaundi belly-crawled, climbed over the fence and crawled behind a tree. As the deer stepped into an opening, I caught glimpses of its rack. But here's the thing: Browning might make "the best there is," but the hunter must pull off the shot. Glued to the scene, I watched Shaundi acquire the buck in her scope.
… Bang! The deer flinched, spun and high-tailed it into the brush. It wouldn't be far, I knew. Shaundi had dropped her first whitetail. I felt as if I'd just filled my tag, too. Every hunt is successful when satisfaction is attained, and that base was covered from day one.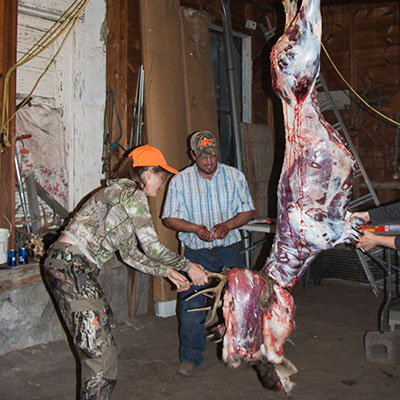 Back in camp, five of six hunters who'd filled tags decided they'd start processing all the deer themselves that afternoon. I would have helped, but when one must hunt, one must hunt. This late in the game, the "Slap" cards seemed stacked against me, but hunters treat every day as the season opener. Scott and I headed for the Sandhills.
We worked the dirt road system, looking for a buck to stalk in the distance. We hiked to a spot near two tree belts that served as a good vantage point. Scott caught a flash of a good buck but it never left the thicket. We only saw two young bucks despite the promise of the rolling hills and meadows. So we stalked a bit, using the dips in the terrain for cover, ultimately crouching and crawling through a spot much thicker than it appeared.
We hit the ravines that are often such good hideaways for bucks seeking refuge—nothing. At 3:45 p.m. we drove to a new area—nothing. By 4:15, still nothing. With five of six hunters bagging bucks, I told Scott that a buck for me would be just a bonus at this point, assuring him I was having a great time either way.
Five minutes later, there they were: eight muleys including one mature buck, feeding across a dirt road in a field at 550 yards, backed by a line of trees 200 yards beyond them. With two younger males also in the "parlor," the buck was standing over his bedded doe to ensure the mate-selection process went as expected. As we considered how to best approach them, Scott wondered if it were the same buck Ashley initially pursued.
We drove a couple hundred yards to their right, leaving the truck in a dip, taking advantage of uneven terrain ideal for stalking closer. Only three things could shut me down now: being seen, being heard or being smelled. Laden with sand burrs, I whispered, "This has to be Ashley's buck!"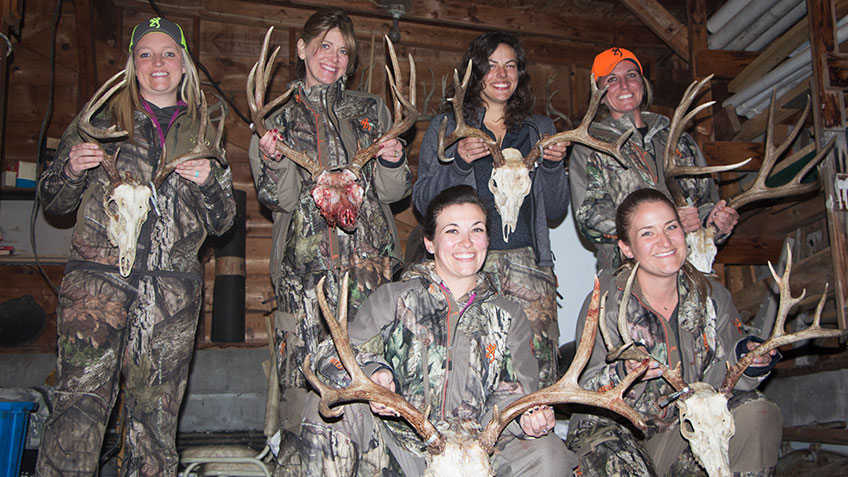 Not wanting to risk one of two alert does spotting us, we carefully crawled back to the truck and drove to the treeline beyond them. We dropped to all fours and crawled through the trees and brush. At the edge of the opening I got into a sitting position. Through the scope, I watched the buck turn broadside. I admired his muscular body built to survive life in a rugged environment and fired. Six for six.
Back in camp, the other hunters came out of the skinning shed, hoping I had a buck in tow. But maybe more amazing than going six for six was that the first five bucks were already processed—skinned, butchered, wrapped and labeled. Nothing left to do but boil the heads for the skull mounts, I thought. Then I looked outside the shed and saw they had that covered, too, as I counted five cauldrons of boiling water. Scott joked that his male clients wouldn't have done any of this: "The guys would be inside enjoying LaCaylla's cooking." We had early flights the next morning … I asked about taking my deer to a local processor—not a chance with this group. So I joined the assembly line of processors spreading out to get to work.
While every hunt is special, this deer hunt, in particular, was a slamming, slapping success.
---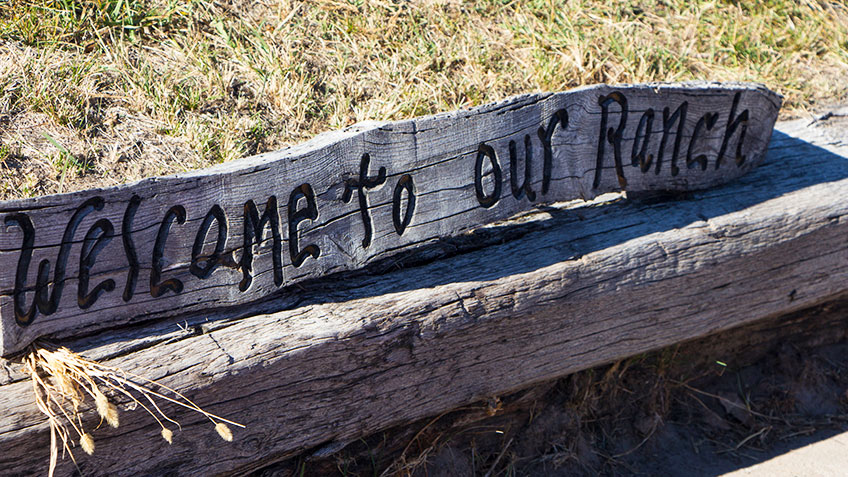 Hunt the Heart of the Sandhills
In search of a Great Plains muley or whitetail buck of your own? Then head for the Cornhusker State and enjoy a four-day deer hunt with Scott and LaCaylla Fink of Goose Creek Outfitters (GCO). Formerly Nebraska Trophy Bucks 'N' Birds, GCO operates a network of private north-central Nebraska cattle ranches packed with hills and meadows that receive minimal hunting pressure. Hunt from ground blinds or stalk along the willows and tree belts that provide a prime setting for your next rifle, muzzleloader or archery deer hunt. Can't wait for a fall deer hunt? Check into a spring hunt for a Merriam's gobbler. For more information, visit goosecreekoutfitters.com or call 308-834-3327.
---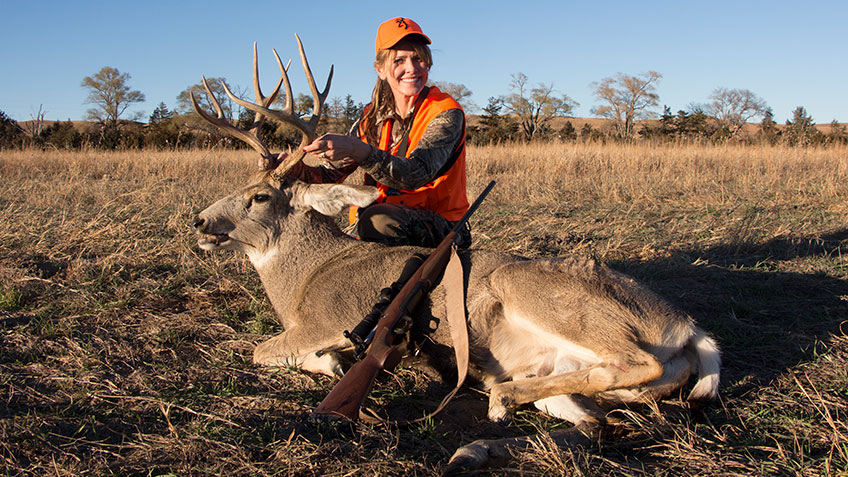 Browning Buck Gear
Credit for filling all six of our tags goes to our compact Browning X-Bolt Micro Midas rifles and the company's BXR Rapid Expansion Matrix Tip ammo customized for deer and antelope. True to its name, the Micro Midas line, packed with deluxe features, delivers the "Midas" touch while offering hunters of smaller stature—or those who might end up like me in tight brush—a shortened stock and bolt throw, and a 20-inch barrel. Our 97-grain .243 Win. loads got high marks for velocity, energy retention and knockdown power, and their bullets expanded on impact for controlled penetration. No one had to track her buck after the shot.
Hunters and guides donned water- and wind-resistant Hell's Belles and Hell's Canyon women's and men's lines, respectively, including some new women's lifestyle clothing. Whether you seek ultra-light, midweight softshell protection or triple-layer down insulation, the line offers jackets and pants for all conditions. While there are no guarantees in hunting, Browning leaves little to chance.