Support NRA American Hunter
DONATE
Having tagged out while the sun was still shining, you'd think my bags would've been packed at the first sign of cloudy skies. Lucky for the guys sharing camp, I'm not that kind of hunter. To be honest, I was simply having too good a time that the thought of departing with the incoming winter storm never crossed my mind. Well, that's not entirely true—there were a few hours during the last 10-degree frigid night when I was regretting my decision. I had pulled myself from my not-warm-enough cocoon to replace the fuel bottle on the portable heater for the third time, and realized that nature was calling—there was a foot of snow on the ground and 50 yards between me and the outhouse. But hey, that's all part of the adventure, right? And when you've got a crew that helped you glass, drag and butcher, it's only proper to stick around and return the favor. Besides, hot food and brown bottles were as plentiful as the laughs, and both were of higher quality than I expected to find in any hunt camp.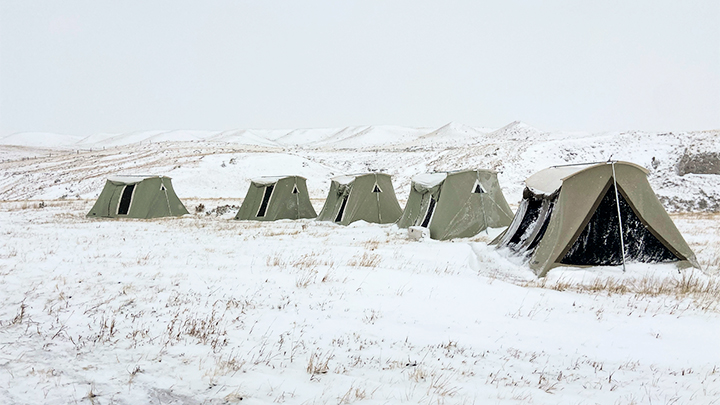 To me, as we pulled off the main highway and busted through the tall grasses onto a barely visible two-track, it was as though Matt Rice, senior manager of media relations for Vista Outdoor, had simply picked a random place on the side of the road and decided to give it a try. We were the last to arrive at what I assumed would be a fairly large camp, but it certainly didn't look like anyone had driven this route in a long time. As it turned out, no one had, and after backtracking about 500 yards we were able to locate the well-worn trail which, after meandering a quarter-mile up and over a golden grass-covered hillside and past a couple dandy mule deer, delivered us to a line of wall tents set up on a picturesque parcel overlooking an old, worn out homestead. As I was taught, if it was a good enough place to make a home 100 years ago, it's a good enough place to make camp today.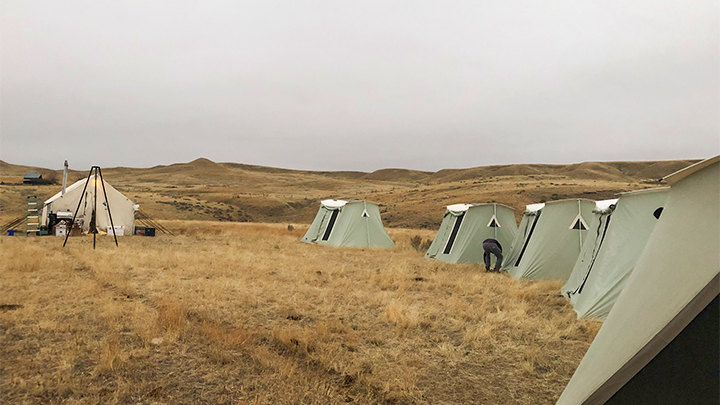 This particular pronghorn camp has been held for nearly as many years as I've been hunting, and while the attendees may vary each season, for the hosts—and those lucky enough to be invited back—it's an annual event with an importance that rivals any deer camp I've been a part of back East.
Having the luxury of devoted hosts and years of trial and error—plenty of time to evaluate ideas good and bad—the evolution of this camp was inevitable. Accommodations have been upgraded, methods perfected, cook stations, hanging racks and the portable outhouse strategically placed, and quarters equipped with all the comforts one could possibly think of while still falling somewhere under the category of "roughing it," by at least some of our wives' standards. There wasn't a shower, after all.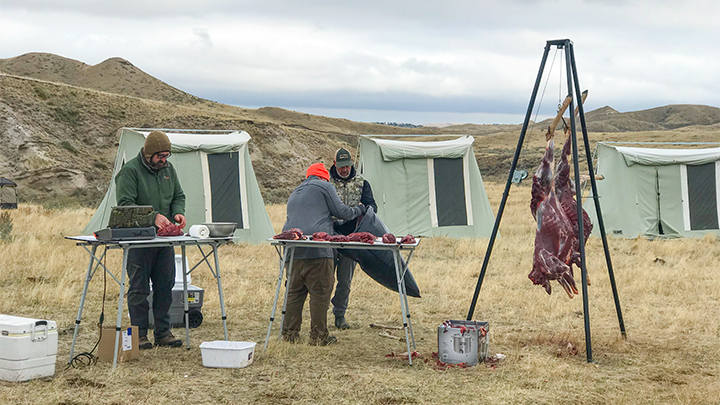 Camp Life
The mess tent is the heart of camp, and on that first chilly morning ours was pumping a warm firewood glow that brought eager hunters from their dimly illuminated caves with as much draw as the smell of coffee and biscuits and gravy cooking inside. They say an army marches on its stomach. An army of eager hunters is no different.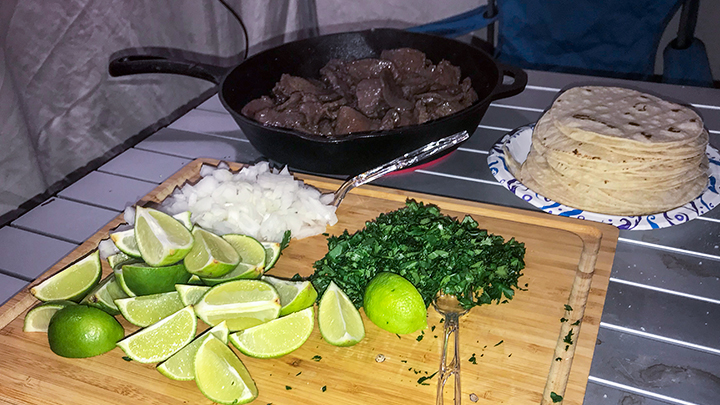 Of course, finding someone to accept the title of "camp cook" isn't always an easy task, but when you've got more quality outdoor cooking equipment to work with than a country diner, participants are more willing and the resulting meals more pleasing than wieners on the end of a sharp stick.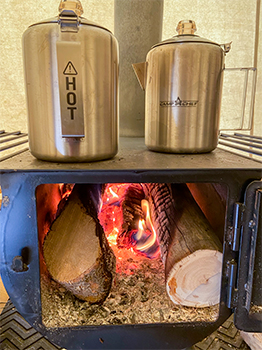 Utah-based Camp Chef offers everything you need for a Michelin star mess tent, and we put more than one of its cooking systems to the test. The dual-burner Pro 60X ($315) handled all the indoor cooking from that rib-sticking sausage gravy to pasta and meat sauce. It sports two folding side-shelves and collapsible legs, and it accepts a number of cooking accessories such as the Reversible Cast Iron Grill/Griddle ($56) that came in handy for bacon and eggs.
And what camp kitchen would be complete without the ability to cook a prime rib to steakhouse perfection? Outside the mess tent, Camp Chef's Woodwind Wi-Fi 24 pellet grill with Sidekick Flat Top ($1,180) took care of that, and acted as an oven for our biscuits and anything else that required full-coverage cooking. Anyone like street tacos? If you think the answer comes fast, imagine how fast it comes when you're sipping a cold one after a long day of hunting, hauling and cutting meat? In less than five minutes, Brooks Hansen, public relations manager for Camp Chef, had a fresh pronghorn backstrap sliced, into the cast iron skillet and sizzling on the Alpine wood-burning stove ($275) we'd been using to warm the mess tent.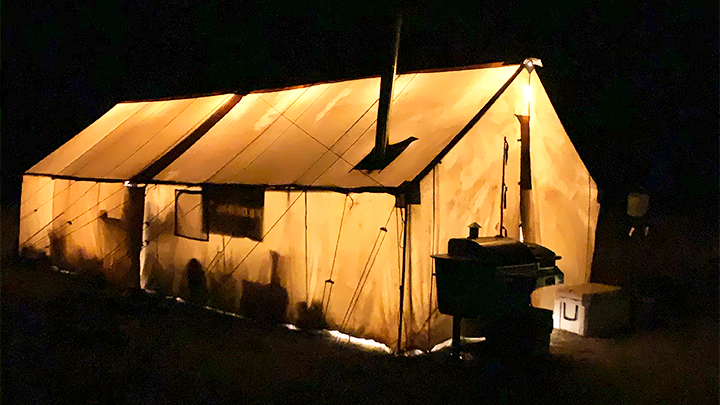 Not to be completely controlled by propane, we utilized an assortment of portable power from Goal Zero. Portable solar panels kept the larger Goal Zero Yeti 1000X ($1,399.95) and 3000X ($3,399.95) Portable Power Stations full, which then powered an awesome electric cooler to keep our perishables fresh, as well as provided the electricity needed for the pellet grill and cooking lights. In each bunk tent, Goal Zero's smaller Yeti 200X ($299.95) provided a week of electricity to handle a small string of lights and to charge our phones and other gadgets while we slept.
Open Country Glassing
These Wyoming hills hold secrets—big secrets—and to get them to divulge these exciting tidbits, you've got to glass well beyond what the eye can see. We were a group of four, a curse when you're trying to put the stalk on a herd of big-eyed pronghorn, but a blessing when it came time to sit and glass from afar. And to locate critters in the vast expanse of Wyoming, a high-power binocular paired with a spotting scope and tripod, are worth the additional weight.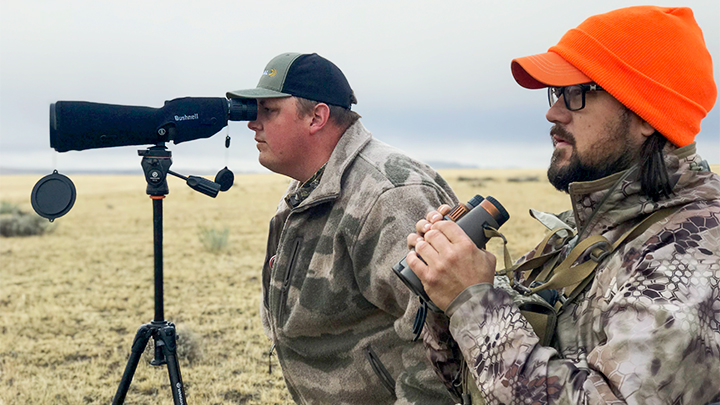 Perched atop a high knob, we utilized the 20-60x80 Forge Spotting Scope ($1,099.99) from Bushnell to locate what looked to be a massively tall pronghorn bedded nearly 3 miles distant. At that range, accurately judging the extra inches that make a good pronghorn great is a crapshoot even with the power of the spotter, but it looked tall enough to warrant a closer inspection. And with the spotter, we were able to get a fairly accurate lay of the land between us and the pronghorn, accurate enough to map out a route that would keep us hidden within the maze of rounded hilltops and washes as we closed the distance.
Leaving two of our party with the spotting scope high and visible on the hillside to keep track of the bedded goat, my guide and I made quick work of the first 500 yards and dropped down into a deep, dry wash. Though we couldn't see our target, we could still see the crew glassing from the hillside, and through my binocular I could make out the basic hand signals that reassured us we were still headed toward a bedded goat.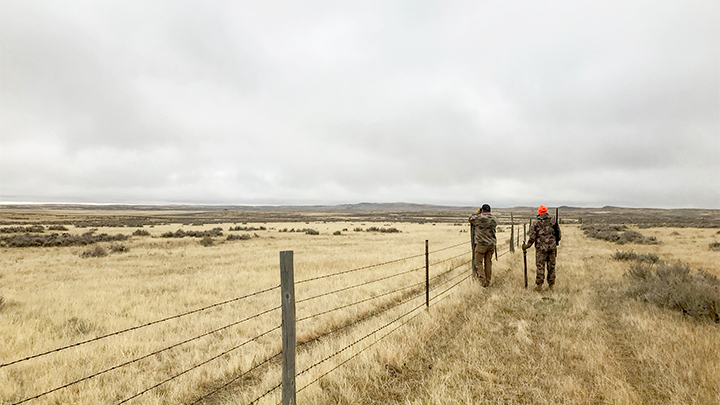 The Bushnell Forge 10x42 Binocular ($479.99) around my neck was the perfect size for glassing on the move. It's not overly bulky, has a smooth focus wheel and a solid feel in the hand, and its housing held up during the durability test as I belly crawled from one creek bed to the next. Both the Forge spotter and the binocular sport ED glass, as well as lenses and BaK-4 prisms that wear a multitude of coatings to reduce glare, maximize light transmission and repel water, dirt and debris. In country with the potential for big open skies, be it direct sunlight from above or snow-blinding glare from below, these coatings quickly reveal their merit.
Having gone as far as we dared in the hidden wash, we inched our heads over the edge hoping to relocate a still-sleeping pronghorn. Instead, our gaze was instantly drawn to a train of mule deer about 400 yards out, and they were froze-up solid with nervousness. Unsure if they were reacting to us or to a hidden pronghorn somewhere up ahead, we scanned the area as slowly as we could, searching the shaded nooks and crannies. We scanned until the mule deer put their heads down and began to graze, and that move, of course, stirred another set of nerves, as it revealed the true size of the lead buck's rack and had me wishing my tag read "mule deer" instead of "antelope."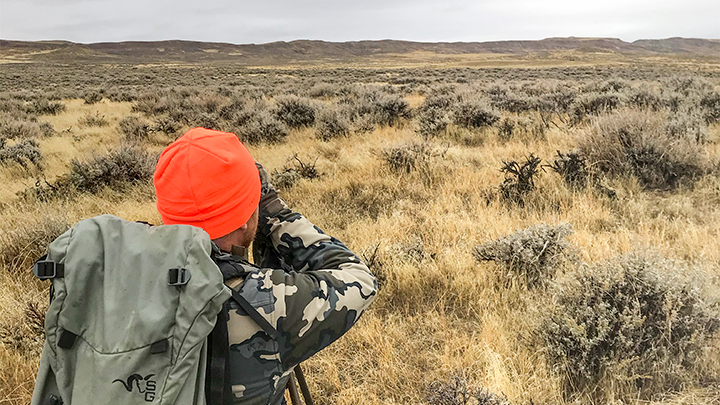 It took a few minutes, but the deer moved on and my nerves finally calmed. And after dropping back down and moving another 50 yards forward through the wash, we crawled up over a rocky rise where the dark rack and white face of a bedded pronghorn instantly stood out against the dry Wyoming bush. Though his body was hidden, his painted face provided enough reflection for the Bushnell Prime 1700 Laser Rangefinder ($209.99) to get a reading of 304 yards. From there it was a waiting game, and 20 minutes later, laying prone with the rifle resting over my pack, I clicked off the safety and steadied the crosshairs on a broadside pronghorn, the largest I've ever had in my sights.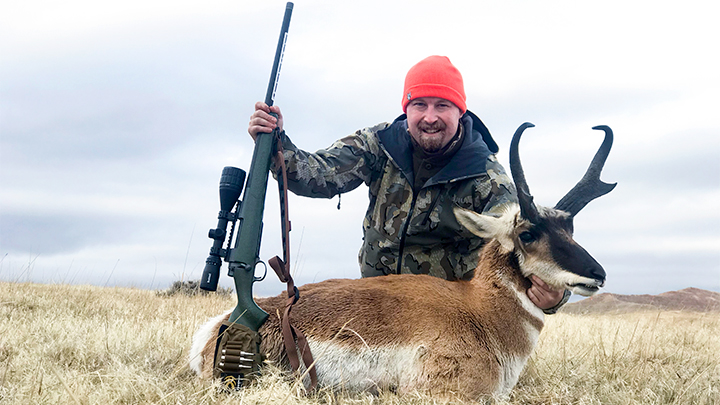 Western Rig
The M48 Mountain Carbon ($3,235) from Nosler is a lightweight tack-driving rifle with a crisp Timney trigger, great balance and a smooth bolt throw. The latter proved extremely beneficial as the once-bedded buck jumped and disappeared after I pulled the trigger the first time. Yes, I said first time. Making quick work of the action, I had another round in the chamber and was frantically searching through the scope as the seconds ticked away without a trace of my target. Wondering if I'd in fact hit the animal at all, I raised my head to look with the naked eye—still nothing.
The shot looked and felt good, but we had absolutely no idea where the buck had gone. He had simply jumped back and to the left and vanished. We sat there at the ready for a few minutes, but eventually had no other alternative but to get over there and snoop around. And wouldn't you know it, I had just slung the rifle over my shoulder when the buck leaped from his cover and took off out of the gate like a racehorse destined for the winner's circle. That lightweight rifle hit my shoulder so fast it nearly knocked me over, and seconds later, when his adrenaline stopped pumping, it tipped over that big pronghorn, too.
So what makes the Nosler M48 Mountain Carbon a Western bantamweight champion? Nosler glass- and pillar-beds its proven M48 action within a carbon-fiber Mountain Hunter stock attached to a free-floating, carbon-fiber wrapped barrel. It's a winning, 6-pound, carry-all-day combination that, with proper cool down time for the barrel, produced sub-MOA groups at the range, and more than a few dead pronghorn in Wyoming.
Loaded for Pronghorn
It was a heck of a shot—truly. Offhand and with no hesitation, Matt Rice dumped his pronghorn on the run at less than 70 yards. Yes, we'd bumped the buck without knowing he was there—the potential downside of using the dry creek beds for cover—but Matt saw an opportunity and executed the shot perfectly. And while we didn't see the buck drop, we knew he was as good as dead. I don't think I've ever seen an animal spill as much blood as that pronghorn. Even at more than 50 yards, we could see the blood trail, no, blood highway, with the naked eye—a wine stain across the tan prairie carpet. A toddler couldn't have made a more visible path to follow with a gallon of red paint. An easy—and short—tracking job for sure, courtesy of Federal Premium Terminal Ascent ammunition.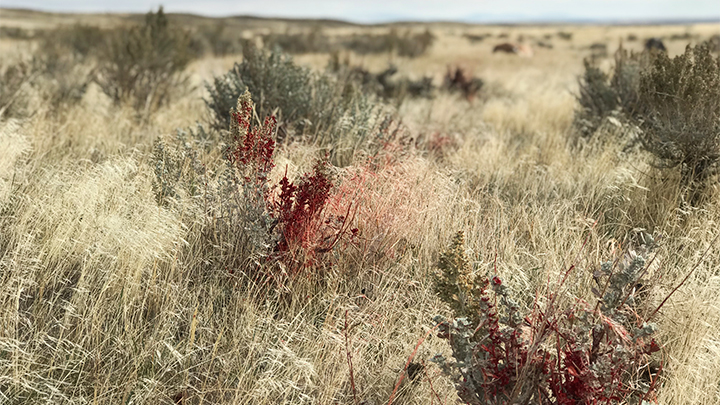 Though it could be said the 28 Nosler is a bit much for pronghorn, and I wouldn't disagree, it's never a bad idea to err on the larger side when taking big game. Plus, the superior velocity and trajectory make the 28 Nosler an ideal match for the often-long shots made on pronghorn—and elk—of the open Western landscape.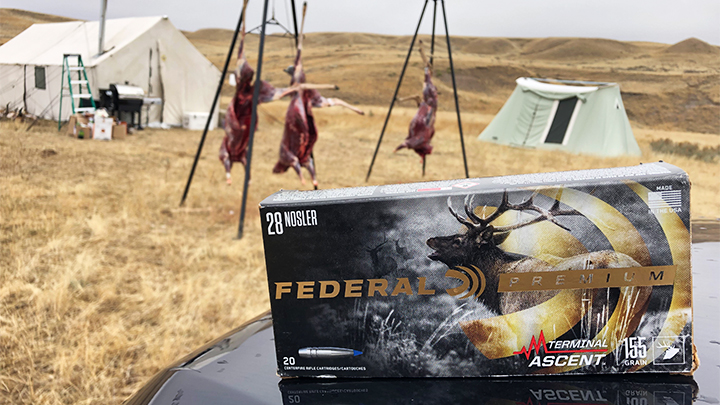 Federal loads it's 28 Nosler Terminal Ascent ammunition ($104.99/20 rnds.) with a 155-grain, BC-boosted (an incredible .586!), bonded bullet, topped with its Slipstream polymer tip that both increases accuracy and drives expansion from near to far. Out of the muzzle of the Mountain Carbon's 24-inch barrel, the Terminal Ascent bullet is traveling around 3200 fps, drops less than 3 inches at 300 yards (with a 270-yard zero) and still maintains more than 2,500 ft.-lbs. of energy at that distance. With my 270-yard zero, I was able to hold dead-on out to 320 yards without having to consider elevation adjustment. A quick setup for quick prey.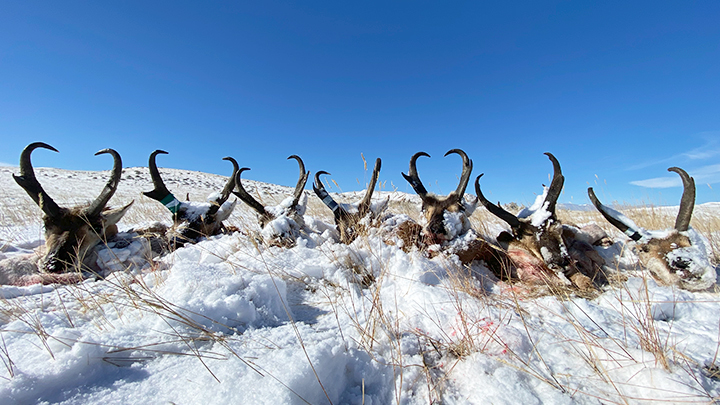 Alright, maybe "roughing it" is a stretch, even for me. We thrived in Wyoming. Over the course of the week, we'd experienced four seasons' worth of weather, we woke early, put our heads down late and trudged rifles, gear and more than a few dead-weight critters over countless miles of some of the most beautiful country God could conjure up. We ate like gluttons, survived a few icy nights and laughed so hard they could hear us 80 miles south in Casper. And we woke excited to do it all again, every single day—stinking the whole time.
If you've got the friends, then I strongly suggest you find the time and place, because there are few things in this world that I look forward to more than an annual hunt camp.