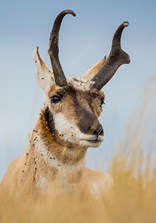 Yesterday we found tepee rings not far from the campsite selected by Joe, Newt and rancher Jim Scheiermeister. Proves we're not the first to chase game hereabouts, eastern Wyoming. Following a rainy first night we've enjoyed a run of blue skies and sunshine. After dark, the temperature drops fast, enough to make you appreciate a good sleeping bag.
When we roll out in the morning, it looks like the whole world is ours to hunt—that's how far you can see. And when we look hard enough, we spot prairie goats way out on the plains.
Those darn antelope are always looking back, and as soon as you show yourself inside their comfort zone—talking miles here, not yards—it's off to the races.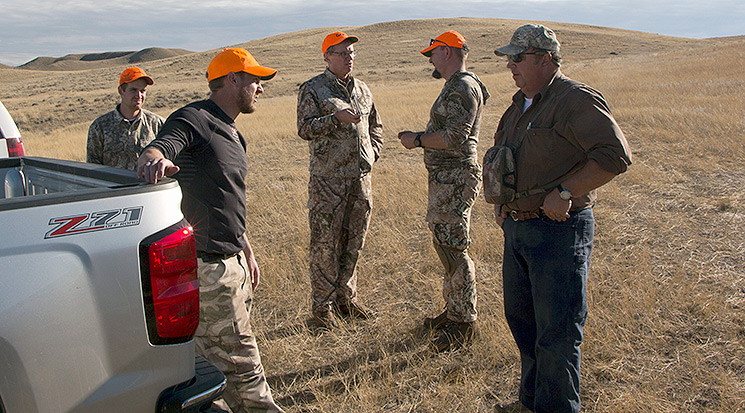 Jim (above, right) knows every last roll and wrinkle of his land. He's got us scattered all over creation, taking advantage of the hilly terrain. "They're not standing still," he declares. "Go find 'em. Put the sneak on."
Time for a stalk? When it's on, you don't just drop down in a gully, you go on hands-and-knees, maybe even need to belly-crawl that last 150 yards. Thanks to our Ruger American rifles, Cabela's glass and Hornady loads—great gear that shoots straight without costing a bundle—we're doing all right.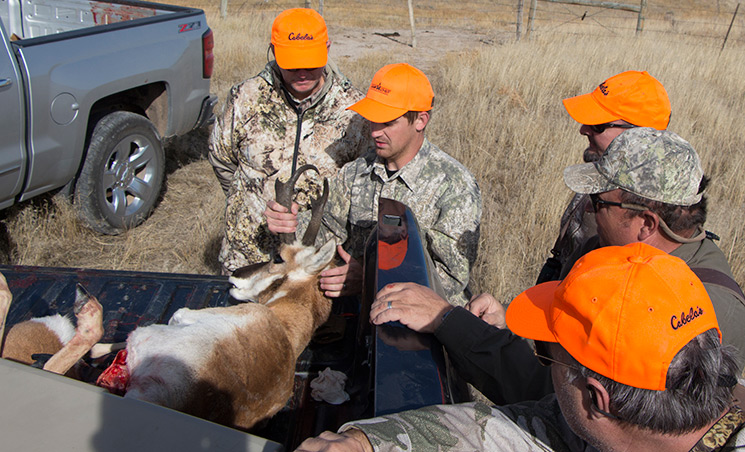 Ryan, who's also serving as camp chef, has been patient and tagged a fine buck. Everyone gathers round the tailgate for a look. Jim is holding court, and to hear us talk, you'd think every last man fancies himself a pronghorn guru. Hunters learn fast (or so we think), and now we know how to spot them and stalk them, how to dope the wind and make the first shot count.
We've also learned firsthand that the boss harem runners have dark muzzles and thick, arching horns—they make striking trophies. Even better, when a hunter gets right to work on field-dressing, is the fine-grained meat with delicate flavor that compares to prime veal.
Pronghorn camp confers many rewards. There are lots of events that claim to be the "fall classic," but none any more deserving than this. ah
Camp Gear
• Ruger American rifles
• Hornady American Whitetail ammo, 6.5 Creedmoor
• Cabela's Instinct Euro HD binoculars and riflescopes
• Cabela's Outback Lodge and Outfitter Wall tents
• Camp Chef Pro 60 cook stove
• Cabela's Outfitter sleeping bags