by
posted on June 5, 2018
Support NRA American Hunter
DONATE
"The whole is greater than the sum of its parts." Attributed to Aristotle, it's an apt adage to describe the melding of top-tier Nosler, PROOF Research, Timney and Manners products in the new seven-pound, Nosler Model 48 Long-Range Carbon rifle.

The Long Range Carbon's foundation is Nosler's vaunted Model 48 action. Designed by Nosler, it features a flat bottom to reduce rolling in the stock during recoil, and it has an integral recoil lug, too. Enhancing the rifle's aesthetics are flat sections on the sides and nearing the top. A prudent decision on Nosler's part was to drill and tap the receiver to accept the omnipresent Remington Model 700 bases. On the left, rear side of the receiver is found the bolt-release button. To protect against corrosion and premature wear, the receiver, bottom metal, and bolt are coated with NIC Industries' Sniper Grey Cerakote finish.
To save weight, the one-piece bottom metal and floorplate are machined from aluminum; however, the spring and follower are made from steel. Two screws traverse aluminum pillars bedded in the Manners stock to secure the bottom metal to the action. The floorplate-release button is forward of the trigger guard.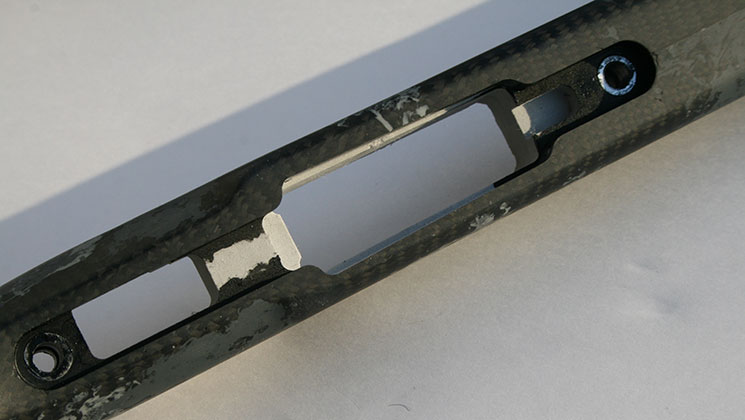 A single Allen-head screw attaches the single-stage Timney trigger to action. According to a Lyman Digital Trigger Scale, the trigger broke at an average pull weight of 3 lbs., 2.5 ozs., and it exhibited no discernible creep or overtravel. It's an excellent trigger. The two-position safety, which is reminiscent of that on the Model 700, permits the bolt to be cycled for loading and unloading while in the "safe" position.
The uni-body bolt has six shallow flutes to reduce friction for smoother cycling, as well as pull double-duty to serve a place for dirt and debris to settle into without affecting operation. Like the Model 700, the bolt has dual-opposed locking lugs, and there's a cutout in the right lug that corresponds with an anti-bind rail machined into the receiver. The root of the bolt handle serves as a third lock-up point.
To enhance purchase when manipulating the bolt, there's a band of checkering circumscribing the knob. An atypical design, extraction is by way of an AR-15-style extractor, and a Model 700-type plunger ejector handles ejection. Both work flawlessly. Like the receiver, flats on the bolt shroud add an element of elegance to an oft-overlooked area.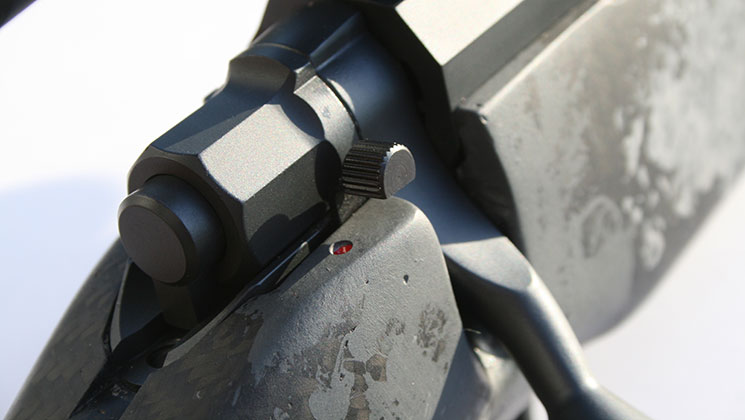 Further reducing the rifle's weight is the use of a PROOF Research Sendero Light barrel and a Manners stock. Concerning the former, the free-floating, match-grade, carbon-fiber-wrapped 416R stainless steel barrel reduces heft while also adding durability, increasing stiffness and helping dissipate heat. A Hornady micrometer revealed that the barrel tapers from 1.204 inches forward of the receiver to 0.805-inch behind the 5/8-24 pitch threaded muzzle. The latter enables the addition of muzzle brakes and sound suppressors. Utilizing a 26-inch barrel ensures a more complete burn of the propellant—especially large doses of slow-burning powder.
The barreled action resides in a Manners MCS-T Elite Tac carbon-fiber stock. To ensure shot-to-shot consistency through a variety of conditions, the weather-impervious stock features both glass and pillar bedding. Complementing the thick barrel is a varmint-style fore-end measuring 1.920 inches at its widest and including dual sling swivel studs. Texturing on the fore-end and pistol grip, the latter of which swells to 1.865 inches thick mid-length, will ensure a secure hold in moist conditions. A cutout in the comb permits unobstructed bolt travel, while the comb's height aids eye-to-optic alignment when riflescopes with large objective lenses are employed. Splotches of paint add the stealthy Elite Midnight Camo finish to the stock. A soft, PachMayr Decelerator recoil pad is secured to the butt.
To test the rifle, which was chambered in 6.5 Creedmoor, I topped it with a Leupold VX-3 8.5-25X 50mm Long Range scope in Burris Xtreme Tactical rings and assembled three top-notch loads. Firing was from a Lead Sled Solo and/or bipod supported in the butt using a sandbag. Rather than use the typical three or five, three-shot groups, I opted for the American Rifleman protocol calling for five consecutive, five-shot groups at 100 yards—a truer test of a rifle's capabilities.
First up was Nosler's Match Grade-RDF 140-grain, which produced an average of 1.06-inch. Two, three-shot groups averaged 0.174-inch and 0.423-inch, respectively. Next was Nosler's Trophy Grade Long Range round employing the company's 129-grain AccuBond Long Range bullet. For five consecutive, five-shot groups it averaged 1.20-inch, with single best five-shot group being 0.67-inch. Last was Hornady's 140-grain ELD Match load. It averaged 1.16-inch for all 25 shots, and one impressive three-shot grouping measured a scant 0.361-inch. As is apparent, accuracy is sufficient for hunting at all realistic ranges.
Beyond accuracy, I noted that it took a high round count before the PROOF Research barrel heated extensively, and it didn't take long for it to cool, either. Outside of the long-range competitor, though, this attribute is likely to be irrelevant; big-game hunters simply don't discharge a large number of rounds in rapid succession, and the magnum chamberings wouldn't be the best choices for purging the pasture of pests, either. Want a low-recoil, long-range-capable round? Go for 6.5 Creedmoor.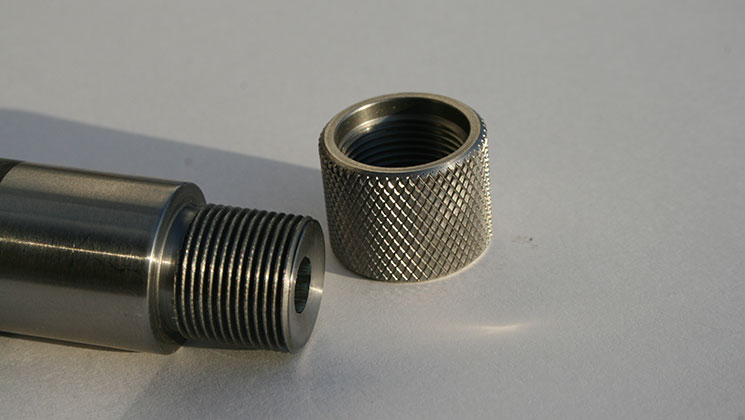 Some of the standout features for me included: the top-notch Timney trigger; pistol grip with thick palm swell; dual fore-end sling swivel studs; Model 700 modeling; and thoughtfully designed high comb, which made eye-to-optic alignment with the 50mm Leupold scope immediate.
Cycling the bolt was a tad tough at first but became easier with use. Some FrogLube CLP Paste further smoothed its movement. There were a few thick spots of Cerakote noted on the inner, left receiver wall, but they didn't seem to affect operation; in fact, the rifle fed, fired, extracted, and ejected flawlessly throughout the evaluation. Having extensively tested several Nosler rifles before, that's a given.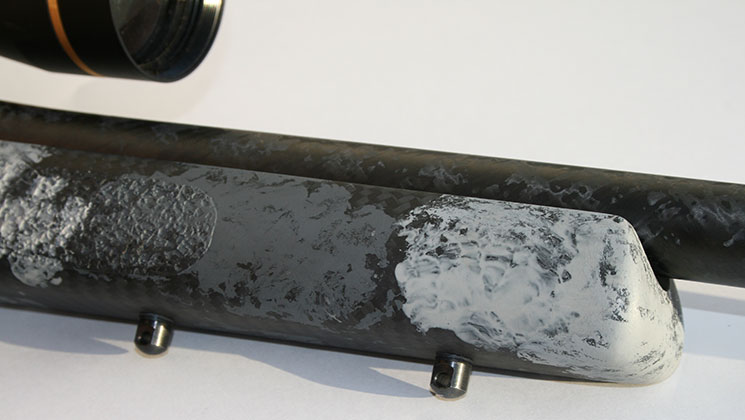 As a word of caution, though, the forward edge of the feed ramp is sharp. If you load the staggered-column magazine blindly, you're apt to position a cartridge too far forward, with the bullet resting atop the forward edge of the ramp. In infrequent instances, when attempting pulling it rearward you'll be unable to do so as it snags. Watching each round being inserted into the magazine will eliminate this user-induced error.
In addition to 6.5 Creedmoor, the Nosler Model 48 Long Range Carbon has an MSRP of $3,095 and is available in .26, .28, .30 and .33 Nosler, as well as 300 Win. Mag. Bringing together the best technologies creates a superior end product. Hunters who want a long-range-capable rifle but demand that it be lightweight, too, will find the Nosler Model 48 Long Range Carbon to be a good option.
Accuracy Results


Technical Specifications
• Caliber: 6.5 Creedmoor, .26 Nosler, .28 Nosler, .30 Nosler, 300 Win. Mag., .33 Nosler
• Action Type: bolt-action centerfire rifle
• Receiver: Sniper Grey Cerakote-finished steel
• Barrel: 26″ PROOF Research carbon-fiber-wrapped 416R stainless steel with 5/8x24 threads
• Rifling: 1:8″ (6.5 Creedmoor, .26 Nosler); 1:9″ (.28 Nosler); 1:10″ (.30 Nosler, 300 Win. Mag. and .33 Nosler)
• Magazine: staggered-column with floorplate; 4-rnd. capacity (6.5 Creedmoor); 3-rnd. capacity (all other chamberings)
• Sights: none; drilled and tapped for Model 700 bases
• Trigger: Timney single-stage; 3-lb., 2.5-oz.pull
• Stock: Manners MCS-T Elite Tac carbon-fiber: length-of-pull, 13.5″; drop at comb, 0.38″; drop at heel, 1.27″
• Overall Length: 48″
• Weight: 7 lbs.
• Accessories: owner's manual
• MSRP: $3,095; nosler.com