by
posted on November 16, 2010
Support NRA American Hunter
DONATE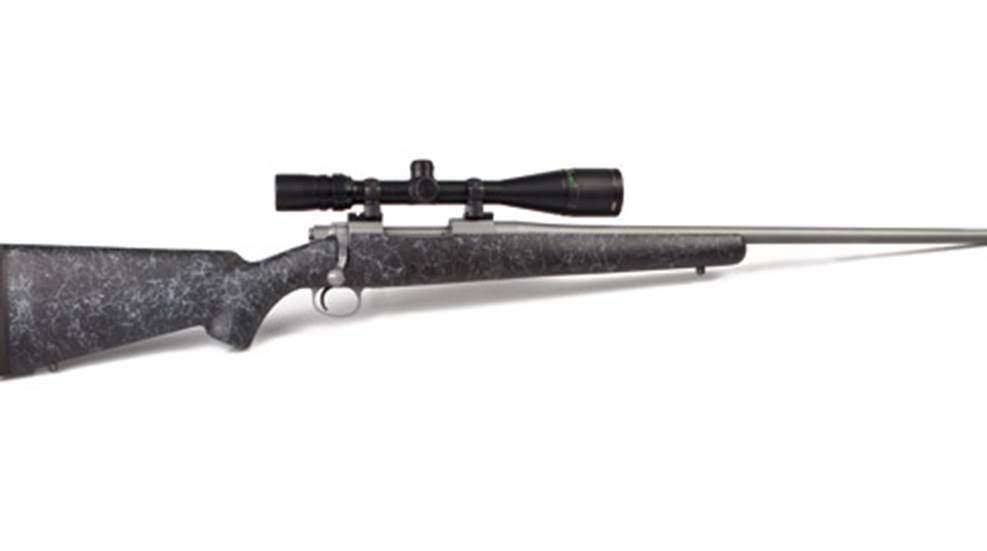 Who knew that Nosler has been making rifles nearly as long as it's been making bullets? I didn't until a few years ago, but I have the excuse of being born about 30 years after the late John Nosler built his first one. Even a mechanically un-inclined whelp like me can understand that a mass-produced rifle just wasn't good enough for the perfectionist tinkerer, who insisted on making his own rifles to eliminate accuracy variables while testing his beloved projectiles. Since then, the Noslers—John, his son Bob and grandson John R.—have tested so many bullets on the range and in the woods that I sometimes struggle to see how the company breaks even!
Fortunately for them, America also shoots a lot of Nosler bullets because they've been the gold standard for nearly 65 years, but that's another story, one that's only been told a thousand times. It goes like this: "I shot a buck with a Ballistic Tip and now it's on my wall, then I took the same gun and Partitions to Colorado where I took a bull elk with one shot. The end."
The main reason, I suspect, the average sportsman is unaware of Nosler's riflemaking is because the company's rifles have only been for sale to the public since 2005. That the original rifle to hit the market—an embellished, 500-unit limited-edition NoslerCustom Rifle (NCR)—costs four grand and was only available directly from Nosler didn't help raise awareness. (NRA Annual Meetings attendees can find an NCR rifle at NRA-ILA's annual Sportsman's Auction thanks to Nosler's belief in supporting the Second Amendment.)
A couple years later Nosler released its Model 48 Sporter line. It consists of two rifles, the Hunter and the Varmint. These are similar to the NCR, but with top-notch, hand-laid Kevlar stocks and receivers that do not feature integral scope mounts. Any hunter would be proud to own one, as would I, especially now that Nosler is running an NRA member-only special of $2,195 for this .75-inch-moa-guaranteed rifle that I previously considered a decent deal at $2,995. (Enter the code "NRA2010" on Nosler's website for the spicial pricing.) What makes a $3,000 rifle "a deal?" you ask. With a mass-manufactured $700 rifle, you may or may not get a tack driver. With a custom rifle, you will.
But with a small and competitive  market flooded with accurate semi-custom rifles, I wondered if Nosler would have the fortitude to stick it out in these times when it could fall back on bullets.
Then, in 2010, it released the M48 Trophy Grade Rifle (TGR). The rifle costs $1,795, which places it in the lowest price rung of the custom gun world and on the high end of mass-produced rifles. This entry into lower price points indicates that Nosler is fully committed to the rifle-making business.
How did Nosler reduce the price of its Trophy Grade Rifle from its NoslerCustom Rifle and M48 Sporter Rifle? Unlike the NCR, the TGR does not come with a Leupold scope, hand-loaded ammo or a hard case. Rather than the highly figured walnut stock of the NCR or the Kevlar stock of the Sporter, the TGR has a high quality but slightly less expensive Bell and Carlson stock. The action is bedded in it via its full length aluminum chassis, so this isn't some taffy-like plastic number found on some entry-level rifles, but a serious one made of Aramid and graphite.
Unlike most other semi-custom rifle companies that buy M700 or M70 actions and slick them up, Nosler manufactures its own. The TGR utilizes an investment cast action rather than the more expensive machined action of the NCR. The bolt is of dual-locking lug design and is fluted to reduce surface tension. It features an AR-15-style extractor and Model 700 plunger-type ejector.
This system is well proven and I experienced only smooth feeding during many rounds of testing.All TGRs use barrels made by PacNor, an Oregon-based company that supplies many barrels to gun makers large and small. The 24-inch, match-grade, button-rifled barrels are made of chrome-moly, and are hand-honed.
Staff gunsmiths in Nosler's custom shop true each barrel to an action before bedding the unit in the stock by way of dual recoil lugs. An aftermarket Rifle Basix trigger is installed and tuned to 3 pounds. My test gun measured 2 pounds, 12 ounces. Its feel has exactly nothing in common with a heaping pile of mashed potatoes. 
The entire barreled action is coated in Cerakote finish that protects the rifle from rust and keeps it functioning in dusty, arid or icy conditions. I appreciate the fact that the firing pin and spring are also coated in Microslick finish (a permanent, dry lubricant) because a rusty, worn, oil-caked or icy firing pin is a common culprit of rare hunting-scenario misfires.
One notable feature I especially like is the two-position safety that's low-profile enough not to get hung up on clothing when slung, yet is positive, quick and quiet to manipulate with only a thumb.
When the safety is in the on position, the bolt can be worked. The TGR's blind magazine holds three or four depending on caliber; the rifle is available in nine, from .270 Win. to .325 WSM. One of the most exciting is the .280 Ackley Improved. If you're worried about finding ammo for it, NoslerCustom sells that too.
Irrespective of the caliber, however, the rifle shoots. The TGR is guaranteed to shoot 1-inch, three-shot groups at 100 yards with NoslerCustom ammo. Note that the accuracy results below reflect five-shot groups, a much higher standard.
Frankly it's tough to find flaws in such a tool. It shoots accurately every time; at 7.5 pounds it's light but not too light; it's got a great trigger; it's weather impervious; and it feeds reliably. It's not overly fancy or futuristic, but it has some flair with its unique, beveled action. If you force me to get picky, I'd prefer that Nosler chose another color for the stock. The black and grey spider web was awesome 15 years ago, but now it's common and causes the rifle to look like other rifles—like a Weatherby Vanguard—at first glance. I can only complain about this because it's a $1,700 rifle.
Last year I chose the TGR for a wild hog hunt where I experienced the same old Nosler story. It goes like this:
"I spied a large, toothy boar way out there so I sent a .308 Accubond toward its chest and it dropped in its tracks. I looked admirably at both the boar and the rifle in my hands, and then I said to myself, as I suppose Mr. Nosler did once upon a time, 'Man I'm good!' The end." 
Check out photos from the author's West Texas deer and hog hunt with the Nosler TGR.
Specs:
Manufacturer: www.nosler.com
Type: bolt-action centerfire rifle
Caliber: 9 calibers; (.308 tested)
Length of pull: 13.5"
Barrel: 24"; match-grade, button rifled
Trigger: Rifle Basix, 3 lbs. pull weight
Magazine/Capacity: blind box; 3 or 4 rnds.
Sights: drilled and tapped for scope mounts
Safety: two-position, top mounted
Stock: Bell and Carlson synthetic
Weight: 6.75" (short action); 7.5 lbs. (long action)
Metal Finish: matte Cerakote and Microslick-coated steel
MSRP: $1,745 (short action); $1,895 (long action)