Support NRA American Hunter
DONATE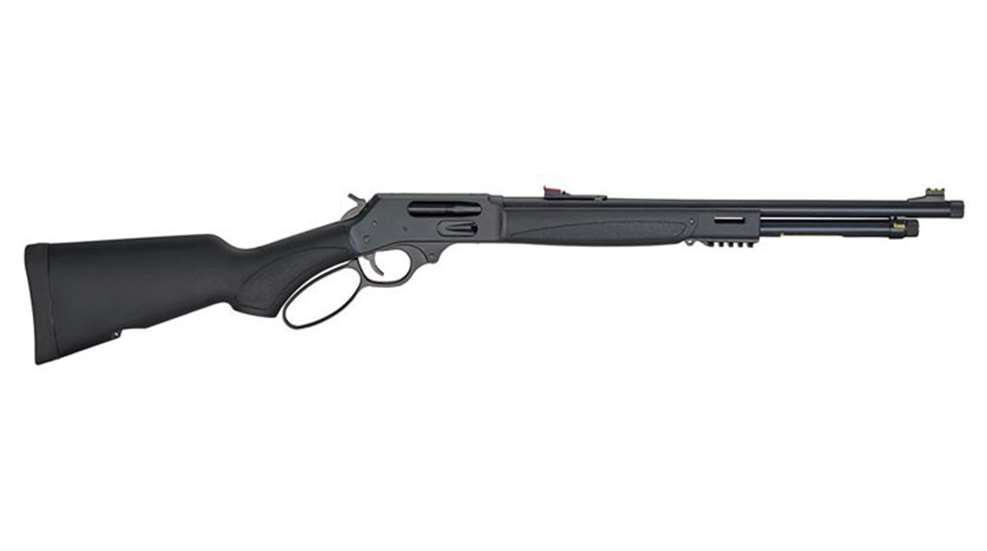 When Henry Repeating Arms was founded in 1996, it adopted the motto, "Made in America, or Not Made At All." For over two decades this manufacturer has offered classically styled lever-action rimfire, pistol-caliber and centerfire hunting rifles. Among the most popular models has been the H010 series of hunting carbines chambered in .45-70 Government. As a handy brush gun chambered in a potent big-bore cartridge, this lever-action is an effective close-range option for harvesting a variety of medium and large North American game at close range. With more states that used to be restricted to shotgun slugs allowing the use of straight-walled cartridges for hunts, the .45-70 Govt. is enjoying healthy sales these days.
Over the years, Henry has offered the H010 in various wood-stocked configurations, sporting round or octagonal barrels, with blued, brass or case-colored receivers. In 2016, the company gave a considerate nod to the hunting community by launching the All Weather model, with a hard-chrome finish for the metal components and a water-resistant coating for the wood. The first models with right-side loading gates arrived on the scene in 2019. These particular rifles were designed to gladden the eye with floral-pattern checkering and brightly polished brass receivers.


This year, for the first time ever, an H010 model with a blued-steel receiver will offer the convenience of a side loading gate, but this is also a ground-breaking rifle in another way. As part of the new X Model series, the H010X ships with a set of lightweight synthetic stocks, along with other popular modern features. Here's a closer look at what this new .45-70 Govt. hunting gun has to offer.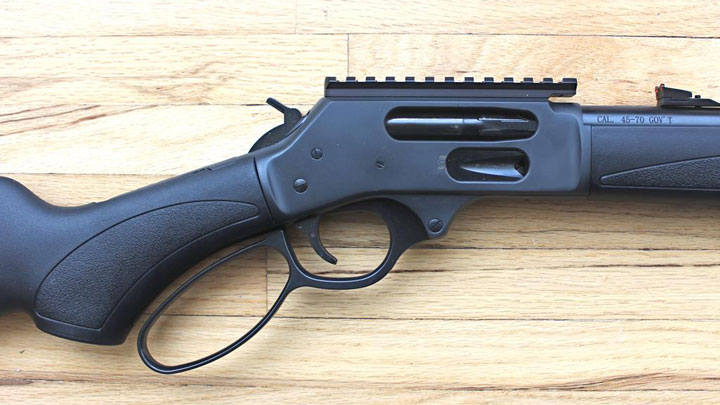 The X Model's carbon-steel components are treated with a non-reflective matte-blue finish, which matches the matte black of the polymer furniture nicely. The top of the receiver is drilled and tapped to accept scope mounts, including Weaver and Picatinny configurations. The exposed hammer contains a transfer-bar safety that drops down to prevent the rifle from firing unless the trigger is fully depressed. The hammer spur is grooved to accept an optional hammer extension for manually cocking the hammer when an optic is installed.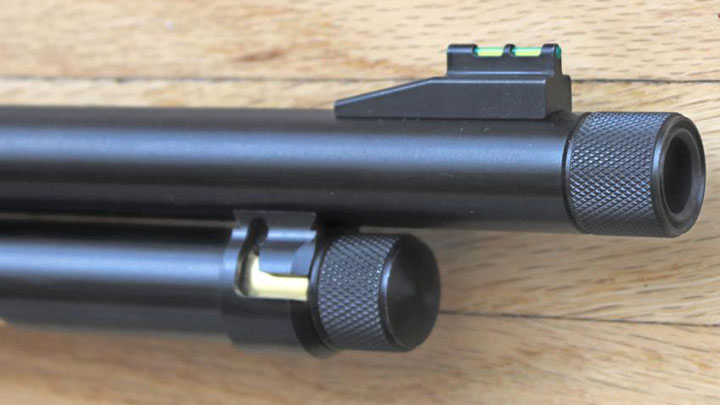 The factory iron sights consist of a single green fiber-optic up front, with a pair a red fiber-optics mounted into a fully adjustable rear sight. The 19.8-inch round-profile barrel is slightly longer than other models, in order to accommodate a half-inch worth of ⅝×24 TPI threading for muzzle devices, including muzzle brakes and sound suppressors. A knurled thread protector is provided.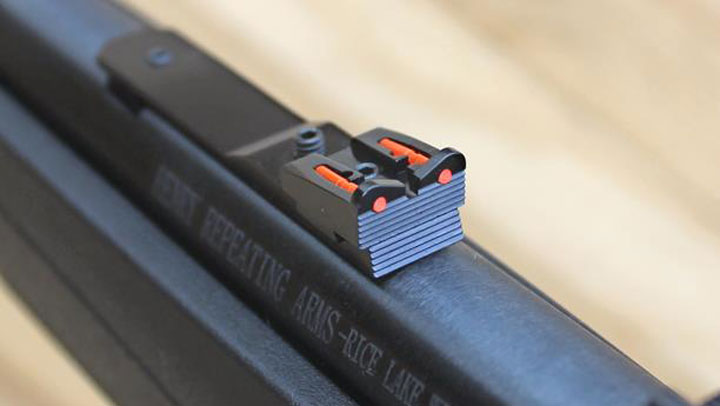 Thanks to a side loading gate paired with a removable tubular magazine liner, this rifle offers a best-of-both-worlds option. This X Model can be loaded through the side of the receiver, or via the cartridge-shaped port in the magazine, by twisting and removing the brass magazine liner. The side gate allows for a quick top off of the magazine without having to dismantle it. Being able to remove the magazine liner, on the other hand, along with the captured follower and spring, is most helpful when cleaning the rifle or resolving an ammunition-related malfunction, should one occur. 


The durable, weather-resistant polymer forend has molded-in texturing along both sides. At the end closest to the muzzle is a 1.85-inch Four-Slot Picatinny rail to support accessories, including lights, laser sights and bi-pods. Left- and right-side M-LOK slots are also available for mounting accessories. Just behind the Picatinny rail is a sling swivel mount for two-point shoulder slings. The other mount is located on the underside of the shoulder stock.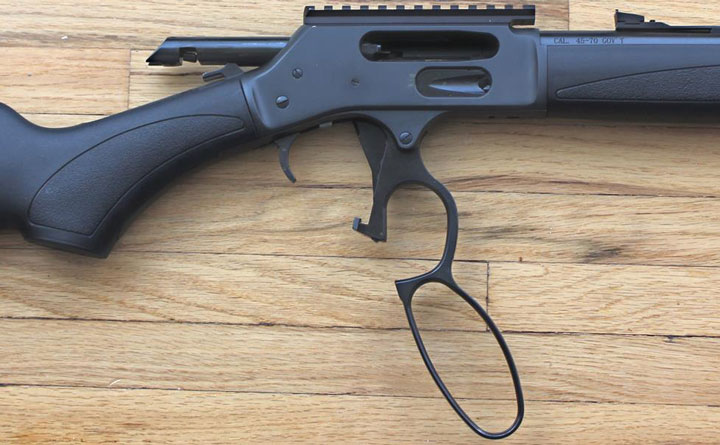 The lever loop gently curves along the textured pistol grip of the shoulder stock. The interior of the lever loop has been opened up and rounded out more than the company's standard loops. The result is more room for gloved hands, and a gentler work surface for bare knuckles. The shoulder stock provides a smooth, fixed cheek rest and a 14-inch length of pull. The rifle is capped off with a solid, 1-inch thick soft-rubber buttpad to help manage felt recoil.
The polymer X Model clearly demonstrates the same commitment to proper fit and finish as Henry's wood-furniture models. The action was smooth right out of the box. The rifle passed a series of bench checks with flying colors. All of the controls worked cleanly and properly. The steel bow trigger exhibited a smooth single-stage trigger pull with no take up, before breaking cleanly with 4 pounds, 8 ounces of pressure from the trigger finger. 
In keeping with this brush gun's more tactical outfitting, the receiver was topped off with one of Henry's five-inch aluminum EGW Picatinny mounts. I wanted a more compact optic that would complement this rifle's quick-handling characteristics at closer ranges, so informal and formal testing was conducted using a Leupold VX-Freedom 1.5X-4X-20mm Firedot 30mm MOA-Ring scope secured with Leupold's Mark 4 aluminum rings. It turned out to be a top-notch combination both on and off the shooting bench.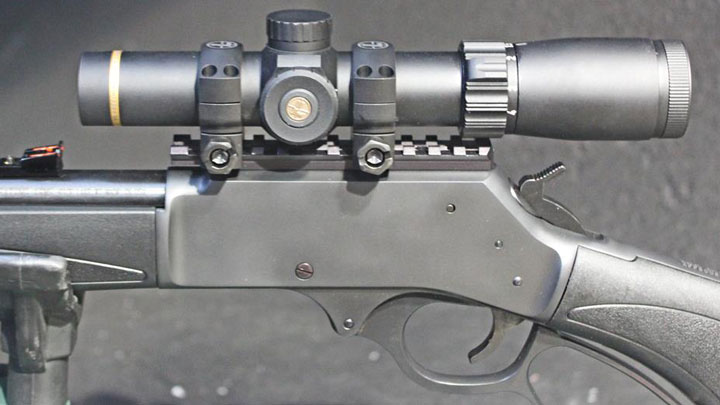 At the range, the X Model proved to be utterly reliable with all of the .45-70 Govt. ammunition tested, including cowboy-action shooting loads and a mix of hunting loads. Formal bench-rested accuracy testing was conducted at 100 yards by firing five, five-shot groups for each of three loads into paper targets. Double Tap's 300-grain Barnes TSX Lead Free all-copper hollow point is a souped-up hunting load with a listed muzzle velocity of 2000 fps. It printed a best five-shot group of 2.28 inches, with a five-group average of 2.45 inches. The HSM Ammunition Cowboy 405-grain lead round-nose flat-point load launches at a more sedate velocity of 1300 fps, and knocked out a best group of 2.71 inches with an average of 2.85 inches. Remington's Core-Lokt 405-grain jacketed soft points are a reduced-pressure hunting load with a listed velocity of 1330 fps. It printed a best group of 2.53 inches with an average of 2.71 inches.


Henry Repeating Arms' new X Models are a great example of the company's continuing commitment to build high-quality rifles here in the U.S., while meeting their customers' requests. Now that I've worked with the X Model and the company's more traditional offerings, I can say I've found reasons to like both. Although I wouldn't want to see Henry's handsome walnut stocks replaced with polymer (as some rifle companies have done), it's good to have polymer furniture in the catalog for those who prefer lighter and more weather-resistant stock options.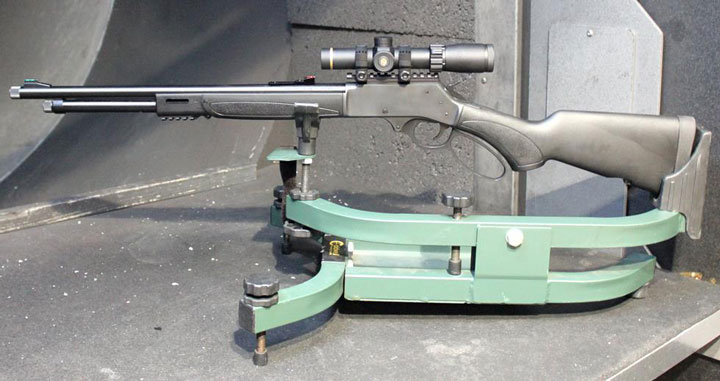 The X Model series also includes a .410-bore shotgun, and Big Boy Steel models chambered in .45 Colt, .44 Magnum and .357 Magnum.
Technical Specifications
Model: H010X
Action Type: Lever-Action
Caliber: .45-70 Government
Receiver: Blued Carbon Steel with Left Side Loading Gate
Optic Mount: Drilled and Tapped for Weaver 63B Mount (Sold Separately)
Barrel: 19.8" Round Profile with Threaded Muzzle
Muzzle: ⅝×24 TPI, Knurled Thread Protector Provided
Rear Sight: Fully Adjustable Fiber Optic
Front Sight: Fiber Optic
Magazine: 4-Round Tubular with Loading Gate and Removable Liner
Forend: Black Textured Synthetic, One 1.85" 4-Slot Picatinny Rail, Two MLOK Accessory Slots
Shoulder Stock: Pistol Grip, Black Textured Synthetic with Rubber Recoil Pad
Sling Swivel Mounts: Yes
Safety: Hammer-Mounted Transfer Bar
Reversible Hammer Spur Extension: Available (Sold Separately)
Trigger Pull: 4 lbs., 8 ozs. (As Tested)
Safety: Hammer Mounted Transfer Bar
Overall Length: 38.6"
Length of Pull (LOP): 14"
Weight: 7lbs., 8 ozs.
Capacity: 4 + 1
Twist: 1:20" RH
Rifle Grooves: 6
Accessories: Lock, Owner's Manual
MSRP: $970; henryusa.com
Optic: Leupold VX-Freedom 1.5X-4X-20mm Firedot 30mm MOA-Ring (177225); MSRP: $519.99
Rings: Leupold Mark 4 Medium Aluminum (57398); MSRP: $223.99
Scope Base: Henry EGW Picatinny Rail Mount (HEGW9/10PR); MSRP: $29.99