by
posted on May 17, 2023
Support NRA American Hunter
DONATE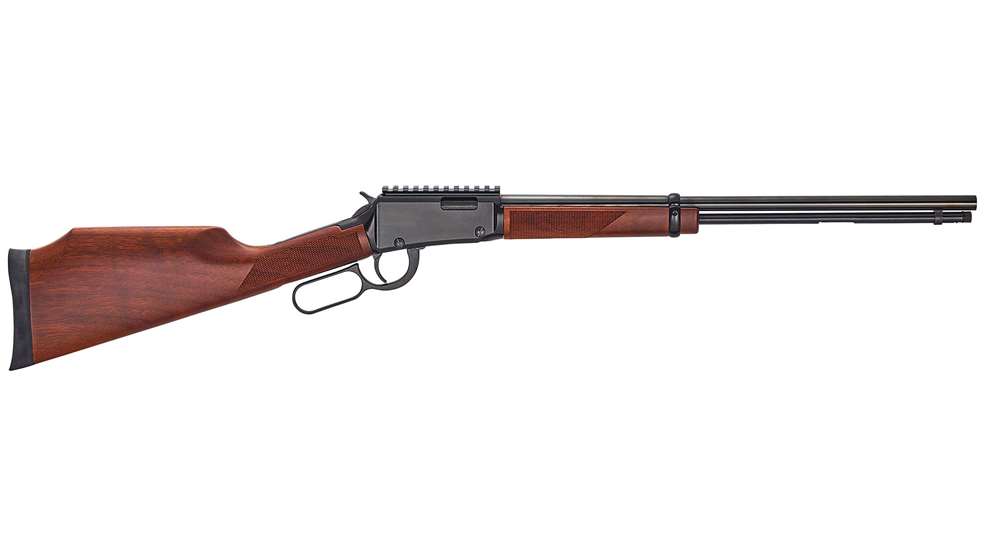 Henry Repeating Arms takes great pride in offering all-American made rifles and carbines designed to suit the needs of hunters. As the demands for more up-to-date hunting features have grown, so too has the diversity of Henry's lever-action catalog. Over the last few years we've seen the arrival of the polymer-stocked X Models and the Picatinny-railed and side-gated All-weather .45-70 Government. And don't forget the Long Ranger series of lever-actions outfitted with removable box magazines suitable for bottle-neck cartridges including 6.5 Creedmoor, .243 Winchester and .223 Remington.
As these centerfire rifles were making their way to market, Henry quietly added a new configuration to their popular rimfire rifle platform designed specifically for potting small and medium game, called the Lever Action Magnum Express. Here's a closer look at what this purpose-built Henry repeater has to offer.

The Lever Action Magnum Express is a member of Henry's H001 series of rimfire lever-actions which includes .22 LR, .22 Magnum and .17 HMR caliber options. In this case, the Express is chambered for .22 Mag. The majority of H001 rifles sport a hooded front sight, an adjustable rear sight and an integral 3/8-inch groove scope rail on top of the receiver. However, the Express has been modified specifically for use with magnified optics. The iron sights have been omitted completely. The shoulder stock has a raised comb and the receiver's 3/8-inch groove mount has been fitted with a 4.5-inch 11-slot aluminum Picatinny rail. This rail is removable, which gives hunters the option of switching to 3/8-inch groove type ring mounts if they so choose.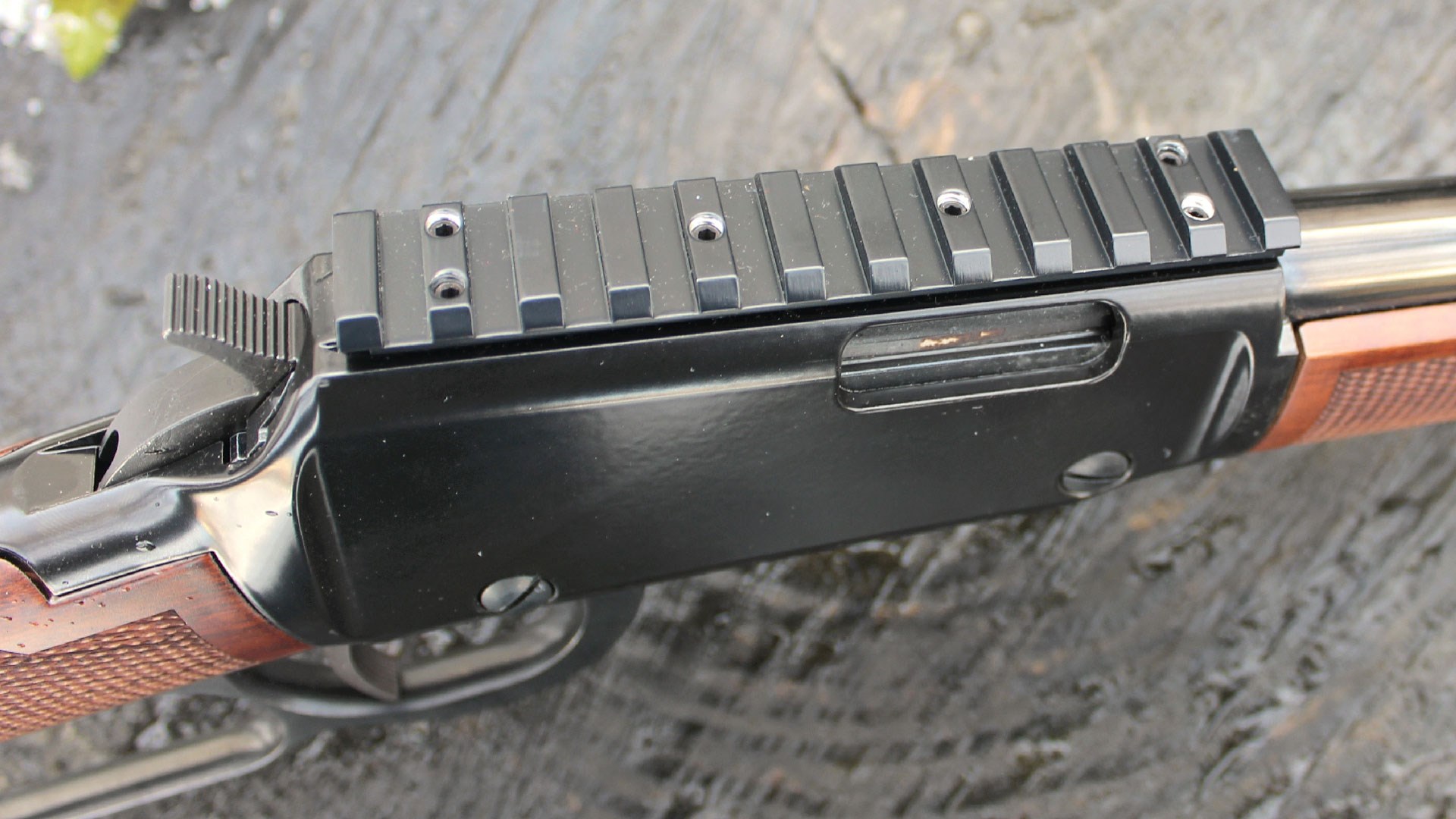 The goal of this optics-focused feature-set is to maximize the effectiveness of the .22 Mag. at relatively long distances for the cartridge. When harvesting small- to medium-sized game out at around 100- to 125-yards, iron sights are not nearly as easy to use as a red-dot optic or a rimfire scope. For this reason, the sights have been traded out in favor of the rail, and an optic-specific stock configuration.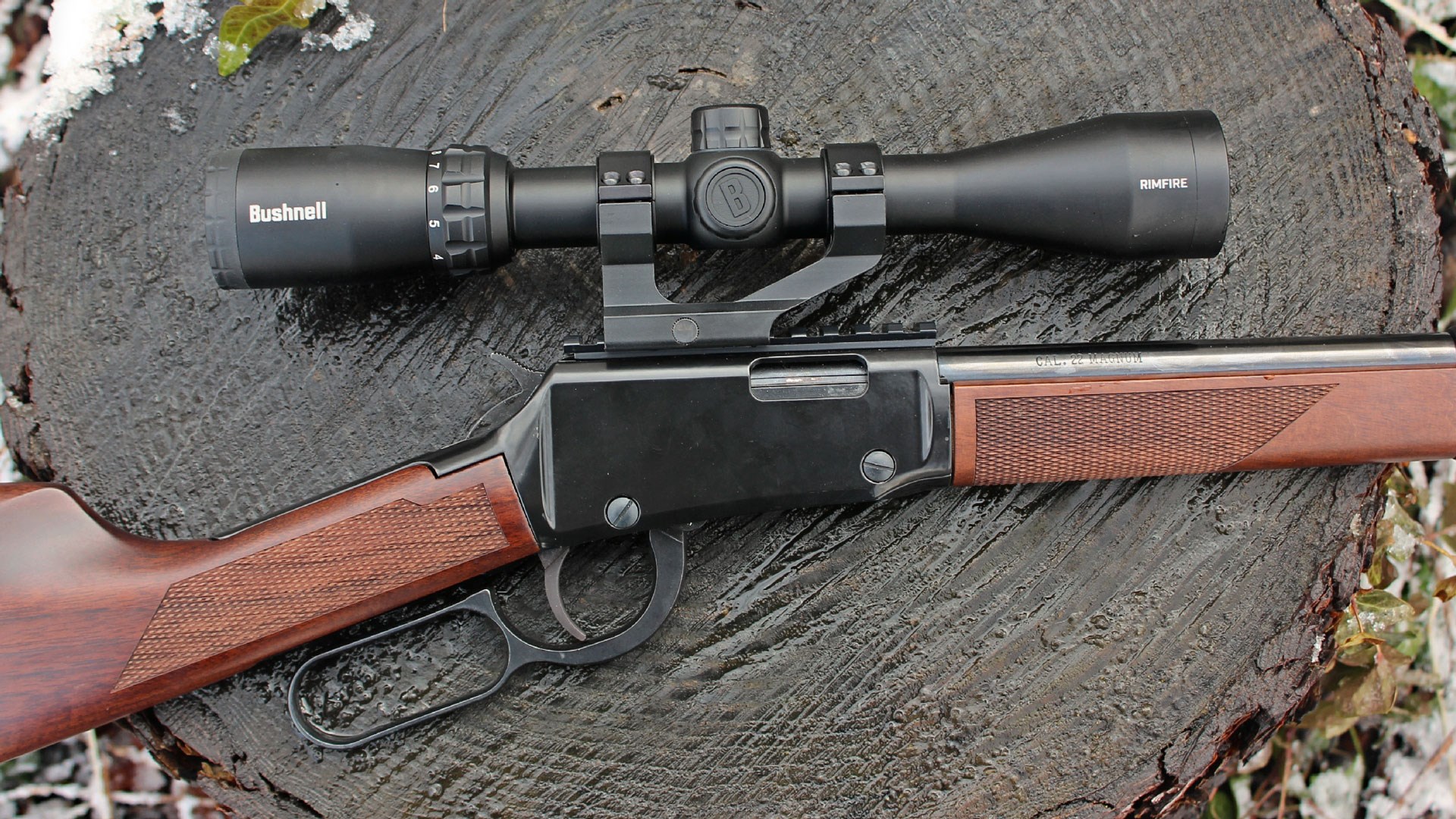 Like other H001 models, this rifle is built around the company's time-tested, lightweight aluminum receiver. The key components, including the receiver screws, bolt assembly, standard-size lever loop and grooved trigger, are all made of blued steel. The lever of the gun I worked with cycled smoothly and the single-action trigger exhibited a crisp, clean 2-pound 7-ounce trigger pull. The external safety feature for this model is integrated into the hammer. Setting the hammer back a bit into a 1/4-cock position prevents the trigger from cycling and keeps the hammer from contacting the firing pin.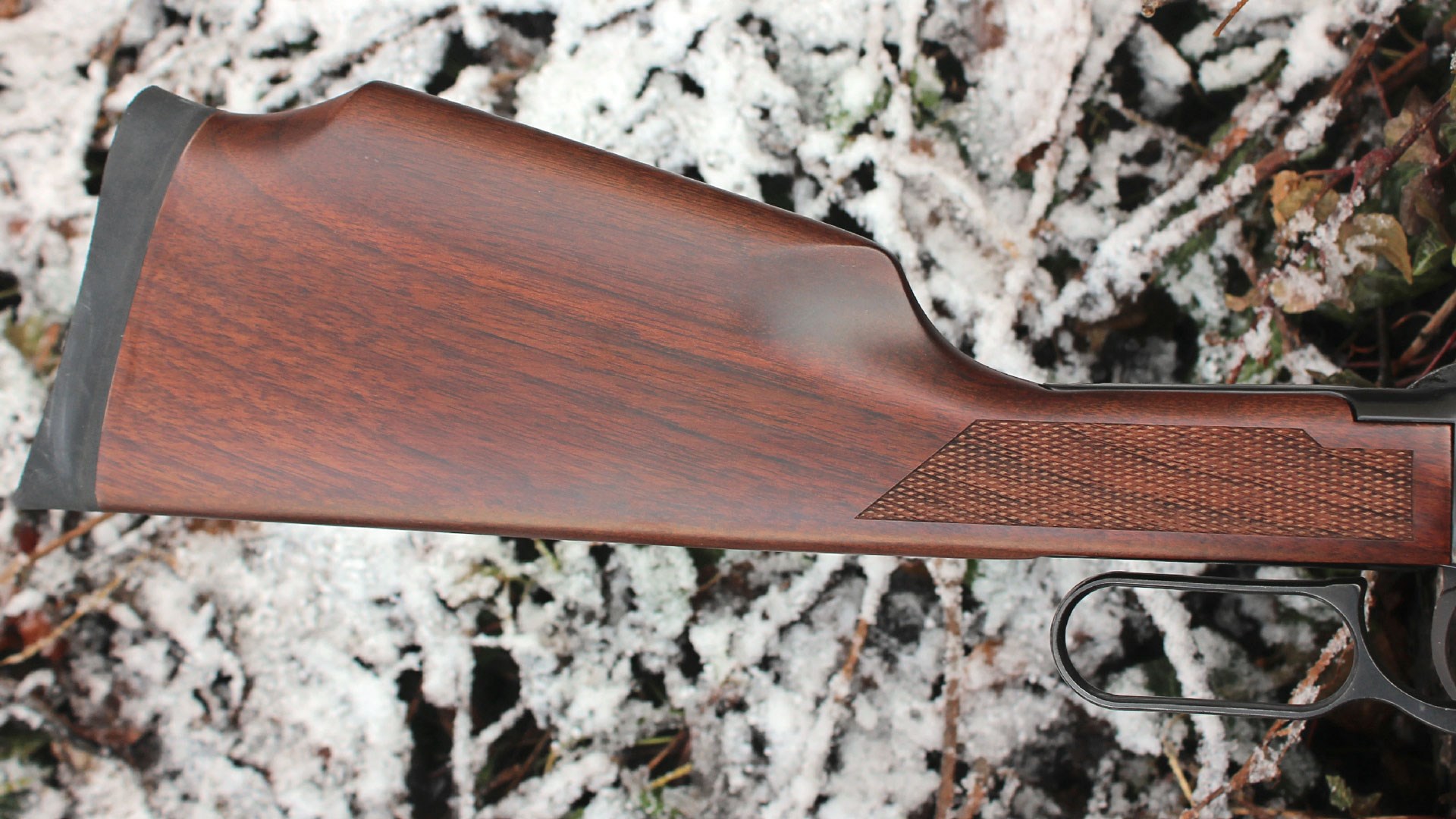 While I'm a big fan of Henry's octagonal rimfire barrels, which are rigid and look great, they also make the gun heavier. For an easy-carrying and quick-handling game gun, the choice to give the Express a slimmer round-profile barrel is a good one. This barrel profile keeps the weight down to a handy 5-pounds 14-ounces, unloaded, as tested. Standard H001 barrels are 18.5-inches long. The Express barrel has been stretched to 19.25-inches, which provides a bit more rifled bore and enough room in the tubular magazine for 11 rounds of .22 Mag. ammunition.

The fixed magazine tube is fitted with a brass liner that's topped with a knurled release knob and a rubber gasket to prevent it from rattling. Twisting and pulling the liner out most of the way opens the magazine's cartridge-shaped loading port. The liner can also be removed completely to dump out unfired cartridges.

The American Walnut fore-end is secured by an aluminum barrel band. Usually H001 guns have smooth stocks but the Express's gripping surfaces have been enhanced with diamond pattern checkering. The straight-grip shoulder stock is fitted with a soft-rubber recoil pad, instead of the typical checkered polymer butt-plate, which gives this rifle a 14.5-inches of length-of-pull (LOP).
I've shot my fair share of the Henry H001 series of rimfires over the years, so I had a clear set of expectations when I took the Express to the shooting range. I'm happy to report that the Express was just as enjoyable to work with as its rimfire compatriots. The action was smooth right out of the box. The lever, hammer and trigger all cycled cleanly without any creep or grittiness. This rifle fed, fired and ejected all of the ammunition tested without any malfunctions, hiccups or hang-ups throughout the course of testing.
The bench-rested accuracy testing was conducted at 50-yards. The three loads tested were fired in five, 5-shot groups with another ten rounds fired next to a Lab Radar chronograph to get an average for the bullets' muzzle velocities. The rifle was topped off with an effective and affordably priced Bushnell Rimfire 3-9x40 Rifle Scope featuring a DZ22 Dropzone 22 reticle with a Weaver Tactical One-Piece SPR (48377) scope mount.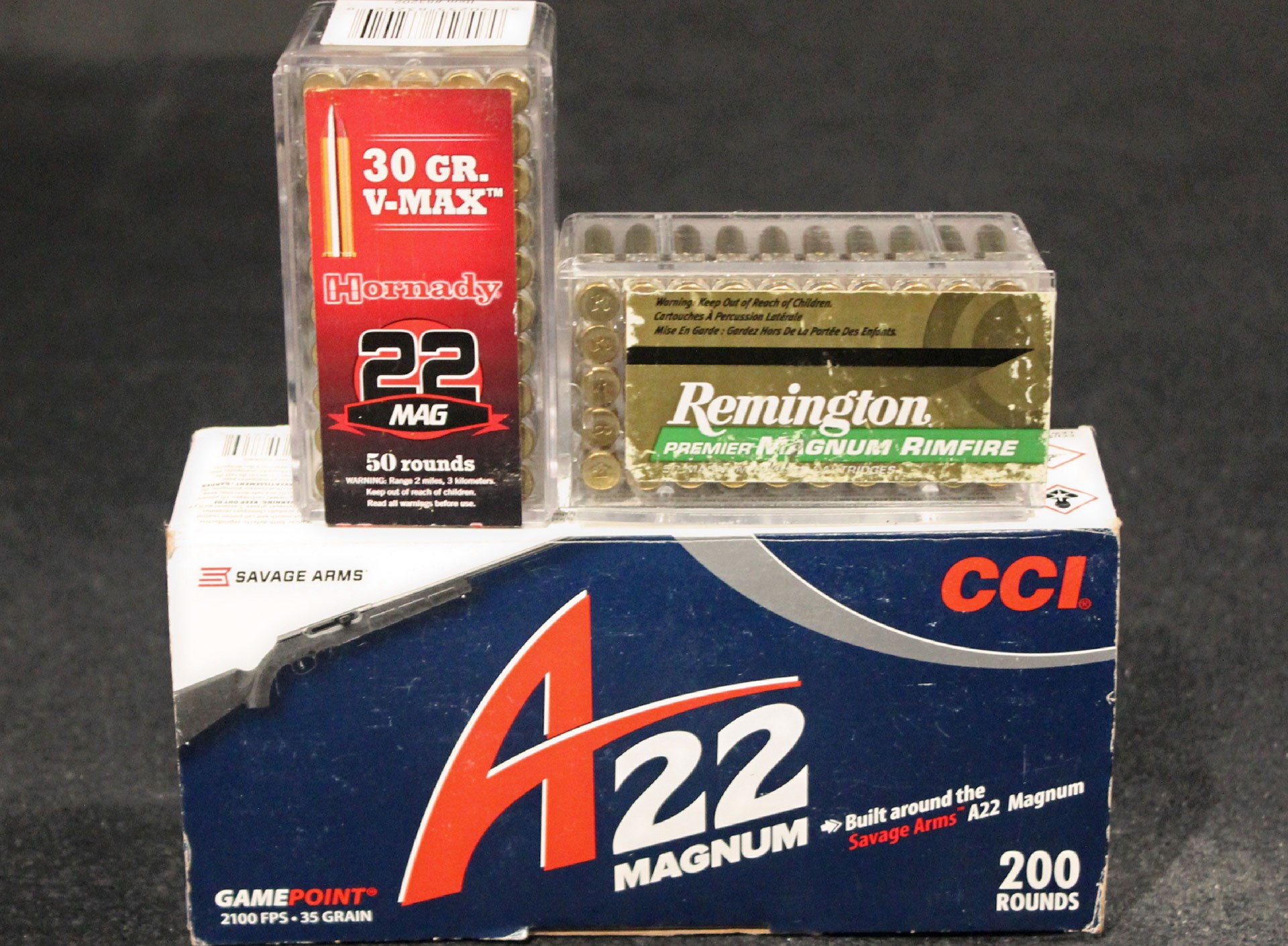 I was hoping to see the combination of the longer Express barrel and the mid-weight bullets yield useful bullet velocities. All three loads produced muzzle-velocity averages that were between 106-fps to 187-fps faster than the rifle velocities listed on the ammunition boxes. That's impressive considering that most listed cartridge velocities are generated in laboratory conditions.
Remington's Premier Magnum Rimfire 33-grain Accutip jacketed polymer tip launched at an average velocity of 2187-fps. Group sizes ranged from 1.42-inches to 1.81-inches, with a five-group average of 1.62-inches. The fasted round of the test set was the Hornady 30-grain V-Max jacketed polymer tip, which scooted right along at 2306-fps. Group sizes were between 1.24-inches to 1.59-inches, for an average of 1.44-inches. The CCI Ammunition's A22 35-grain Gamepoint jacketed soft point, which clocked in at 2187-fps, was the most accurate round tested with groups from 1.12-inches to 1.25-inches in size for an average of 1.17-inches.      
The Henry Magnum Express is a specialized rimfire, both in its caliber and features, intended to fill a particular hunting niche. Based on this range test, it's safe to say this gun fills its role well while maintaining the reliability and enjoyable shooting experience which has made H001 lever guns so popular. I'm a fan of the .22 Mag. cartridge so it was a pleasure to work with a well-made lever-gun purpose-built to make the most of this round's potential.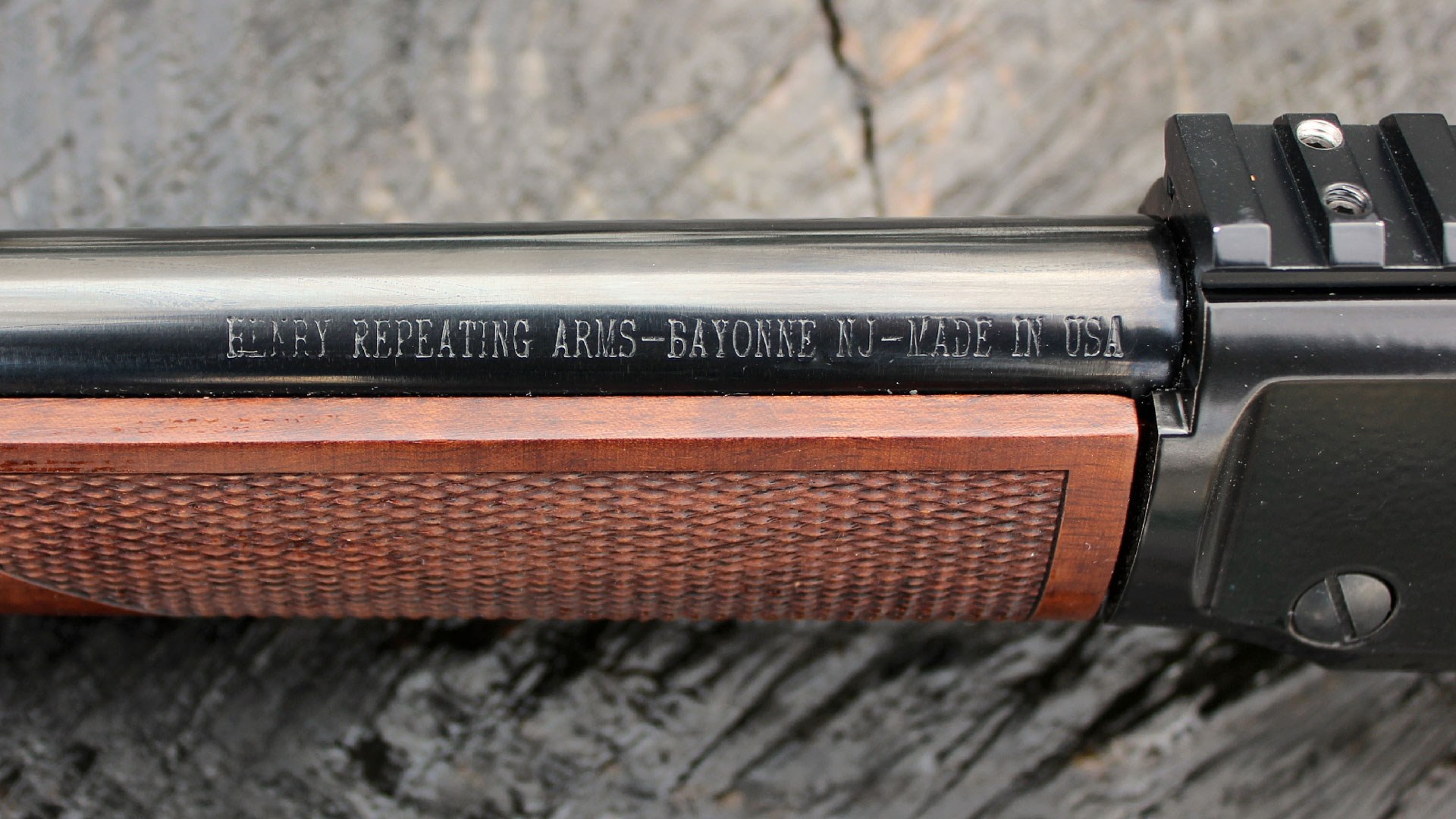 Technical Specifications
Type: lever-action rimfire rifle
Caliber: .22 Magnum
Magazine: fixed tubular magazine; 11-round capacity
Barrel: 19.25-inches, round profile, blued steel
Trigger: single stage; pull weight 2-pounds 7-ounces (as tested)
Sights: none; aluminum Picatinny scope base
Safety: 1/4-cock hammer
Stock: raised-comb; American walnut; rubber recoil pad; LOP 14.25-inches
Metal Finish: blued carbon steel; black-coated aluminum
Overall Length: 37.5-inches
Weight: 5-pounds 14-ounces
Accessories: lock, owner's manual
MSRP: $673; henryusa.com