by
posted on September 8, 2023
Support NRA American Hunter
DONATE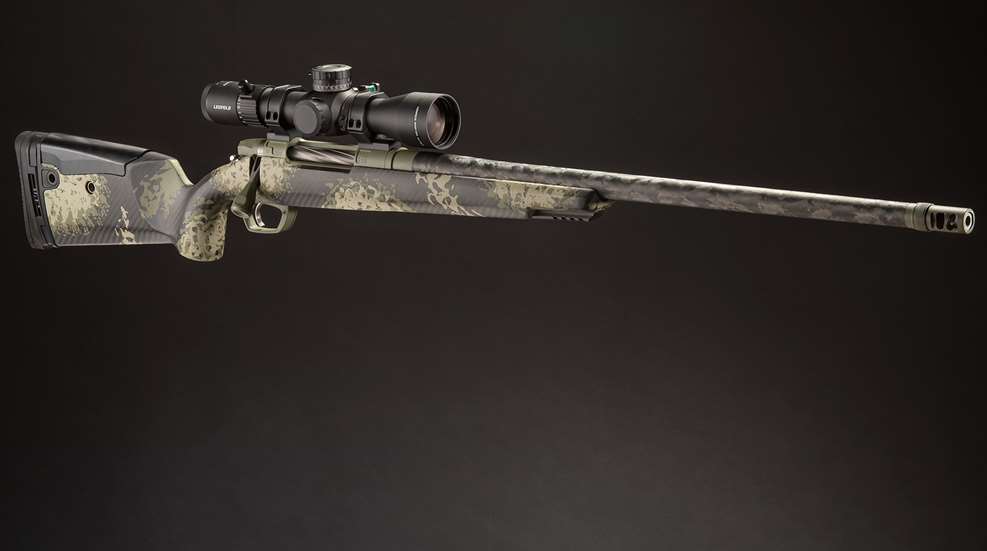 Let me pose a question. You are at the top of the mountain and a full-curl ram is nose to the brows at 535 yards. Thirty yards in the wrong direction puts him out of sight. The time is now. What rifle do you want in your hands?
You could spend countless hours building the perfect mountain rifle. Start with a stock, pick an action and barrel. Build it. Mount an optic. Develop handloads. Range test. Create DOPE for the specific elevation and temperatures you expect to hunt, etc. And maybe that's your thing. But what if tinkering to such an extent is not your thing? What if you don't have the time? What if you just want to hunt? What if there was a company you could trust to complete every bit of that—to perfection? Let me introduce you to Gunwerks out of Cody, Wyo. They aren't cheap, but custom long-range rifle systems for hunting are their specialty—complete, accurate and ready-to-hunt, right out of the box. 

So, after a year with the Magnus rifle system, let me state this right out of the box: Though you can purchase long-range rifles from many outfits today, the true beauty of the Gunwerks program comes in building a complete, custom, precision rifle system, from muzzle brake to buttstock and everything in between, designed by you on the company's user-friendly website. Start by choosing a stock platform, and with a few clicks of the mouse you'll be gazing at an exact rendering of the custom long-range rifle system of your dreams, ready to be built to exacting standards with premium components made in-house, complete with a mounted optic, ammo, a ballistic data package and an incredible 1,000-yard out-of-the-box guarantee. Gunwerks makes incredibly accurate shooting systems for hunters and gun guys who want the best in performance and accuracy—those who may not have the time or desire to do it themselves but who want the results of a perfectionist who does.
With so many variables going into a Gunwerks build—from barrel to action to paint scheme on the carbon-fiber and metal parts—there are thousands of possibilities, and rarely does Gunwerks make the same rifle twice. Your rifle will be unique, made-to-order via a build process equally as impressive as the rifle systems that result.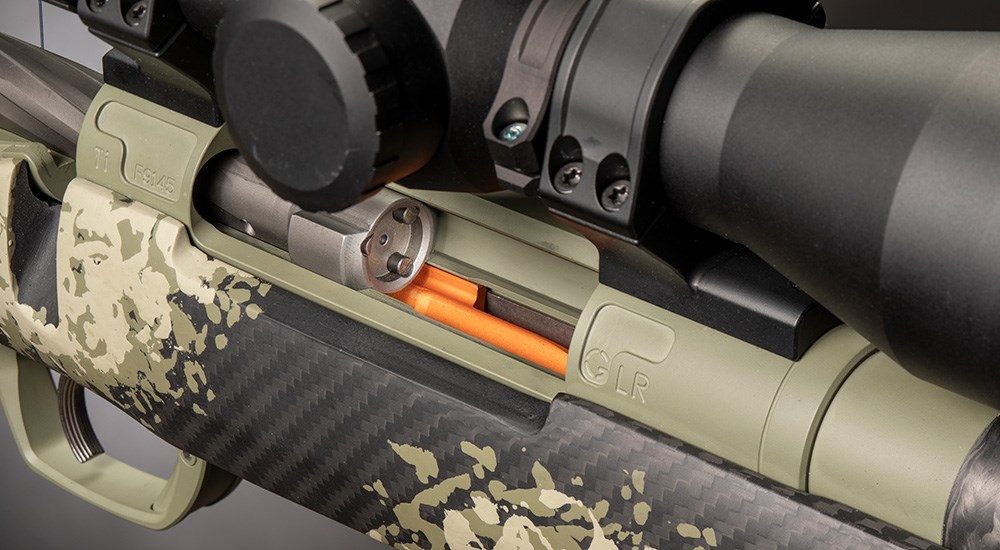 Made in-house of carbon fiber via ever advancing precision engineering processes, the Magnus stock is a lightweight, rigid and ergonomic platform that can take a huge kick out of the mighty .300 PRC and make a 6.5 feel like a pop gun. Beyond feature rich, it offers an incredibly versatile cornerstone for hunters to build upon. Sitting somewhere in the middle of the goldilocks zone for lightweight, the Magnus is suitable for a carry-all-day mountain rifle but sports enough mass to counteract the recoil of today's high-BC magnums and maintain incredible balance. The shootability and accuracy Gunwerks is known for can be attributed in large part to features like a negative comb, which reduces felt recoil and muzzle rise; a flat toe line for better balance and adjustability on bags; an incredibly comfortable vertical grip with ambidextrous thumb shelf; and a recoil pad adjustable for height and length of pull for the perfect mount. The fore-end is wide and flat at the base allowing for good stabilization off a bag or pack, but not so wide that it makes shooting offhand difficult. A short Picatinny rail is recessed into the fore-end, ideal as it positions the barrel closer to the pivot point when a bipod is attached. Three QD sling mount cups are provided, one out front and one on either side of the butt. Other stock options include a recoil pad adjustable for cant, and a magazine well fitted with either Gunwerks' flush-fitting floorplate bottom metal or Gunwerks' removable AICS-pattern box mag.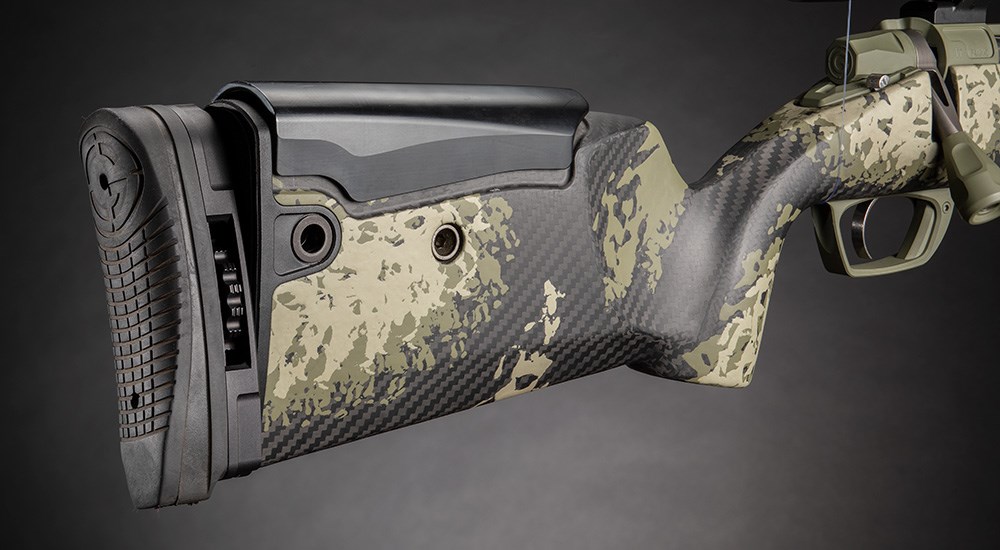 The GLR action, available in stainless steel or weight-cutting titanium, is a thing of beauty, with nearly every component manufactured in-house on CNC machines. Designed on a 700 footprint and available in right- and left-hand configuration, it sports a dual-lug bolt, dual plunger ejectors and a bayonet bolt shroud. Simple, yes, but it's a refined simplicity. Everything—the position of the extractor to expel spent cases away from your optic, the fluting dimensions to ensure smooth and controlled bolt travel, the dual cocking lugs that make closing the action and cocking the GLR effortless, the bayonet bolt shroud with toolless removal for easy cleaning and the integral recoil lug—has been manufactured with precision and purpose, with accuracy at the forefront.
Gunwerks now makes all their carbon fiber-wrapped barrels in-house, too, controlling quality and availability at every step from boring bar stock and rifling to tuning, carbon fiber-wrapping, threading and chamber reaming. On a Magnus build, you get the choice of an 18-, 20-, 22- or 24-inch barrel sporting a medium contour, threaded and finished with a thread cap or a directional brake.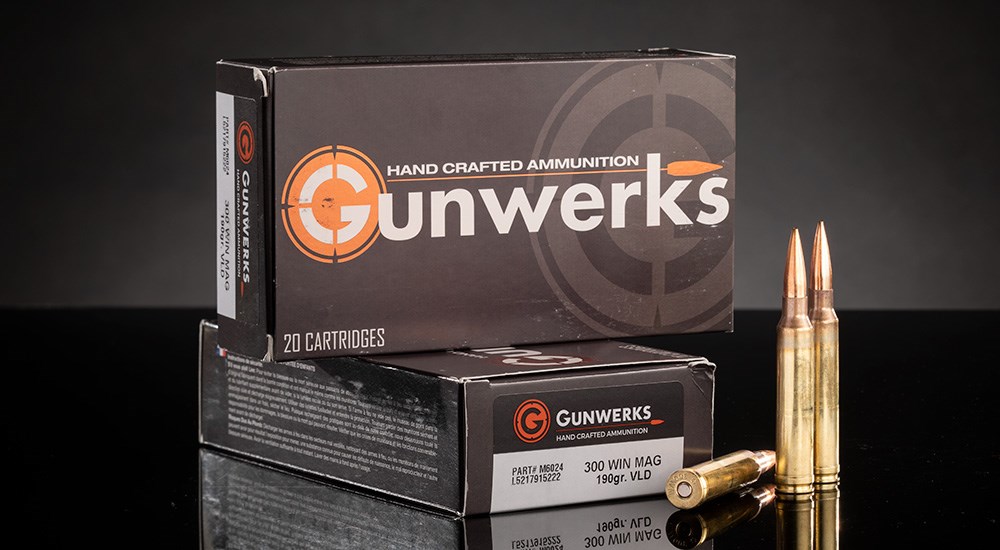 On a rifle built to excel at long range, Gunwerks dispenses with some of the more traditional chamberings like .308 and .30-06 and instead offers 16 high-BC chamberings for the Magnus including the popular 6.5, 7mm and .300 PRC, 6mm and 6.5 Creedmoor, .300 Win. Mag., 7 LRM, the 28, 30 and 33 Nosler, the .338 RUM and others. Pick your chambering, along with a premium Leupold or Kahles optic from their available list, and Gunwerks will mount it and finish off your rifle system by not only providing custom ammo, handloaded to peak performance with the premium bullet of your choice, but will also build you a custom ballistic turret, etched with the verified DOPE and ballistic data package for that load and your new precision hunting rifle. Just open the box and start shooting.
I've been doing exactly that, and after taking the Magnus in .300 Win. Mag. to South Africa and connecting on multiple heads of game at various distances from a kudu at 70 yards to a baboon at 415, I am not above admitting that it is the finest, most accurate rifle I've ever hunted with. It is a system that I'm confident is good out to 1,000 yards. The question is, am I?

Technical Specifications
• Type: bolt-action centerfire rifle
• Caliber: 6.5 PRC, .22-250 Rem., 6 Creedmoor, 6.5 Creedmoor, 6.5-284 Norma, 7mm Rem. Mag., 7mm SAUM, 7 LRM, 7mm PRC, 28 Nosler, .300 Win. Mag. (tested), 30 Nosler, .300 PRC, .300 RUM, 33 Nosler, .338 RUM
• Barrel: carbon fiber-wrapped; 18", 20", 22", 24" (tested); 1:8" RH twist; threaded muzzle w/brake (tested)
• Magazine: internal w/GW bottom metal floorplate (tested), 3-rnd. capacity; detachable GW AICS box
• Trigger: TriggerTech Special; single stage; adj. pull weight 1 lb.-3.5 lbs.
• Sights: none, drilled for GLR rings/bases
• Safety: two-position toggle
• Stock: negative comb; carbon fiber; Halo Green Carbon finish (multiple finish options available); adjustable LOP 13.5"-14.5"; Picatinny rail; QD sling cups; adjustable comb (tested); adjustable recoil pad (tested)
• Metal Finish: forest green (multiple finish options available)
• Overall Length: 46" (tested)
• Weight: 10 lbs. (w/optic)
• Accessories: Leupold Mark 5HD 3.6-18x44; ballistic turret; Gunwerks VLD ammo and ballistic data package; Gunwerks Unity scope rings; scope level; hard case
• MSRP: $12,069 (as tested); gunwerks.com