Support NRA American Hunter
DONATE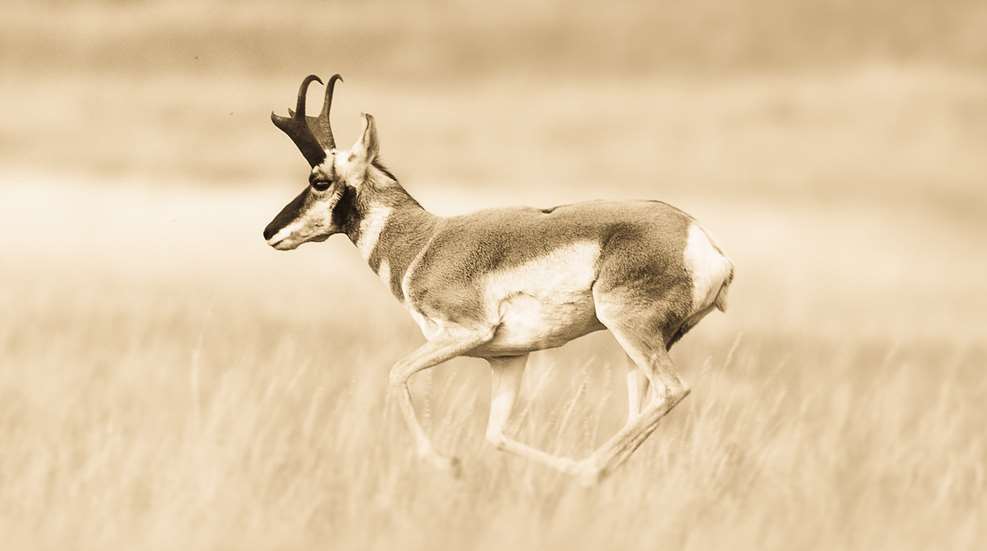 As my truck rattled along the dusty Southwestern byway, my mind spun with images of pronghorn. Already excited for my hunt, I had just pulled away from a Texas gas stop, where I met loquacious local Larry Anderson. An avid and accomplished hunter himself, Larry filled me in on the quality of animals in the area, stoking my intense enthusiasm. While the pronghorn in his part of the panhandle were plentiful, he said, the ones where I was bound in New Mexico were truly something special. I could not wait to find out for myself.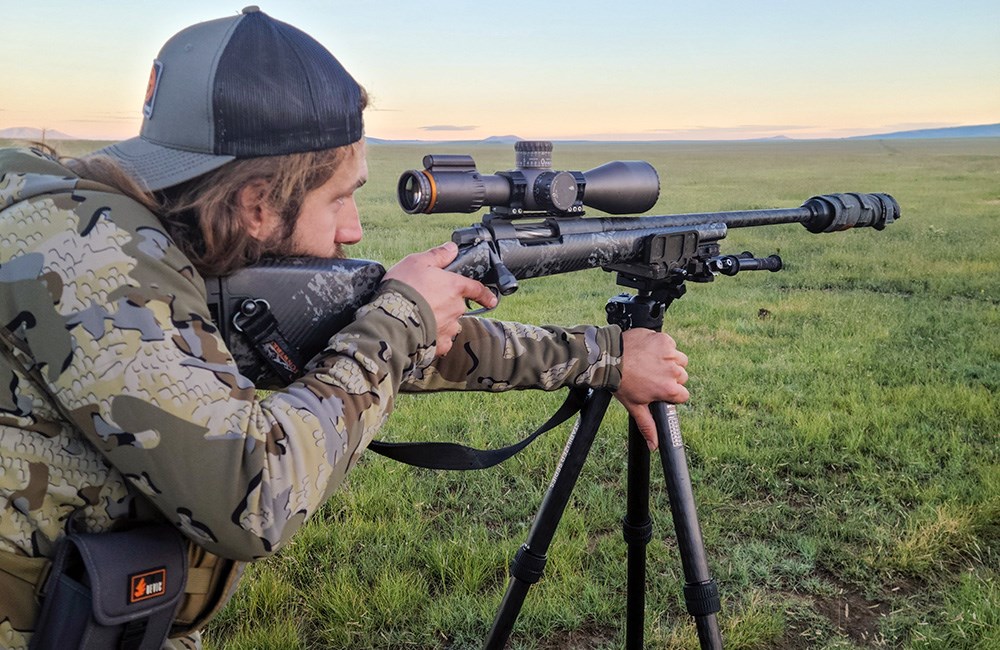 First, however, there was much to learn. I was bound for the NRA Whittington Center in Raton, N.M., as part of a multi-day course with Gunwerks. Begun with the intention of bringing clients' skills into line with the highly precise rifles the company offers, Gunwerks courses have become an event in their own right, familiarizing shooters of all stripes with the techniques needed to find success at distance. Utilizing the company's proven Magnus rifle platform for skill development, the course then permits students to either take their own rifles into the field, or extend their time with the "rental" gun used in class. The latter option allows shooters to fully complete the cycle of learning and implementing new techniques without any disparities in equipment. So, after a brief dinner and introduction to my teachers and classmates, it was into this process I threw myself with an intensity born of unbridled enthusiasm.
■ ■ ■
Day one found us in the classroom bent studiously over our desks, furiously scribbling notes like the most dedicated honor-roll students. Brian Poor, our instructor, was guiding us through an accelerated amalgamation of Gunwerks 102- and 103-level classes, in an effort to prepare us for the weekend's hunt. With a long background both in shooting instruction and real-world, long-range shooting environments, Brian seamlessly interwove the theories, principles and general rules of thumb covered in class with periods of range time for their implementation. A full day of shooting enjoyed, we retired for the evening with notebooks filled, already eager for the following morning.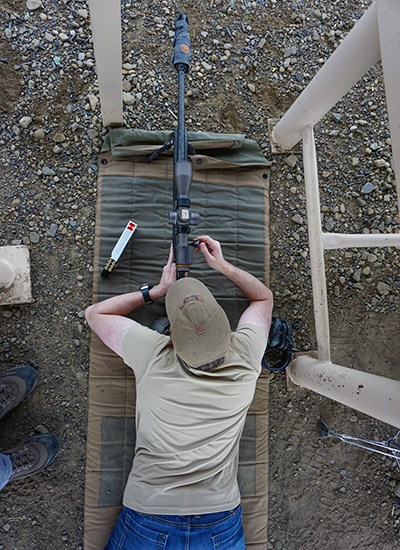 The second day covered more in the classroom, but steered into a discussion of tripods, bipods and positional shooting that necessitated extra range time for both practice and demonstration. Brian focused primarily on bone structure, and when we stepped up to the plate ourselves it was easy to see why. Any stability we thought we could squeeze out of our muscles was nothing but an illusion, to which our overly shaky reticles bore testament. The focus had to be on supporting as much as possible with the sturdy, stiff tripod legs, and taking up any slack only with joints completely locked out.
Were we standing, this meant going pigeon-toed, leaning into the tripod, grasping its leg in a crossing motion with thumb pointing groundward and keeping the elbow locked out. For kneeling, a pack could be placed underneath the rifle for a contact point between pelvis and the ground. Sitting required even more creativity with the pack, placing it either under the armpit or the knee for more rear support on the firearm. There are a million more tricks to all these positions—placing a bag under the hips to cant them forward, the tightness of the hog saddle or the specific alignment of the tripod, for instance—but reprinting them all in detail here would be an exhaustive effort. Besides, they should be learned in a real-world setting where they can be investigated with the help of an instructor, not from the pages of a magazine.
Gunwerks courses provide long-distance theory and vital shooting skills while using the company's extremely accurate rifles and other hardware.
The morning's training over, we divided into two groups. Those who needed to bring their own rifles up to speed returned to the range, while the rest of us took to the field. I was partnered with Antonio Acitelli, of Outdoor Sportsman's Group, Neal Emery of Gunwerks, and guides Gill and Manny of Bear's Den Guide & Outfitters. An hour's drive to the hunting grounds behind us, Antonio was up first, and I quickly discovered this was to be a far faster-paced hunt than I was accustomed to.
Loading into the guide's truck, we began glassing the wide expanses for game. It wasn't long before we found a shooter buck—ranging him at around 500 yards—so we piled out of the vehicle and attempted to find Antonio a shooting position. While we were hoping to go seated or prone, the height of the brush made standing our only option. Finally set, we could only watch in disappointment as our target buck disappeared over a far rise. Back in the truck we went, tripod now permanently set for a standing shot. A short drive later, out he jumped at around the same distance, so we scrambled to set up again. Quickly in position, Antonio was on target, but the buck was running, only pausing for short increments to give him a shot. After several failed attempts, Antonio connected with a resounding impact at 478 yards, easily audible thanks to the relatively soft report of our suppressed rifle. The pronghorn began to run and, just before it disappeared from sight, we saw its antlers tip groundward. Or so we thought.
A few congratulatory words later, we advanced on the position whence we saw the pronghorn disappear, only to discover he was gone. We knew the hit was a solid one, so we fanned out and began to look for any sign of our quarry. Several hours later, however, we had still failed to find any trace. Giving up for the evening, but resolving to continue our search in the morning, we began to look for more goats. I was on deck.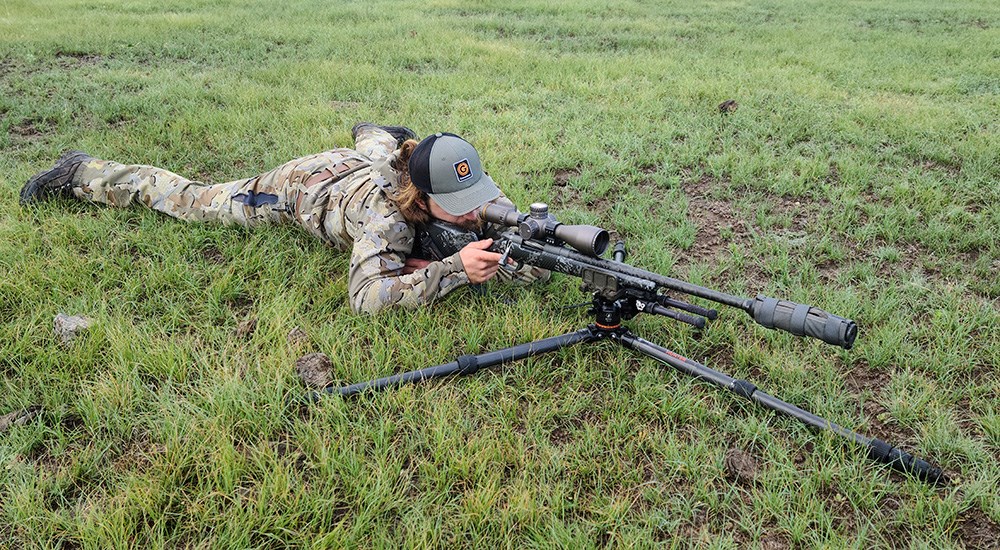 In barely any time at all, we had located yet another excellent specimen. The blessing of spotting pronghorn at such a short distance is also its curse, of course, as they are alert to your presence immediately. Stalking, getting into a seated position and other such niceties of slower-paced hunting are all out of the question. As such, I clambered out into place, tripod legs biting the dirt as I settled my weight forward. Neal called out my elevation hold from our BR4 rangefinder, while I dialed and settled into the gun, attempting to steady the reticle. "Breathe," I thought, as I attempted to force oxygen into my lungs in anticipation of my long, pre-shot exhalation. This shot was at a distance (400-plus yards) I would have previously only attempted seated, or prone. As I did so, muscle memory took hold and I began to stage the trigger, which quickly reminded me this was not my personal hunting gun. Where my heavy old trigger would have staged, this trigger broke, and I surprised myself with a shot just over the animal's back.
That sent the antelope running again, as I racked another round, tracked him through my reticle and tried to better stabilize myself for my next shot. He stopped to duck a fence line. Neal called out his latest distance: 576. When he paused and looked back, I settled into my reticle and attempted to lock out my joints, but there was still too much horizontal wobble. Desperately I tried to stabilize myself, but still the reticle wandered in its oblong circles while I simply tensed more, exacerbating the problem. After what felt like hours (in reality mere seconds), I had the wobble as diminished as I could manage. Though it still wavered slightly outside the vitals, I biased my hold forward, determined not to make a foul hit on the guts. I squeezed the trigger, and immediately saw dust fly just in front of his chest—a clean miss. I groaned and watched my splay-horned quarry trot away, eventually fading from sight. My stance was still not stable enough; it was back to the drawing board for me.
■ ■ ■
The following day saw our group—minus Manny—chasing pronghorn just after first light. We returned to the area where I missed, and soon spotted our prey at just a few hundred yards. The fire drill commenced again as I dashed out, grabbed my tripod and got settled. This time I braced rearward against the truck, looking for any possible amount of added stability: 428 yards. As I settled the crosshairs over the antelope, I again cursed my wobbly picture. At this distance, though, while the wobble was still too much for my liking, it was not too much for a confident shot. I squeezed the trigger, and the pronghorn dropped in place—though I touched off one more when he attempted to stand, finalizing matters.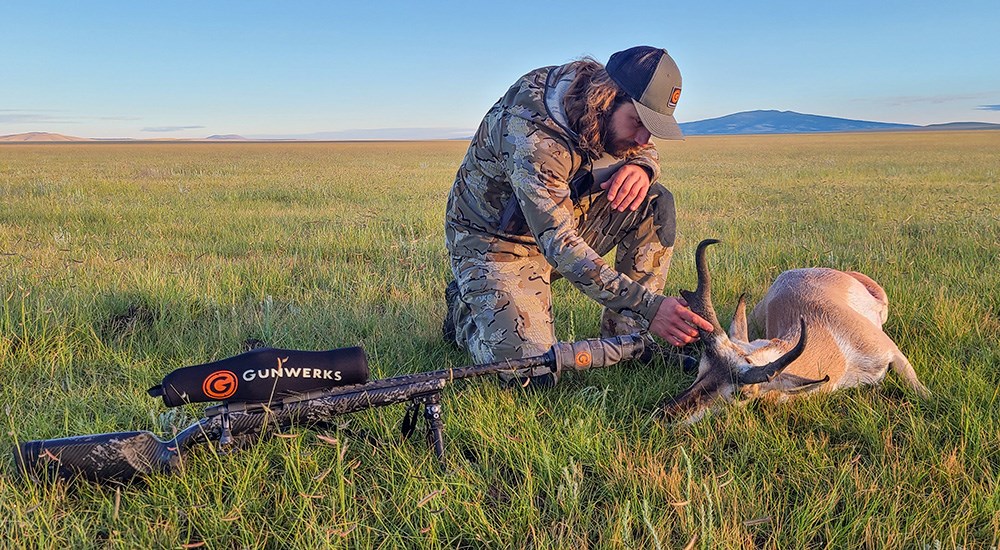 The animal cleaned and pictures taken, we set out in search of Antonio's antelope from the previous evening. We found him under a flock of crows that had honed in on his carcass. The animal had run far after the shot, and in the short time since we'd left the coyotes and birds had picked him clean. It was a disappointing end for my friend's hunt, but a stark reminder of the unbridled brutality that lurks just beneath the surface of this magnificent landscape.
My business was still unfinished, however. While I may have found success, I was still unhappy with my shot, and craved another session at the range to tune my stance. Prevailing upon Neal to give us one last go, we trucked it over to the firing line and got to work diagnosing problems. My father has always told me, "Keep it simple," and he was proven right yet again. Sure enough, my issue occurred at the foundational level. While my knees were locked properly, my arm was still bent, relying on muscle to stabilize my mass against the tripod. Turning the elbow over to a full lock-out resulted in a substantial reduction in wobble. To prove it to myself, I took my standing shots from 400 to 800 to 1,000 yards, ringing steel each time. After that we went back to the bench and played around at more distant ranges, finding success out to 1,400 before bowing to wind and deteriorating Creedmoor ballistics at 1,600. For me, this was just icing. With my standing position locked in, I knew I could be far more confident in my future hunts (provided I put in more time and practice, of course).
That is the beauty of this particular Gunwerks program. I've been through my share of long-range schools, but few provide the marriage between theory and practice taught here, and almost none focus on the sub-optimal shooting positions encountered in a hunting scenario. The factor that sets it truly apart, however, is the hunt itself. It is one thing to apply yourself on a range, when the penalty for missing is next to nothing. But having a true target in your sights—one that can bolt or catch a bad hit if you don't do your job—brings even minute issues with form or technique into sharp relief while the potential corrections are still fresh in mind. As such, for both the experience in general and the skills acquired, I highly recommend Gunwerks' "Pronghorn Hunt with L102 Fundamentals" and "L103 Equipment Readiness Training."
Author's Note: I had already finished this article when I picked up my pronghorn from American Taxidermy, but I simply had to throw in a note about the great service they provide. In addition to cutting me some wonderful steaks and roasts, American Taxidermy threw in some snack sticks and summer sausage. Both were downright delectable. If you ever have need of a processor around Capulin, N.M., give them a shout and ask for the sausage. You won't be disappointed. (575)-278-2066
---
Gunwerks Magnus Rifle System
It is one thing to build a rifle that is capable at 1,000 yards right out of the box, using a smattering of proven components. It is quite another to engineer every component of that rifle from the ground up, allowing each part to work in seamless harmony within the whole system. That latter option is what Gunwerks specializes in, as its Magnus rifle system can easily establish.
Built around a slightly beefier carbon-fiber stock than the company's more ubiquitous ClymR system, the Magnus is designed to better absorb the recoil of more stalwart calibers, at the expense of a little added weight. As such, it also makes for an excellent class gun when chambered in light 6.5 Creedmoor, giving it a soft-shooting and forgiving nature. The buttstock is slanted at the bottom, so shot angle can be adjusted when prone by sliding your rear bag forward or rearward. Its soft recoil pad keeps kick down to nothing, which allows the rifle to be held just off the collarbone—almost at center chest—the shooting position most favored by Gunwerks' instructors for its structurally efficient cheek weld, and the way it allows for effective recoil management.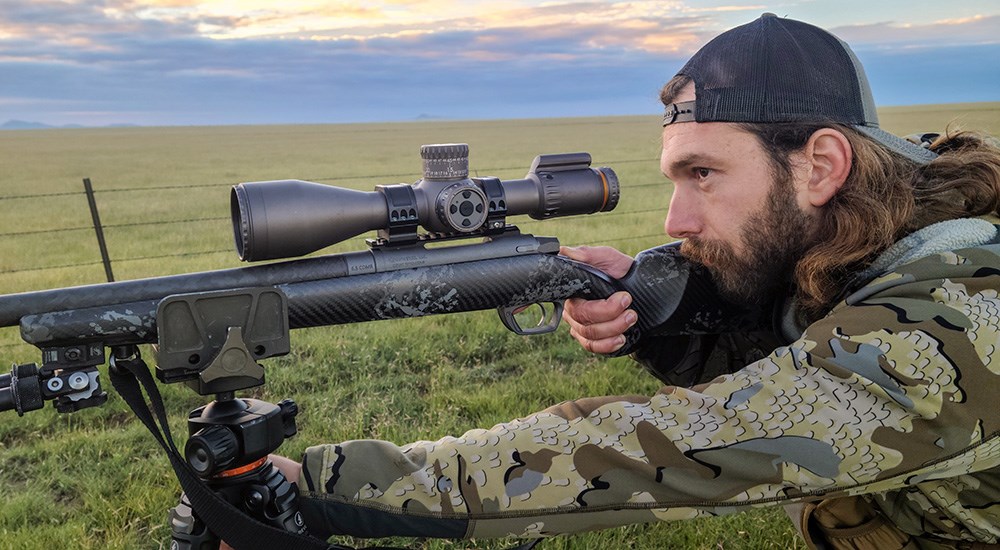 These benefits result in a largely unmolested sight picture between shots, which in turn makes it easier to track your target. Quick-detach mounts fore and aft allow for the attachment of a sling, and the gun can be used with a tripod either by placing it in a standard hog saddle, or by direct attachment with the stretch of Arca rail at the front of its fore-end. For proper firing-hand placement, there is a thumb shelf above the trigger guard—a subtle reminder not to death-grip the firearm like you'd do with granddad's old .45-70.
The action—made from the buyer's choice of titanium or stainless steel—runs fast and smooth, push-feeding new cartridges and freeing spent brass with silky rapidity. Part of the reason for this is the addition of a second ejector in the bolt head, which springs spent cases laterally rather than shooting them up, where they can sometimes contact the scope and drop back into the action. The barrel for the 6.5 Creedmoor model can be ordered at 18, 20, 22 or 24 inches, in a choice of 11 different finishes. A thread cap comes standard, though a directional brake can be added for a slight upcharge.
The only component Gunwerks does not manufacture in-house is the rifle's TriggerTech trigger, and it's easy to see why. With a crisp and consistent break, the triggers are light enough to surprise even the most seasoned shooter upon release, making for intensely accurate shots. All in all, while it's no secret that you'll pay a pretty penny for a Gunwerks Magnus, you very much get what you pay for. Any hunter who is serious about taking his craft to the next level in terms of precision and lethality would be well-served by such a rifle, as it allows shooters to move their skills far past what is possible with a general, run-of-the-mill hunting gun. MSRP: starting at $5,745; gunwerks.com.
---
Revic BR4 Ballistic Rangefinder
On a high-paced pronghorn hunt, figuring your windage and elevation holds in the blink of an eye is crucial. The BR4 rangefinder achieves this in a revolutionary way by not only linking to a profile tailored to your specific firearm, which you can build in the Revic Ops app, but also through the incorporation of an onboard weather station that calculates pressure, temperature, compass direction and incline. Taking all these factors into account, the BR4 immediately returns your windage and elevation adjustment upon ranging the target. This is a true gamechanger when animals are on the move and seconds count. Your HUD gives you holds, line of sight range, temperature and wind speed (entered manually into the app or via a linked meter) colored in red. Additionally, you can find incline angle, compass direction and barometric pressure by cycling through the menu.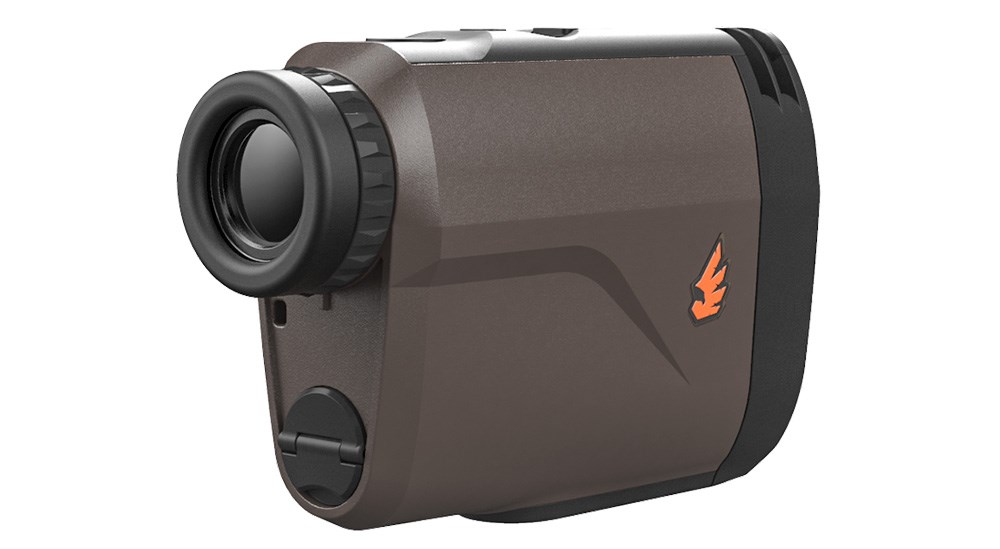 The BR4 is rated out to 4,000 yards on reflective targets. I was able to hit 2,050 on standard, non-reflective objects. When staring out this far, the BR4's 10X magnification is a boon, enabling the user to actually see where he's aiming. A beam divergence of .2 x 1.6 MRAD keeps measurements accurate, even at these extreme distances. The fact the beam expands horizontally rather than vertically is also a key factor, as there is less chance of getting a false range off a lower section of hillside when targeting high elevations. Accuracy stands at plus or minus half a yard under 200 yards, plus or minus 1 yard between 200 and 2,000 yards, and plus or minus 3 yards beyond 2,000—almost mindboggling precision.
The metal-bodied BR4 can operate in conditions between minus 4 degrees and 140 degrees, and it's waterproof. Despite this, it still only tips the scales at 10 ounces. Power is supplied by a single CR2 battery. MSRP: $1,350; revicoptics.com.